We generally prefer our trucks, SUVs, and CUVs with all-wheel or four-wheel drive since we live in an often wet climate along with our proximity to mountains. We also live in an area of the country with plenty of opportunities to get off the pavement. On top of that, we even get snow on rare occasion. And when we got the 2017 Sportage SX for review, we just happened to be in the middle of a snowstorm (commence freak out). Upon inspecting the Monroney (aka the window sticker) we discovered that this was the FWD version.
---
CRANKSHAFT CULTURE CHECKLIST: 2017 Kia Sportage SX FWD
Off-Road Ability: I wouldn't …
Can You Lift It: Maybe lower it
Would We Drive Cross Country: Hell yes.
Would You Drive it to Alaska: Likely not.
Aftermarket Support (1-5):  1
Spirit Animal: Blue Wildebeest – high shouldered, robust muzzle. Agile, fast. Prefers habitats that are not too wet.
---
I thought to myself—really? Who buys the FWD version of a crossover? Well the answer is people who don't need all-wheel drive, that's who. Not everyone, believe it or not, needs to have power to all four wheels. Some people are just looking for the comfort, space, and utility of a crossover and don't need AWD. In fact, according to a 2014 article in Car and Driver, 48% of compact crossovers are sold are 2WD. Shoot, even here in waterlogged Portland, Oregon AWD isn't a necessity. If there is snow on the roads in this city, it's best to stay at home, since most people seem to lose their minds if we get frozen precipitation.
Anyway, back to the Sportage: The first Sportages from the 1990s had all the underpinnings of a capable off-roader. As buyers' tastes favored car-like crossovers to body-on-frame SUVs, the Sportage adapted. And 2017 represents what is the most refined, most high-performance Sportage there ever was (regardless of FWD or AWD layout). And if you think "high performance" and "Kia Sportage" don't belong in the same sentence, you need to either keep reading or go drive one. Well, actually we suggest you finish this article.
Looks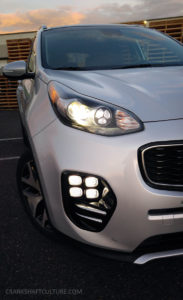 Before we could take our Sportage on the road we needed to let the roads get better. After all, 19″ wheels wrapped in all-season Hankook tires aren't exactly a great winter-weather combination. So we just looked at it. Would you just look at it?
The new Sportage is a great looking crossover, especially that front fascia. It definitely has notes of Porsche Cayenne, even down to the four-pod lights—those LED fogs look a lot like a Cayenne's headlights. This is a handsome vehicle, from front to back. Honestly, one of my favorite looking crossovers out there. It's muscular, modern, well proportioned and sophisticated.
Interior
While we waited for the weather to thaw out, I checked out the interior—it's really luxurious. Heated and air conditioned leather seats, heated steering wheel, massive glass roof, and a great stereo. So yes, it had all the creature comforts you could want. By the way, the heated steering wheel is awesome for cold, snowy climates, even if 2WD isn't.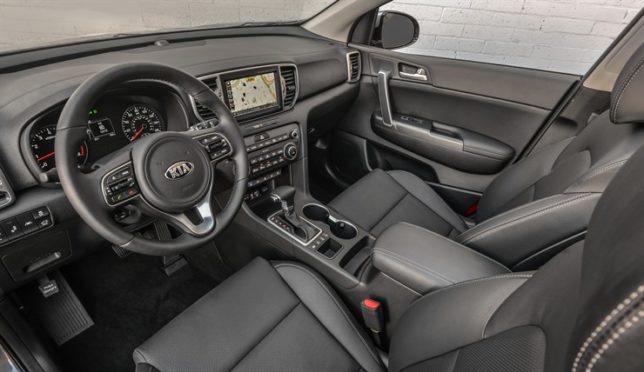 From the spacious front and rear seats to the UVO infotainment system (with navigation and Sirius XM radio, SoundHound app, and Harmon Kardon speakers), the Sportage just works. From the intuitive climate control system and easy-to-figure-out touchscreen, to the full glass roof and emotive interior LED lighting, the Sportage's interior is comfortable and a good place to spend time. I would like to see a bit more bolstering and support in those black leather seats, however.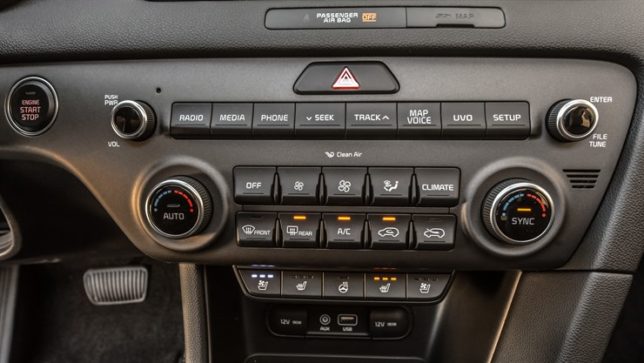 This car has a ton of tech and electronic gizmos. This includes adaptive cruise control, blind spot detection, lane departure warning system, front/rear parking assist, an automatic tailgate, and hill descent—the Sportage SX is a modern machine. Of note, however, why does a FWD crossover need hill descent control?
Driving
Once the streets improved, I finally hit the road. I was immediately surprised by its athletic performance. This thing wasn't just peppy, it was downright quick. With 240 hp and 260 lbs/ft of torque, you could easily break the big 245/45/19 tires loose, even at a rolling start. There was gobs of power to merge, pass, and generally drive like an maniac (if you were so inclined). The only transmission is the six-speed automatic which did have the ability to be shifted manually with either paddle shifters or the main gear selector.
This Kia is surprisingly sporty, and the company did a very good job tuning the suspension for enthusiastic motoring. I've criticized both Kia and Hyundai in the past for mush, soft suspension tuning, but that isn't the case on the Sportage SX. The car is surprisingly fun to drive and handles very well thanks to a sporty suspension, the 19-inch tires, and well-weighted, quick steering. I can't believe I'm typing this about a Kia Sportage.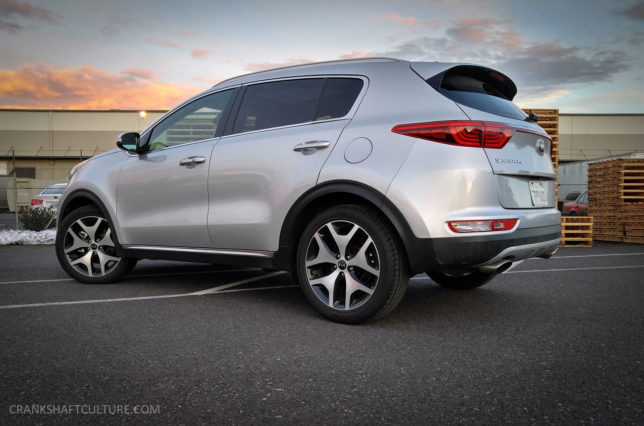 World Class
Man, what a great vehicle, even in FWD. Since it drives only the front wheels, it's much more of a canyon carver than gravel goer. But that's OK. It feels super well built, it's fast, modern, and safe. I was truly impressed by the Sportage, even if it's not powering all four wheels. It's a great road tripper that also happens to be a lot of fun in the twisties. While we generally use the term "adventuremobile" to describe a vehicle that can help you leave the confines of the city for an off-the-the-grid adventure, one could have a lot of fun on an all-highway or back-roads road trip in the Sportage SX.
---
STATS
Price as Tested: $33,395
Engine: 2.0-liter turbocharged direct-injection four cylinder, 240 hp/260 lbs/ft torque
Suspension: Fully Independent MacPherson strut (F), multi-link (R)
Brakes: Disc (F), Disc (R); ABS
Wheels: 19-inch alloy
Tires: Hankook 245/45/19 All-Season
Towing Capacity: 2,000 lbs.
Fuel Economy: 21 city, 23 combined, 26 highway (87 octane)
Curb Weight: 3,898 lbs.
Final Point of Assembly: Korea (96% Korean parts content)