There was a time in my life when I wanted to be nothing like my father when it came to cars. He was a frugal man and always bought older cars that needed repairs to fix up and daily drive for himself. The two times he splurged on new cars was in 1998 for a Dodge Grand Caravan Sport with the 3.8-liter V6 and a 2006 Suzuki Grand Vitara for my mom, both cars are still in the family.
I had my share of fun cars—a 2008 Chevy HHR SS 5-speed, 1990 Mazda Miata, 2000 BMW 528i sport wagon, and a 2014 Mazda 5 6-speed. But since I've become a parent, my mentality went from fun and sporty to practical and large. I didn't want to become my dad, but ended up owning a 2011 Volkswagen Routan at one point, which was traded in for a 2015 Nissan Leaf SL.
It finally clicked in my head that constantly trading in my car for a new one was stupid. I've had an ongoing car payment(s) since 2008, wasted a ton of money over the years and simply tired of it. Last year my dad picked up a 2004 Dodge Durango Limited with the 5.7-liter HEMI and 4WD with the infamous rod knock engine issue to replace his 1997 Jeep Grand Cherokee Laredo for $1,900. He gave me the Jeep, which complimented the Leaf perfectly, and I absolutely love it.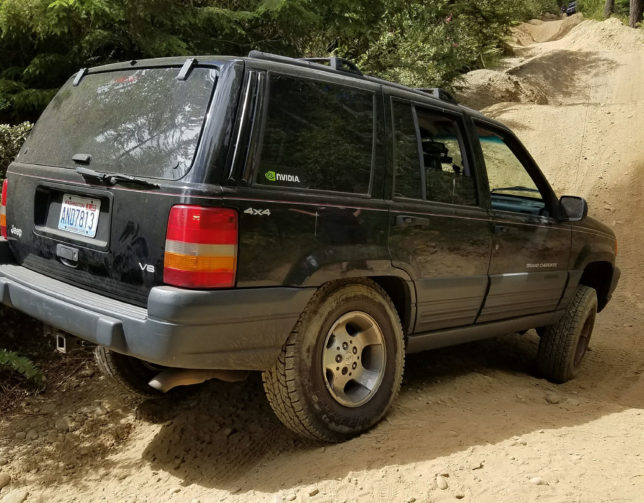 But having two small cars (by today's humongous SUV standards) was limiting—the Leaf was range limited and the Jeep was space limited. We couldn't take any friends or family with us on trips, so there was an urge for something larger. So exactly like my father, I mulled over the idea of replacing the Jeep with a 2004 Dodge Durango with rod knock.
I'm not the biggest fan of the second-generation Durango's dopey looks, because the first generation is still my favorite and the third generation looks sportier, but the price, size, capability, and power was right. I found a clean white Durango SLT 4WD with the HEMI with the same rod knock issue as my dad's earlier this year on OfferUp for $2,000. It reportedly had 101k miles on the odometer. I saved it and kept watching them lower the price each month until it dropped to $600 last month. We offered $500 and they accepted.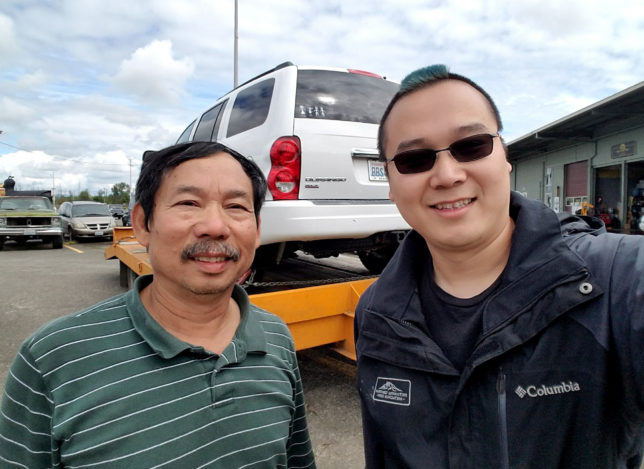 Now you're probably wondering what the infamous engine issue is on the Durango. The 2004 Durango had a cowl design that would drip water over the center of the engine bay where the intake manifold is. The intake manifold gasket wears down after a decade and 100k miles so eventually it would suck in water from the cowl and hydro lock the engine and throw a rod in the process. It was a minor issue that would become catastrophic if not addressed, especially in constant-rain environments like the Pacific Northwest.
Theoretically if you replace the intake manifold gasket and replace the cowl with the updated version from a 2005 or newer Durango, you shouldn't have this problem. However, you don't usually find out until it's too late and the HEMI isn't a cheap motor (around $2,000 from a wrecking yard like B&R) so the cars get junked or sold for cheap.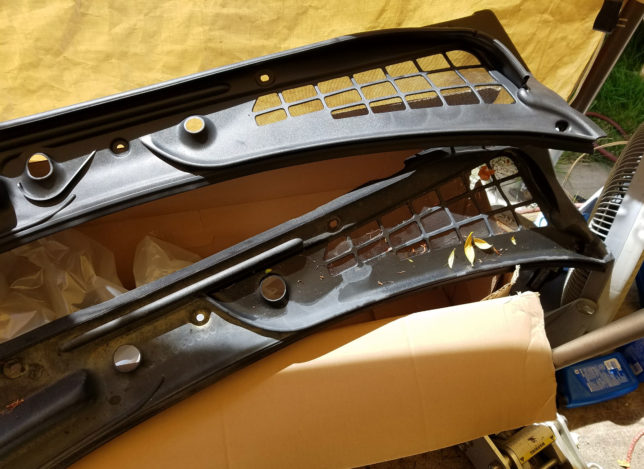 I didn't run a Car Fax, Autocheck or even Googled the VIN until after the purchase, which is what I recommend everyone do before purchasing a car. I Googled the VIN and discovered the car was auctioned off by CoPart last October as a theft recovery with 210k miles on the odometer, not the 101k I thought I had purchased. The odometer roll back was an annoying discovery, but the Carfax eased my mind a lot. The car was routinely maintained at University Autocenter in Ellensburg, WA, for the first 103k miles and five years of its life, then at a reputable independent shop up until 156k. There was no visible damage on the Copart auction listing of the car either.
The Carfax also revealed the car was not badged properly and was in fact a Limited trim level, which explains why it had automatic climate control, leather seats, and a sunroof. It had every available option, including traction control, side airbags, skid plates, tow hooks and Sirius Satellite Radio.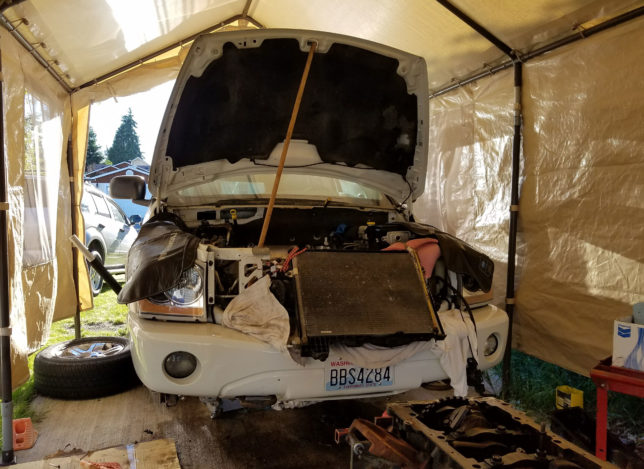 The engine rebuild was my dad's project. He had the engine out of the car and completely apart within the first week of his possession. He noted the engine snapped a rod but was much cleaner than his Durango with 125k miles at his time of purchase. The engine was rebuilt the second week and the car was running by the third week. It received new piston rings, seals and gaskets but only two new pistons. There was some mild scoring and a minor crack but that was addressed with some filing and JB Weld—my dad's engine block had a bigger crack and his patch job has held up well, even with towing his 5,000 lb boat.
I've had the car for the past week and put a little over 100 miles on it. The engine is quiet and delivers gobs of smooth power, albeit the 545RFE transmission isn't the smoothest shifting pseudo-6-speed transmission out there. It's also the largest car I've owned—even bigger than the 2011 VW Routan, which had a backup camera—and makes me nervous when backing it up.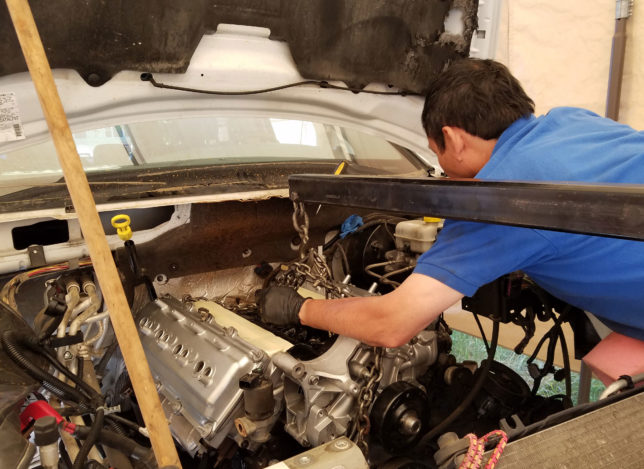 It isn't replacing my '97 Jeep Grand Cherokee either, but joining it. The Durango is for road trips and camping while the Jeep is a fun weekend trail rig. Since the car is mechanically sound, the fun soon begins. I can never leave a car stock so I already have a list of plans of upgrades and modifications I want to do to it.
My exterior upgrade plans include installing a set of 33" Yokohama Geolandar M/T G003 tires, hunting down a set of RAM Rebel 17-inch wheels, lifting the front end to eliminate the rake, black headlights with HID projector retrofit, a roof top tent, black LED taillights, remove all chrome, and some fun with Plastidip or Line-X. I'll keep the interior simple with all-weather floor mats, USB chargers everywhere and a double DIN head unit with Android Auto. I'm still debating what I want to do for rear seat entertainment—possibly a flip-down LCD with an integrated Nintendo Switch dock and NVIDIA Shield TV.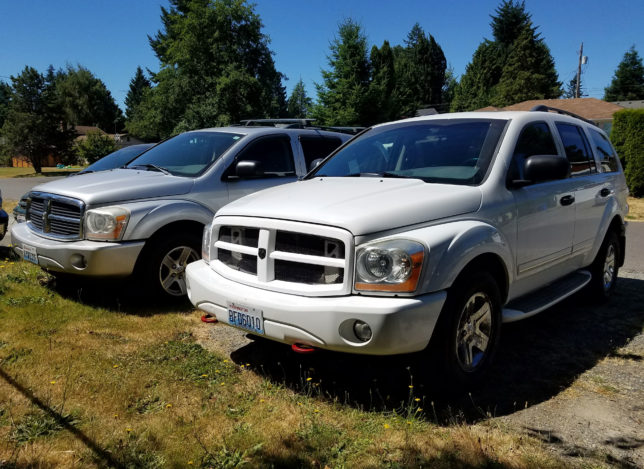 Performance-wise, I'd like to track down a set of 2006–2010 Jeep Grand Cherokee SRT exhaust headers with Magnaflow catalytic converters and catback, a K&N filter, replace the pads and rotors and call it a day. It already has plenty of power, but I want that Magnaflow V8 growl.
Overall, I'm very happy with my $1,500 car, thanks to my dad, but stay tuned as I embark on the blackhole that is car modding. Also always run a Carfax or at least Google the VIN number before buying a used car. I knew what I was getting myself into with a $500 car, but you may not be as lucky with more expensive used car purchases.