Step 1: Buy a Mitsubishi Delica. Step 3: Camp in it. Wait, what's step 2? Step 2 requires actually coming up with some sort of semi-comfortable campervan setup. No, we haven't gone all-in yet with cabinetry, permanent water storage, and so on. But, we have come up a with a quick, easy, and pretty comfortable camping setup.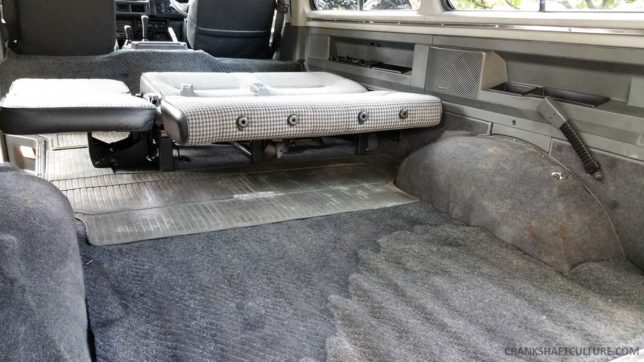 The first step was to remove the rearmost bench seat. This would free up space for us to put our camp box and ARB fridge. Yes, it looks like something had been spilled inside the Delica at some point. It isn't wet anymore, however. We decided we'd keep the center bench seat and fold it flat as a base for a sheet of plywood. We opted for Washington-grown formaldehyde-free birch veneered wood. It was smoother than other plywoods, plus it smells oh so nice.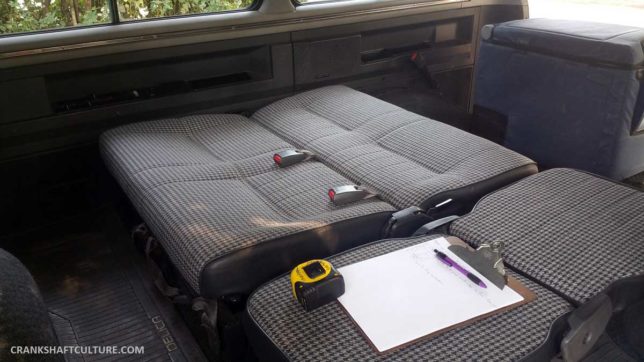 After a bunch of measuring and brainstorming, we decided what we'd do is cut the plywood to length, sand it ultra smooth, then make a center cut all the way down the middle. We'd then hinge it so we could flip one side up. This would allow for three things: First, it would give us access to our camp box without needed to leave the vehicle. Second, it'd let us have the jump seat open for a passenger, or just to sit somewhere other than the front seats. Third, it allows us to retrieve items from open spaces under the plywood.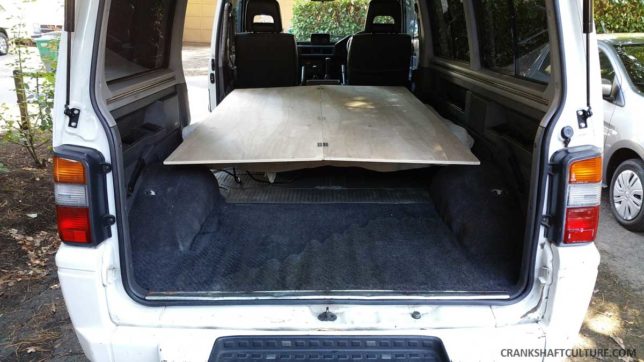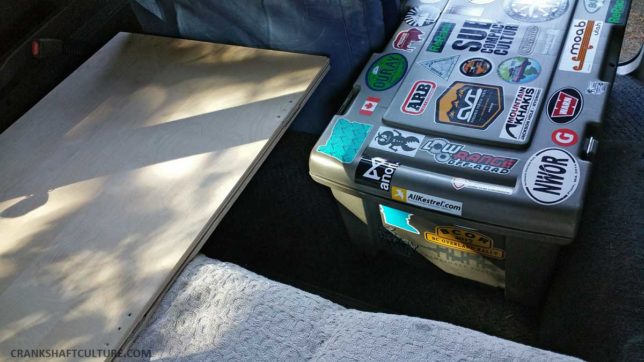 After some steadfast measuring, cutting, and test-fitting, we put our hinged sleeping platform into the van. It fit perfectly. We threw down our a blanket over the bench and added an old pillow for extra padding, laid our our Therm-A-Rests, covered them with a comforter, and put down our sleeping bags. (Hey, this is actually pretty comfortable!) We wired up our ARB fridge and headed up to British Columbia for our first night sleep at a friend's property.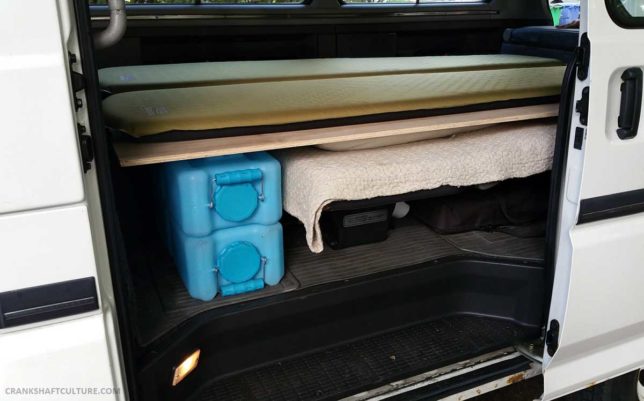 Low and behold, the setup works pretty darn well. And while we only have a total of one night in the Space Tractor, we found our makeshift camping setup to work nicely. There was plenty of space for our WaterBricks; a good amount of storage for phones, chargers, and other camp gear; and room at the base for our bags. We do have a cargo net that stretches width-wise, which will come in handy. We also noticed there is quite a bit of condensation. We'll crack a window next time. But so far, so good. And while we did get the windows tinted, we could use some curtains for additional privacy.
Another nice thing about this setup is that we can pull all of it out and still carry three additional people on the middle bench seat if we wanted or needed. For now, we're leaving the platform in the van, as its primary function is travel. So until we decide to put some more time, money, and effort into our Delica, this setup will allow us to get out there and camp. We can't wait for the next adventure.
Lead photo by Glenna B. Thanks for the awesome pic!