Do you love the scenic and remote splendors the US has to offer? Do fashion your time around roads or regions that captivate you? Surfaces that keep you interested or curves that delight you? Or, do you challenge yourself by navigating new terrain in the middle of nowhere? If you answered yes to any of these questions, you'll need to add Death Valley to your bucket list.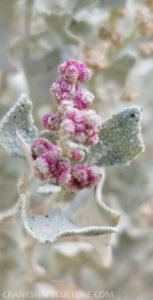 Andy and I just spent Christmas in Death Valley (DV), California. We've driven past before, but never had the chance to venture into the 5,262 square mile National Park. We had visions of one humongous sand pit with tumbleweed flipping through the air and nothing else to see in its vast horizon. Boy, were we wrong … we were dead wrong. Death Valley is like no other place we've visited. Our days were filled with diverse terrain and spectacular views. From exploring mountain peaks, sprawling valleys, and seeing Joshua trees, to visiting the lowest point in North America (Badwater), hiking across salt flats (which were completely different than Bonneville Salt Flats), and three-wheeling our Mitsubishi Delica, AKA The Space Tractor, on Lippincott Grade.  However, there's one route we took that's deserving of a Recommended Route story. This was was a 65 mile off-pavement trek in Death Valley that included hard-packed and washboarded gravel, twisty and curvy mountain switchbacks, rocky and steep boulder-filled segments, and all-around fantastic and challenging terrain.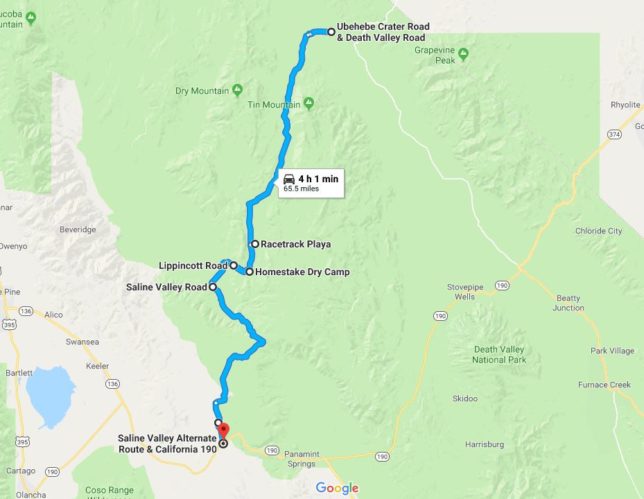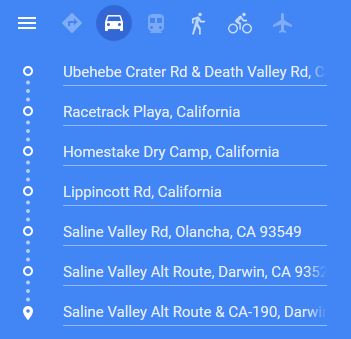 The following is a synopsis of our two-day planned adventure. Day one we toured around the tarmac a bit and then landed at Ubehebe Crater. A short distance beyond Ubehebe Crater is the start of Racetrack Valley Road (the start of the off-pavement fun). We'll start our Recommended Route from this point on, taking you through Teakettle Junction to Racetrack Playa and Homestake Dry Camp (where we stayed one night). Day two we venture on from Homestake Dry Camp to Lippincott Pass Road, down to Saline Valley Road and end with a short jaunt to Saline Valley Alt Road (that takes you to Highway 190 near Panamint Springs).
Racetrack Valley Road and Racetrack Playa: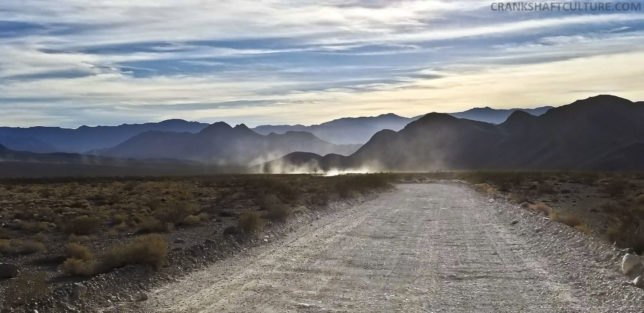 Racetrack Valley Road begins at Ubehebe Crater and is over 26 miles of packed gravel that gets you to the mysterious Racetrack Playa. Getting to the Playa isn't an easy feat—the road is badly washboarded, so much so that a part of the Delica literally shook loose. Thankfully, only the factory-installed JDM road flare (yes, there is a flare bolted under the dashboard) was the only thing that actually fell off.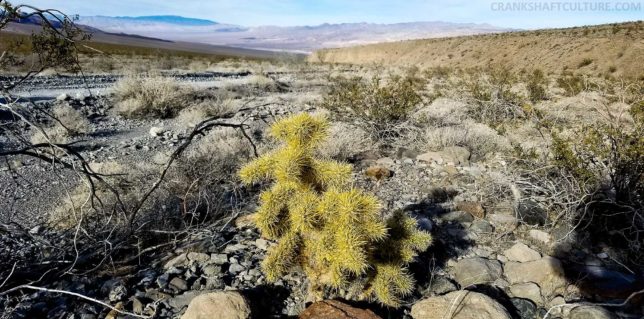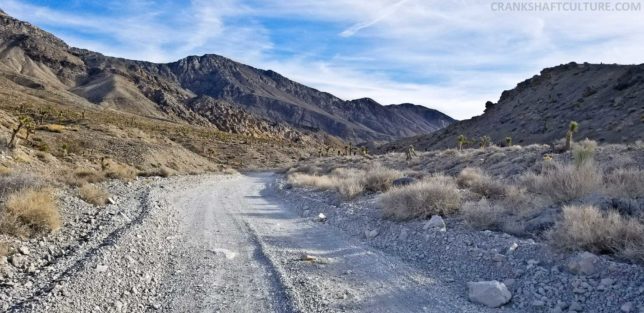 We suggest airing your tires down for improved handling and a comfortable ride (we don't want you to lose kidneys after this drive). Be prepared to see traffic; pull to the side if others want to go around you. Make room if trucks come at you. We even stopped to check on an SUV; it had two flat tires but thankfully the driver had what he needed to motor on.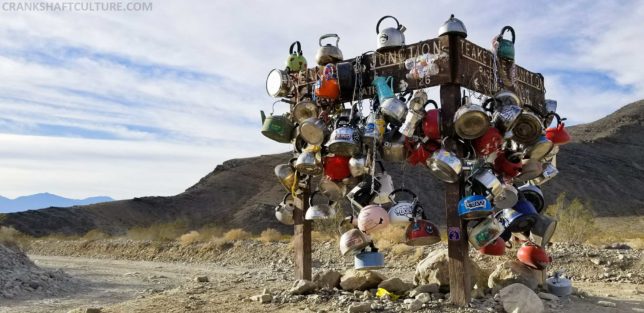 The National Park Service recommends high-clearance 4WD vehicles for this road, although it's mainly just dirt. We did it in 2WD and didn't see any areas that's require more clearance than a Subaru or RAV4. However, road conditions in the backcountry change, so it's better safe than sorry. Regardless, allow for enough time as these 26 miles took us about two hours since the road was so badly washboarded.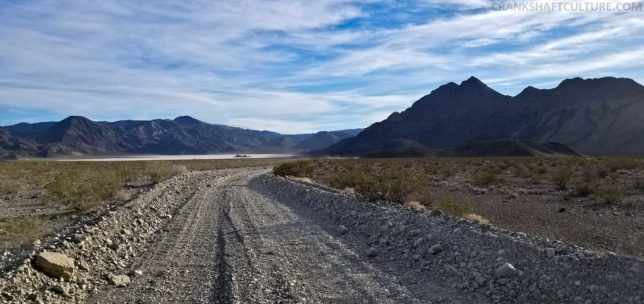 Once you reach Racetrack Playa, be sure to walk to the Grandstand rock formation (north end), which rises up from the ultra-flat floor. It's a fun place to explore and reflect. The Southernmost end of the Racetrack is where the famous "sliding rocks" like to hide.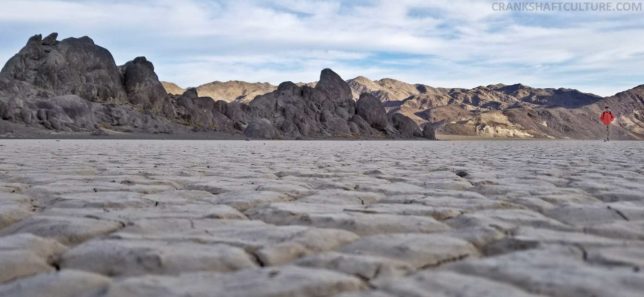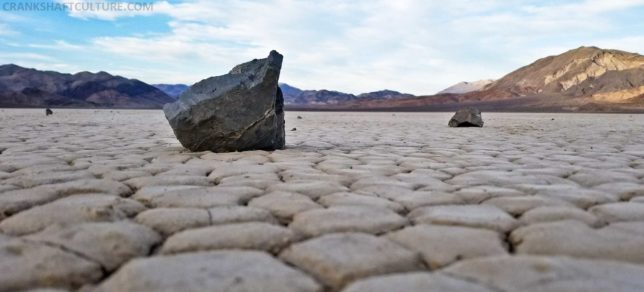 Tip: Drive to the south end before heading across the Racetrack to find these rocks, as the Playa is much bigger than you think. If you cross from one end of the Playa to the other, you'll be out there for a long time. We missed the sliding rocks due to the sun setting and the need to find camp before dark. We powered on disappointed, but shortly afterward, made our way to arrive at camp.
Homestake Dry Camp: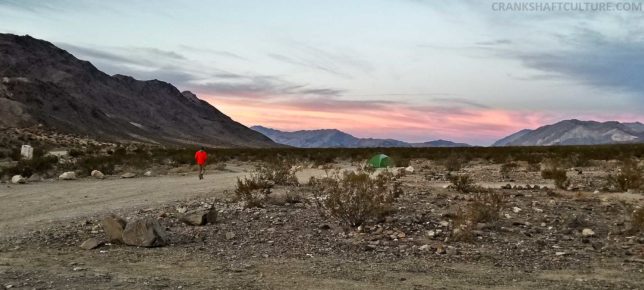 Homestake Dry Camp is just that, a dry camp with brush cleared in areas for you to park. Even though we were in Death Valley and thought we couldn't have a fire (illegal in National Parks) there were fire rings. Do not, and I mean don't even think about visiting the porta-potty there! Andy made that mistake; he said it was the worst one he ever saw. Now, we don't need to go into details now, do we?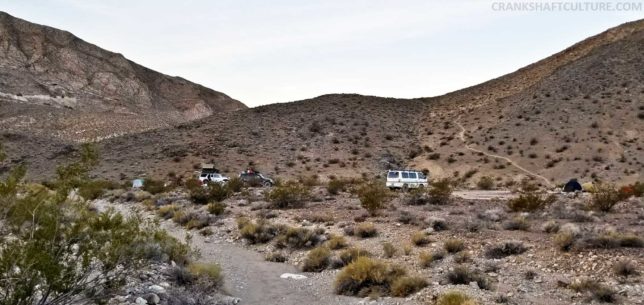 After a great night chatting it up with new acquaintances camped at the site next to us (they were from Los Angeles), we headed off to bed early as we had a full day of off-pavement driving and adventuring ahead of us. After a few beers and great conversation, the starry black night whisked us over to the Delica. We grabbed the TP and small shovel (see what we changed here?), did our "business," and went to bed.
Lippincott Pass Road:
Know your driving ability and your vehicle's capabilities before attempting Lippincott Pass Road. This roughly seven-mile trail isn't for the faint of heart. It's not for non-4WD vehicles, nor for novice drivers. This rocky, twisted, gnarly pass road has a large sign at the top of the decent. It reads: LIPPINCOTT PASS ROAD, 4X4, HIGH CLEARANCE, NO TOW SERVICE, CAUTION! Other than this sign, the entire area is not marked and there are no signs; bring good maps. Be aware this area is serious back-country. When we drove this trek, we only saw one parked truck but no one else for over 40 miles. Again, keep in mind that if Google tells you there is seven miles for your next leg; it won't take you 7-10 minutes! This short-mile jaunt took us about an hour. Be prepared for any kind of emergency. There are washouts, most of which have been repaired with large rocks, and in places you'll only have a foot or so between your outside tire and a disaster. The drop-offs get hairy; a mistake may be fatal.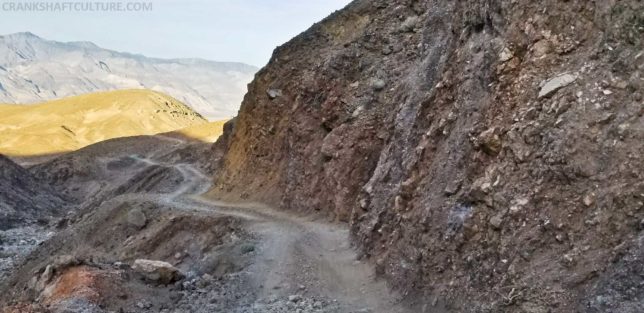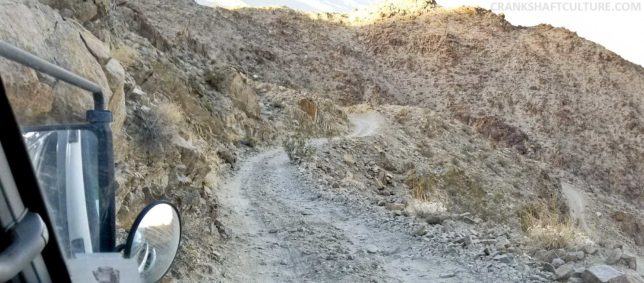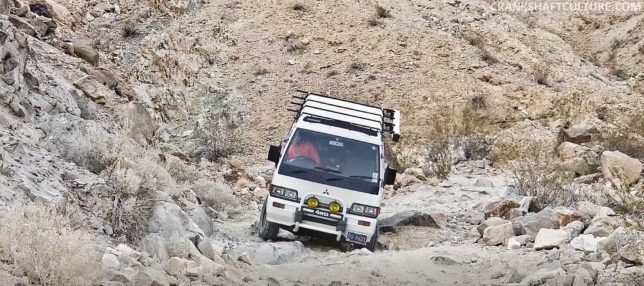 Our Delica managed the rocky terrain well, albeit it three-wheeling a few times. Andy was behind the wheel and required the utmost concentration. He took his time over the technical sections. This was the first time we took The Space Tractor over some good-sized boulders. Pucker factor for sure! Our house made it through safely.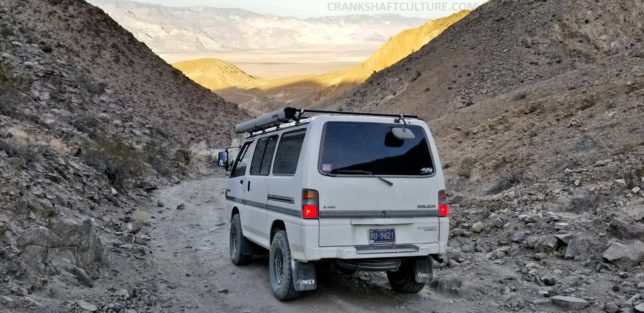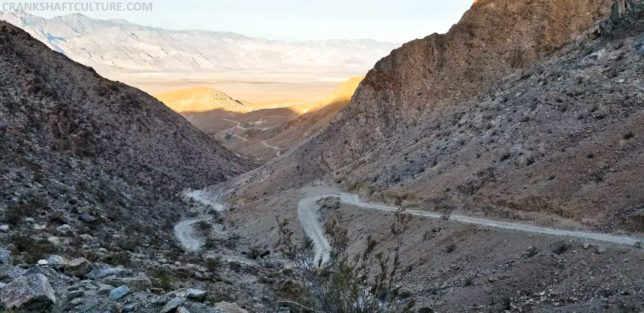 Thank goodness no one was coming up as we were heading down. A good section of this road (also known as Lippincott Grade) has no areas to pull off for passing. Have no fear, the last portion of Lippincott Pass Road flattens out and connects with Saline Valley Road. We stopped, caught our breath a bit, changed clothes as the temperatures were heating up (or maybe that was our adrenaline pumping), and had a snack.
Saline Valley Road (including Saline Valley Alt Road):
The last jaunt to finish our two-day off-pavement adventure was enjoying about 26 miles of Saline Valley Road and Saline Valley Alt Road that connects us back to Highway 190. Saline Valley is truly beautiful. We looked back at Lippincott Pass Road with a nod of respect and motored on. Saline Valley Road is both flat and wide, but then turns into tight curves and switchbacks. Your eyes are met with salt marshes, sand dunes, warm springs, and stunning views of the Inyo Mountains. Although we only stopped once at a dramatic overlook (mind you we stopped in the middle of the road as there were no pull-offs), we were excited to see such varying degrees of environment.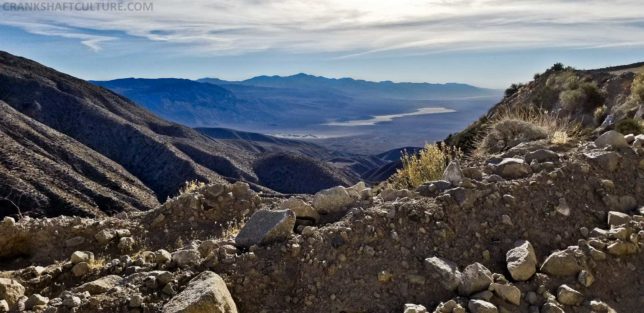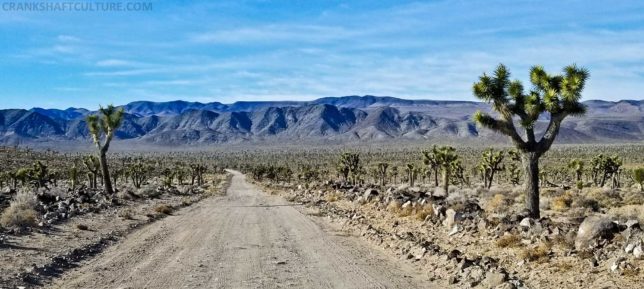 After packed gravel and not-so-teeth-rattling washboards, we arrived at a clearing where Highway 190 met up with us. It was the perfect place to air up, drink some water, have another snack, and head backward into Panamint Springs to fetch some diesel … very expensive diesel ($5.00 per gallon).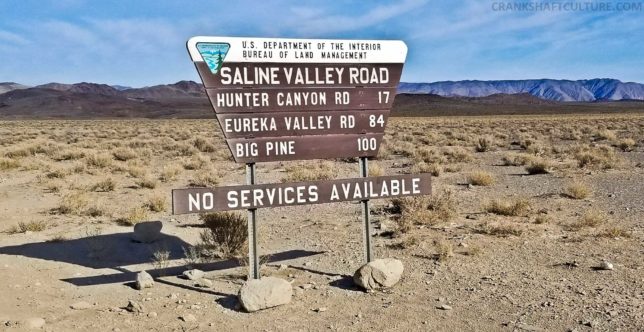 The most important thing to stress with this Recommended Route is to be prepared. Fuel, water, food, an extra spare tire (or two!), recovery gear, extra clothing, etc. are all items you should pack. Andy and I have a simple philosophy: pack like you were stranded for a few days and need to walk out of it. It's that basic. Even winter traveling in Death Valley can be hazardous. Unexpected snow, torrential rain, landslides, gas stations being closed when they say they're open (call ahead to all gas stations you plan to visit to get hours of operation), and finding water can be issues. If you run diesel, be aware not all filling stations sell it. We planned our entire trip based on which stations carried diesel and when they were opened. We found Panamint Springs and Furnace Creek sold diesel, but Stovepipe Wells did not.
With proper route and trip planning (smart packing, contacting local ranger stations, mapping out gas stations, talking to locals you encounter, etc.) you can have an amazingly rewarding and fulfilling trip. We did, and can't wait to go back. If you do plan to complete our Recommended Route, let us know how it goes! The scenery and serenity Death Valley offers is simply awe-inspiring.
---
Name: Racetrack Valley Road, Lippincott Pass Road, Saline Valley Road (located in Death Valley National Park in California)
Surface: Miles and miles of washboarded roads with soft side berms, hard-packed gravel, and rock (100%)
Notable Mentions: Bring food, water, at least one spare tire, air compressor if you have it, and plenty of fuel. There are no gas stations on the route itself, so top off before you drive. It's helpful to air tires down as you leave pavement. The Racetrack Playa is accessible from via Racetrack Valley Road, starting near Ubehebe Crater. High-clearance and 4WD is recommended, although we did it in 2WD. The Playa is also accessible from the southwest via Lippincott Pass Road, but drive this at your own risk! This road requires, at minimum, 4WD high clearance rigs with all-terrain tires. Lippincott Pass Road is extremely rough; please contact ranger station for conditions prior to traversing this. Most gravel roads in Death Valley have large, soft berms on both sides—avoid driving into them! Saline Valley Road is both narrow and winding as well as wide and flat.
Bring your camera, toilet paper and shovel, good hiking shoes, plenty of food and water, and layers of clothing (these three areas can get severe winds). These roads will take much longer to travel than you think. Weather changes on a dime; be prepared for all conditions. Drink tons of water, even during winter months. You could traverse from thousands of feet above sea level to hundreds of feet below it in one day. You can get altitude sickness if not properly hydrated.
Don't Miss: Towering hillsides, Joshua trees, cacti, the Racetrack Playa, Lippincott Grade (the very steep off-road section), Saline Valley, and overall stunning views.
Watch Out For: Your fuel gauge, soft berms on either side of road, rocky terrain on Lippincott (if you take this route), high winds; lack of food, drink, and TP.
Summary: Perfect spot to take in scenery; allow for enough time, don't trust your GPS's ETA, nor the time you'll take along each of these roads.