Subaru's cars have long been known for their AWD prowess, foul-weather capability, and storied rally racing history. However,  more and more owners are taking these vehicles and transforming them into more capable off-roaders. Eric Green of Portland, Oregon is one of those people.
IN THE BEGINNING …
Like me, Eric wasn't always involved in the off-pavement side of the automotive spectrum;  he came from the lowered, go-fast arena. But life changes, and so do automotive interests. So, what makes someone go from a fire-breathing Mitsubishi Lancer Evolution to an all-wheel drive crossover?
"Coming from a Mitsubishi Evolution X, most people would look at me like I was crazy for buying a Forester. Lets be real, it's a mom car," says Eric.  But when it came time for Eric to head to nursing school, he knew he'd need to start saving some cash, and that meant the EVO had to go. After all, it's not like you can modify a '14 Forester much, right?
"I didn't make any modifications for a month," said Eric. Hey—way to hold out. (I think we've all said we'll "leave it stock" at one point. It rarely happens.) He admits that he gets bored quickly and likes to change things up a lot. Since we've known Eric, we've seen his Forester transform a number of times.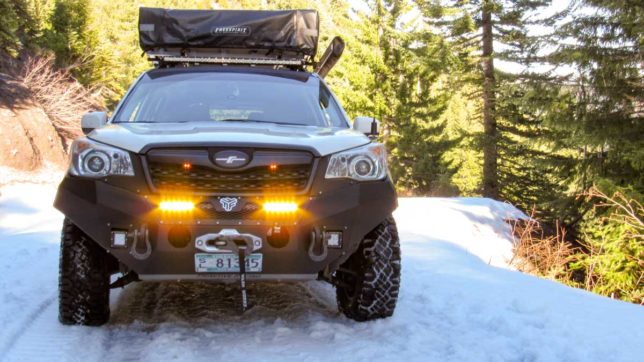 First things first, Eric swapped out the all-season tires for a set of all-terrains and custom wheels; a lift followed a few months later.
With this setup, he found himself exploring a lot of Oregon's amazing back roads. He began to realize that his mom-mobile was actually pretty capable, and he started to fall more and more in love with it. He also decided to further modify the vehicle to increase its capability and ability to get out more comfortably.
"Don't get me wrong, I love Subaru and the brand, but Subaru isn't the first thing you think about when off-roading is brought up. I wanted to change that," he said.
A LEARNING EXPERIENCE
Over many miles and scads of trips, he learned more about off-road driving and the vehicle's capabilities and limitations. Proof that there's no substitute for seat time.
Eric has taken his Subaru through a wide variety of terrain: along dirt trails, up snow-capped mountains, through rivers, and across Oregon's Alvord Desert. He points out that his car has been dead-nuts reliable and the fuel economy is much better than a lot of the big, heavy overland vehicles. On the downside, however, he points out that you're limited with things, such as lifts.
MODIFICATIONS
A Forester isn't something you're going to get a ton of ground clearance with, unless you do some major modifications (e.g. Saul Sanchez's extreme lifted Outback). Finding adequate aftermarket support to make the vehicle more capable can be a challenge.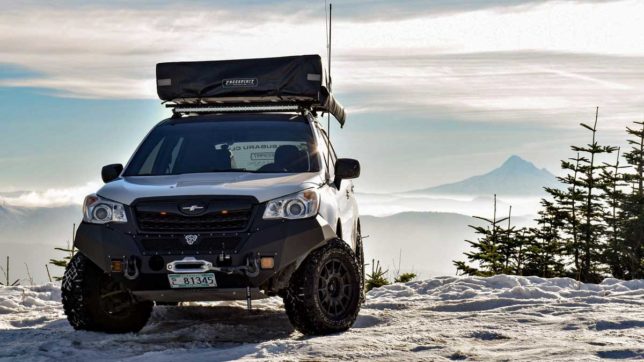 "There are a lot more [modifications] today then there were 2–3 years ago. But, with persistence accompanied by even more patience, I've gotten the car where I want," he says.
Admittedly, he says if he wanted to go wheeling in places like Brown's Camp in Tillamook State Forest, he'd buy something like a Jeep on 35-inch tires.
Speaking of modifications, Eric's Forester is full of them. Over the last two-and-a-half years, he's put a lot of goodies onto and into his Subaru. Currently the rig has an Anderson Design Fabrications 2″ lift with multilink spacers. To the lift, Eric's Forester features standard-height King Springs. The Forester rolls on Team Dynamics wheels wrapped in Goodyear Duratrac tires.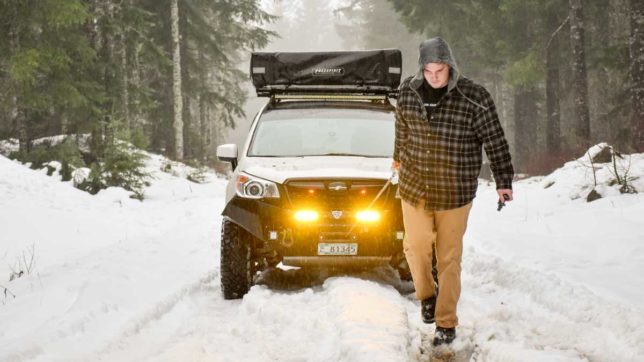 To add additional protection and capability, Eric's Subaru features a Full Force Metal Works Custom front bumper. Inside of that, he runs a WARN VR8-S winch to which he has a Factor 55 Ultrahook and fairlead. In case he needs to be pulled backward, he has Factor 55's Hitch Link, too. To protect the vehicle's underbelly, he's got Primitive Racing's front and mid skid plates. FYI, he also has Extreme LED light bars for better low-light visibility.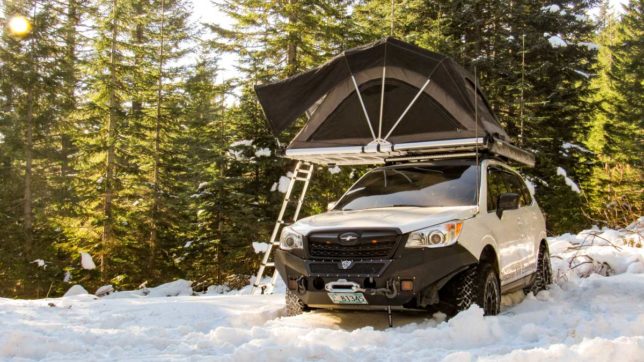 When he's ready to set up camp, his medium-sized Freespirit High Country Edition rooftop tent and 78″ awning make for quick-and-easy setup.
THE RIGHT VEHICLE
You know you bought the right vehicle when there's a personal connection with it; when it brings you experiences and adventures that mean something.
"I grew up backpacking on the Pacific Crest Trail, but by age 15 I had my first hip surgery," said Eric. FYI, Eric is a pretty young guy. "Three hip surgeries later, I can't hike out into the woods like I was able too. This car has enabled me to do so, and with a budget."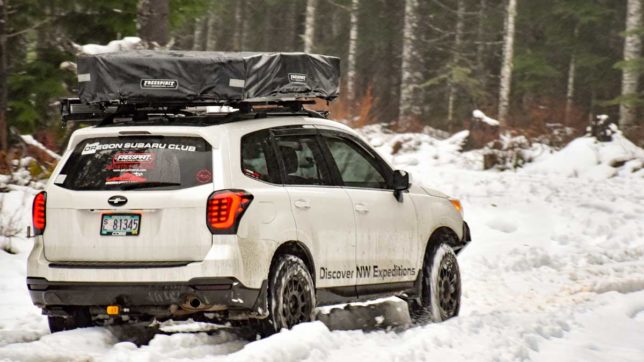 Eric's Forester has become an extension of himself, allowing him to get to some of the places he used to be able to visit on foot.
"I am able to get into remote places, see beautiful views, and at the end of the day, instead of setting up a tent while I'm sore, I spend one minute folding out the roof top tent. There is no doubt that this car, the Subaru community, and the off-road community has changed my life for the better."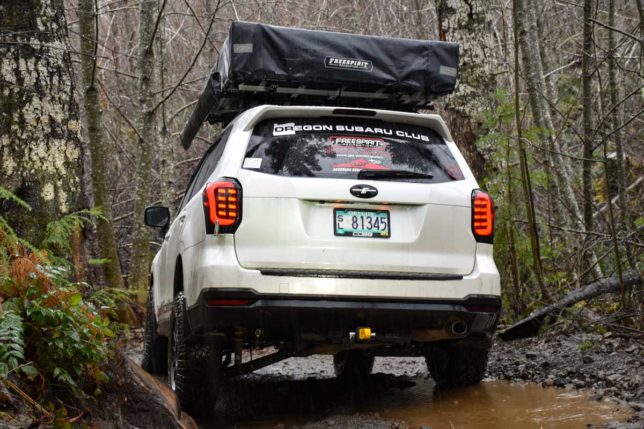 Eric's improvements to his Forester have turned it into a bona fide adventure rig that allows him to see places many other people won't ever see—something we can identify with. It's also proof that you don't need a super-overbuilt 4×4 to get out and explore.
You can follow Eric's adventures on Instagram at @discover_nw_expeditions or on Facebook on the Discover NW Expeditions page. Photos in this article were courtesy of Eric Green.
Crankshaft Chronicles is a regular series featuring peoples' adventure vehicles. We'll feature a new vehicle every month. Want to be featured? Shoot us an email.