Toyotas have long been admired as preferred vehicles for anyone looking to travel long distances over a variety of terrain. Their vehicles, such as the iconic Land Cruiser, or versatile Tacoma, offer a combination of durability, comfort, and reliability sought after by adventure enthusiasts. Take for example, our friends Josh and Elise Bent of Bozeman, Montana's Bomber Products. In the short time they've had their Toyota Tacoma Access Cab (two years to be exact), they piled on more than 80,000 miles of adventuring memories with it. In this edition of Crankshaft Chronicles, they explain how they've built it up, changed it around, and used their 2012 Toyota pickup.
WHY BUILD IT?
"Looking back, it is apparent that the Bomber Products vehicle is the result of a constant evolution. The pursuit of the perfect rig is about meeting your needs, making your life easier, and matching your adventure style. It took a lot of trial and error and days out on the road to figure out exactly what we wanted," Elise says.
Josh and Elise have a passion for travel, camping, and exploration. They started out as ground tent campers, but changed to truck-bed platform sleepers, and finally rooftop tent dwellers. A comfortable and durable set-up was a priority for them. Their latest truck top compilation boasts an Expedition 3 rooftop tent and a Shadow Awn awning. These items sit atop an Explorer canopy for the second-gen long-bed Tacoma made by Alu-Cab. "This camping setup is incredibly fast to set up and tear down, which means less time grappling with poles and stakes and more time enjoying the views."
THEIR PROCESS
Bomber Products went through a few vehicles before settling on their 2012 Toyota Tacoma Access Cab.  Since Josh and Elise travel with only themselves and their black lab Hudson, the access cab is a great fit as it does away with extra passenger space in the cab and transfers it to an extra foot of bed length. And, as you're probably well aware of, the Tacoma features good capability off-road and lots of versatility for customization with an abundance of aftermarket accessories.
VEHICLE ARMOR, TIRES, AND RECOVERY GEAR
"One of the simplest and most important upgrades you can make to your vehicle to improve performance and traction is swap out the tires. We decided on the Cooper Discoverer S/T MAXX in 255/80/17 due to their middle ground between an A/T and an M/T," said Josh.  Durable tires, along with high quality recovery gear, like their WARN ZEON winch, ensure they're ready to get out of any precarious situation they find themselves in. They chose steel cable for their WARN winch because of its durability and "the fact that it just works when you need it to."
To make room for the larger tire size and to carry extra weight of their build and gear on technical roads, they upgraded the suspension to Old Man Emu's Nitrocharger Sport heavy suspension and added Firestone Ride-Rite airbags. The suspension system has performed extremely well over the 80k miles they've put on the truck; it allows them to dial in the ride based on how much weight they're carrying.
For the way they travel, they wanted the most available protection with the least amount of weight, and to also allow for increased fuel storage for remote trips. To accomplish that, they outfitted their Tacoma with an ARB deluxe bull bar, CBI Offroad Fab sliders with kickout, and CBI Offroad Fab tire swing bumper with dual jerry can holder. It's a minimal but solid setup—they chose each piece because of how well it functions.
Recovery gear:
WARN ZEON 10 winch with steel cable
Hi-Lift X-treme 48" jack
Hi-Lift sand base
Bomber Products shove-Lock
General offroad components:
OME Nitrocharger Sport heavy suspension
IPF LED offroad lights; one spot beam, one flood beam
Firestone Ride-Rite airbags
Cooper Discoverer S/T MAXX 255/80/17 tires
ARB single high output air compressor
POWER AND COMMUNICATIONS
Under the hood they've set up a dual battery system by Off Grid Engineering. The dual battery allows them to enjoy one camp site for a couple of days or longer if they deploy their solar panel. They've also focused on communications, which is especially important when on extended trips. Listed below is their communications gear to keep them in touch with others while out and about. This is essential for back-country trips where driving isn't the focal point, but having fun while being out is. This is all possible, of course, while having enough power and proper communications to complete their adventure.
Electronic components:
Off Grid Engineering dual battery system with two group 34 X2 AGM batteries
Overland Solar 90-watt suitcase style panel
Yaesu FTM 100DR ham radio
Dual XGPS150A GPS receiver
WeBoost Drive 4G-X cell phone extender
Hondo Garage Big Squeeze tablet mount
Apple iPad 5 with Gaia mapping software and Dash Command OBD-II engine monitoring software
HOW THEY STORE THEIR STUFF
In the bed of the truck resides a Bomber Products Overland storage system featuring full-length drawers and a fridge slide for their ARB 50QT fridge/freezer. Their gear is at arm's length at all times as it's stored between Bomber's full-length drawers and the Alu-Cab canopy side access system. Their storage system holds recovery and cooking gear, along with their pantry and camp furniture—with room to spare above for their black lab!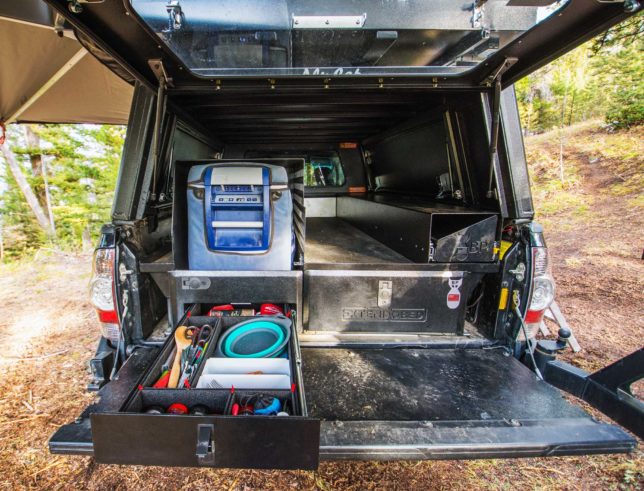 Storage/Camping:
Rhino Rack Pioneer platform (over the truck cab)
Alu-Cab Explorer canopy for second-gen long bed Tacoma
Alu-Cab Expedition 3 rooftop tent
Alu-Cab Shadow Awn awning
Bomber Products Overland storage system
ARB 50QT fridge/freezer
Josh and Elise appreciate quality products and a solid build. They've traveled thousands of miles with this rig and have many stories to complement its character.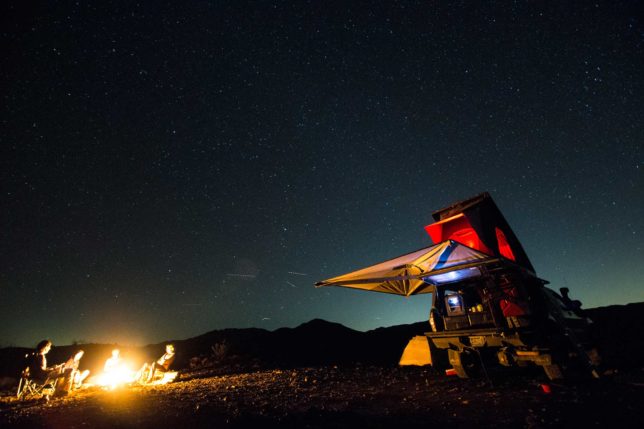 You can follow Bomber Products adventures on Instagram @BomberProducts or on Facebook on the Bomber Products page. Photos in this article were courtesy of Elise and Josh Bent.
Crankshaft Chronicles is a regular series featuring peoples' adventure vehicles. We'll feature a new vehicle every month. Want to be featured? Shoot us an email.