We all have different objectives when it comes to vehicle builds. Some want the most off-road capable vehicle they can build. Others are looking to go as fast as possible. Jon Wilder built his 1999 Jeep Cherokee, Rusty the TexJ, for another more personal reason: his family.
"The goal of this build was family," says Jon, who lives in Austin, TX. "I want to introduce my daughters to as much of the outside world as they'll let me."
We met Jon in 2017 on the Jp Magazine Dirt 'N Drive, which originated in Las Vegas. We had our 2001 Cherokee, the PDXJ, and Jon and his brother, Jason, were also on the run in their '99. We had similar modifications and—both on puny 31" tires (vs. so many others' 35s or 37s). We instantly bonded over a similar vehicle, as is the enthusiast way.
THE BEGINNINGS
Before getting into Jeeps, Jon was a Mustang guy. "I was pulled away from the mustang scene by my good friend, John Porter," says Jon. "I went with him out to an off-road park near us and was just flabbergasted by how well a stock XJ climbed over everything. From that point forward, my Fox body Mustang was rolled behind the fence and I haven't looked back since," he says.
Jon's '99, which he affectionately calls Rusty the TexJ, was originally bought from a University of Texas college student who brought it down from Brooklyn, NY when it was totally stock with 117,000 miles on it. He paid $2,000. "Because it was a northern Jeep, it had its fair share of rust, but nothing major or structural." Jon notes there was enough surface rust that he removed both axles and the gas tank to treat the undercarriage. While he was down there, he added a new fuel pump and the suspension kit, which is composed of a 3.5" Rubicon Express Super Flex kit. He also put on a new rear main seal and oil pan gasket.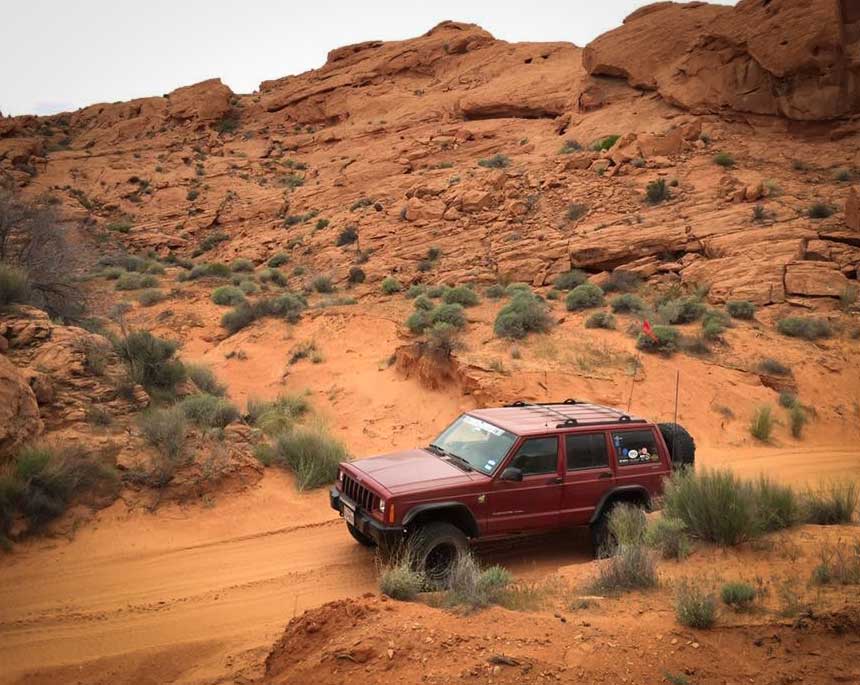 Of course, there's been a good deal of maintenance to the rig since then; brakes, fluids, cooling system. He notes that before his first big trip, he'd already sunk about a grand into maintenance. (This sounds oddly familiar—ask us how we know … )
MODIFICATIONS
In addition to the lift kit, his XJ features an ARB front bumper, JCR sliders and their rear DIY bumper kit with a custom-built rear tire carrier and rear jerry can carrier. There's even a built-in swing-down table and mount for a Hi-Lift jack.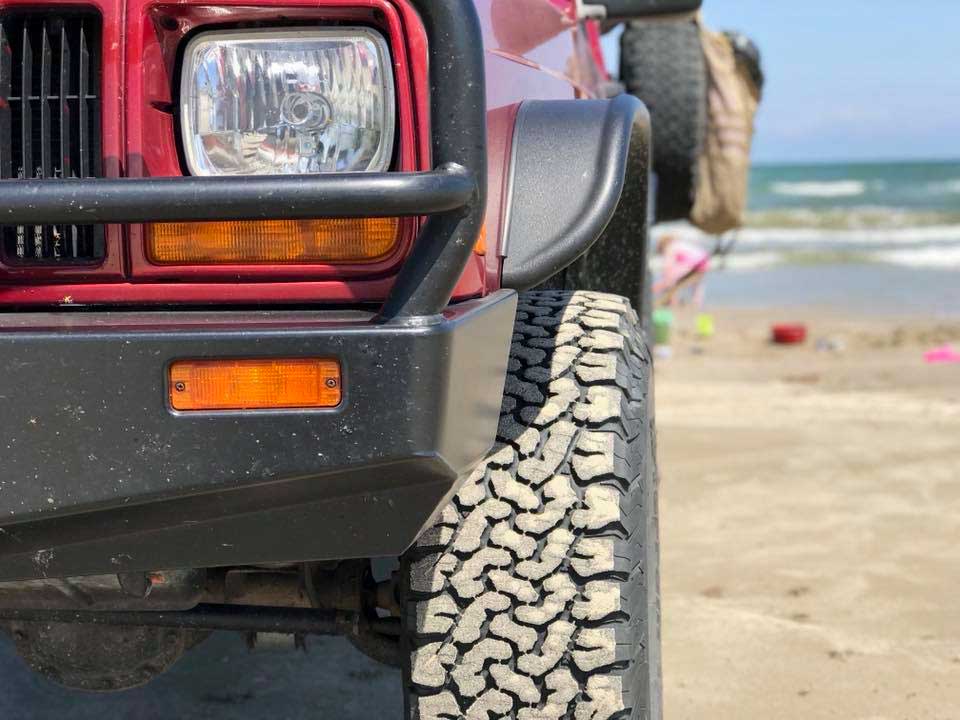 While the engine is all stock, sans an Accel coil and plug set, the transfer case is actually a modified Grand Cherokee (ZJ) transfer case with a Novak transfer case shifter, and gas tank skid plates. Up front he has an XJ Up Country skid. The XJ is on stock axles with the 3.55 gears. To this, however, he's added the must-have Advanced Adapters slip yoke eliminator kit (SYE). As mentioned, the rig rolls on 31×10.50 BFGoodrich KO2 all-terrains, which are covered by Bushwacker Flat Style fender flares.
There are some electrical mods. Jon's Jeep has a Blue Sea fuse block to power the CV, halogen headlight kit, and 1,200 watt inverter, as well as LED lighting in the rear hatch. He also has a small light bar.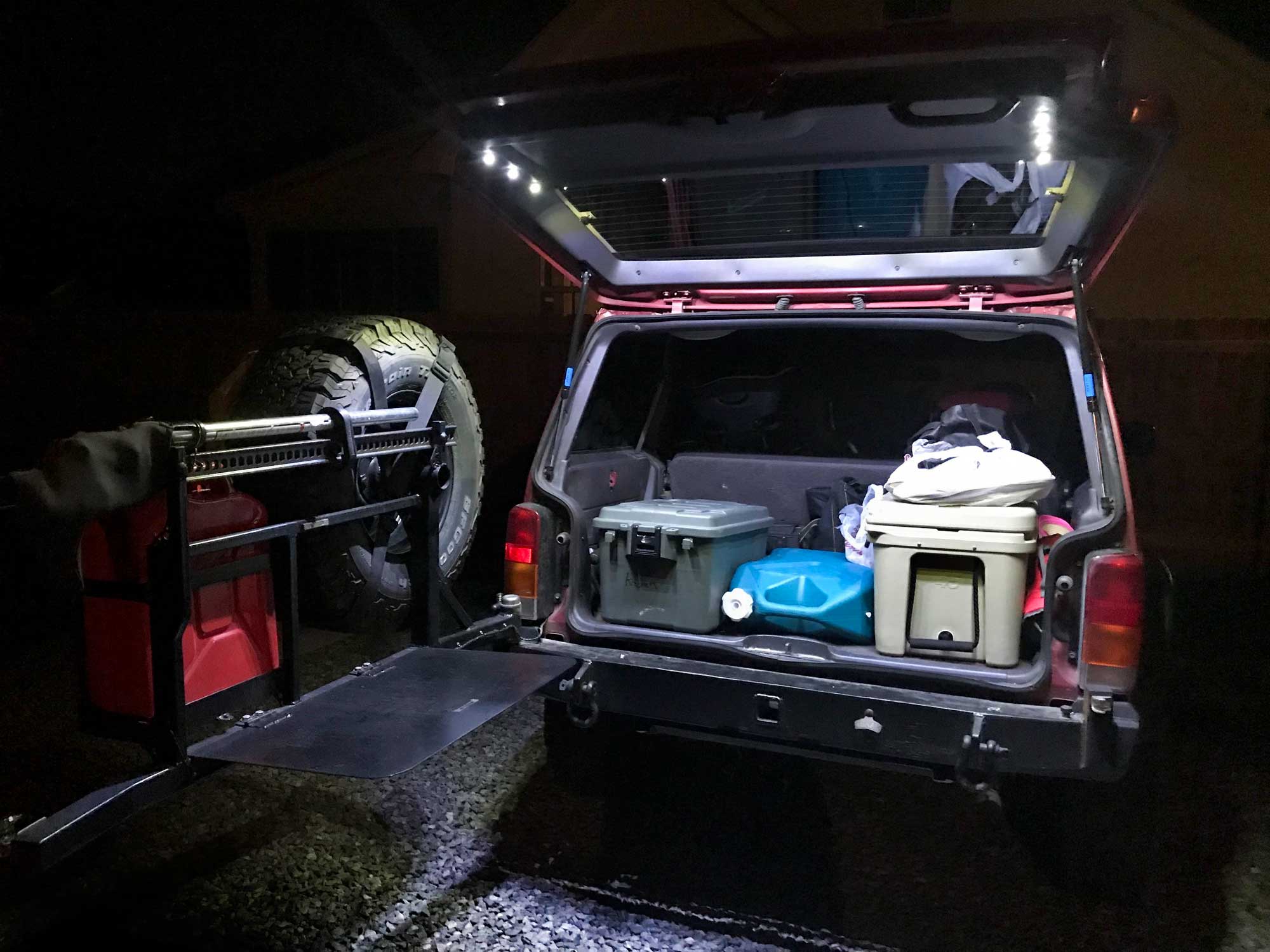 Jon says, however, that the biggest upgrade is that fabricated rear bumper. "I did it simply because I could not find an aftermarket rear bumper that offsets the rear spare tire behind the driver so you can still see out the rea window." He began with the JCR Off Road DIY rear kit and built onto it. "I did need to reinforce it a bit in order to support the extra weight. I added the spare tire, a mount for the Hi-Lift jack, space for a jerry can and a fold down table on the backside, which is usable when the tire carrier is locked in the open position."
Future plans are to make a drawer system for the cooler to slide out as well as a more permanent water solution with hot water as well. (And more storage for delicious Topo Chico that Jon got me hooked on …) Dual batteries with an exterior outlet for camp lighting and an onboard refrigerator are possibilities, too.  Jon says that at some point he'd also like to finally upgrade the axles, add lockers, and gears, mostly so he can tow a trailer through the mountains.  He notes that the last must-have is a WARN winch. All that being said, Jon remarks that before more money is spent on Rusty the TexJ he'll probably be picking up a Jeep CJ 2A. "It's a sickness; I know."
TRAVELS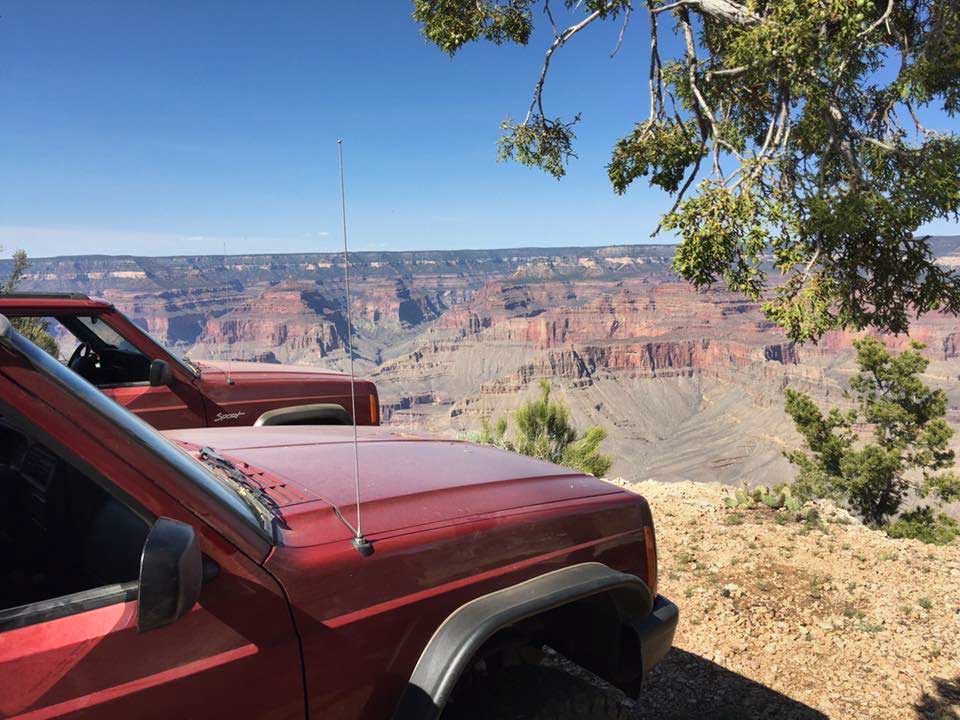 Rusty the TexJ has been to several states around the west. This includes Big Bend National Park in Texas, camping in Colorado, Overland Expo – West in Arizona, and Utah and Nevada for the Dirt 'N Drive events in '17 and '18. Additionally, Jon has driven it to other parts of Texas, Mississippi, and Louisiana. And despite the fact he had the rig at Moab for the start of the iconic Easter Jeep Safari event in both '17 and '18, he hasn't had a chance to participate, but he says he's got his eye on '19.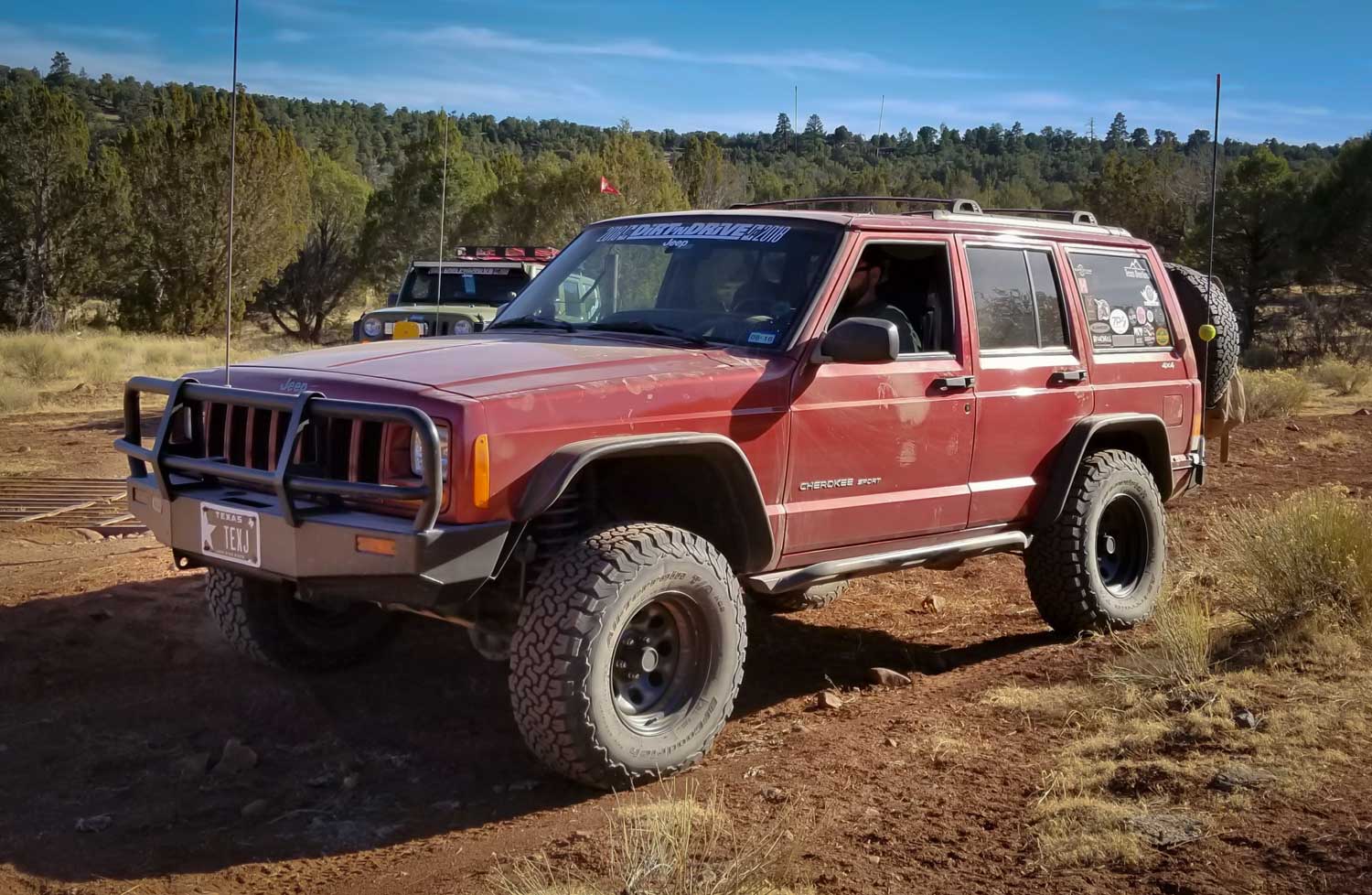 But let's not lose sight of Jon's intention with the Jeep: family. He says the rig has become the family truckster for his family's travels, even when not camping or off-roading. "It's built to comfortably work out of. Be it making up simple lunches to having a portable beach shower.  Since it's not a daily driver it's become Pavlovianly associated with our vacations, and it warms my heart when I see the girls light up at the mention of taking the Rusty the TeXJ."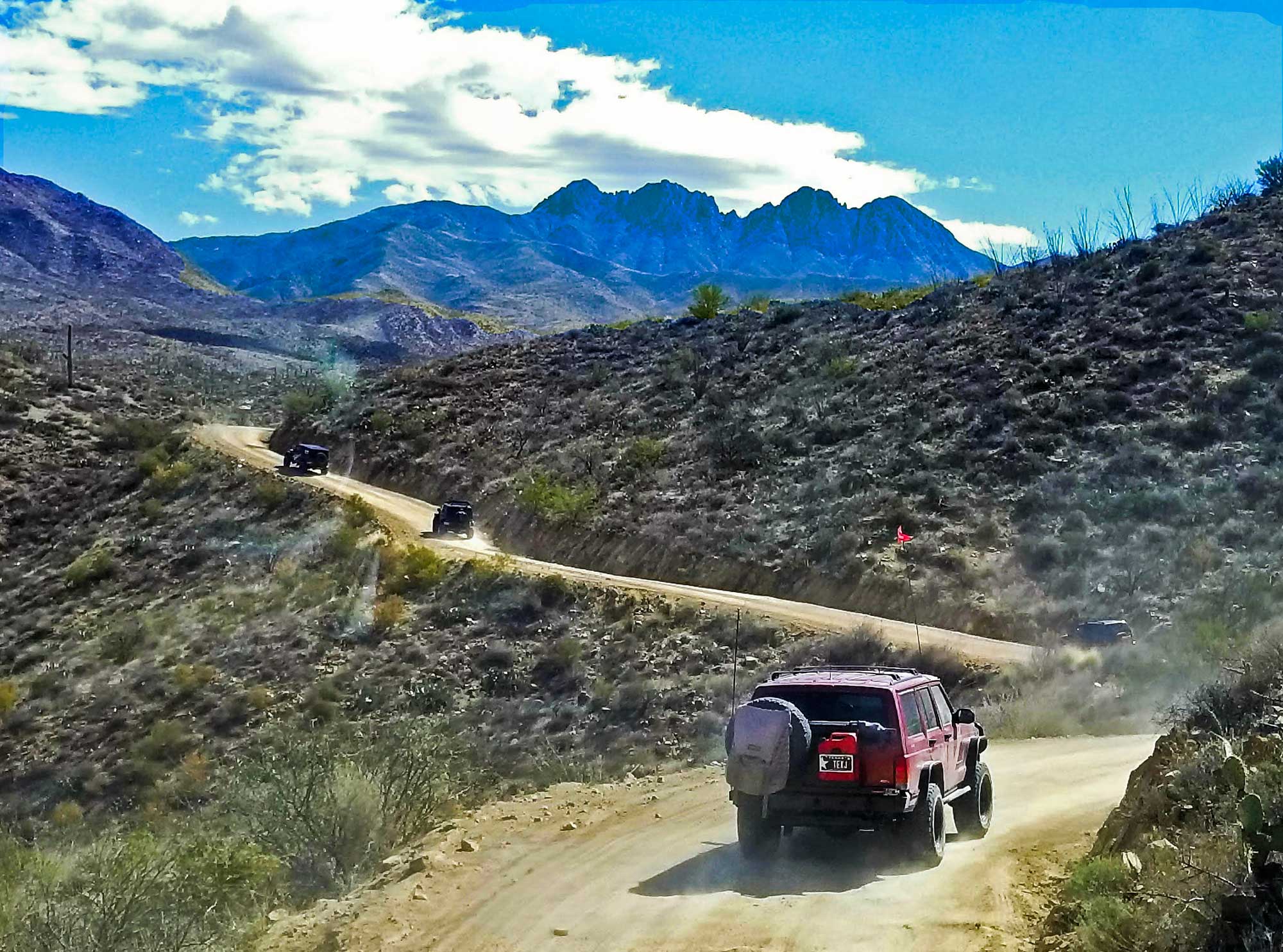 You can follow Jon, his Jeep, and his adventures on his Instagram account @thejonwilder. And remember, we be believe that every vehicle is an adventure. Got an adventure vehicle? Tag us on Instagram at @crankshaftculture or use the hashtag #crankshaftculture or#everyvehicleisanadventure.
Photos by Jon Wilder, Mercedes Lilienthal, and Andy Lilienthal