RC cars are a rabbit hole of wallet-emptying enjoyment. The hobby mimics 1:1 vehicle culture on a smaller scale, even down to the events. The Washington Remote Control Rock Crawlers, mostly known as WARCRC, holds a Top Truck Challenge for scale RC vehicles and last Saturday was the group's annual event. As the event name suggests, it's a 1:10 scale homage to Four Wheeler Magazine's Top Truck Challenge that started in 1993 and last held in 2015.
As with Four Wheeler Magazine's competition, trucks are submitted by contestants and voted in by WARCRC members. There are some strict requirements for a truck to be legal for the event, however. The event follows rules set by the Scale Off Road Radio Control Association, also known as SORRCA, which meant every truck had to have at least 40 or more scale points. A vehicle receives a certain amount of points depending on the body type (more points for a hard body versus lexan), accessories (mirrors, cooler, door handles, etc … ), and many other features.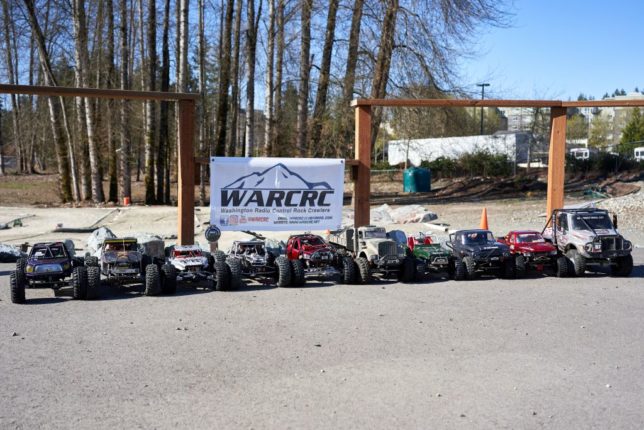 There are only 10 spots for competitors and it's a one-day event graciously organized by @JustinArt24 and hosted at the Remote Control Hobbies in Covington, WA, which has an outstanding short course and rock crawling track behind the store.
The scale Top Truck Challenge consists of six individual courses—a frame twister, obstacle course, mini Rubicon, sled pull, mud pit and tank trap. Each course has its own challenges that push the tiny trucks to different limits. It's tough to build a vehicle that can excel at every challenge, so there was no vehicle that finished first in every challenge. If you get stuck or flip your truck over, you can only rely on a winch for assistance.
Tractor pull

Mud pit

Tank trap

Mini Rubicon

Obstacle course

Frame twister
I attended as the event photographer and took a ton of shots. Without further ado, here were the challengers and the trucks entered.
Jordy F.
Custom built Tundra truggy
VP Currie axles
2.2 Mayhem Wheels
2.2 Proline Super Swampers
Holmes Hobby 3300 KV motor brushless
Mamba Max Pro ESC
Savox 1230 mg servo
Vanquish link kit
Gmade shocks
A few scale items
Custom 3D interior
Homemade Servo winch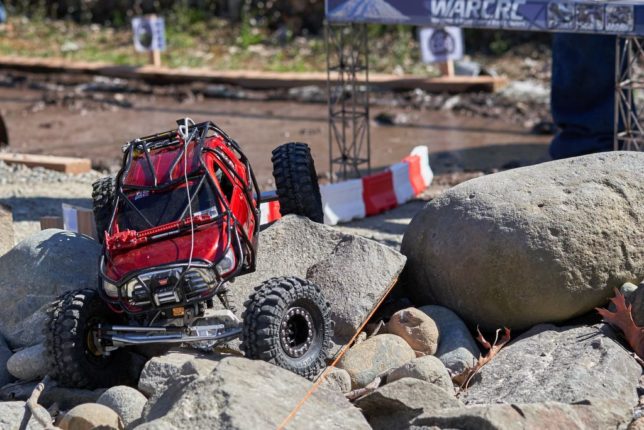 Freddie C.
Tamiya Tundra hard body set
Custom exo cage
Custom chassis/ tuber chassis
Mounted bed sides with drop bed
2.2 Proline Super swampers
2.2 Trailready Mayhem Bead lock wheels
AR60 axles fitted with beeftubes
Vanquish Wraith scale knuckles and chubs with
Vanquish rear lockouts
Vanquish AR60 diff lockers
Hardened over/ under drive diff gears
Axial universals and axial tear shafts
Axial wraith skid
Bombproof transmission
Tekin Pro4 3800kv with a Mamba max pro and
Castle Creations BEC
Holmes Hobby BLS servo with Vanquish servo horn
Traxxas big bore shocks with Losi mini T springs fitted with beef tips
Axial Wraith Spawn interior
Vanquish titanium Wraith links fitted with Traxxas rod ends to match the stretched wheelbase
MIP drivelines
KNK stainless hardware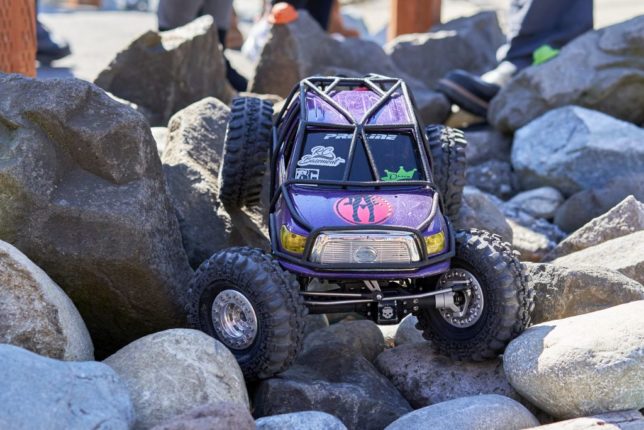 Ed C.
UCFab truck with Yota body
Holmes Hobby BRXL ESC with 3300 kv motor.
Ottsix Tko V1 axles with front axial OD gears and HD gears in the rear
HH lockers front and Rear.
XR Mod wide with Vanquish Wraith c-hubs, knuckles and vp rear lockouts with Axial Wraith universals cut to fit the axles.
Savox 1230 steering servo.
RC4x4performance links's
Supershafty Prang 2.2 wheels
Ottsix Voodoo 2.2 klr with CI dual stage foams.
MIP driveshafts
Proline Slash front shocks
Heyok servo winch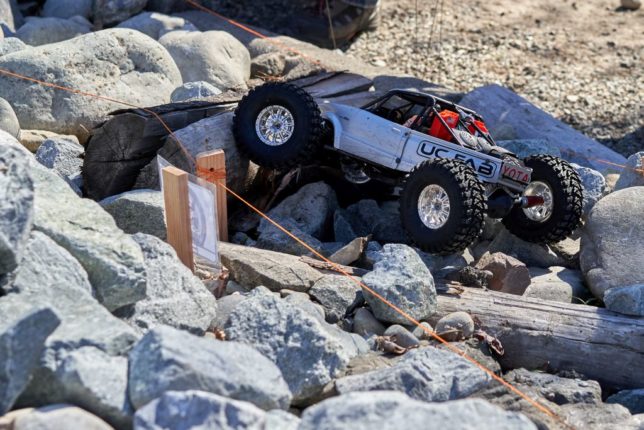 Justinart24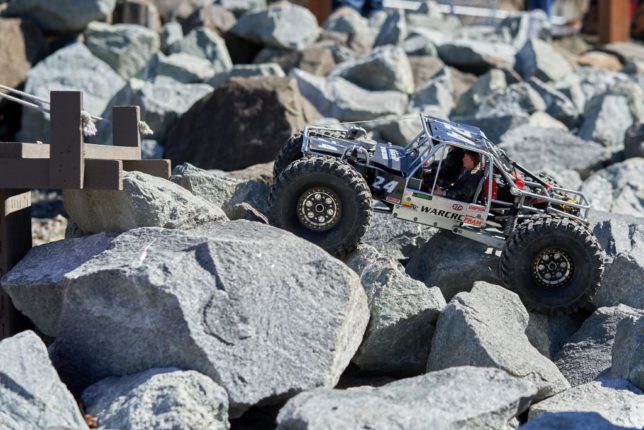 Luke C.
Toyzuki v1 chassis with v2.5 transfercase
Toyota Hilux body
Tekin FXR ESC
Holmes Hobby 21T motor
Savox 1230 servo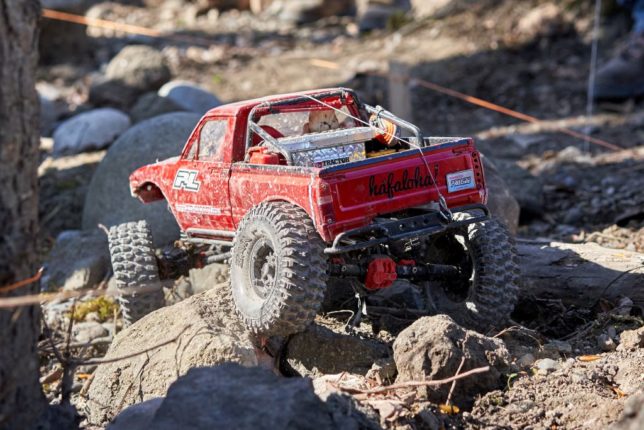 Daniel A.
Military 6×6 truck
6×6 multi axle
Proline TSL Swampers, 2.2″ wheels
AR60 Axles with extended scx10 frame rails
SCX10 skid, transmission, shock tower, front and rear bumper
Semi truck style cab with full bed, plenty of scale accessories, all custom made.
Mamba Monster X brushless combo
Engine sound system
Rig Name: Perro Muerto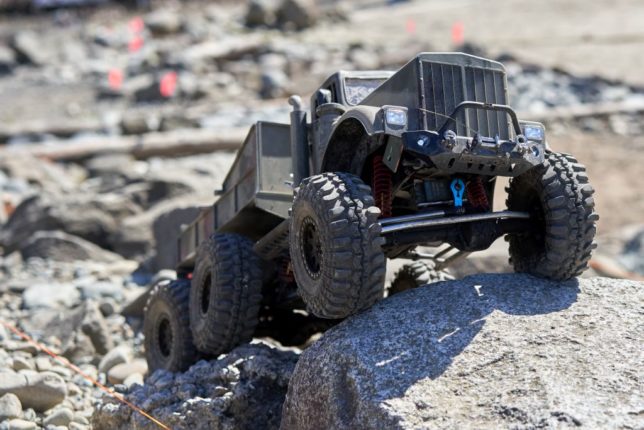 Shane S.
Custom from the frame up 6×6 CXT
1" flat steel chassis rails with SMW waterjet cut subframe, shock hoops and skidplate.
Cut down NewBright CXT cab
Rear 5 link walking beam and 4 linked front
Wraith axle up front with Vanquish parts
3d printed XR width SCX centered BowHouse housings with axial internals
Rear steer with Hitec 7955 servo
SCX transmission
Custom welded MIP drivelines
Big bore shocks
Tekin Racing 1200kv brushless on 4s
Holmes Hobbies SHV500v2 servo and BR-XL ESC
3D printed wheels/hubs
Crawler Innovations DW Foams inside RC4WD Baja Claws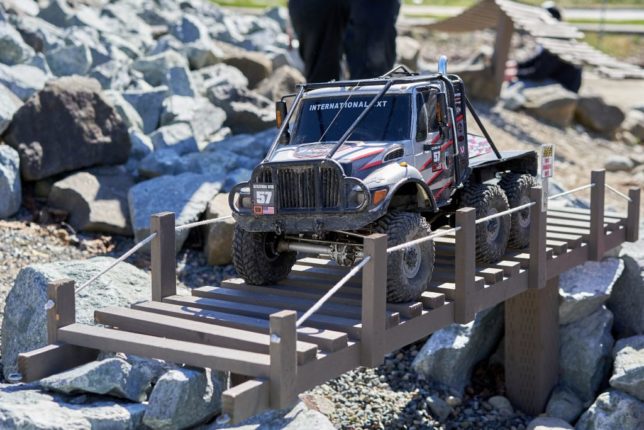 Hans E.
Axial Wraith
Holmes hobbies 3300Kv running 4S with an Mamba Monster Pro ESC and dual BEC's
Dlux transmission, trusses, axle shafts and knuckles all around, 4-wheel steering
Vanquish axle housings, C-hubs, link kit, steering horns
Bluebird steering servos front and rear 800+ oz
Pitbull Rock Beast tires on LockedUp RC wheels with hubs and brakes
BGR sliders
Savox 1257 Ti servo winch with custom made land anchor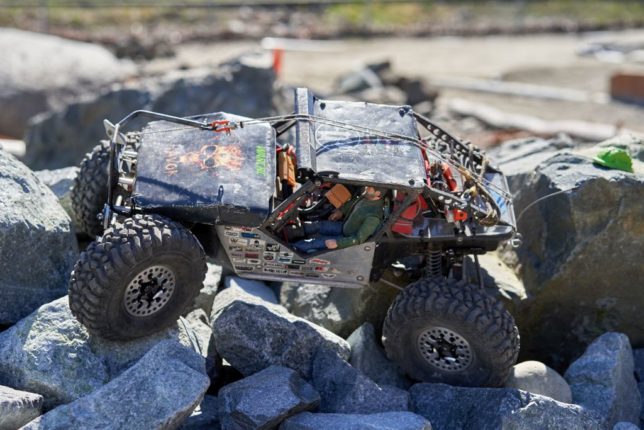 Glen T.
Axial SCX10 II
ProLine '66 C10 body with Honcho bed
SSD front and rear axles
Holmes Hobby 21T Trail Master motor
Metal transfercase gears
SSD 1.9 wheels
4.75" Goodyear MTRs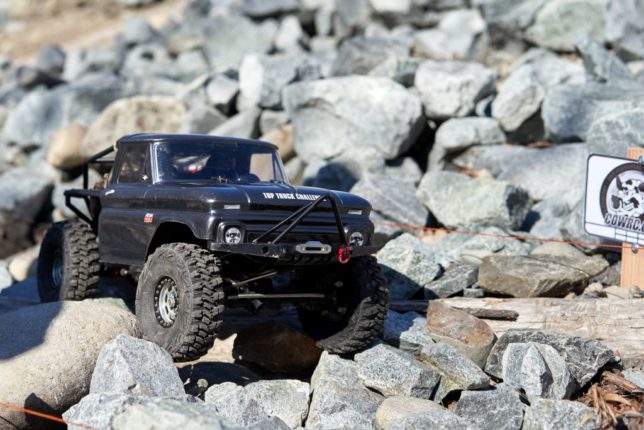 Bryan S.
Toyzuki v2 chassis with 2.5 Delrin transfer case
Axial SCX axles, XR modded
Pitbull 1.9 XOR tires on DCW Delrin wheels
Castle Creations Slate 2280kv motor with micro ESC
Protec 370BL servo
MIP drivelines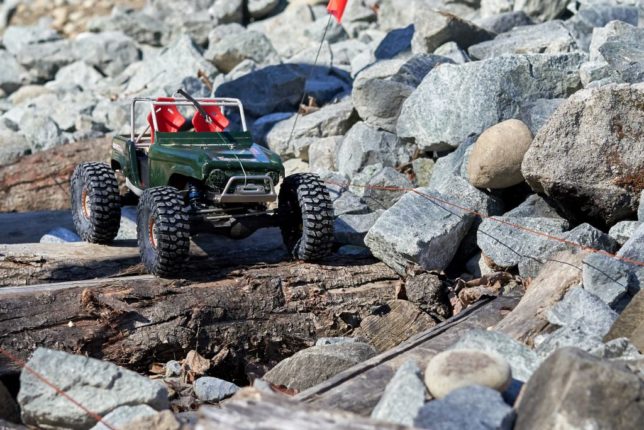 And the winner was Daniel A. with his 6×6 military truck.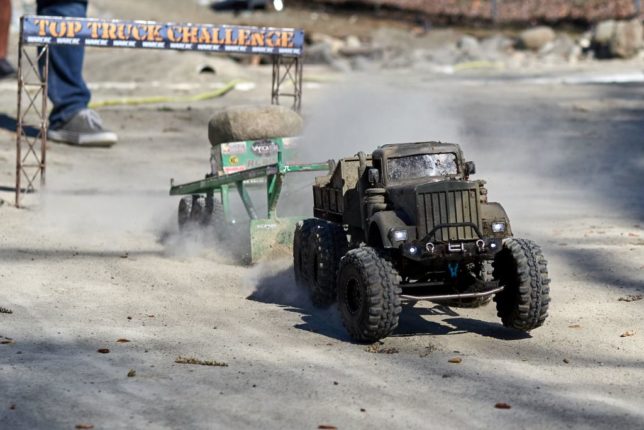 Image gallery