It's critical to get a good night's sleep, especially after a hard day of off-roading, hiking, biking, or other adventure activity. Your body is tired and achy; your mind longing to waver into a deep and peaceful euphoria of sleep. 
We've slept on many of pads, mattresses, and cots. Foam, blow up, or framed, each has pluses and minuses. Most recently we decided to test out Helinox's Lite Cot, a lightweight and easily packable backpacking cot. Would it stand up to our expectations? Would this slim setup up become our new go-to sleeping platform when ground tent camping? Well, the answer is: yes.
We've owned other Helinox products before, but never one of their cots. Their selection of camping goods are well designed, made with quality materials, and can take a beating. Just ask us about our Chair One orthe Cot One Convertible I slept on during the 2019 Toyota TRD Pro Series off-road adventure I attended last year. Helinox isn't cheap, but as Andy and I say, "Buy once, cry once."
The Helinox Lite Cot weighs in at a diminutive two pounds and 13 ounces and packs down to a small and slender five x 21 inches long. This unit is great if you're a backpacker or an avid off-roader and your looking to save space in your 4×4—case in point, my 1991 Mitsubishi Pajero.
Materials are of high quality, and attention to detail is apparent. Everything is smartly designed, and I'm thankful that Helinox supplied a stuff sack that has ample room to store the cot easily! That's a pet peeve of mine; please make stuff sacks large enough to quickly and easily store your sleeping bag, chair, cot, etc.
Lite Cot contents are: sleeping surface, two poles, four cot leg supports, and stuff sack.
The Lite Cot takes a bit of time to set up until you get the hang of it. Instructions are clearly marked, but after a few times of getting blood blisters on my hands, I figured out the magic trick: hold the cot firmly while affixing the cot legs to the top. Put the legs together (the C-coupler ends pop into each leg support via stretchy interior bungee cords) and slip both poles into the sleeping surface material; you're now ready for final assembly. Although this cot is easy to put together, you need to man handle the final step, or at least I do. Putting the supports on the cot take a bit of strength and stretching the cot material taut. Supports clip into the areas where each aluminum pole is showing. Once this trick is learned, set up is super easy. The tolerances in the Helinox Lite Cot are tight, but solid.
Tear down also takes a bit of wrangling until you figure it out. This is what works for me:
Hold the cot with its leg supports facing away from you (hold it upright at a perpendicular horizontal position, not in a sleeping position).
Holding the top of cot firmly, take one hand and push the aluminum pole down right next to the C-coupler that's affixed to said bar. Take the other hand and pop the C-coupler off the bar.
Pull the leg supports off
Pull out and collapse both poles
Keep keeping surface flat
Lay collapsed poles and left supports on top of fabric on one end
Fold leg support ends inward and start rolling the cot until fabric completely wraps up (tip: leg support ends will want to pop back out, keep them pulled in)
Toss into stuff sack
Sleeping on the Helinox Lite Cot is very comfortable but narrow. If you move around a lot or need more width, then the Helinox Cot One Convertible or Cot Max Convertible may be a better choice. This cot sits low to the ground (five inches to be exact) so it's easy to get in and out of, but if you don't have a warm sleeping bag on frigid nights, the cold air may emanate from the ground and tickle your bottom side. Using an emergency blanket or reflective material as a buffer would help. On summer nights it's nice to have a slick nylon surface to sleep on, no thick material to make you hot. It's sleek, thin, and modern.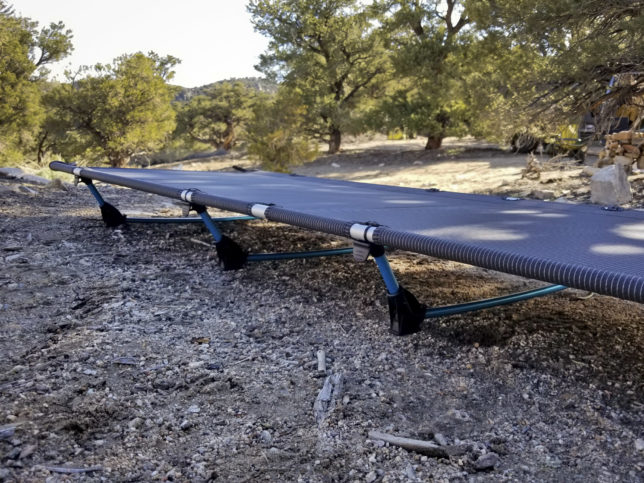 If you're in the market for a durable, high quality, and comfortable cot for your adventures, then the Helinox Lite Cot should be looked at. Boasting a five year warranty and capacity to sleep a 265 pound person, it's meant to last. Even though it's a bit tricky to set up and tear down to start with, it'll become second nature and give you many nights of sleeping bliss. Price $250.