Having durable and well-designed sleeves and packing cubes in your arsenal can up your packing game—in a waterproof kind of way. We've recently tested Nite Ize's RunOff and packing cube products in a variety of settings: dust, wind, and rain. We used their waterproof RunOff Wallet, Pocket, and 3-1-1 Pouch, as well as their large waterproof Packing Cube on a few major trips now. From an off-road adventure trip in British Columbia to a very rainy camping excursion in Iceland, these products proved durable, easy to use, and are now an instrumental part of our packing routine.
RunOff Waterproof Wallet, Pocket, and 3-1-1 Pouch
The RunOff Wallet is small enough to hold your essentials and place in your back pocket. It's great for holding a few credit cards, your license, and perhaps a few other like-sized items. I put my diminutive leather credit card/license holder in the Wallet, and found it just a tad oversized to easily zip the Wallet shut, but once in, I popped my finger below the product's top flap making my organizer fit perfectly.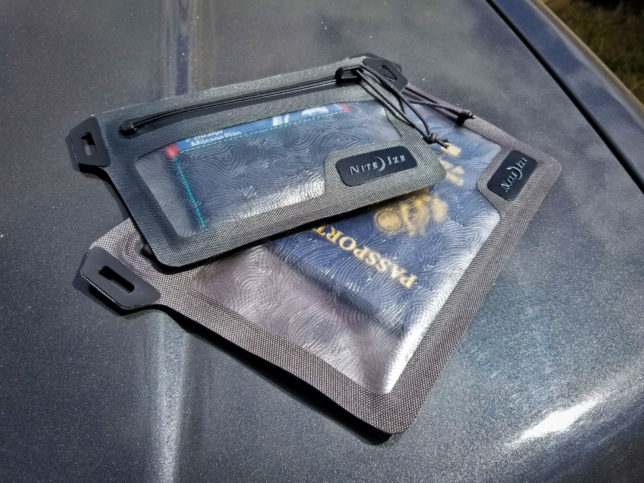 I used the Wallet as well as the larger Pocket to stash passports, cash, and domestic licenses in them.
The larger-yet 3-1-1 Pouch (named after the TSA's 3-1-1 rule) was used to house important documents including copies of health and travel insurance paperwork, as well as international driver's licenses. The gusseted bottom of the 3-1-1 was perfect for it. Although its intention is to be used for the TSAs liquids rule for carry-on bags, we found it easy to use it for a thick assemblage of paperwork.
After several usages, I noticed hairy fibers hanging off of my Wallet (I've stuffed this product into various pockets several times during each trip). While a quick haircut with a scissors could be done to make it look like new again, I wonder if a heat treatment around all raw edges could prevent this. Although this can be a bit unsightly, it doesn't affect the Wallet's performance whatsoever. Its job is to keep dust, rain, and other elements out of its contents—it's held up to its promise wonderfully.
RunOff Large Packing Cube
Same as the Nite Ize Wallet, Pocket and 3-1-1 Pouch, their large Packing Cube is waterproof and a great way to condense bulky items into a single, secure soft-sided container. The same TRU Zip zipper, TPU construction, and RF welded seams are used for their packing cubes.
I've successfully stuffed two large down puffy jackets and two Gore-Tex rain jackets into this cube while traveling Iceland. Mind you it takes a bit of arm wrestling to make sure jacket sleeves don't pop out when pushing air out to zip the Packing Cube shut, but once this 10″ x 14″ x 3.2″ organizer is closed, it's dust and waterproof and easy to throw into your tote or adventure rig.
During our Canadian off-road trip, my husband and I used it to pack in our cold weather accessories: hats, gloves, and gators. Air out = condensed storage happiness. Only once did I have an issue with the zipper, it wasn't lining up close to the closure and would let air back in. I opened it up a few times and realigned it back up; it closed successfully. Care should be taken to slowly close this unit, or it may have to be realigned.
RunOff products are tested to the IP67 rating and feature TRU Zip technology, TPU construction, and RF welded seams. These bags are much more durable than cheaper competitors that are constructed with glued or sewn seams. Ask me how I know. Nite Ize's TRU Zip zipper closes and opens fairly easily, hold the end tab with one hand and tug the zipper firmly with the other. The end tabs are durably constructed and have an interior opening in order to use them as an attachment point for your carabiner, etc.
The performance of each of these items depends on maintenance of the TRU Zip zipper and using each item correctly. Do not store sharp objects in them and examine each item for wear and tear before use (if you need it to be waterproof).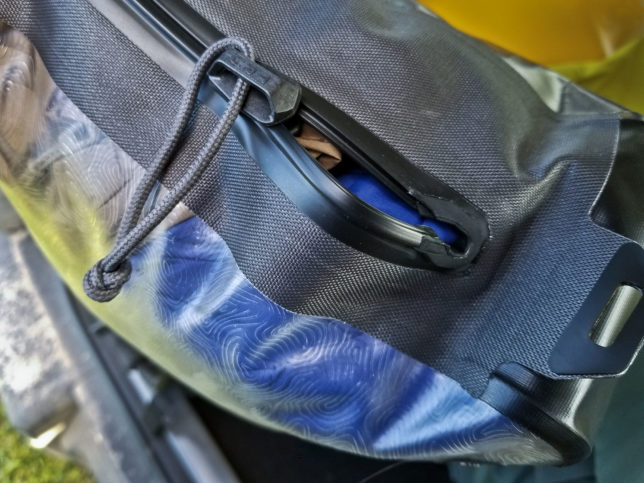 Zip it and forget it: After thousands of miles of travel, no dirt or moisture penetrated these bags. Note: the Wallet, Pocket and 3-1-1 Pouch are not RFID-protected. I'd love to see this feature worked into their design.
Other than my Wallet's edge "hairs", all Nite Ize storage items have given us secure and organized travel opportunities. They're solid products—ones that have now worked their way into our travels as durable organizers.