When you decide to forge a new path or try something different it can be very daunting—it's a challenge. You're trying something new. You don't know anything. You're starting from ground zero and working your way up. Isn't this when you say (#everyonestartsfromsomewhere) into a sentence and people pat you on the back and say it's OK? Even though attempting something unique or seemingly impossible is scary, it could garner great reward, confidence, assuredness, and even smiles. Isn't it time you stepped outside of your comfort zone and pushed your personal or professional limits, especially while you're still physically and mentally able to do so? What's stopping you from true challenge? Are you afraid of failure or that trying something new could break you from the confines of security and comfort into the formidable world of the unknown?
Andy and I are true Mitsubishi fanatics. Having four Mitsus in our driveway should speak for itself. Maybe we're a bit eccentric or maybe we're on to something. Mitsubishis have long been connected to rallying and racing. From Lancer Evos to Dakar Rally winning Pajeros … the list continues. Since we bought our Mitsubishi Delica Star Wagon over two years ago now, we have particularly fallen in love with life on the "right."
Fast forward from our first right-hand drive purchase, we decided to do our first fly-and-buy from Portland, Oregon to Houston, Texas to pick up our first (of two) Mitsubishi Pajeros. A Pajero is similar to a Mitsubishi Montero, as sold in the US, but is an intercooled turbo-diesel right-hand drive two door version of it. Little did we know that a year or so later, after I competed in the Rebelle Rally, we found ourselves en route to Texas again to pick up our second one!
The deed was done November 29, 2018; this one would be mine. We wanted to fix it up and customize it as we did with our first one, but didn't yet know which way we wanted to take Pajero #2 and for what events or competitions it would be in.
But, what's the bigger picture here? What's stopping us, along with Pajero #2 now known as the Terra Tractor, from true challenge? What could possibly garner us great reward, confidence, as well as cross off a few major items off our bucket list?
After several months of hard work, long hours, and pure dedication building and customizing it, we've decided to step things up in a big way. A big ARCTIC kind of way—we're competing in the Alcan 5000 winter rally!
It was time to completely step outside of our comfort zone and push our limits, both physically and mentally. It's extreme adventure. I think our Midwestern upbringing in sub-zero temps will help!
We had picked up Pajero #2 in Austin and quickly went to work doing a lot of maintenance work and repairs once we got her home. Timing belt, water pump, thermostat, auxiliary belts, diesel injection pump rebuild (it was leaking), plus replacing old worn parts rapidly took our money. It's never fun to fix stuff that should be in working order in the first place, but it's critical for reliability and solid performance—especially when adventuring in remote areas.
After the initial important fixes were completed, Andy and I dove into upgrades. First up? Lifting it and upgrading stock shocks.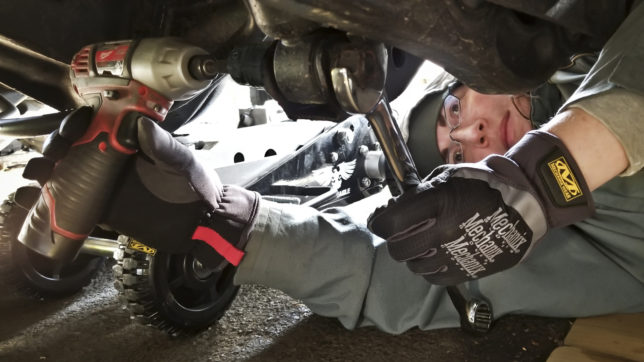 We cranked up the front torsion bars (but not all the way up) and replaced the stock rear coil springs with long-wheelbase Montero springs to increase overall height nearly one additional inch.
Switching out the worn out stock electronic shocks for new nine-way adjustable Rancho RS9000XL shocks allowed us a customizable ride: from full firm to soft marshmallow settings, these shocks suite most any terrain.
We replaced the stock front bumper with a heavy duty ARB steel winch bumper and WARN winch. Even though the winch bumper came via slow boat from Australia, it was worth the wait.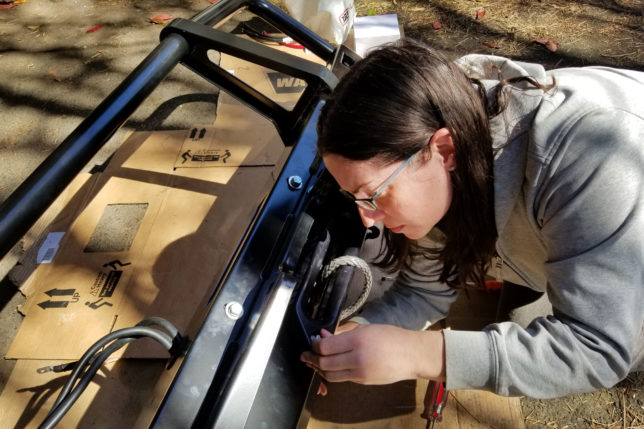 It serves as a solid housing for the WARN M8-S winch and later installed Lightforce Genesis LED auxiliary lights.
Next up was getting new shoes! Out: corroded stock wheels with mismatched, worn-out rubber. In: new fifteen52 Analog HD wheels wrapped in Nitto's Ridge Grappler hybrid all-terrain / mud-terrain tires.
The Analog HD center openings were bored to 108mm, allowing them to fit over the Pajero's large front hubs.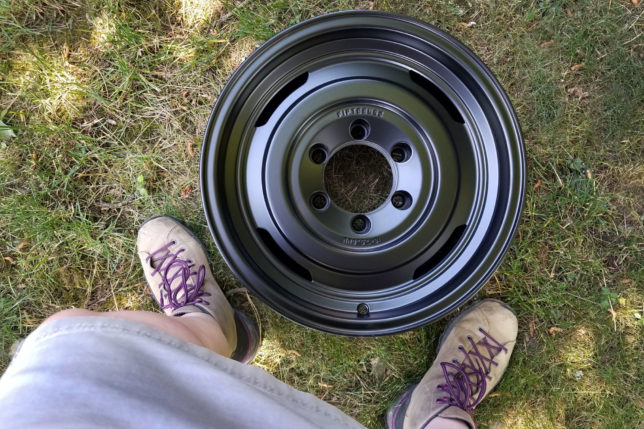 Once mounted, balanced, and installed on Pajero #2—she sprang to life and finally earned the Terra Tractor name! This combo, along with the other upgrades we've done set us up for off-road success.
Since the Terra Tractor has undergone major changes, it's attended various overlanding rallies and has been piloted on a few long off-pavement adventures. We're breaking her in and it's proven its worth.
It was time to step outside of our comfort zone and push our limits, both physically and mentally—beyond anything either of us have ever done before. The Alcan 5000 winter rally will be an extreme adventure.
The Alcan 5000 rally happens every two years. Summer, then winter, and so on. First started as a summer rally in 1984 (with winter happening shortly afterward in 1988), the Alcan 5000 is two weeks and 5,000 miles of TSD (time/speed/distance) rallies and very long transit sections—up to several hundred miles of them in one fell swoop in a day. It starts the end of February 2020 in Bellingham, WA and will traverse all of Canada (up above the Arctic Circle to Tuktoyaktuk of the Northwest Territories), and then winds its way over to Anchorage, Alaska the day before the famed Iditarod dog sled races start. After the rally ends, we'll still need get the Terra Tractor and us home to Portland. The Alcan 5000 winter rally will take loads of sheer determination, laser focus, and luck to complete!
We're also going to test the Terra Tractor's ability to rally 5,000 winter miles in the harsh elements of Canada, Alaska, and the Arctic. We have big plans to continue prep of the Pajero. Right now it's on jack stands with the front suspension torn apart. Better now to find and fix issues than to discover them on mile 4,293 of the Alcan!
We've been prepping for the Alcan 5000 by runnin' local TSD rallies, improving our communication as driver (Andy) and navigator (me), and understanding how this all works. There's a heck of a lot to understand, especially when it happens all at once.
Competing in TSD rallies is a completely different world than rock crawling, mud bogging, or even sand dune slaying. It's all about precision, speed averages, knowing the TSD "lingo," time allocations, and knowing how to put it all together—all during the winter … in the Arctic … with the Terra Tractor Pajero and us. It's a true challenge, one that we're super stoked to partake in.