Our JDM Mitsubishi Pajeros have some great features. We love their size, diesel engines, and off-road capability. One of the things we don't love, however, is the small fuel tank which equates to a short range. So we decided to do something about it.
The short-wheelbase 2.5-liter diesel Pajero has a 15.8 gallon tank. We can easily hit 250 miles, but anything over that is sort of a bonus. We've achieved more than 250 on a regular basis, but you're flirting with ¼ tank of fuel. With our bigger wheels, heavier bumper and winch, and decreased aerodynamics, we fuel up when we can. However, we wanted to have more range than the assured 250, especially since we'll be entering our 1991 Pajero (aka the Terra Tractor) in the 2020 Alcan 5000 which is 5,000 miles of gravel, ice, and snow.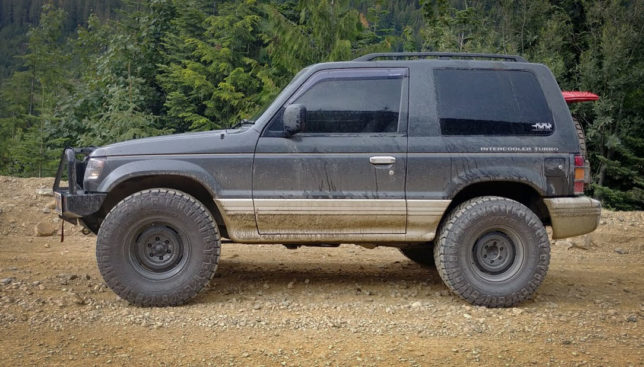 Our Pajero is a Japanese domestic model. In Japan, there isn't much reason to have more range due to slower speed limits and the fact that the country simply isn't very big. Conversely, Australia, one of the Pajero's more popular markets, is a massive continent and Pajero owners down under wanted more fuel capacity for their 4WD Mitsus. There are several companies that offer bolt-in auxiliary or full-on replacement tanks for these rigs allowing them to make the more remote fuel stops required of the Aussie outback.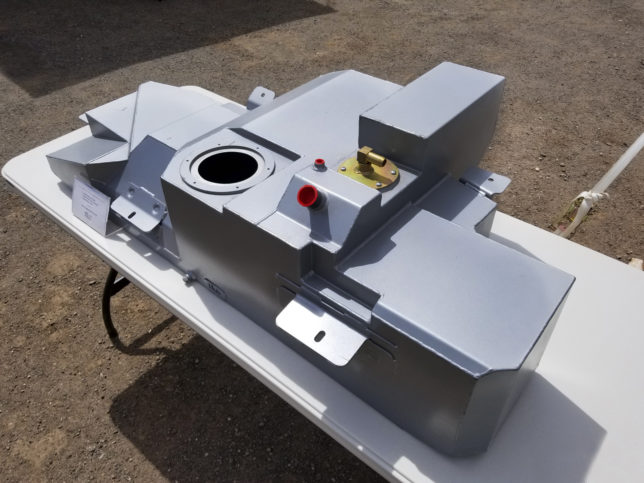 While we were at Overland Expo – West last year in Flagstaff, AZ, we ran across a company called Long Range America (LRAM). LRAM was importing a host of products including Long Range Automotive (LRA) fuel tanks from Australia (which is their counterpart overseas). We got to talking with the folks there and, low and behold, they had an application for short-wheelbase second-generation Mitsubishi Pajeros with the 2.5-liter diesel engine.
Long story short, we obtained a tank from LRAM and decided to have it installed. Local shop, Wanderlust Overland, happens to be a vendor for LRAM products and has done a number of tank installations, so we knew we'd be in good hands.
For our application, the tank is an auxiliary unit that's used as a transfer tank to the main tank. In other words, you fill two separate tanks, and the vehicle draws from the vehicle's original one. When that gets empty, you simply press a button, and a secondary pump will transfer fuel from the LRA Australian tank into the main one. It's a simple system and it works well.
Most LRAM or LRA tank installations are a simple bolt-on affair. And, for the most part, our Pajero installation was this way. However, since we were installing this tank on a Japanese-market Pajero vs. an Australian-market 4×4 (and running it in North America), a few minor mods were done to make it work.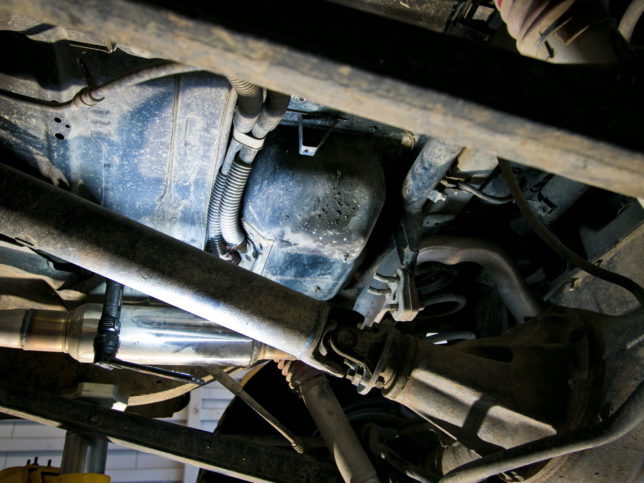 One unexpected hurdle we encountered was our vehicle's rear HVAC system, an option found on Pajeros in colder climates, e.g. not Australia. Our little Pajeros have their own separate rear heating system, complete with coolant lines running to a secondary heater core. This got in the way of the tank. But Michael and the team at Wanderlust Overland simply drained the lines, removed the lines and heater, create a block-off plate, and were able to bolt the tank up.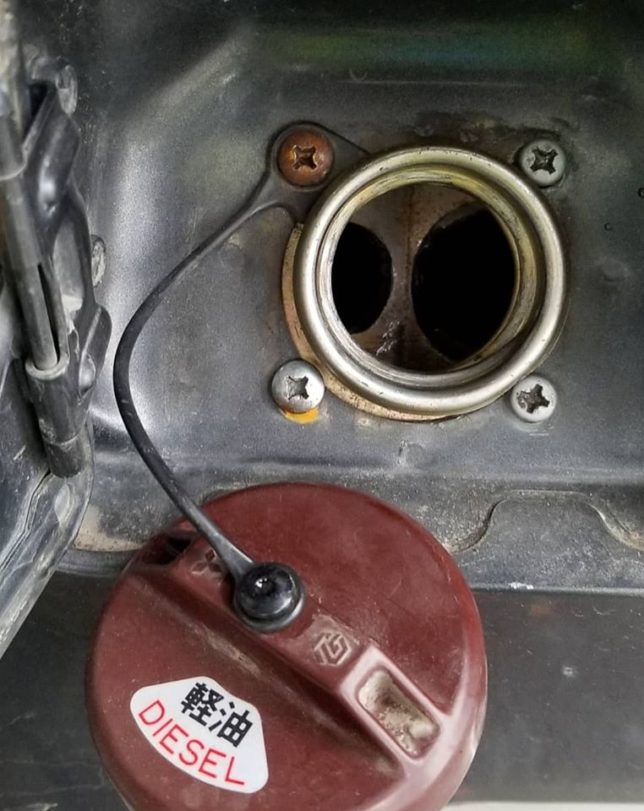 This LRA tank application utilizes the Pajero's original fuel filler location. However, open the gas cap and you'll see there are actually two holes. The one on the left is for the new tank, the one on the right the original one. We did notice before the installation that these dual holes appeared too small for a North American-spec diesel nozzle.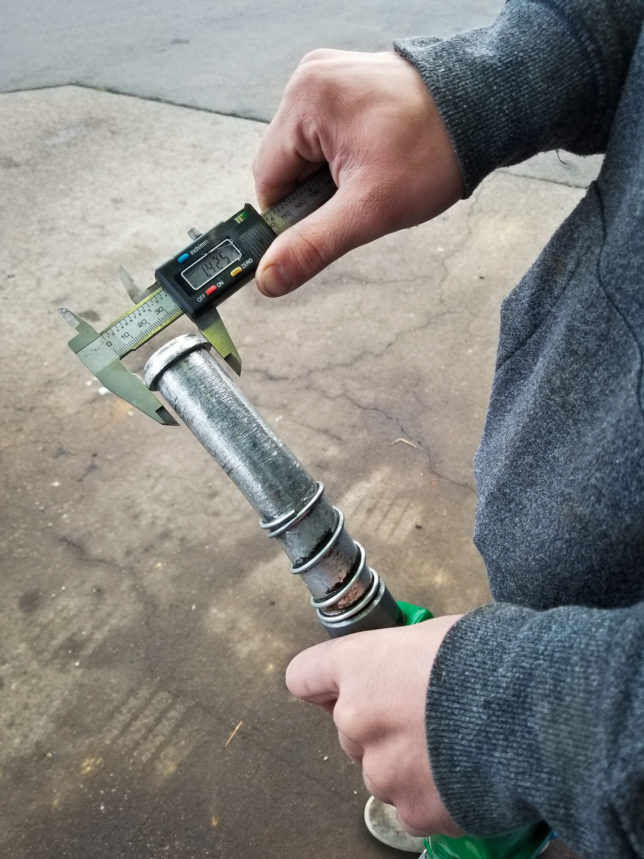 A quick run to the Chevron confirmed this. U.S.-spec diesel nozzles for cars and light trucks is 15/16" in diameter. The high-flow pumps for semi trucks have a diameter of 1-3/16". The Australian diesel pump has a nozzle with a smaller diameter; the holes for the LRA tanks were about 7/8".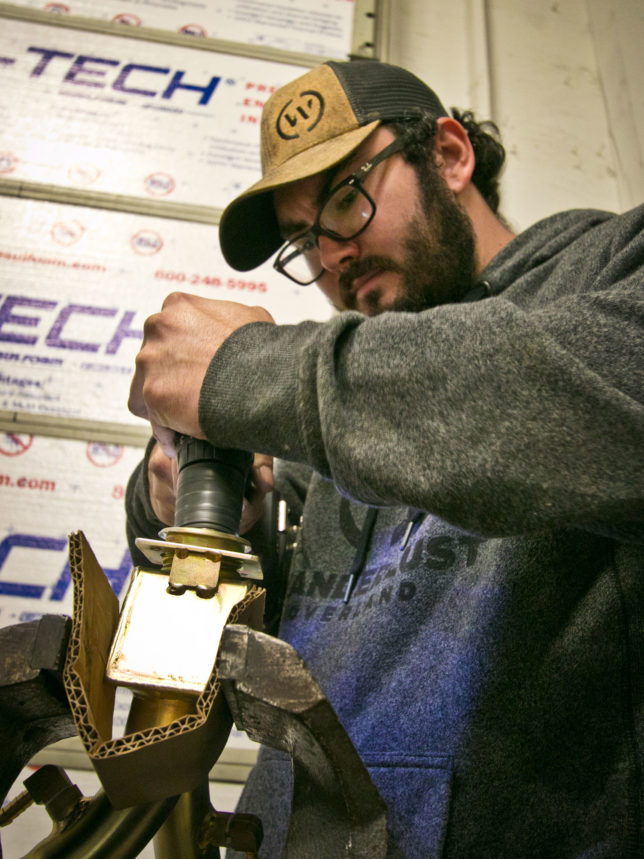 The Wanderlust Overland crew were able to widen the holes to allow for a nozzle to be inserted: main tank allows for high-flow nozzles at appr. 1.5" and the auxiliary tank allows for US-spec standard nozzles at appr. 1.25". But again, keep in mind this is a tank designed for Australian-market Pajeros, not JDM models zooming around North America. Ours was a unique research project of sorts. Most of LRAM's tanks will simply bolt-on.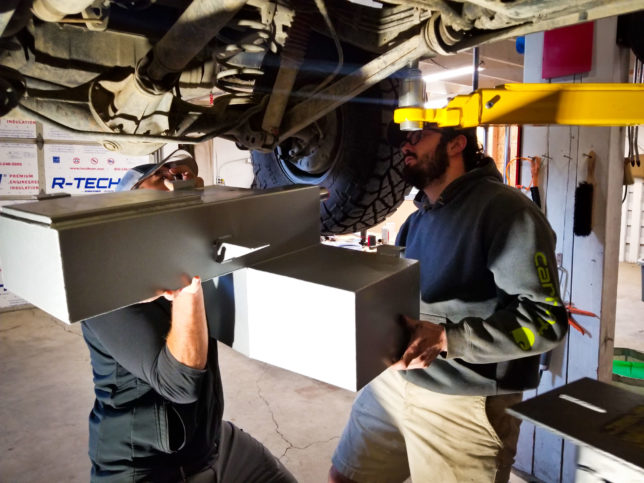 The install is very clean. You'd never even know the tank was there until you got underneath the vehicle. The pipe to the secondary hose is visible in the left-side wheel well, too. The tank appears to be level with the lowest skid plates on the Pajero, so we didn't lose any ground clearance.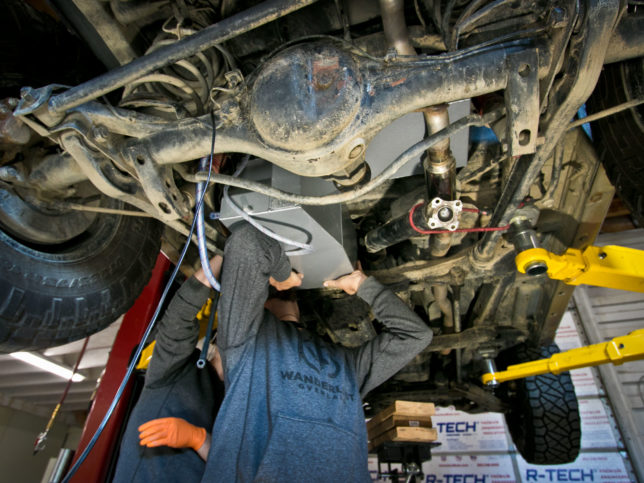 The tank weighs about 60 lbs. and has a capacity of about 13 US gallons. A gallon of diesel weighs about 7 lbs., so you're looking at about 91 extra pounds in fuel and a total of 151 total lbs. (not including the added piping) of additional weight—I'd say that's not bad. It's like having a small-to-medium-sized passenger on board. At the end of the day total fuel capacity to just shy of 30 gallons, which should give us about 500 miles or range, or possibly more.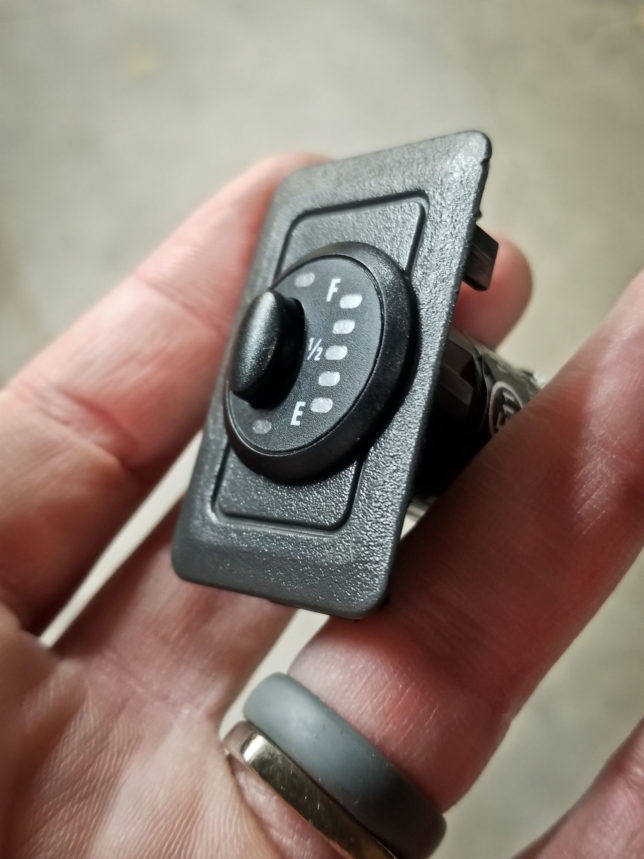 Transferring fuel from the LRA tank to the main tank is quite literally as easy as pushing a button. We mounted the button and gauge assembly (one small unit) on the center stack. It has several LEDs that show capacity. The button turns on the fuel tank and pumps until the main tank is full. That's it—simple as that. You can transfer fuel while driving or parked.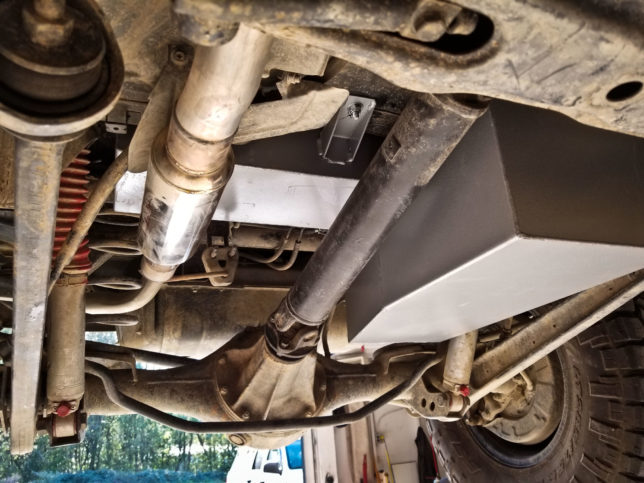 Having the extra fuel on board gives us the confidence of knowing that we can go quite a ways without experiencing "range anxiety," or the feeling like you're going to run out of fuel. This will be very helpful on our Alcan 5000 Rally. While we may have been OK with the scant 250 mile range, having this extra capacity will quell all fears and let us keep on truckin' up to the Arctic.
We recently completed our first trip with both tanks and the Pajero was able to deliver over 500 miles of range on the vehicle!
Words by Andy Lilienthal. Photos by Mercedes Lilienthal.