Andy and I spend as much time outdoors as possible. It's our respite from the digital world we're so attached to. Our latest build, the Travel Tractor Mitsubishi Delica van has allowed us to camp in comfort, no matter if we're headed to overland shows via our makeshift sleeping platform or by moving the mid-row seats up and sleeping on the van's floor with our inflatable Big Agnes Q-Core SLX sleeping pad.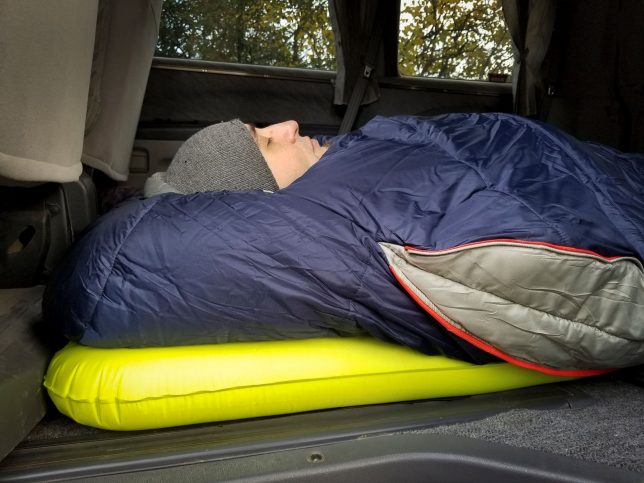 Next to a comfortable sleeping base, having the right sleeping bag is paramount. It can mean the difference between soundly counting sheep or wishing you could. Cold weather sleeps have always been a challenge for us when in our well-used mummy bags. Their straight-jacket style doesn't bode well for turning onto your side, moving arms about, or even kicking a leg out as you sleep.
Enter Big Agnes' new Torchlight Camp 20° expandable mummy bags. Could this new product be the answer to our weary-minded middle-of-the-night prayers? We put both Torchlite Camp 20° men's and women's sleeping bags to the test.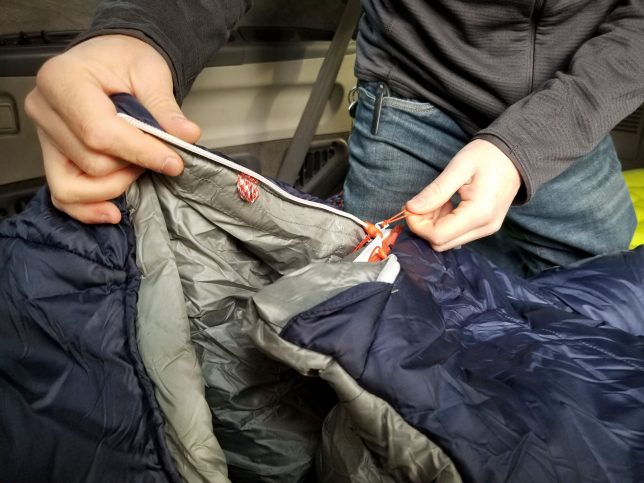 Big Agnes Torchlite Camp Series Features
Big Agnes has been a long-time manufacturer of single and double sleeping bags. The new Torchlight Camp Series gives users a custom fit. Patent-pending expandable panels on both sides of this bag allow 10 inches of additional space, spanning from your shoulders to your feet. The men's Torchlite Camp bag weighs in at three pounds, one ounce whereas the women's version tips the scales at almost four pounds (3 lb., 13 oz. to be exact). I'll explain why shortly.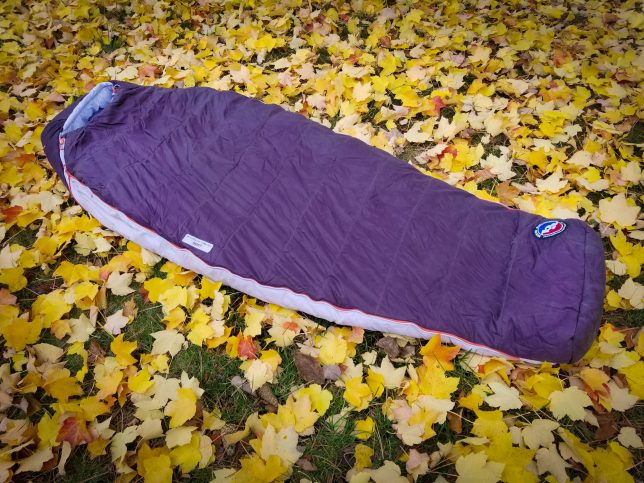 The Big Agnes Torchlite Camp Series is insulated with Fireline Pro synthetic insulation. Both men's and women's sleeping bags are offered in multiple temperature ratings (20 and 35 degrees), allowing consumers to choose from either bag to suit their needs. Women-specific bags differ in overall shape and fill weight, reducing cold areas by adding fill and warmth.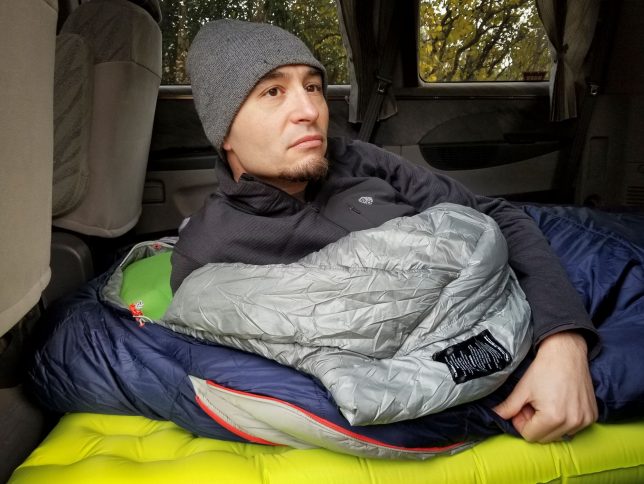 According to Big Agnes, the Fireline Pro insulation "efficiently traps and distributes heat with zero heat loss, even when the bag is expanded." A "jacket-style hood opening" follows the shape of your face, providing a tight fit when cinched. The Big Agnes Torchlite Camp Series also offers a no-daft collar and zipper—bypassing any chance of heat loss during use. Interior fabric loops also allow users the opportunity to secure sleeping bag liners.
The Torchlite Camp Series rip-stop nylon shell is soft and fluffy. It's also relatively quiet when shifting about. It includes a PFC-free (perfluorinated chemicals) water-repellent finish. That is key when camping in the rain during Pacific Northwest winters.
A stuff sack and mesh bag is supplied when you purchase a Torchlite sleeping bag. Our Big Agnes Torchlite Camp testers spent their time laid flat on our van's floor when used and stowed in the oversized mesh bags between camp excursions.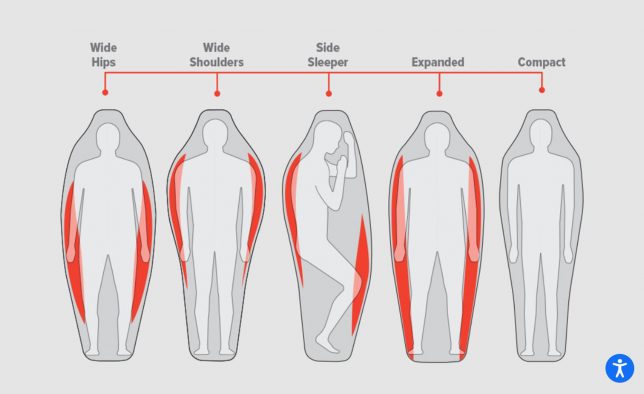 Customize Me!
During our time testing the men's and women's Big Agnes Torchlite Camp 20° sleeping bags, we quickly realized they're now our favorites when we need to sleep side-by-side.
The direct comparison of our current mummy bags and the Big Agnes Torchlite Camp 20° sleeping bags yielded interesting results. Our existing Mountain Hardware mummy bags measured 27" wide near the top shoulder area and 19" near the bottom of the footbox. Our new Big Agnes testers were skinnier in profile, coming in at only 24" and 15" respectively.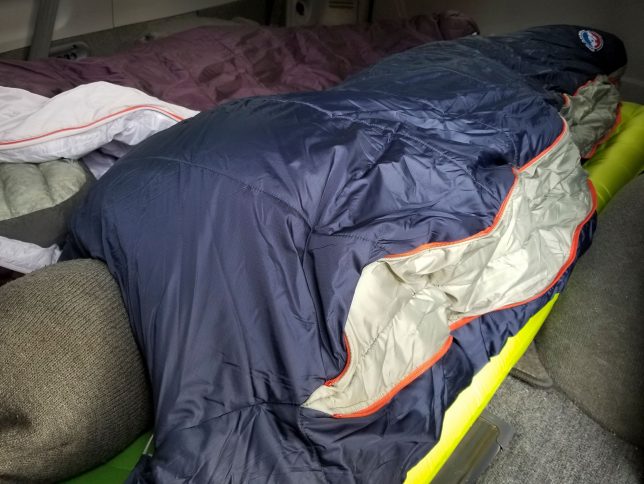 However, we found the expandable panels an essential feature since I'm a side and back sleeper and Andy likes to move his legs around a lot. A near-full-length zipper allowed us to customize areas where we wanted the extra room.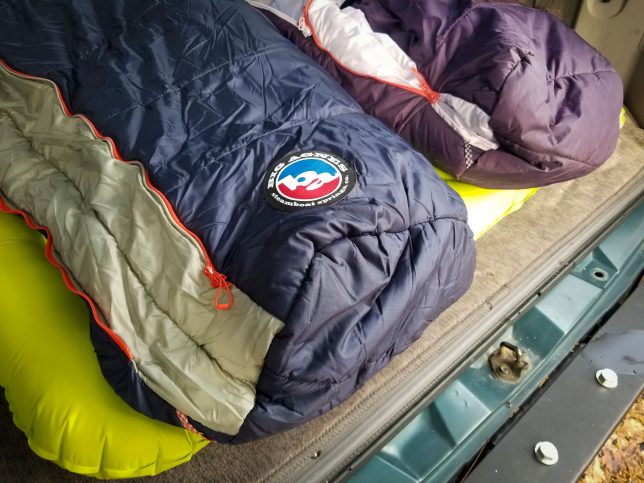 Opening both sides of Andy's Torchlite Camp 20° sleeping bag allowed Andy movement. He could kick a leg out when needed; he slept more soundly through the night. I dove right in and opened everything up —this allowed for the extra 10 inches of movement potential. My arms weren't falling asleep and I wasn't waking up when shifting my body.
Expanding the Torchlite Camp sleeping bag offered up an impressive 34" of shoulder room and 25" of foot space. This increased width seven inches up top and six inches at the bottom respectively—without shivering our way through the night. Both testers kept us warm and content, a must for on-the-go campervan sleeps.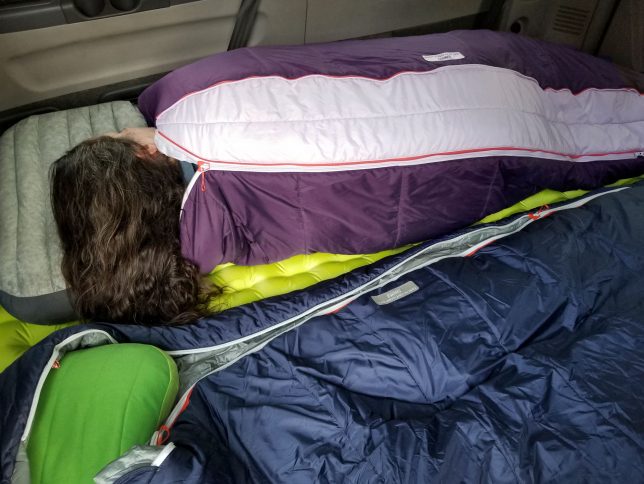 Big Agnes Torchlite Camp 20° women's regular sleeping bag: $189.95. Big Agnes Torchlite Camp 20° men's regular sleeping bag: $179.95.
These products were sent to us at no cost in exchange for an honest review.