Minivans have the reputation they do in North America because vehicles like the Mitsubishi Delica were not offered here. What is a Delica? It's a four-wheel drive, diesel-powered, forward-control van you can sleep in. Other things you can do in a Delica include:
Easily traverse rough terrain
Perform water crossings
Travel for years on end
Never be called a soccer mom
If you mention the Mitsubishi Delica in the right crowd, certain people will begin to swoon. Let's put it this way: If you stopped at the word minivan in the paragraph above, then you are not one of these people. If you read the word Delica in the title and got mildly aroused, then you know who you are. For me, seeing a Delica gives me a similar feeling to seeing an imported Japanese candy at the Asian grocery. It's totally different, kinda strange, yet potentially amazing … or terrible.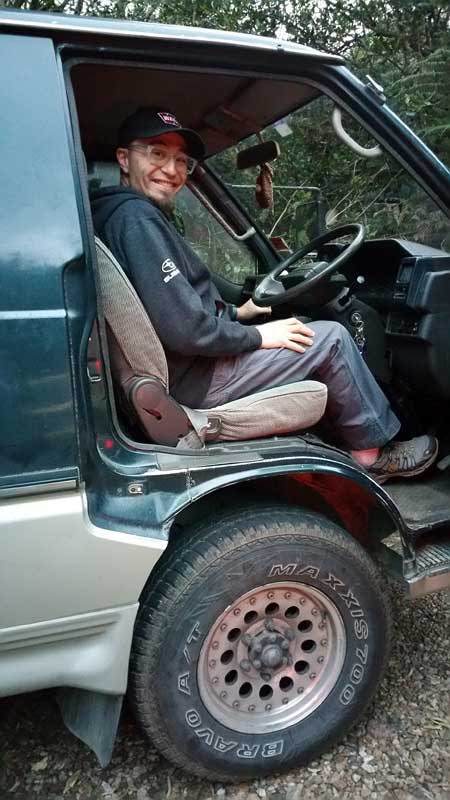 Forward-control vans—a van where you sit atop the front axle with little in front of you—still seem like a strange, foreign concept to most North Americans, unless you happen to drive a box van, or actually owned one of the late 1980s Toyota, Nissan, or Mitsubishi forward control vans. But this style of vehicle is still popular the world over, sans North America.
That being said, I happen to have a minor obsession with these vans, and Delicas specifically; needless to say, I have always wanted to drive one. Well, I recently got my chance while Mercedes and I were on holiday in New Zealand last month. Her Kiwi cousin owns a 1993 Delica Star Wagon, complete with the aforementioned low-range gearbox, manual transmission, and diesel engine. It was on 30″ Maxxis all-terrain tires, and has been all over both of New Zealand's north and south islands. It's not a pristine example, but it was still a Delica and still awesome.
I was a bit hesitant to drive it at first, as I'd never piloted a right-hand drive car with a manual transmission, especially in a country that drives on the opposite side of the road. But I soon took the wheel … and was as giddy as a Japanese school girl. Sorry; TMI.
Everything about these vans is different than most passenger vehicles in the U.S. Firstly, being forward control, you basically sit atop the front wheels. There is very little space between you and the rig's front end. Even climbing in is slightly awkward at first. Once in, it's quite comfortable, and outward visibility is very good. It would've been better without the bubble-like, straight-outta-Japan, EGR-branded window visors.
Like many diesels, you wait a few seconds for the glow plugs to warm up, then crank the engine and its turbo-diesel mill churns to life. Helga, Mercedes' cousin, said to put it into low range to get out of their steep, unpaved driveway, which I did. As we ascended, it became apparent you were sitting right at the vehicle's front—much different than having a big hood in front of you. You suddenly rise up as if you were sitting in a tram going up a mountain. Oh, and like the early Mitsubishi Monteros, the Delica had a inclometer on the dash showing pitch front and rear as well as lean left to right. Kinda spooky.
The steering wheel is very bus-like. It's flatter than it is upright, although there is a tilt function. Steering was easy, and the turning radius was surprisingly good.
The transmission was easier to shift than I anticipated and the clutch was lightweight. The throws are long and truck-like, but better than I would've expected. There was a distinct 1980s notchiness to the gates, but it felt solid and robust, despite it having 188,000 km (117,000 miles) on the odometer. Clutch update was vague, but predictable.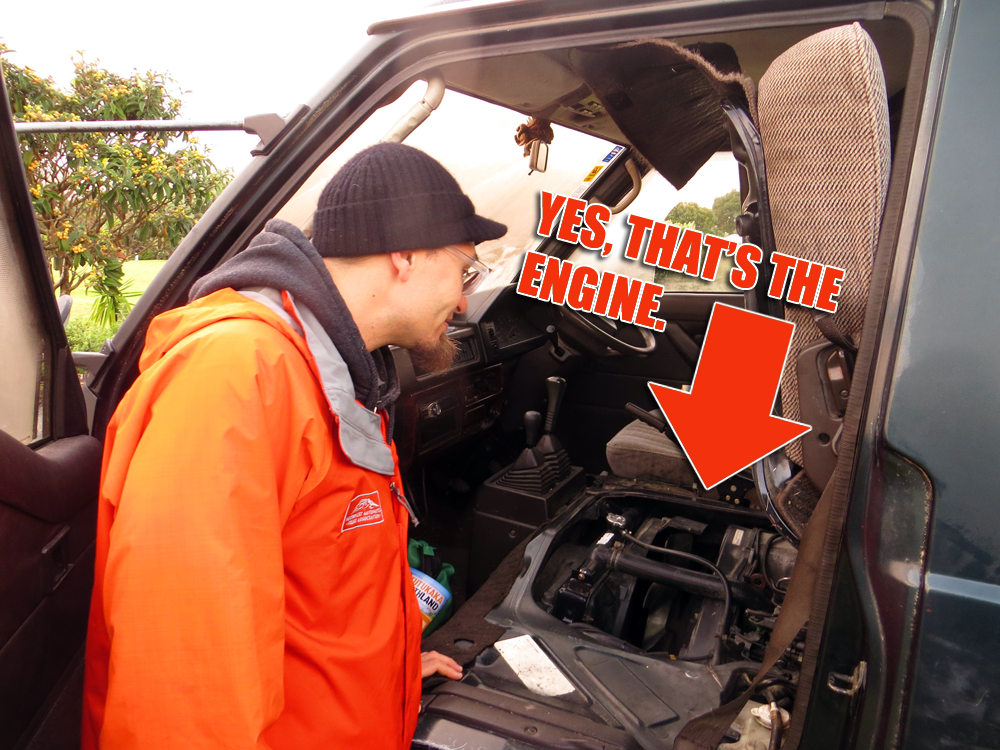 It became apparent very quickly that this thing did not have much power. Under the hood … er … front seats was the 4D56 turbodiesel which puts out a scant 83 hp and 145 lbs/ft of torque—not much giddyup to move 1,830 kg (4,034 lbs) of brick-like JDM van goodness. So saying that it's slow is an understatement. Around town, it felt perfectly adequate. However, on the open road, the van was most comfortable around 85 to 90 km/h (53 to 56 mph). We did have it over 100 kh/h (62 mph) a few times, but the engine would start to heat up, and frankly, it just wasn't too happy. It also isn't too happy in the corners. I don't think I need to say much there. Look at the damn thing. Speaking of, bonus for all the strange mirror locations.
The Delica rides very trucklike; going over speedbumps and potholes was also odd since the front wheels are directly under your seats. I did spend time in the back on the spacious bench seat. What's cool about this bench is that its back can be moved to the front enabling the back of the van to be turned into a bed. At some point, someone had added a wooden sleeping platform for additional room and storage underneath.
A friend of mine who has also driven a Delica described it as driving a space tractor, and frankly, that's a good way to say it. However, it's a space tractor from the early 1990s. It was high tech the way VCR was once high tech.
But after spending four days with the Delica and logging nearly 2,000 km on New Zealand's north island, I can totally see why they have a cult following. They're robust yet easy to drive, simple and practical, and totally different from most vehicles in North America. Frankly, I'm mildly in love. But loving a Delica in the United States might be an unhealthy relationship. Parts are not easy to come by since the 4WD Delicas were never sold in the U.S. or Canada. Yes, the U.S. did get the similar 2WD Mitsubishi Van in the early 1990s. However, there weren't many sold, they weren't diesels, and getting parts seems like it'd be dodgy at best. Yes, there are scads of Delicas in Canada, so you could always import parts, and I'm only several hours from Vancouver, B.C. But there's no going into your local NAPA and getting an oil filter, air filter, radiator hose, and replacement brake rotors for your Mitsubishi Delica L300 Star Wagon Turbo-D Canter. Bonus thought: What the hell do you do if you break a window? (I guess you import it from Canada …)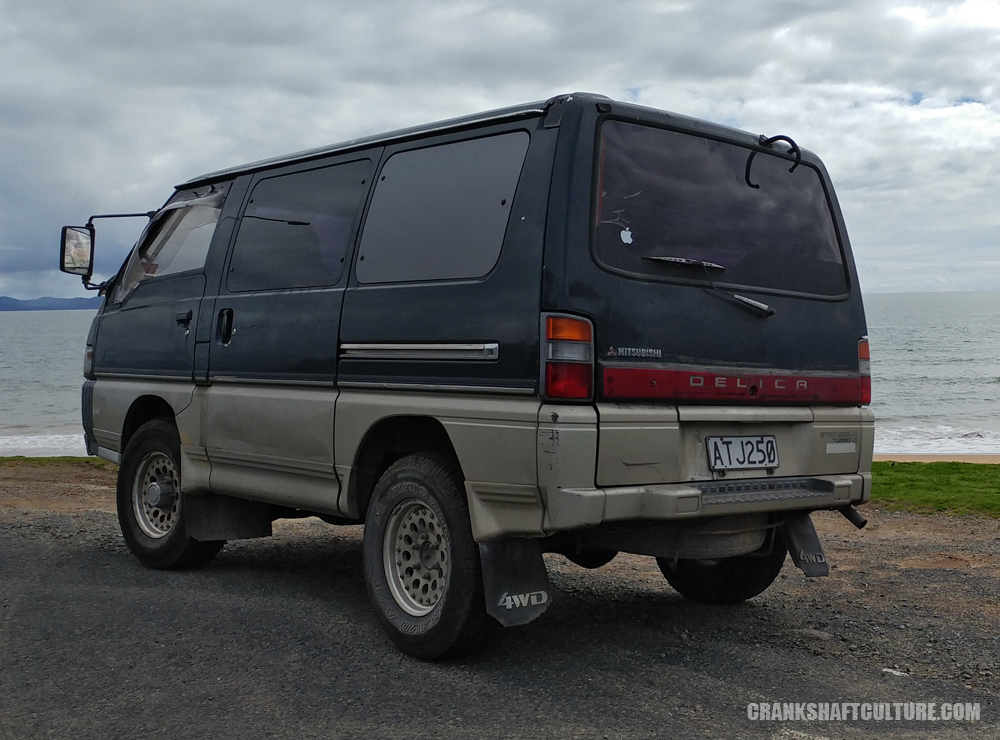 All that being said, since these are now 25 year old vehicles, they are starting to stream into the U.S. from other markets. And the more that show up here in the States, the easier parts will be to get.
Regardless, I think I love the Delica despite its faults. It's a super quirky, totally capable, mildly bizarre van that totally fits our lifestyle of travel, adventure, camping, and automotive oddity.
What started as an acute curiosity has become a full-blown crush. I could totally see us owning one of these someday.
Photos by Andy & Mercedes Lilienthal