There are a few specific things many look for in a truly off-road capable four-wheel drive vehicle. This includes a two-speed transfer case with low range; solid axles or at least a solid rear axle; a durable ladder frame vs. unibody construction (with the exception of the Jeep Cherokee (XJ), of course); and arguably a manual transmission option. Fewer and fewer vehicles have these traits, and most that do are often hailed for their off-road prowess. Jeep Wrangler. Toyota Tacoma. Isuzu Trooper. Mitsubishi Montero. Nissan Pathfinder and Xterra. Suzuki Samurai and Sidekick/Geo Tracker. Yet there are a couple of platforms that have these much-desired traits, yet have hardly any aftermarket support or a dedicated fan base. Meet the Kia Sportage and Sorento.

1995-2002 Kia Sportage
The Sportage was Kia's first foray into the U.S. auto market, and was first sold on the west coast. (The first Sportage was sold through Tonkin Kia in Portland, Oregon.)  On paper, it stacked up well against the Suzuki Sidekick/Geo Tracker twins in terms of power and price. It was also more capable than a Toyota RAV4 due to its true 4WD system. And did you know much of the Sportage's underpinnings were based on Mazda designs and parts?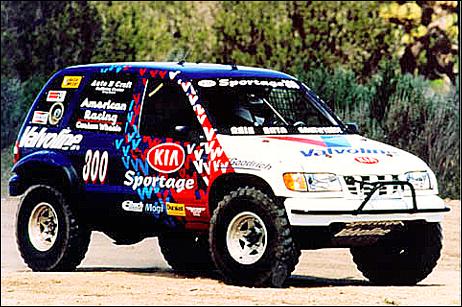 Kia actually raced a Sportage in the 1993 Paris Dakar rally and the Baja 1000.  But for some reason, the Kia Sportage didn't get the off-road cred the Suzuki/Geo or other true 4WD rigs got. Maybe it's because Kia was brand new to the U.S. market at the time and hadn't developed the solid reputation they have now. Perhaps it was because there wasn't much of an aftermarket offering off-road upgrades, such as suspension lifts, different gears, or winch bumpers.
Despite the fact the Sportage has been in the States for 21 years, there still isn't much of an aftermarket. From reading forum sites and seeing a few people online that have these Korean-made rigs, there doesn't seem to be anything inherently going against the Sportage, especially off road. In fact, Petersen's 4 Wheel & Off-Road has a lifted Sportage called Kimchi (after the fermented Korean food). The editors and writers all said the Sportage made a pretty good budget platform for off-road use. Granted, there had to be a lot of custom fab work due to the lack of aftermarket availability.
That being said, there are outlets here and there offering custom Kia Sportage goods. There's UpYourKia.com that offers lift kits for the '95-'02 Sportage that range from 3″ to 4″ of lift. To be honest, I'm not sure they're still in business as the site is very old looking and there hasn't been a post on the Up Your Kia Facebook page since 2014.

2002-2009 Kia Sorento
Larger than the Sportage, the Sorento also featured the marks of off-road credibility, plus you had the power of a Hyundai-made 3.5-liter V-6 instead of just the little four-banger found in the Sportage.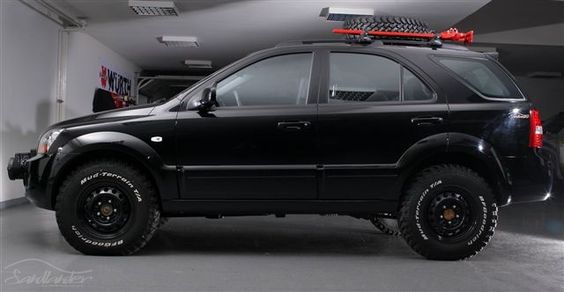 Again, very few people actually use the Sorentos for off-road duty, despite its qualified underpinnings. I mean c'mon: Up to 263 hp, a low range transfer case, and an available manual transmission? Why aren't more people modifying these?
Again, hardly any aftermarket. I did see that Old Man Emu does offer lift springs and its Nitrocharger shocks  for the mid-sized Sorento. Additionally, ARB allegedly offers a nudge bar (aka bull bar), and Rocky-Road.com has sliders. Want a winch bumper? How good are your fab skills? Because you'll be doing some welding.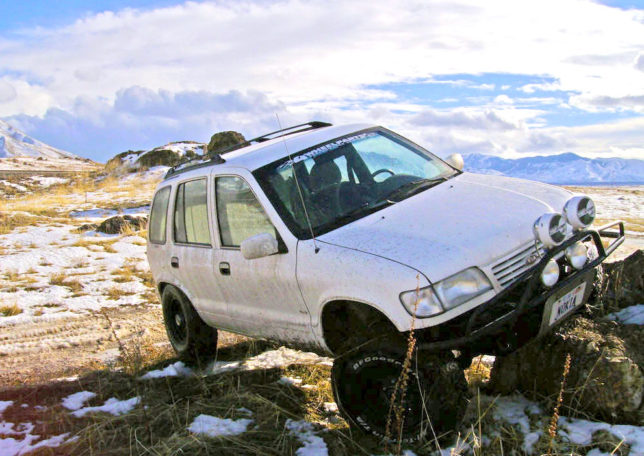 Hidden Gems?
I personally have never even driven either the Sportage or the Sorento. The Sportages can be had for the right price as a project rig. And I have ridden in a friend's Sorento, it's perfectly comfortable and spacious, and would make a unique overland/adventure vehicle. But neither vehicle is brimming with aftermarket support, so regearing, differential lockers, and other more advanced modifications are pretty much off the table unless you swapped in axles from a different make.
However, the Sportage and Sorento might be a great value for those not looking for a hardcore off-roader, but still wants four-wheel drive capability at a great price.