Words by Andy Lilienthal, photos by Mercedes Lilienthal/FCA
The Jeep Compass has had quite the evolution since it debuted back in 2007. I can't say I was much of a fan of early iterations, what with its odd proportions and fairly anemic powertrain. So it's amazing that for 2017, the Compass will come into its own with great looks and admirable on- and off-road performance. We got a chance to check it out in person at the Portland International Auto Show, and here's what we learned.
It's undeniable that the new Compass looks like a baby Grand Cherokee, and that was no accident. Jeep took much of the GC's styling cues and proportions and downsized them into a compact crossover. The new Compass will replace the existing Compass as well as the Patriot when it hits showrooms later this quarter.
Despite its Grand Cherokee looks, it actually shares a platform with the subcompact Jeep Renegade, and about 25% of its components do, too.
Scott Brown, Western Region PR Manager for the FCA, notes that huge efforts were taken to bring the looks up a notch, and we'd say they did that. No longer is this a dowdy crossover. Rather, it's a sharp, modern, attractive looking CUV. It features premium materials—much more so than the previous version, and those seats alone are pretty awesome. The new Compass will also feature the latest Uconnect infotainment system that has available Apple CarPlay and Android Auto.
While many CUVs don't have much off-road cred, the new Compass will have 8.5″ of suspension travel in addition to 8.7-inches of ground clearance. That's pretty impressive for a compact crossover. Additionally, Compass will have a confidence-inspiring 30-degree approach angle, 24-degree breakover angle, and a 34-degree departure angle.
Compass will be powered by FCA's 2.4-liter MultiAir engine (also found in the Renegade), and will make 180 hp and 175 lbs/ft of torque put through either a nine-speed automatic, a six-speed automatic, and—yes—a six-speed manual (likely on the 4×2 models only, however). There will be three different drivetrains, too: 4×2, 4×4 Active Drive, and Active Drive Low, which, at the flip of a switch, gives you a 20:1 crawl ratio. According the Brown, this combination of suspension travel and crawl ratio gives absolute superior off-road capability in the compact crossover class. In Trailhawk guise, you'll even get bona-fide tow hooks (rated at three times the weight of the vehicle) for recovery scenarios. "Being a Jeep, we have to deliver the capability, … That's what separates the Jeep brand—in any trim level—from its competitors," said Brown.
"We launched the 2017 Compass at the LA Auto Show last fall. It's already on sale in Brazil, already on sale in China. It will go on sale [in the U.S.] later in the first quarter,"  said Brown.
The reason Brown brings this us is because the Compass is truly now going to be a global vehicle. Since 2010, Jeep went from 500,000 to 1.4 million sales worldwide and the Compass will be sold in over 100 different markets.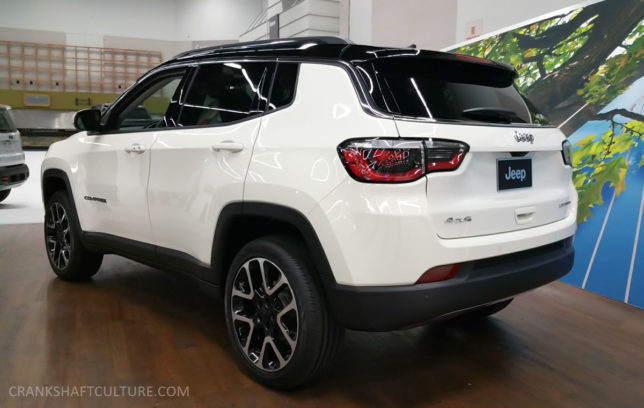 Sure, the Compass will never be as capable as a Jeep Wrangler or even the Jeep Grand Cherokee. But people buying a Compass aren't going to be rock crawling or tackling the Rubicon Trail. They are, however, looking to the Jeep brand for the most capable crossovers on the market, and we believe Jeep will do that with the new Compass.