A couple weeks ago, Portland got nailed by a 40-year snow storm. P-town rarely gets any snow let alone 12" of the stuff. And wouldn't you know it, the day before it hits, we take delivery of the 2017 Mitsubishi Outlander Sport. The roads in Portland are terrible during a snow event—like really, really bad. Our city only has 55 plows and can only plow 25% of the roads. Add to the fact that most Portlanders have no clue how to drive in the snow, and it's generally best to stay off the roads. So we did. Sort of.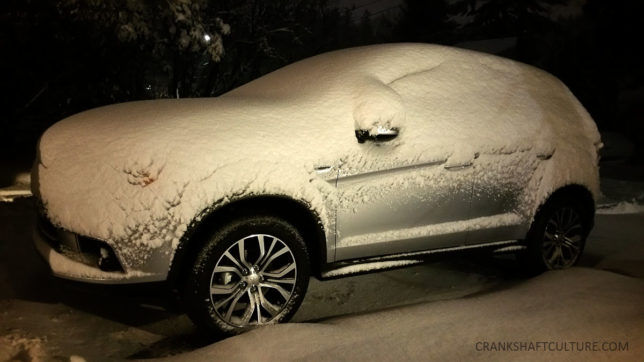 Day one of the storm dropped 10+ inches of snow on our road … and everywhere else. See above photo. Before deciding to work from home, I took our Jeep Cherokee out. Yes, it was definitely snowy. The PDXJ, as we lovingly call it, was able to blaze through the snow without issue thanks to its 4WD and mud terrain tires. But now I got curious. How would the Mitsubishi do?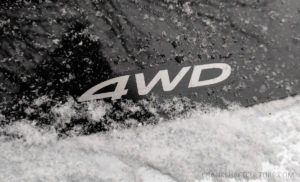 The Mitsubishi had all-wheel drive, or more exactly, the company's All-Wheel Control (AWC), which allow for three modes: front-wheel drive, all-wheel drive, and all-wheel drive with lock. The lock comes in the form of a center locking differential (CLD) can make a significant difference in deep snow or sand, since it'll direct more power to the rear wheels in challenging conditions. Up to 60% of the available torque can be directed to the rear wheels. You simply switch modes by pressing the 4WD button on the center console.
I didn't figure I'd go very far with the Outlander Sport this day since the roads were terrible, but there was no one out in our neighborhood at 6:30am and if it got stuck, I could winch it out with the Jeep. Hesitantly, I backed down the driveway, put it into AWD, and began down the snowy street.
It quickly became apparent the car would do quite well in the snow, even on the 225/55/18 all-season Nexen tires. Of course they didn't offer as much traction as the Jeep's Yokohama mud terrains or our other cars' dedicated snow tires, but let's put it this way—I didn't feel like I was going to get mired in the middle of our road. I took the traction control off so I could spin the tires a bit more for better momentum. I stopped at the end of our road to make a Y-turn. Without issue, the Outlander Sport began to turn around. I decided to try out the 4WD Lock mode. At this point, it became apparent that the all-season tires were the weak link. But despite some wheel spin, the Mitsubishi plowed its way through the deep snow. If you were to equip this thing with some snow tires, it'd be a hell of a snow car.
The roads continued to be terrible for about three more days, and any commuting I did was in our Jeep or Subaru because they had traction tires. But things got better on the weekend. Sure, the roads were still snow covered, but at least they weren't treacherous.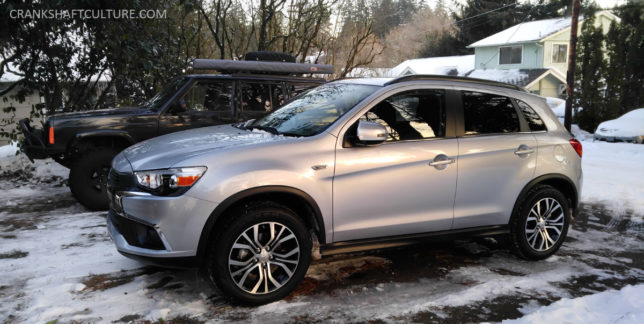 Our Cool Silver Metallic Mitsubishi proved to be a great winter weather vehicle. Not only because of its AWC, but because the heated leather seats warmed up faster than just about any I've ever experienced. Those are some serious rump roasters!
Our tester, which was the SEL trim, had the 2.4-liter engine making 168 hp, a significant number compared the 2.0-liter engine that is now relegated to base models. This 2.0 liter mill used to be standard issue on Outlander Sports and was (and still is) anemic. The 2.4 is a welcome upgrade and helps to propel the Mitsu at a good clip—snow or no snow. Power is put to all four wheels via a CVT, the only transmission available. Fuel economy ain't too bad, but is less than its competitors at 22 city, 24 combined, and 27 highway.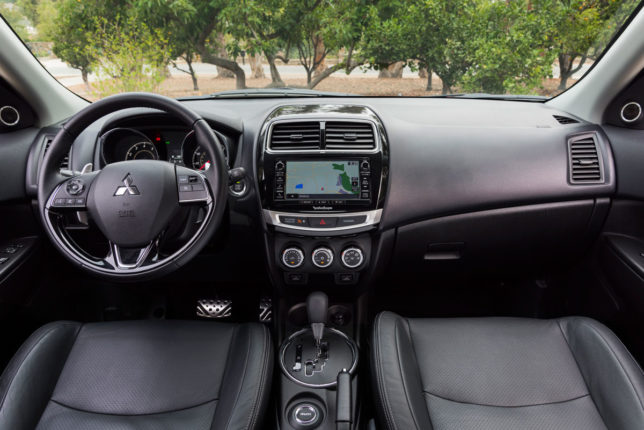 Whether on slippery, snowy roads or not, this compact crossover is comfortable and handles well. The ride is compliant, although there is a bit of wind noise. Nothing deafening, but noise nonetheless. The back seat isn't huge, but it's usable for adult humans, which is saying something. The rear cargo area can hold a good amount of whatever you're hauling—groceries in my case. The touchscreen infotainment system didn't make me want to punch anyone in the face, so that's a positive, too. You'll have to step up to the top-of-the-line GT trim level for the earth-shaking Rockford Fosgate stereo, however (and it is awesome). Overall build quality didn't leave me wanting more, but some of the design elements and switchgear felt dated and a bit on the value-engineered side.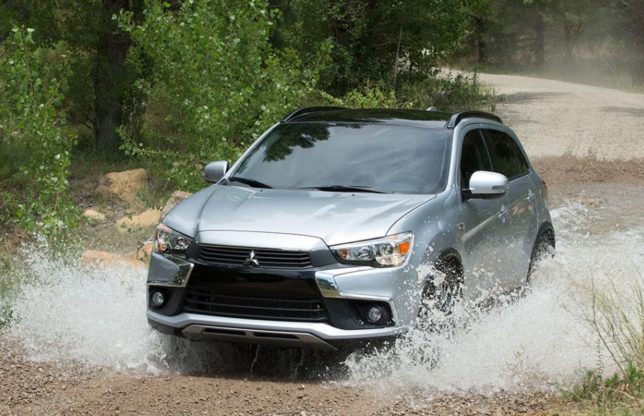 While it doesn't have serious off-road cred, it does have a laudable 8.5" of ground clearance, which is 2.2" more than a Toyota RAV4 and only 0.2" less than a Subaru Crosstrek or Jeep Renegade Trailhawk, so not too shabby. Outlander Sport isn't going to be suited for the Rubicon Trail, but it is more than equipped to handle dirt roads on the way to camp sites, your favorite mountain biking trailhead, or forest service roads. Or, turn it into a rally car! Yes, we photographed this Outlander Sport back in 2014 at the Oregon Trail Rally. We approve.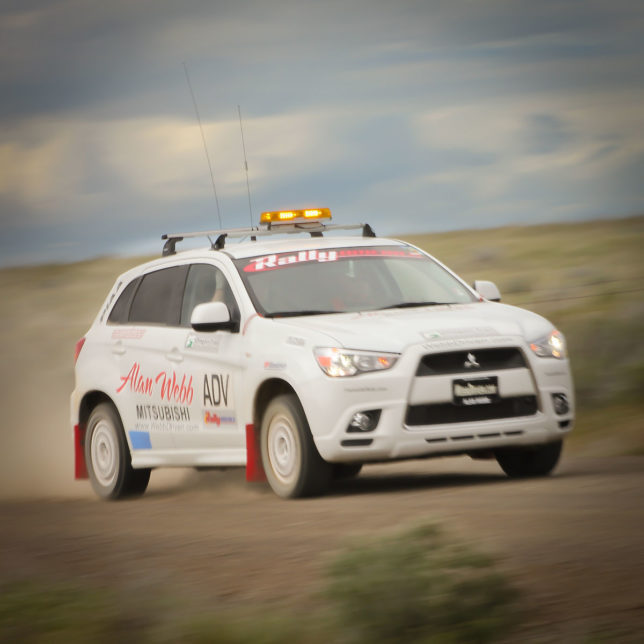 Our Ideal Adventure Setup
If it were us, we'd lose the 18" wheels, and downsize to either a 16" wheel with perhaps a 205/70/16 all-terrain tire, perhaps maybe a 17" wheel with 235/60/17. You could also throw a roof rack on there to carry skis, a roof basket, or whatever you want up there. A little 1" lift would also bump ground clearance up for more off-pavement capability. A quick Google search did yield people talking about a lift, but I didn't run into any confirmation on availability.
Good Value, Solid Vehicle
Mitsubishi is no stranger to AWD/4WD, and despite their small presence in the U.S. they do build a quality vehicle with a hell of a warranty. Our SEL-trim tester stickered out at $26,590 including destination, which is fair.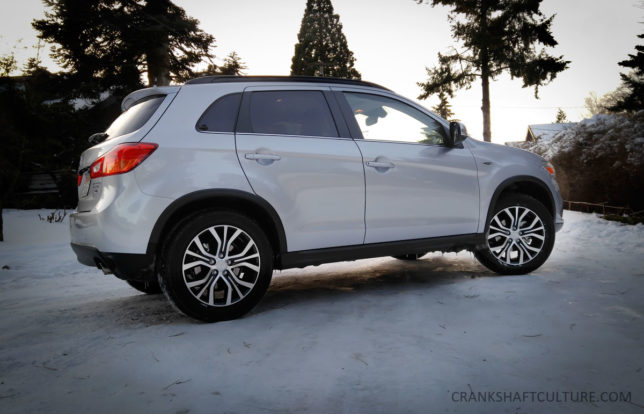 We've always liked the Outlander Sport's looks, which received a minor refresh in 2016. It has a slightly sporty, somewhat classic look that doesn't seem to get old. We think it warrants a look if you're in the market for a compact crossover with decent ground clearance, a peppy engine, and that warranty: 10 year, 100,000 powertrain, 5 year, 60,000 miles bumper-to-bumper, 5 year, unlimited roadside assistance. Frankly, I think Mitsubishi needs to talk more about its great warranty to help get people into showrooms. And while it's not a spring chicken—the current model debuted in 2010—it's a good all-around crossover and could make for a good adventuremobile platform.
STATS
Price as Tested: $26,590
Engine: 2.4-liter MIVEC four cylinder; 168 hp, 167 ft/lbs torque
Suspension: Fully Independent MacPherson strut (F), multi-link (R)
Brakes: Disc (F), Disc (R); ABS
Wheels: 18×7 alloy
Tires: Nexen 225/55/18 All-Season
Towing Capacity: Not recommended by manufacturer
Fuel Economy: 22 city, 24 combined, 27 highway (87 octane)
Final Point of Assembly: Okazaki, Japan (95% Japanese parts content)
CRANKSHAFT CULTURE CHECKLIST
Off-Road Ability: Snow, dirt roads
Can You Lift It: Maybe
Would We Drive Cross Country: Yes
Would You Drive it to Alaska: Probably
Aftermarket Support (1-5):  2.5 – most Lancer parts will fit
Spirit Animal: Beagle – Small, compact, active. Can be stubborn. Originally for tracking small game.