You can have the most capable and built off-road rig, the coolest and most expensive gear, and all the desire in the world to conquer your adventure—but if you don't know where you're going, you may as well stay home or play in the mall parking lot. Enter the Magellan eXplorist TRX7 GPS.
Magellan recently released its TRX7 GPS, a true off-roader's companion. With its dust resistant, waterproof (up to one meter), drop and vibration resistant housing, this top-of-the-line GPS will withstand pretty much anything you throw at it (boulders not included). It also just so happened our 10 year old Garmin Nuvi was on its last legs, so the TRX7 seemed like a great choice for us. And before you ask, yes, we've downloaded a host of apps for our phones, but like having a separate unite for our GPS system vs. always having to worry about our phones.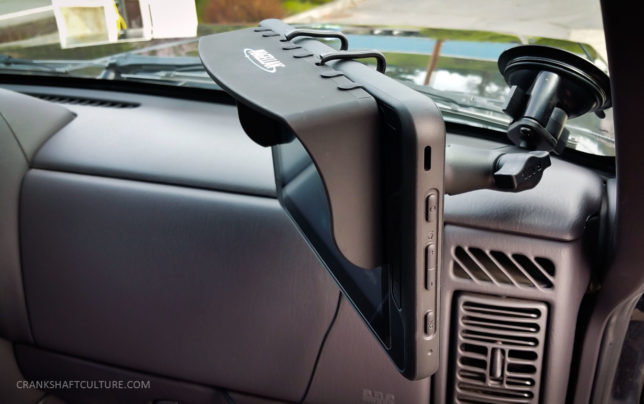 Inside this ultra-tough casing is where the real magic happens. The TRX7 comes with over 100,000 designated OHV routes including forest and public lands. It also has detailed topo and street mapping for the US and Canada, top down or 3D map view, one-touch track recording and flexible waypoints (especially essential when off the tarmac), as well as social media updates and interaction from the trail.
Magellan's database contains preloaded OHV routes and routes that have been created by off-road enthusiasts. This database is accessible by laptop, tablet, or any mobile device. The crowd-sourced trails contain personal observations and trail rankings so users can search by location, trail difficulty, etc. Pretty nifty, eh?
The Magellan TRX7 also provides several categories to search for: points of interest (POIs): food, gas, lodging, campsites, landmarks, and more. Other vital features are its tracking ability, search capacity, and wishlist log. The TRX7 has the ability to record tracks and share them with other users, growing the database of user-generated information. One can even add information such as detailed terrain bits, up-to-date-trail conditions, etc. so others can be in the know. The Magellan TRX7 can also mark waypoints and institute turn-by-turn navigation (very helpful when creating your own tracks you wish to return to). The TRX7 can search trails, trips and POIs,and has the capacity to save them to your wishlist. Great if you see an offshoot trail or POI you'd like to investigate at another time.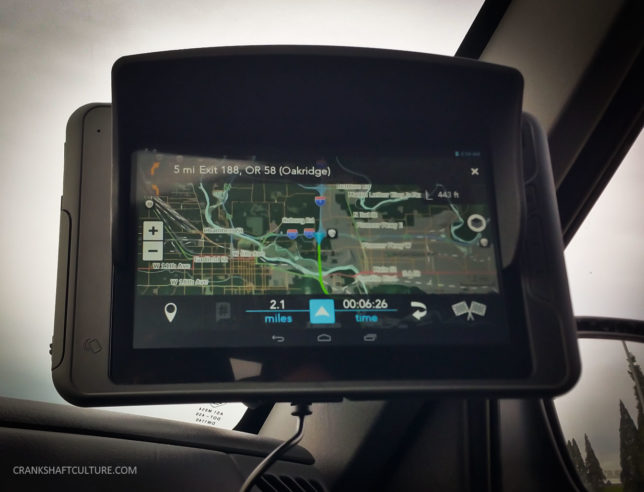 Our unit came with the 7" LCD touch-screen, genuine RAM suction cup windshield mount, USB cord with car/home charger adapters, and optional sun shade. Out of the box it's easy to install, power up, create your account, and get it ready for your off-road adventure. This system, however, needs a bit of reading up in order to understand its full capacity. It isn't an easy plug-and-play type of system like most GPS units that will only be used on highways and paved roads, but rather an extensively capable GPS to assist in a multitude of manners, especially when venturing off the chip seal. There is a learning curve. We also found that while it will easily do on-road navigation, it's forte really is off-pavement trails. It wouldn't find some popular POIs, since much of its database is crowdsourced. We were told there would be a major update to this in late spring, however.  The only other nitpick was the GPS's voice clarity wasn't the most natural sounding we've heard.
We also got to use the TRX7 on the Jp Dirt 'N Drive from Las Vegas, NV to Moab, UT. Magellan provided maps to download, and the routes were easy to follow with a host of options for routes. We really enjoyed the maps' off-road functionality and ease of use.
Regardless, once you understand the steps involved to create tracks, find trails, and set your own adventure—you'll be good to go on your back-country expeditions.
A few other notable features include Bluetooth and WiFi capability, three-axis compass, 16GB of internal memory (expandable to up to 64MB via SD card), rechargeable Li-Ion battery with up to 8 hrs of charge, IP67 water-resistance, and that genuine RAM mount. The TRX7 retails for $679.99 and is available via a host of retailers.

More Info:
Magellan TRX7 eXplorist Off-Road GPS