Yesterday was the first day of spring. Frankly, after a nasty winter in Portland, we're looking forward to some much-needed sunshine and better weather. We've already done lots of work on The PDXJ in preparation for spring, summer, and a host of upcoming events.
Before we can get to said events, we've got to get the rig in tip-top shape. We've been doing a lot of work recently, which is one reason we haven't posted a lot as of late. Just a few quick updates.
Photoshoot
The PDXJ was part of a photoshoot for Warn Industries and the new VR winches (see first photo). We headed out to the hills outside of Portland for a professional photoshoot. The truck did great, and the new gears from Nitro Gear & Axle really proved their worth off road, as did the Yokohama Geolandar Tires. It did, however, throw check engine light—P0303—cylinder three missfire (again). This code has popped up a few times since December, '16.
CEL Fix (Hopefully)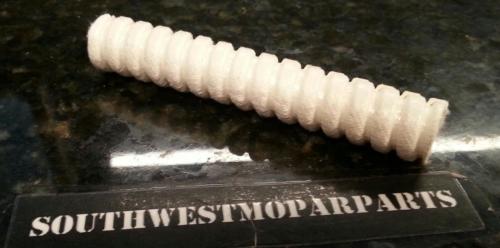 We've had this P0303 cylinder three missfire code several times now. The fix (we hope)? There was a TSB put out some time ago because apparently fuel in the third fuel injector vaporizes before going into the cylinder and causes a missfire. The solution is a new heat shield (the existing one had disintegrated) and to wrap the third injector with some overly expensive heat-resistant material. This helps to keep thinks cooler and fuel liquid. The local Jeep dealer wanted a ton of money for the injector wrap and wouldn't even sell me the heat shield. I was able to source all of the product online (as seen in the image above), thankfully. Knock on wood—the CEL hasn't come back since adding these items.
Front Sway Bar Bushings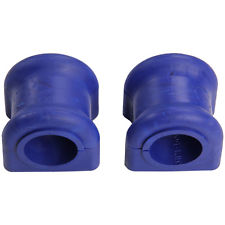 With 145,000 miles on the odometer, the old front swaybar bushings could probably stand to be replaced. Plus, this should be easy to do, right? But first I needed to determine which front swaybar the PDXJ had. And, I kid you not, Jeep offered a 22, 23, 24, 26, or 28 mm front swaybar on the Cherokee. I have no idea why this was so random. Needless to say, I spent all of last weekend running from parts store to parts store tracking down the right ones. After measuring with a set of digital calipers, it turns out I have a 26 mm bar. Once I got the correct bushings, they went on without incident. Of note: Energy Suspension makes poly bushings in 25mm and 27 mm, but no 26. Ask me how I know.
Rear Brake Noise
The other project I decided to tackle was a brake noise from the driver's side rear. We first noticed this after getting the new axles and locker put in. It was a repetitive "wa-woomp, wa-woomp, wa-woomp" sound when coming to a stop. It's done it for the last three months. Well, I took the drum apart, cleaned it all up, readjusted the drum, and—knock on wood—seems to have one away. More driving will be needed to verify. However, that lead to another problem …
Stripped Wheel Studs
When loosening the lug nuts on the driver's side rear wheel, I felt a ton of resistance. That is never good. While I thought for sure the stud was going to break, it didn't. Unfortunately, the lug nuts and studs were pretty badly chewed up. Not sure if this is because the lug nuts got crossthreaded or what. Regardless, I just picked up new studs and have lugs on order to remedy this.
New Magnaflow Exhaust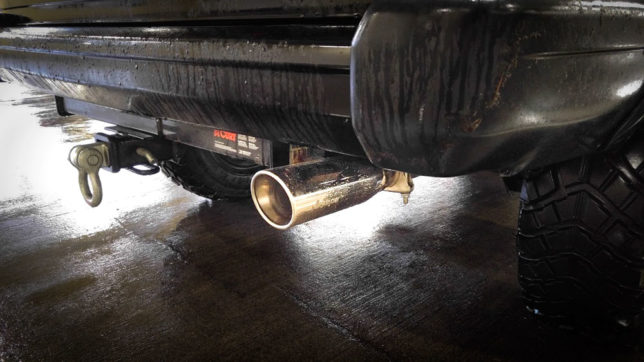 I also just picked up a new Magnaflow exhaust system. Part 16464 is stainless steel cat-back exhaust system for the 2000—2001 Cherokee. While I would normally install this myself, the factory exhaust needed to be cut off, and I frankly didn't have the time to do it. My local exhaust shop installed it for me at a very reasonable cost, and it sounds great. No droning, just a nice, meaty tone that's not too loud. Expect more info on this very soon, including video.
JCR Vanguard Rear Bumper and Tire Carrier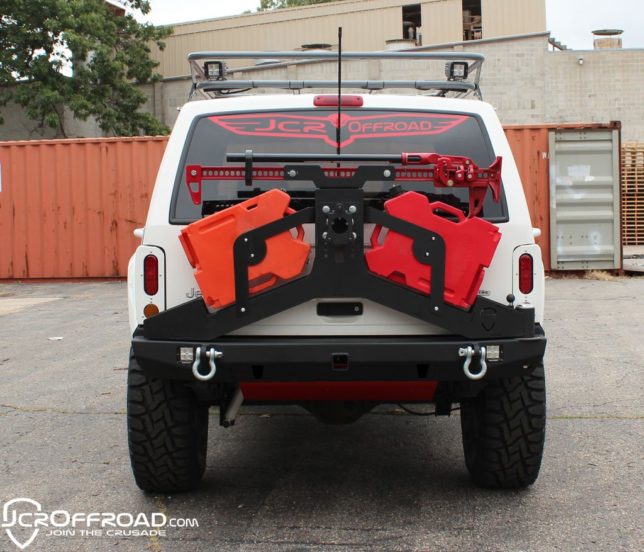 Our next addition will be JCR Offroad's Vanguard Rear Bumper and Tire Carrier. This will accompany the JCR Vanguard Front Bumper and Rock Sliders. Plus, the tire carrier has spots for two RotopaX and a mount for our CB.
Events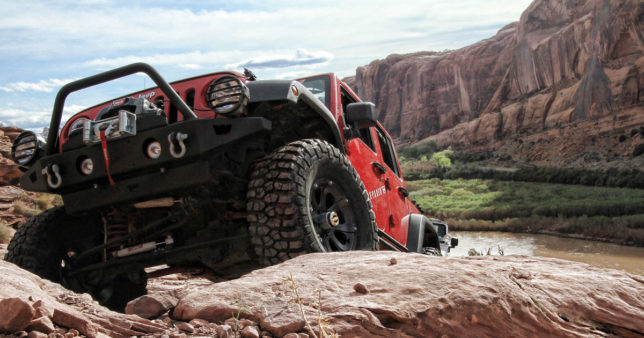 The PDXJ is going to get some miles on it this spring and summer. Firstly, we will be on the JP Dirt 'N Drive. Put on by JP magazine, the event runs from Las Vegas to Moab. It's a two night affair with a good deal of it being off pavement. We can't wait. The whole shebang ends up at Easter Jeep Safari, where I will be for the week on behalf of my day job.
Our Cherokee will also be at:
That's a full schedule! We'll be in the Warn Industries booth for these events, and are very much looking forward to it. Stay tuned for more updates and product reviews.
Between the wheel studs, rear bumper, and tire carrier installation, we're going to be busy—and that's all before head ot the Dirt 'N Drive. Stick with us, and follow on Instagram, Facebook, and Twitter for more updates.