Knowing the world we live in today—full of fear, ever dividing politics, war and strife—there are still good people out there. Lots of good people. In fact we met lots of them at the 2017 Overland Expo West in Flagstaff. Many are travelers or overlanding enthusiasts.
This year's Overland Expo was held at the Fort Tuthill County Park just outside of Flagstaff, AZ. Different venue, different vibe, and a different experience. Fort Tuthill is located about 10 miles outside of town, in a picturesque but sprawling location. Lots of tall pines, lots of areas to check out, and lots of walking. I mean miles of walking. Good God—glad I brought good shoes.
Classes
Same as last year, Expo West hosted many informative and hands-on classes and workshops, several of which I attended. Featured classes included: When There is No 911: Learn Proper Patient Assessment (taught by Charly Aurelia of Mountain Forge, an organization who offers programs for many survival topics); On-Trail Communications, Getting Beyond CB Radio or even Building and Following a Budget for Long-Term Travel (hosted by Andrew C. Pain of MinimalMotorcyclist.com). Workshops held classes like Wilderness Basics 101 to Collecting, Storing, and Disinfecting Water in the Field (facilitated by Bob Wohlers) and roundtable discussions were featured, including Regional Q&A: Canada and Alaska (which I found particularity fascinating). Each class or workshop was unique to a respective topic: wilderness safety, vehicle maintenance, backcountry recovery, communication must-haves, technology, and even how to pack light when overlanding. Each class was held in a different venue: classroom tent, different-colored flag area, demo tent, etc. I walked my ass off hoofing it from one class to the next but I learned so much and am already eager for next year.
Amazing Vehicles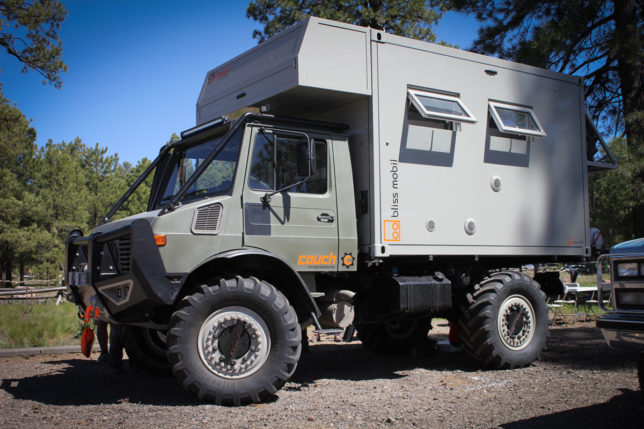 Aside from learning about living out of your rig, being on your own, and preparing for worst scenarios while traveling to new secret spots—you must check out the TONS of vehicles that descended upon Flagstaff.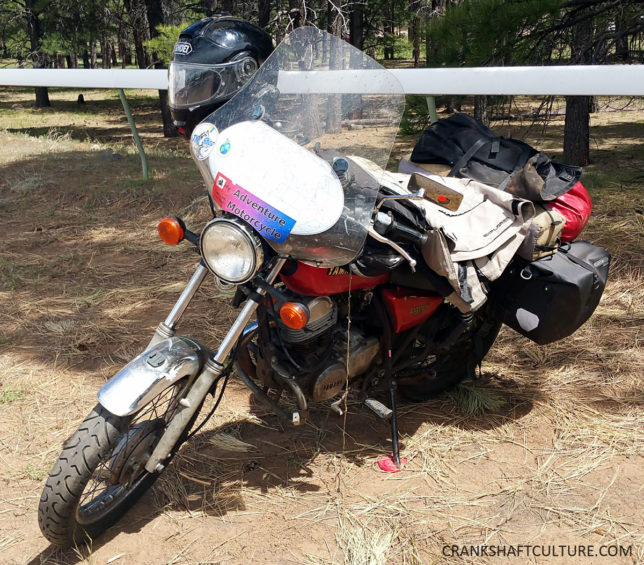 Tiny two-wheeled set-ups to enormous earth roamers. Small Suzukis to "I lost count how many wheels are on that rig" giants.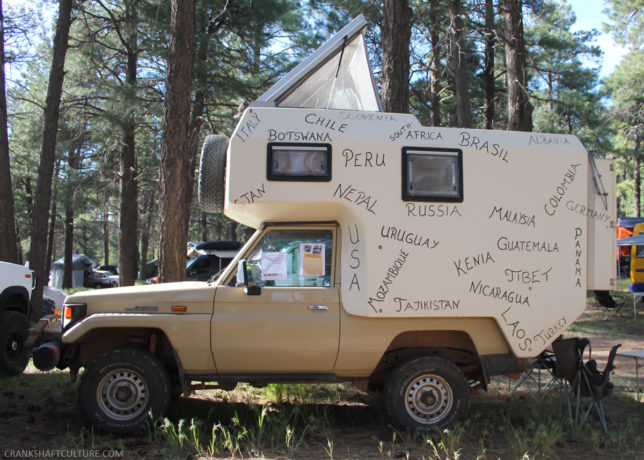 Old-school home-built conversions to high-end wows that contain every bell and whistle (costing lots more money than our house). If you plan to attend Overland Expo West you have to allow for ample time to check out the rigs.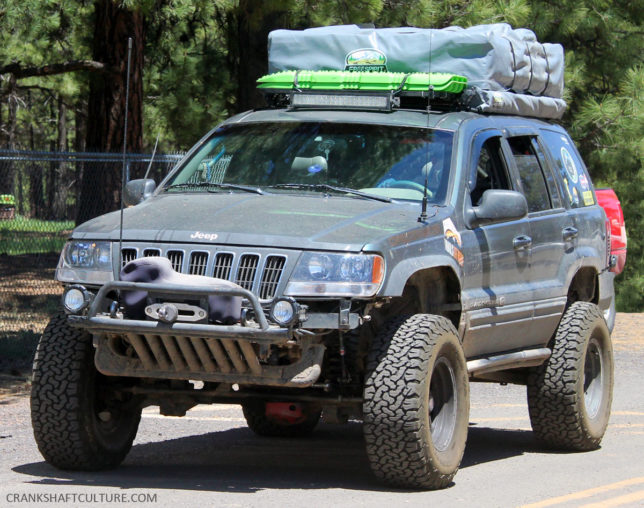 And I don't just mean the horse-power hungry beasts in vendor row, but the hundreds and hundreds of vehicles scattered about in camping areas or driving around coming to and fro—people would be happy to let you take a shot of them in motion. I saw an abundance of cool crankshaft-powered machines. Each was built to its owner's perfection, or at least to its "attempted" perfection. Lifted, modified, re-geared, fabricated, revised in one fashion or another; I could have been there for weeks to learn about each one.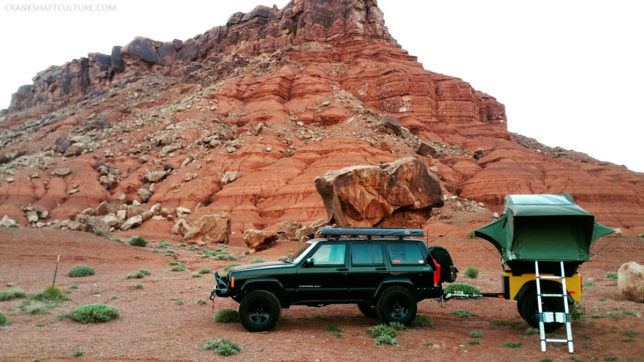 Andy and I drove down in The PDXJ (our 2001 Jeep Cherokee XJ) pulling our custom little yellow sidekick, the Dinoot J-Series trailer. As many of you know our last adventure to the Jp Magazine Dirt 'N Drive and Easter Jeep Safari event in Moab was quite a feat with break-downs, product issues, and multiple late nights fixing it up again so we'd be ready to roll the next morning. I am very proud to say this time our 2,546 mile tarmac venture from Portland, OR to Flagstaff, AZ was uneventful and problem-free.
Gear Central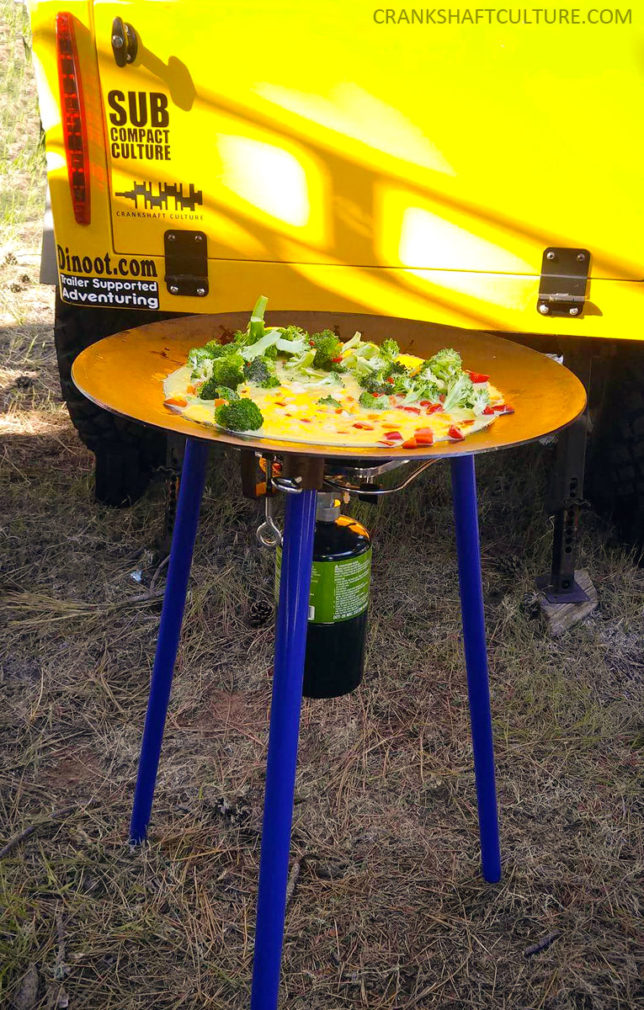 Gear is also important. It can make you a smarter, more prepared, and confident traveler. Gobs and gobs of gear were featured and sold at Expo. From different roof-tops tents like the ones displayed by our friends at CVT (Cascadia Vehicle Tents) to awesome new bungee cord systems to hold your gear, Expo seemed to have it all.  We bought some cool items from a US-based company called Tribe One Outdoors. We got their Jungle Cord bungees and PackTach carabiner set. We didn't even survive the first night camping without them! The PackTach carabiners and coordinating plastic clips were used to hold tent material taught in Marble Canyon as the winds were racing through our campsite. Another awesome item was the American-made full-size Tembo Tusk skottle grill. Our friends at Roamr lent us their skottle for a few meals to test its worthiness. Oh yes baby, we found it worthy! Jerry from Tembo Tusk had a prototype tabletop skottle at his booth, we hope to see that puppy in production soon.
It's All About The People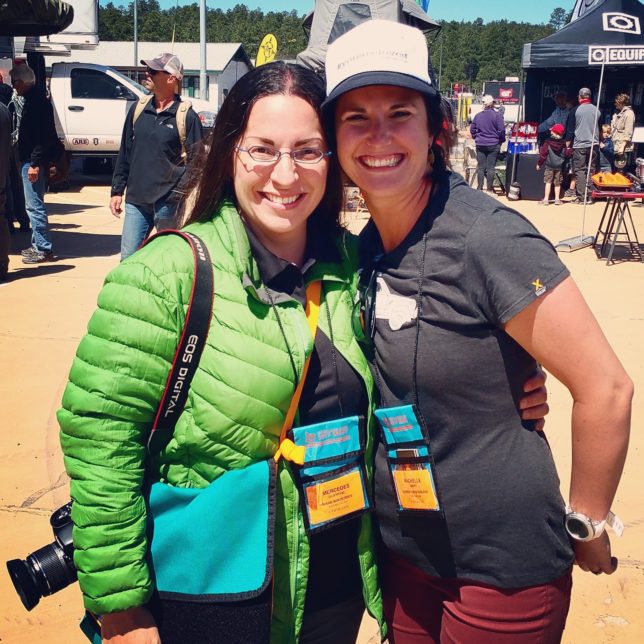 The most exciting and fulfilling part for me, however, wasn't the gear, vehicles, or classes—it was the people. The travelers you met from New Zealand or Germany. The adventurers you happened upon that live in your city or the region you plan to travel to next. People that are giving, humble, and knowledgeable. Ones that are happy to answer questions you have, share awesome camping secrets, tips and tricks, or folks that'd give the shirt off their back to help a total stranger. That was the true highlight.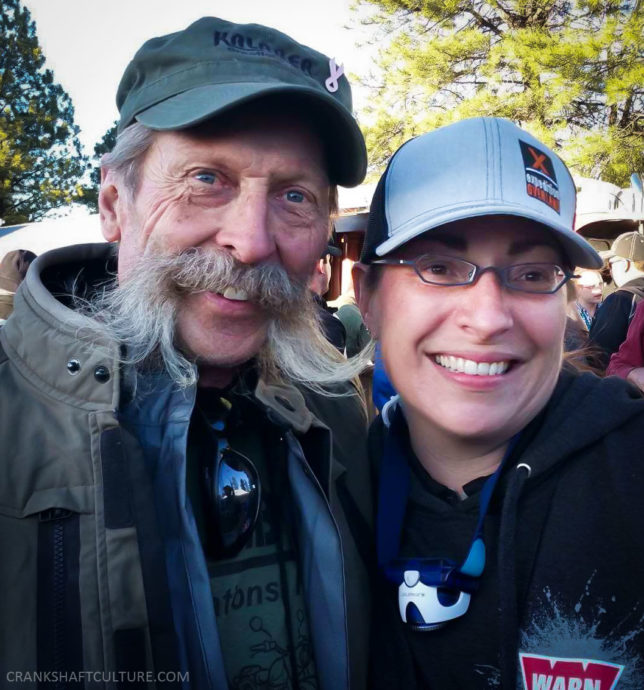 For instance, I had a bucket list item unexpectedly fulfilled by Mark Tetreau and Esteban Segura Ramirez of Kalaber Creations. Mark, an authorized dealer of Ural motorcycles in Prescott, AZ offered kindly to give me a ride in his Ural. Not any regular Ural at that, this Ural, I learned, would be the first motorbike and sidecar to venture over the Rubicon Trail in CA this coming August. A Ural and sidecar to venture where many lifted 4x4s dare not to drive over? "Wow!" I said. "A chance to fulfill a dream of mine to ride in a sweet sidecar? Hell YES!" I said. I hopped in his customized motorcycle and off we went. I realized very quickly that Mark was going to not just putt-putt around Fort Tuthill. He was going to hot foot it across the gravel paths and through the trees. "Holy God!" I gleefully screamed as we turned around a corner and the sidecar lifted off the ground. In the ten minutes we tooled around, I lifted off the ground three times, drifted around countless gravel-filled corners, and waved to dozens of people as they gave us the thumbs up.
Holy hell are these things fun. I still grin from ear to ear thinking about it. If you happen to see Mark around, ask him for a ride. Tell him Mercedes said it was OK. Thanks Mark!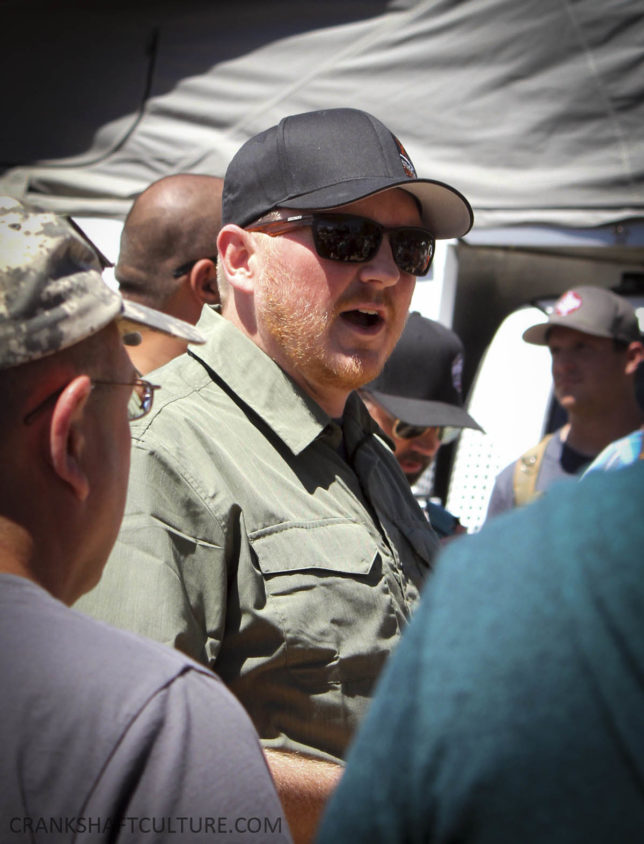 We saw many good friends like Rachelle and Clay Croft from Expedition Overland, Matt and the folks from ARB , Bobby and his group from CVT, and our good buddy Spencer from BC, Canada. I connected with adventurers like Josh and Elise from Bomber Products and Tyler from BleepinJeep. So many more people worth mentioning! But, if I were to type all their names my fingers would fall off, seriously. You guys know who you are; it was fantastic to see you all again.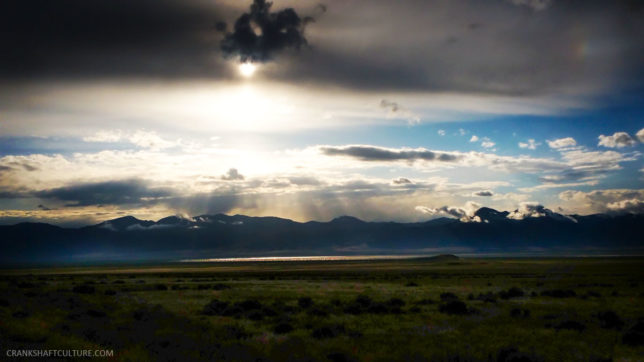 I encourage you to get out there. Go travel. Get outside of your comfort zone and talk to fellow adventurers. You'll meet lifelong friends. Trust me, Andy and I have. You'll need to travel the world and open yourself up to find them though. Overland Expo West is a good place to start.