Being Pacific Northwest residents now for over 10 years and counting, we've driven many miles of the famous Highway 101. As a matter of fact, we've driven hundreds of miles of it: all of Oregon, most of northern California, as well as parts of lower Washington.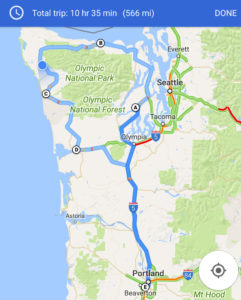 Andy and I decided to extend our weekend warrior getaway to northern Washington a little bit longer a few weeks back and instead of heading back to Portland Sunday morning we decided to complete our Washington 101 tour. In particular, we wanted to visit the Olympic National Forest and Hurricane Ridge Road. The open road was calling us; we were longing to keep pounding the pavement. We didn't want to go back home. Keep on the road, keep traveling, keep going … and, perhaps, just perhaps not stop (hey, we can have a pipe dream, right?). Neither of us had witnessed the majestic beauty of the Olympic National Forest or Hurricane Ridge Road, so what the heck, let's go!
As we left our camp spot in Belfair, WA, we passed through many towns on Hwy. 101 on our way to Port Angeles (the gateway of Hurricane Ridge Road). Some towns  were cute and some not so cute. If you turn downtown on South Race Street in Port Angeles, you will enter the popular gateway to Hurricane Ridge Road and Olympic National Park. This is only after you pass gas stations, several houses adorned with pretty flowers, and a hacked up car wash. Don't worry, getting out of town rewards you with 360 degrees of mountain giddiness in no time.
---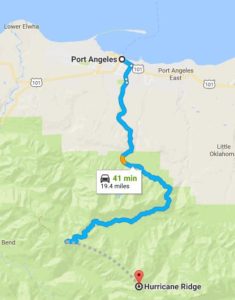 Name: Hurricane Ridge Road (outside of Port Angeles, WA in the Olympic National Park)
Surface: Pavement (100%), Obstruction Point Road off-shoot (gravel)
Notable Mentions: Get there early otherwise you will wait in line to pay for one hour plus
Don't Miss: Snow-capped mountains and the sea, stunning views, wildlife, wildflowers, 50 shades of green, many opportunities to hike or camp primitively
Watch Out For: Wildlife (we saw many deer and fawns near the road), your fuel gauge
Summary: Perfect spot for a visit or a connecting point for primitive traveling, camping, or hiking; bring sunscreen, drinking water, and food
---
Very quickly into this paved parade, we noticed a steep incline. The PDXJ and Dinoot trailer were plugging along just fine so far. We haven't seen as many people on the road as expected, but here and there were lines of cars coming down in an odd array of nothingness and then 30 rigs, nothingness and then 10 more roamers. Several more miles up we encountered stopped traffic. This is where everyone is! We waited in line for close to an hour to pay a $25 entrance fee for the Olympic National Park. Oh, it's a National Park, silly us! We thought it was just a road in a national forest.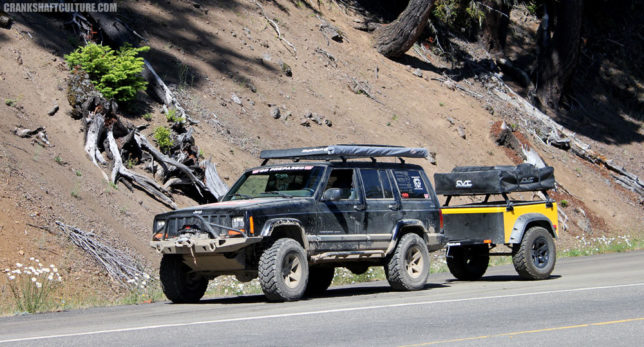 Once through the checkpoint, we tooled up curvy roads and close-to-cliff edges. We whizzed post tons of pines as the Andy drove the Cherokee up the road. White and yellow wildflowers bloomed happily in the sun alongside the well-paved road. I grabbed my camera and phone—too many awesome photos to take on this sunny end-of-June day! Mother deer with her white-spotted fawns were seen everywhere, gorgeous wildflowers and scenic outlooks were aplenty—I knew this was a special place. A special place for everyone to see, even for the folks in the Toyota Yaris going 20 miles an hour the whole way down, even though the speed limit is almost double that …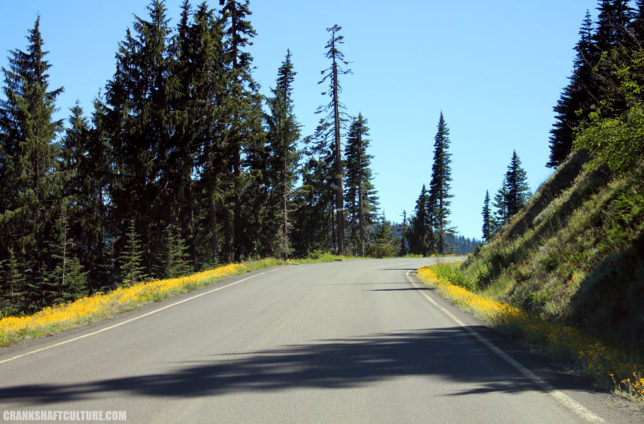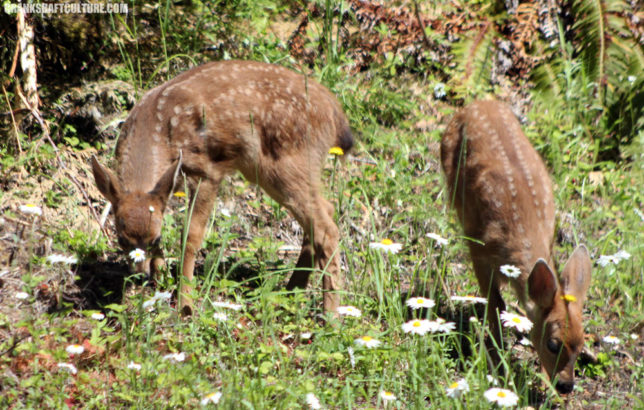 My heart started racing as I saw tall evergreens gracing us with their presence and snow-capped peaks in the distance. A dynamic view of all that nature has to offer: greens, blues, multi-colored shades of rock and sky—this area is a must-see.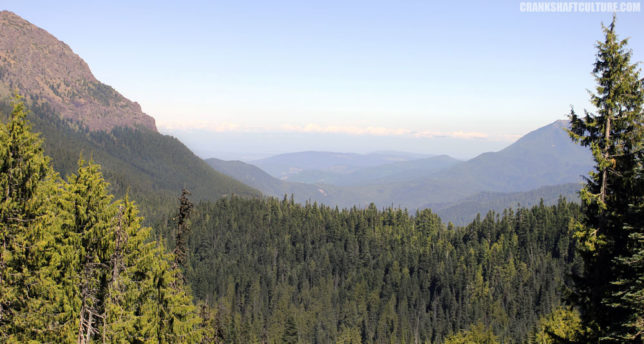 After several miles of driving a steep 7% upgrade, we finally reached the Hurricane Visitor Center, which is open daily in summer (3002 Mount Angeles Road, (360) 565-3130). It was packed up there. No good place for the Jeep and trailer to park. We didn't need to stop for long as we weren't headed in to eat, drink, or buy touristy trinkets (all which were offered at the Center), but we did want to take some photos. We needed to get back on the road and B-line it home. After all, it was Sunday late afternoon and we were several hours away from home. We were able to whip a U-turn before the parking area and pulled off to the side. What we saw was jaw dropping: craggy snow-capped mountains and wildflowers wherever we looked. The hot sun was washing the tip of my nose as I watched a hawk soar up above. We saw water off in the distance and thousands of evergreens tickling the sky. The noises were inadmissible—there were none. It was a still, sunny day. The only noises we heard were cars leaving the parking lot with aspirations to head home. We, on the other hand, wanted to pitch our CVT rooftop tent and not leave … ever.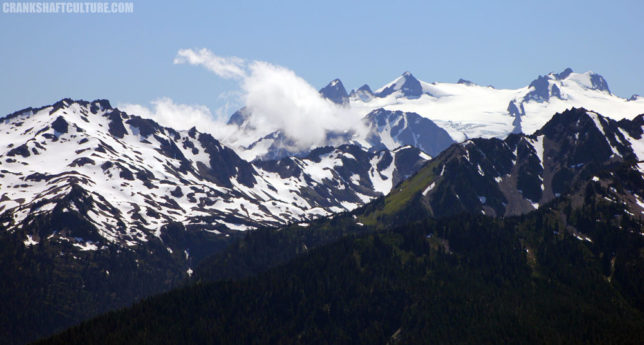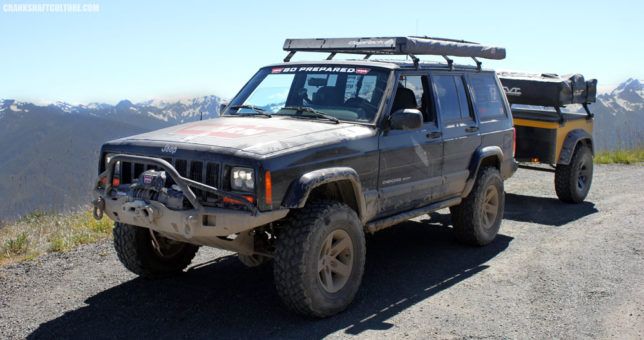 A sign on the side of the road (near the visitor's center) said Obstruction Point Road. After some quick research, it's a gravel road that dips off of Hurricane Ridge road (with weather and snow permitting is opened from July 4 through October 15). We have to check out this road! But, sadly, that adventure was not for today. Obstruction Point Road happens to offer access to many trails. So, for adventurous and primitive-road-loving adventurous types, this would be a fun trek to drive. We definitely want to plan an awesome primitive camp trip in the Olympic National Forest soon.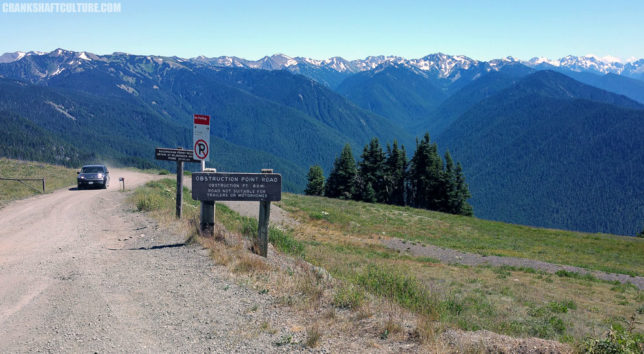 If you love serene mountains, abundant wildlife, colorful backdrops no matter where you look, along with the quiet majesty of tall timbers, Hurricane Ridge Road in the Olympic National Park is worth the trip! Drop what you're doing and go for a drive, you won't regret it.