Everyone has a happy place. To some, it's their home filled with trinkets, movies, children, and warmth. Others find happiness going shopping at their favorite store to hunt for next bargain or latest fashion trend. To me it's anything outdoors with Andy. It's anything adventure. It's finding a place that's in the middle of nowhere. Where the untouched beauty of Mother Earth presents all her glory for the select few to see. That's where I call home, my true home. My land, my adventure—it's my calling.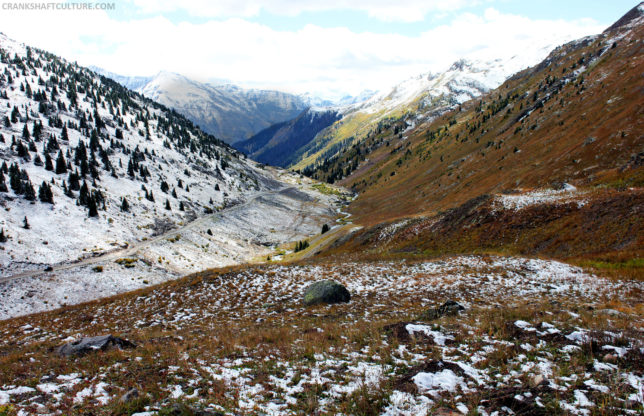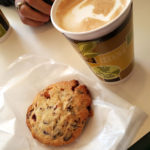 One of the most magical places I've been lucky enough to visit is the tiny town of Ouray, Colorado. At just a tick over 1,000 residents and an elevation of 7,792 ft., this small southwestern Colorado mountain town is the home of the majestic San Juan Mountains (part of the Colorado Rockies), several small eateries adorning the main street, and Mouse's Chocolates & Coffee (which makes the best damn lattes!).
Adventure-seeking guests flock to Ouray all throughout the year to hike, bike, ice climb, or four-wheel drive their way across the mountain range. The scenery never ceases to amaze, and our excursion was one never to forget.
Waking up super early in the center of town, we grabbed our gear, tools, and recovery kit and headed out. We pointed The PDXJ towards Highway 550, otherwise known as the Million Dollar Highway. Super scenic but super scary, this highway certainly isn't for the faint of heart. Sheer drop-offs on one side intimidate a lot of passengers, one wrong move and you will be married to the mountains—forever. Once a few miles out of town, we found ourselves at the trailhead, aired down, and double-checked our GPS, phones, and communications. We pulled out plenty of water and Gatorade to drink along the way. Hydrate, hydrate, hydrate. These are necessities when traveling off well-worn city pavement, especially when at high altitude.
---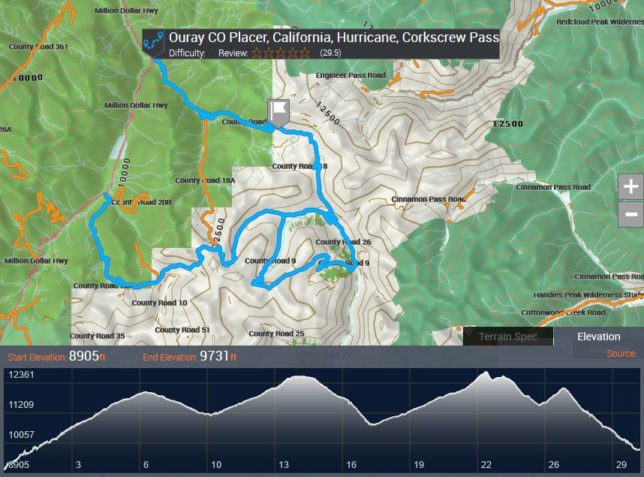 Name: California Pass, Hurricane Pass, Corkscrew Pass
Surface: Hard-packed dirt, rock (100%)
Notable Mentions: Bring your camera; make time to take in the scenery! The trek will take longer than you think. Weather changes on a dime; be prepared for all conditions. Drink tons of water.
Don't Miss: Towering mountains, stunning views, wildlife, wildflowers, nature at its finest.
Watch Out For: Cliffs, slippery roads due to mud or snow, your fuel gauge.
Summary: Perfect spot to take in the scenery; bring sunscreen, drinking water, food, and toilet paper if you need to go! There are restrooms scattered about, but they are far and few in between.
---
Our Magellan TRX7 had been loaded with the day's track: California Gulch to Placer Picayne trail; looping over to Animas Forks, back to California Pass,  Hurricane Pass, and finally Corkscrew Pass back into Ouray. A spectacular day was about to be had! This particular route strongly suggests you have a 4wd vehicle, but it's more scenic than technical. No real boulder crawling or flexing your rig's suspension, but a day's worth of OMGs and wows. With jaw-dropping views around every corner, you'll want to make sure you bring your phone, camera, and plenty of juice to keep them alive. It's difficult not to stop every 10 seconds to take several photos; this area outside of Ouray is just stunning. Please note: This track is unforgiving in many areas. Drivers, keep your eyes on the road as any wrong move could send you barreling down a 500 ft. cliff.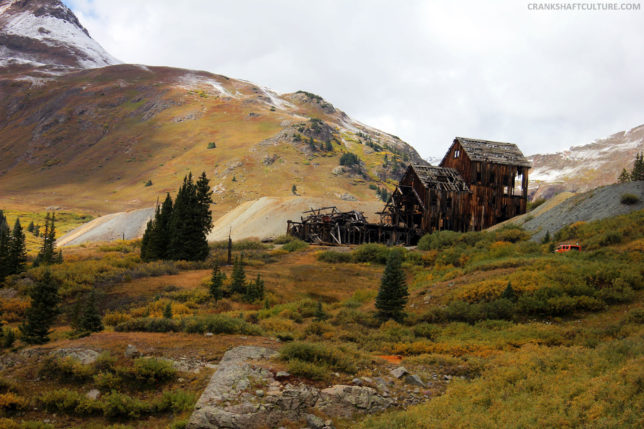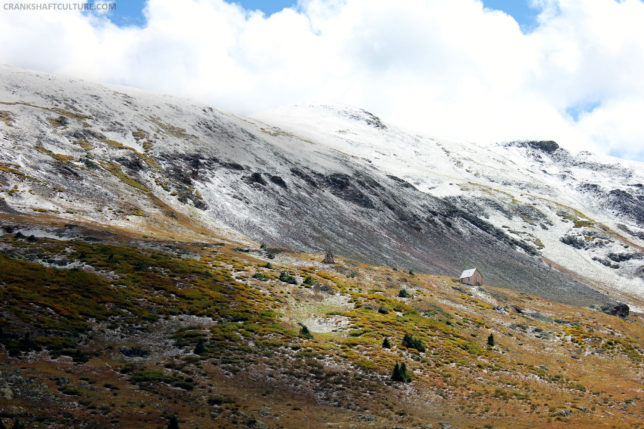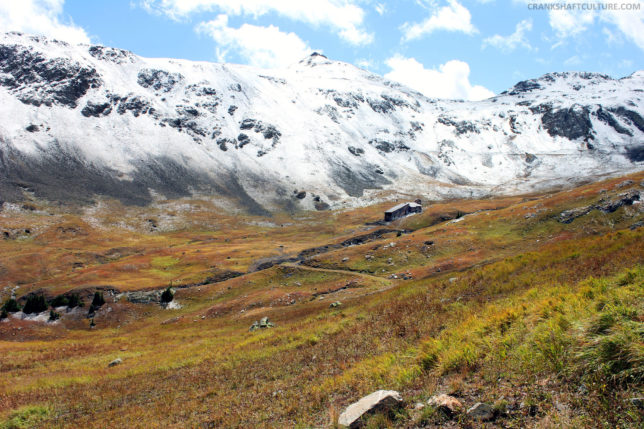 As we climbed elevation on the dirt track, thousands of pines and aspens gave way to craggy rock, old mining buildings, and ruins of abandoned mine shafts. Fall was in full swing as an infinite amount of yellows, greens, and browns adorned the landscape. Mountainsides were carpeted in an beautiful array of organic design. That's something I've never quite experienced, not at this magnitude anyway.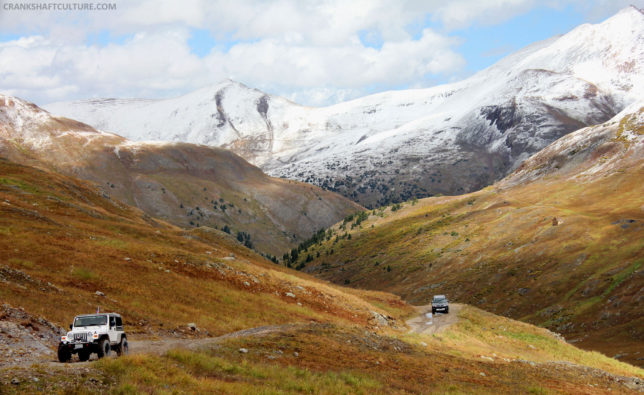 Mountain peaks of 13,000+ ft. enveloped us as we drove up and around the mountains to enter one of my favorite spots on Earth: California Gulch (on the way to California Pass). This open valley seduces you with its beauty. As we drove on the hard-packed 4×4 trail we had a chance to see all around us. A true bowl of Colorado's nature, I could have stopped there for hours just to listen to the wind, see the occasional animal run across our path, and stand in awe of the power of nature. But, alas, we kept on driving so I snapped a few photos and took a quick video.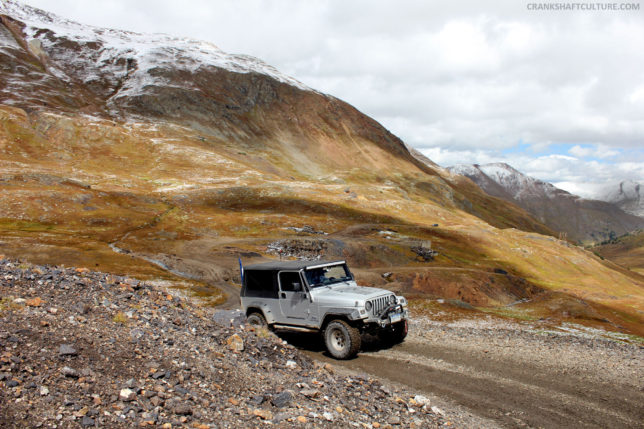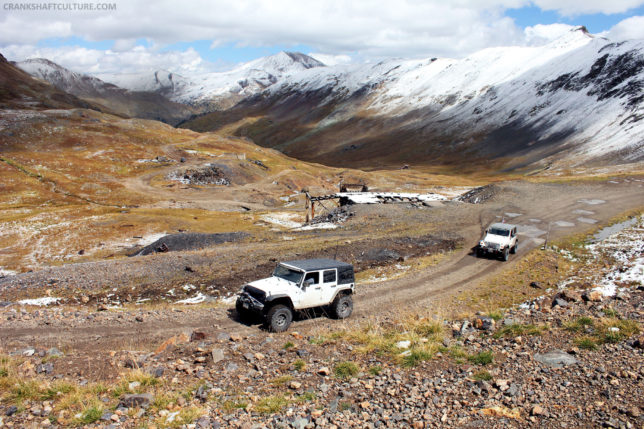 We did a large loop off of California Gulch that included the Placer-Picayne Trail and the deserted town of Animas Forks. After looping back, we continued on the Gulch road, and started our first big climb to summit California Pass (12,960 feet above sea level). The PDXJ was runnin' great. Snow had just fallen the night before, and as we started up to the pass we changed scenery from dark greens and browns to a crisp white. Snow in August! How beautiful was this? The heavy clouds that had followed us had started to part ways to a glorious bluebird sky. We stopped for a quick break and photo opportunity. We made the first pass!
If you have a chance to get to California Pass' summit, be sure to hike up to the top of the mountainside (pathway is easily seen). The first time I visited this area I didn't trek to the top but this time I did. The views are amazing (as seen in my video); definitely worth the five-minute hike. Bring your camera along—you won't be disappointed.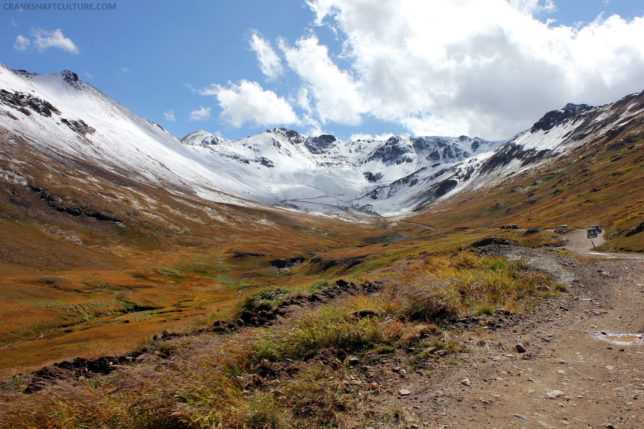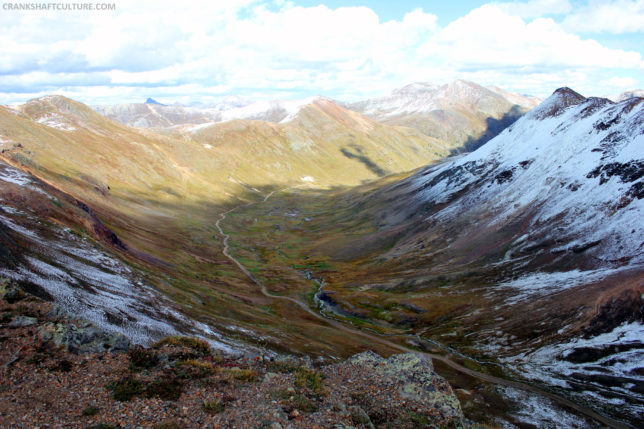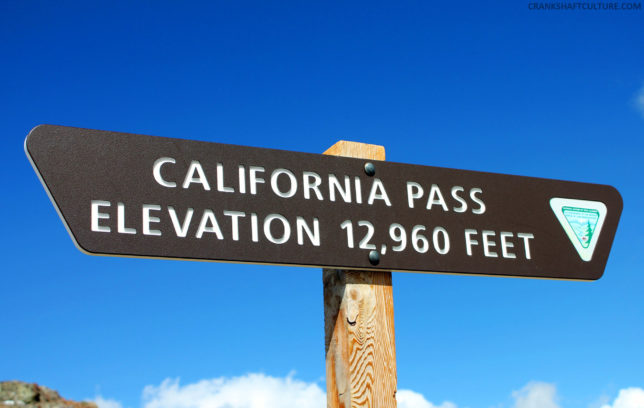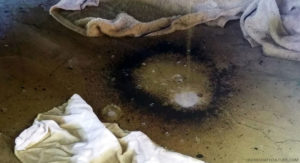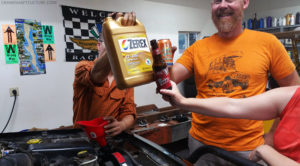 The Jeep's been performing great so far, especially with its first time off-pavement over 12,000 feet. You'd never had known we had to perform emergency surgery and swap out the radiator and thermostat on the way down to Ouray from Portland, OR. A hefty thanks to Greg and Catherine of Rocky Mountain Extreme. They heard our call for help via Facebook a few days earlier and offered up their shop, tools, and expertise so we could do the swap and get to Ouray in time. Thank you so very much! We still owe you dinner and wine tasting the next time you're in Portland!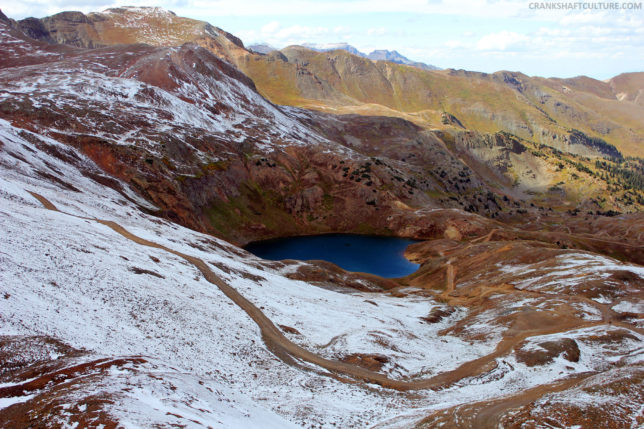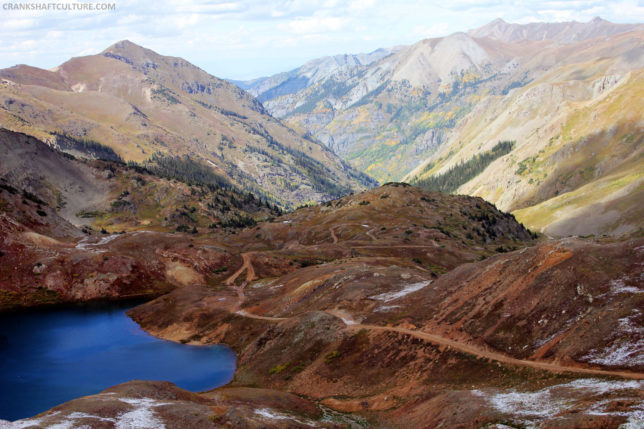 California Pass offers up the first hint of soil color change—the surrounding red mountains and Corkscrew Pass showcase something I've never seen before. Terrain that boasts dark reds, corals, peaches, and pumice; the mountains come alive with intense colors. It's the closest I've ever come to experiencing the euphoria of driving in nature's coloring book. Insane! From the back side of this pass you can see the entrance to trails such as Poughkeepsie Gulch (a more difficult trail we haven't done yet), and bluer-than-blue mountain lakes such as Lake Como. Again, have your camera ready—you'll need it.
After a few quick minutes gazing around California Pass, we got back into the Jeep and headed down the other side in order to head up to Hurricane Pass (12,730 feet above sea level). Equally as beautiful, make sure you allow a few minutes to stop or grab your lunch.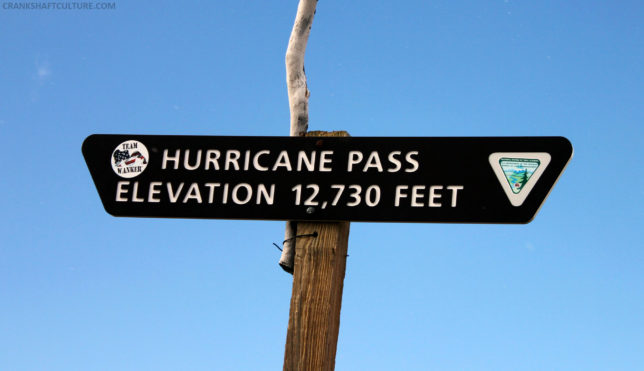 As you meander down Hurricane Pass we headed up and into Corkscrew Pass. You'll need extra concentration for this area. The road narrows, giving you extra "pucker" factor if you come close to the cliff's edge. With switchbacks and tracks clinging to the side of the mountain, you feel like you could fall off at any moment. Keep your eyes on the road as the majestic mountainside begs you to pay attention to it instead of the road. But don't let it steal your concentration as you drive. One wrong move and you and your rig could be there permanently. Notice a common theme in this story? Keep your rig away from the edge and centered on the track.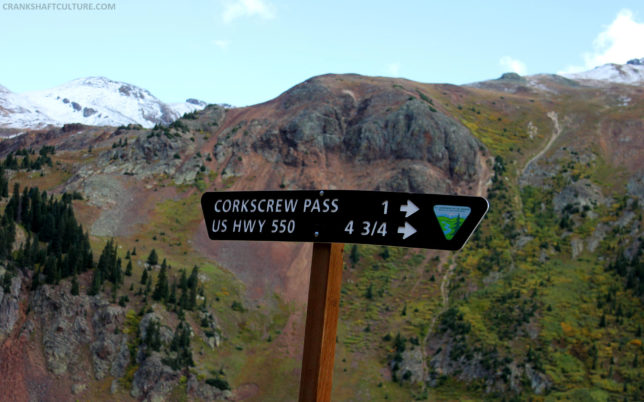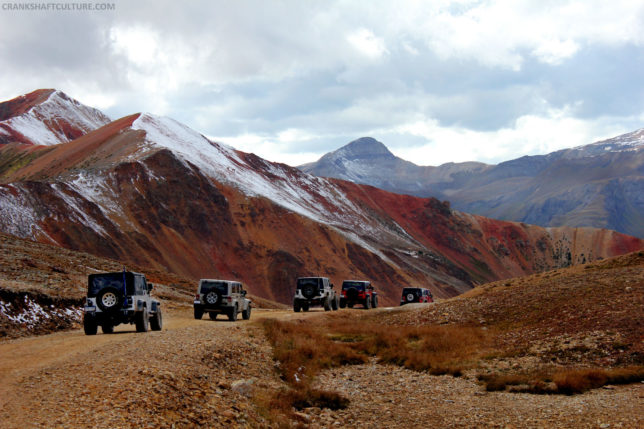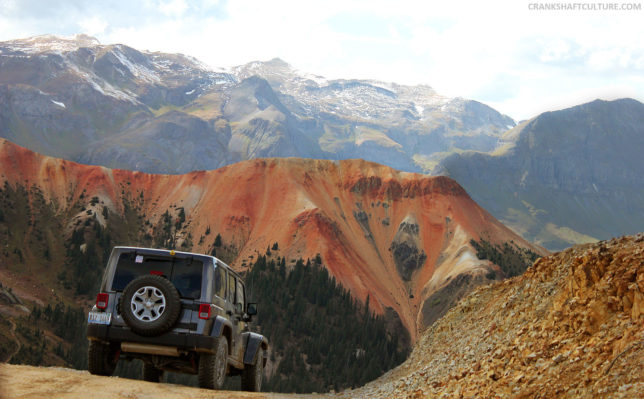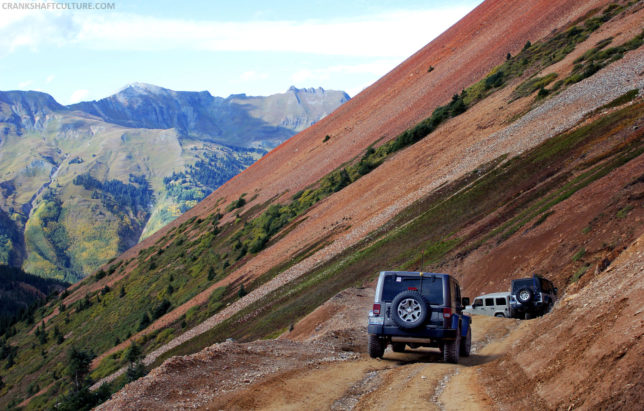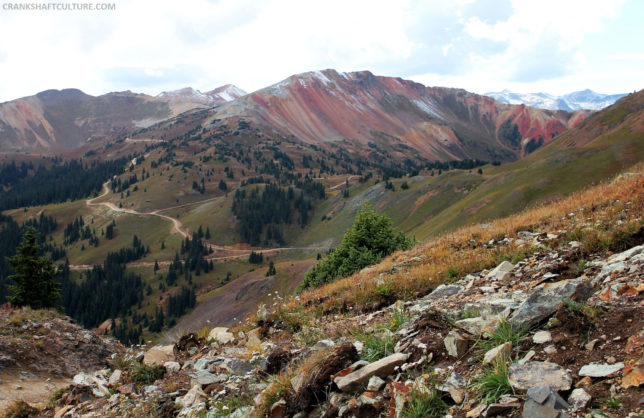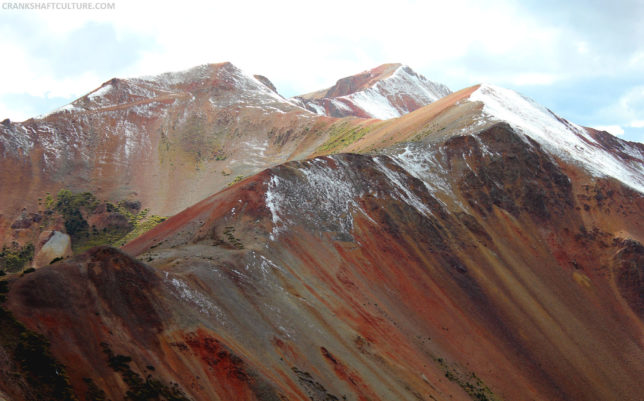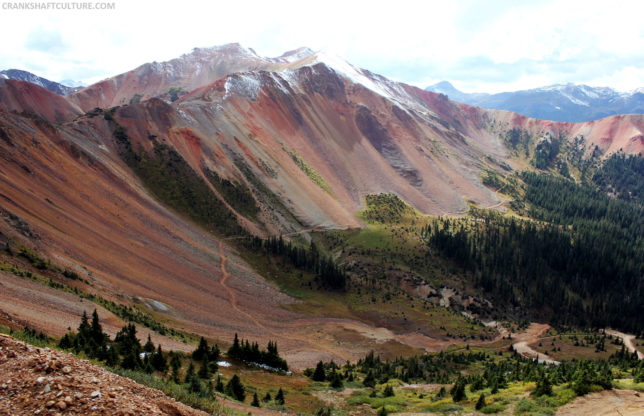 Up and down we go, until we reach our final descent back down into the pines and caramel sandy sides of Corkscrew Pass. Beautiful in its own way, we dig back below treeline. Multicolored aspens are everywhere. The sun peeks through the clouds to offer up an intensified view of them. Spectacular! I couldn't get enough of this. I didn't want our day to end after we arrived back to Ouray. I've taken this day's experience and locked it away in my soul forever.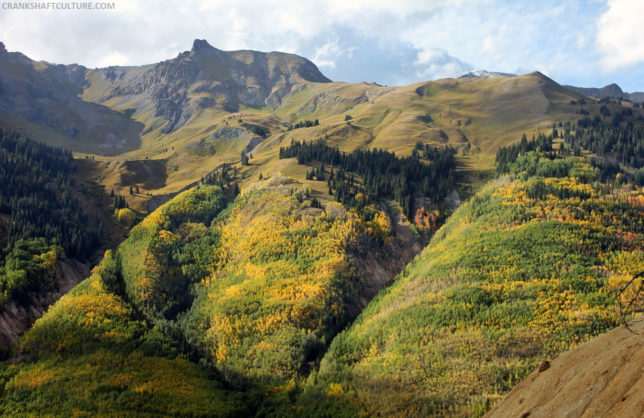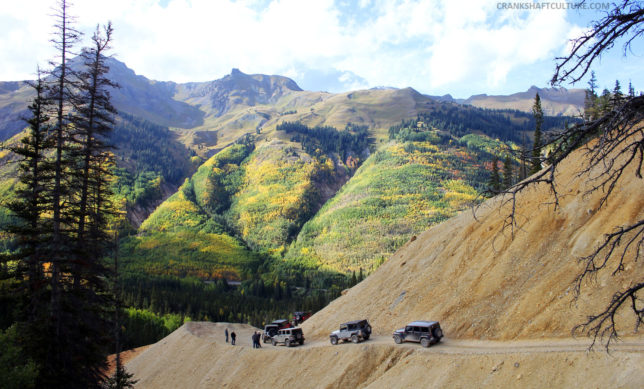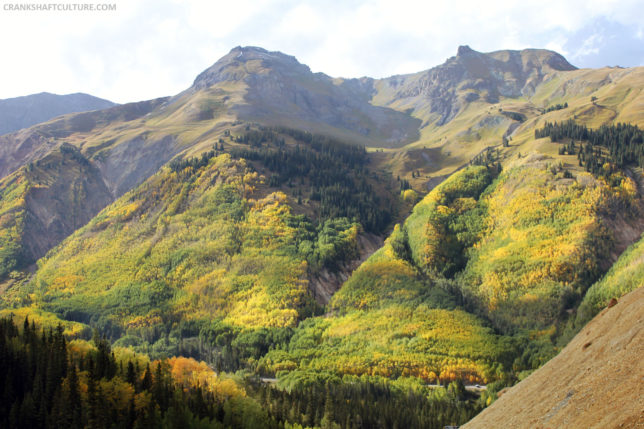 Ouray and its surrounding areas offer up such extreme beauty I wish I could visit several times a year or maybe even more. We could be like the folks we befriended at the local Comfort Inn, who were East Coasters until they visited. This place was special to them and they gave up their careers and moved there. They bought the Comfort Inn knowing nothing about the business and are making it work. Just stop and think about this for a second: Be where you want to be vs. where you feel like you have to be. I think that's what I want in life. Be where I want to be. Be where I want to be with Andy, my navigator in life. Now, how do we make this work?