We're just getting around to getting some work done on the Pajero Projecto. It's been cleaned up, the oil and filter have been changed, and we finally got new tires installed.
The Projecto came with some very old 31×10.50 BFGoodrich KO All-Terrain tires. They were dried out, cracked, and needed to be replaced in a bad way. I knew we wanted a mud terrain tire, and a 33×10.50 tire. I opted for the popular BFGoodrich KM2 Mud-Terrain tires. I've put plenty of miles on Jeeps with KM2s , including a recent 3,000 mile trip from Portland to Phoenix to Moab in a lifted Jeep on 37″ KM2s, so I can vouch for their performance on- and off-road.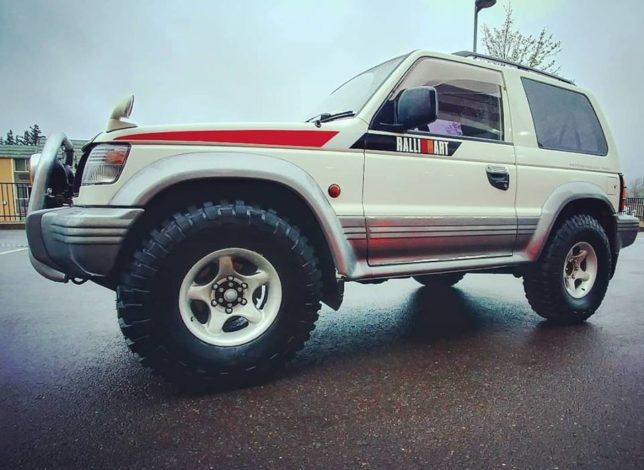 We had considered a variety of other sizes, but the 33×10.50—a fairly tall 'n skinny tire—seems to be the choice of many a Montero owner in North America, so that's what we chose.
We were lucky in that our Pajero came with two sets of wheels. The wheels shod with the old all-terrains were a black and sliver 15×8 Pro Comp wheel with a -19 offset and fake beadlocks. I can't say I was a fan. Thankfully, we loved the classic, minimal silver five-spoke wheels that also came with the rig. There isn't any brand on them, but there is a faint Autobacs decal present. Autobacs is a chain of autoparts stores in Japan. (Trivia: Autobacs opened a Super Autobacs store in Stanton, CA in  the early 2000s, which I had the opportunity to visit in 2005. Autobacs USA filed for bankruptcy in 2009 but continues to be popular in Japan.) Anyhow, these wheels are a 15×7 with a -10 offset, and that's what we used for the new KM2s. These wheels look very similar to Berg NR595 wheels, where were made by Bridgestone, however, they're not 100% the same. Unfortunately, I only have the factory wheel for a spare (which has a +10 offset). Oh well.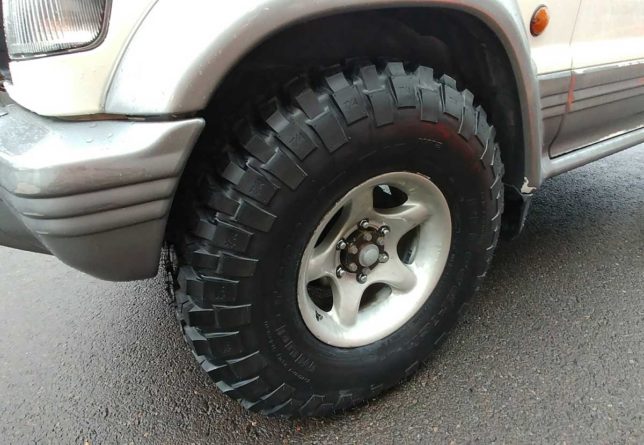 We're looking forward to putting some miles on our BFGs both in the dirt and on the pavement, and we'll have impressions later. Next up: a lift.