We unabashedly have a soft spot for Suzuki 4x4s. When I was a kid growing up in the 1980s, I remember thinking that Samurais were awesome and that someday I wanted one. In the early 1990s, I remember seeing a lifted four-door Sidekick for sale in Auto Trader and thinking it was too cool. I wanted a Suzuki someday. In 2010, we purchased a two-door 1995 Suzuki Sidekick, aka The Teal Terror, and built it into a great little rig that took us all across the western part of North America.
Along the way, we got to know a host of other Suzuki owners, including the owner of Zukiworld.com, Eric Bewley. Eric's been in the Suzuki game for a long time and knows them inside and out. He's had everything from vintage LJ80s and Samurais, to two- and four-door Sidekicks and even owns the Nissan-based Suzuki Equator (with a very trick ARB bulbar setup and roof top tent). Oh, he also has a two-door Sidekick race truck. However, if there's one vehicle that's always stood out for me, it's his Sea Foam Green 1989 Sidekick JX nicknamed Sweet Pea. I've been wheeling with him several times over the years, and that rig has always impressed me. So what's the story, Sweet Pea?
SWEET PEA'S START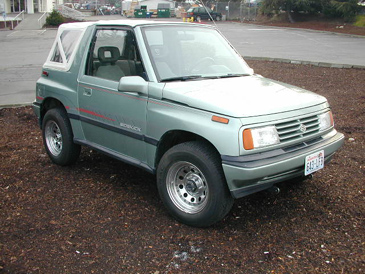 "In 2000 a couple of plucky individuals started a website for Suzuki enthusiasts, the idea was to create a place for like-minded Suzuki 'nuts' to get together and share their passion," said Eric. This would, of course, be Zukiworld.com, which Eric still operates. His friend, Junior, purchased a Sidekick and Eric already had a Samurai. "We began building and promoting [the site]; events, gear guides, trail rides, forum, etc." The vehicle had been used as a Zukiworld promotional vehicle, and was the subject of several builds with well-known Suzuki parts manufacturer, Calmini, as well as a trail rig.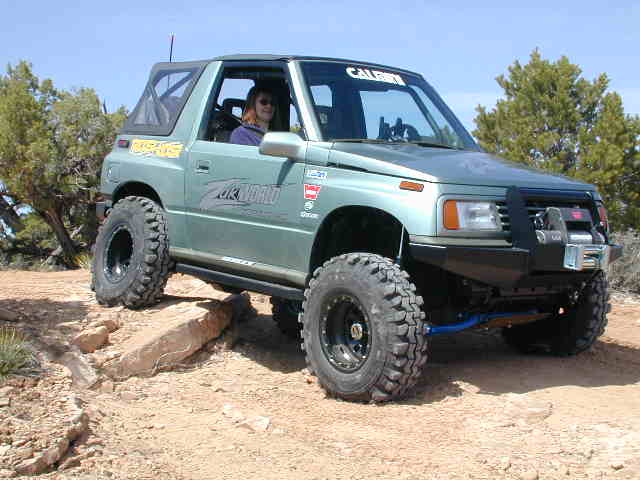 "Around 2003 Junior decided to move on. I purchased the [Sidekick] from him. 'Sweet-Pea,' as she's now known, sat for quite a while as I wasn't that interested in it. My Samurai, 'Wedgee,' was really fun and suited our needs at the time," said Eric. "At some point, I began looking at the green machine and started driving it. To me, it had a lot of deficiencies as built and I wanted—no, needed—to change and rebuild it before it would be something I could enjoy."
THE TRANSFORMATION
From the factory, Sidekicks (and their Geo Tracker twins) had a solid rear axle and independent front. Eric retained this setup for a while and used an IFS setup from well-known Suzuki outfitter, Calmini, along with other components from companies such as Sky Manufacturing, but decided he needed something more stout. A solid axle swap needed to happen.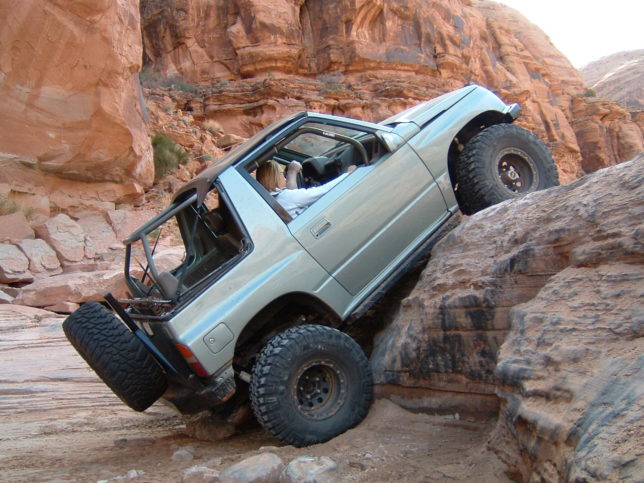 Out went the IFS and in went a custom Calmini solid front axle with Dana 44 outers, a Spidertrax-like housing, Sidekick third member with 5.12 gears, 27-spline side gears, Superior axles, and an ARB locker. Eric also ditched the factory rear end in favor of a Currie Enterprises axle housing with a Nodular 9" 35-spline third member. That's some serious running gear for a little Sidekick. However, that wasn't it. Eric also added Bilstein 7100 shocks with remote bypasses, rear disc brakes, and a Rockcrawler 4.24:1 transfer case.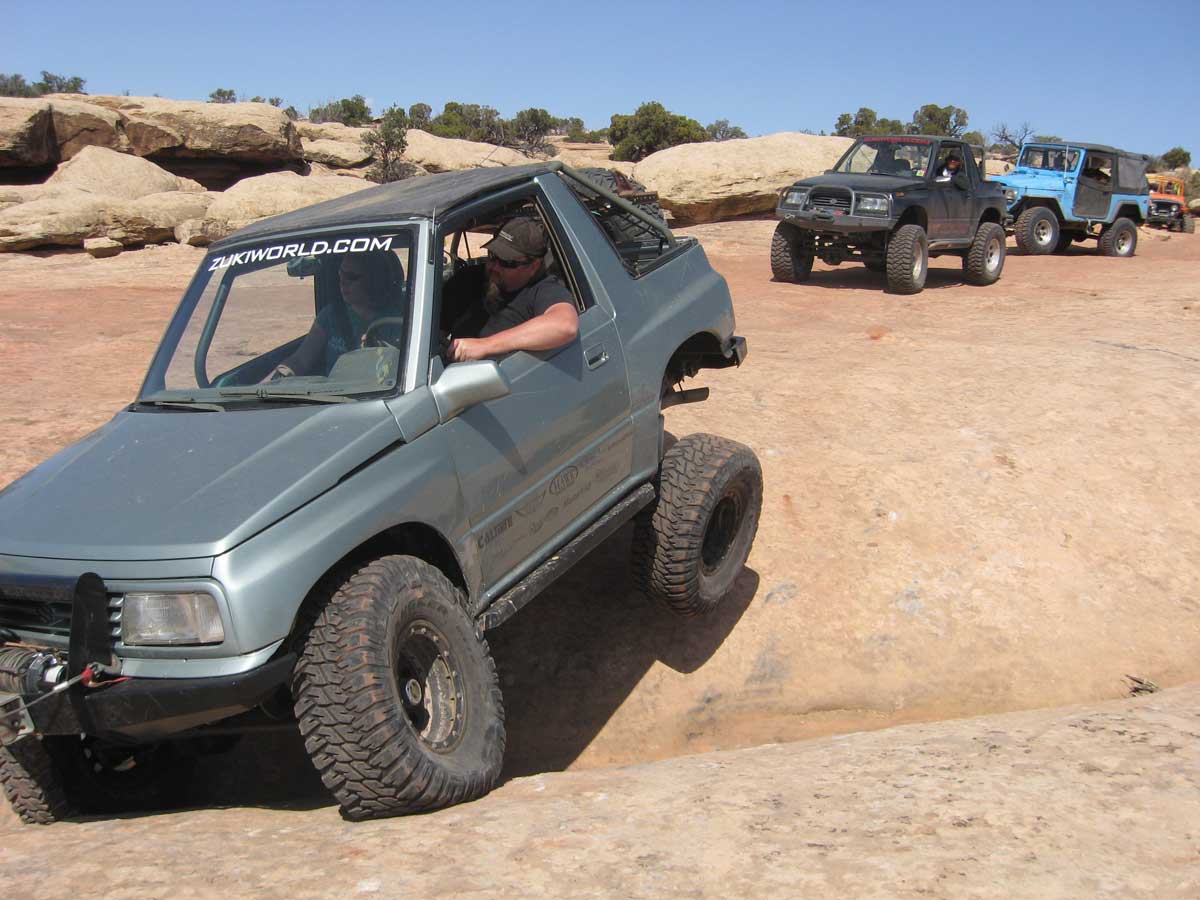 Of course, he'd need larger tires to go with this setup. He went through a few iterations, but the latest features 35" BFGoodrich KM2 tires mounted on 16" Grand Vitara wheels. There are also WARN Premium Hubs up front to disconnect the driveline. Other mods included adding custom Auto Engineering front and rear sway bars, Calmini front and rear bumpers, a WARN M8000 winch, a swing-away rear tire carrier, a custom roll cage, and some bodywork that included shaving the marker lights and opening up the wheel wells.
All done.
(Just kidding.)
ADDING TWO MORE CYLINDERS
"I had to replace the engine," said Eric. "I'm a rodder at heart and one of the key things that has always bugged me about Suzuki (motorcycles fast, cars slow)—and this Sidekick in particular—was its underpowered engine." To remedy this, Eric got a low-miles V6 from Hawk Strictly Suzuki and began to cut apart the donor to transplant. In this case, Eric used a 2.7-liter V6 out of a Suzuki XL7. Needless to say, the auto trans doesn't bolt to rock crawler t-cases so he married the two using a Grand Vitara auto from the smaller-displacement 2.5-liter engine.
A bone-stock 1989 Sidekick with the 1.6-liter eight-valve engine made 80 hp. The new 2.7-liter mill cranked out 170. And while that's not necessarily an impressive number on its own, it's a 113% increase in power over the 1.6-liter, and the rig only weighs about 2,300 lbs.
Having wheeled with Eric's while driving Sweet Pea, the power bump is most apparent in the dunes. While my 95 hp Suzuki Sidekick would struggle to get up and over some of the bigger dunes, Eric didn't even need to put Sweet Pea into four-wheel drive. Even with 35s, Sweat Pea gets up and moves.
A CHANGE IN PRIORITY
The bulk of the work put into Sweet Pea happened from 2005 on. It was never Eric's intent to use the vehicle exclusively, but for about five years, it was his go-to 4×4 and performed well, and he still has it and still wheels it. But over the years, there's been a change in his off-roading priorities.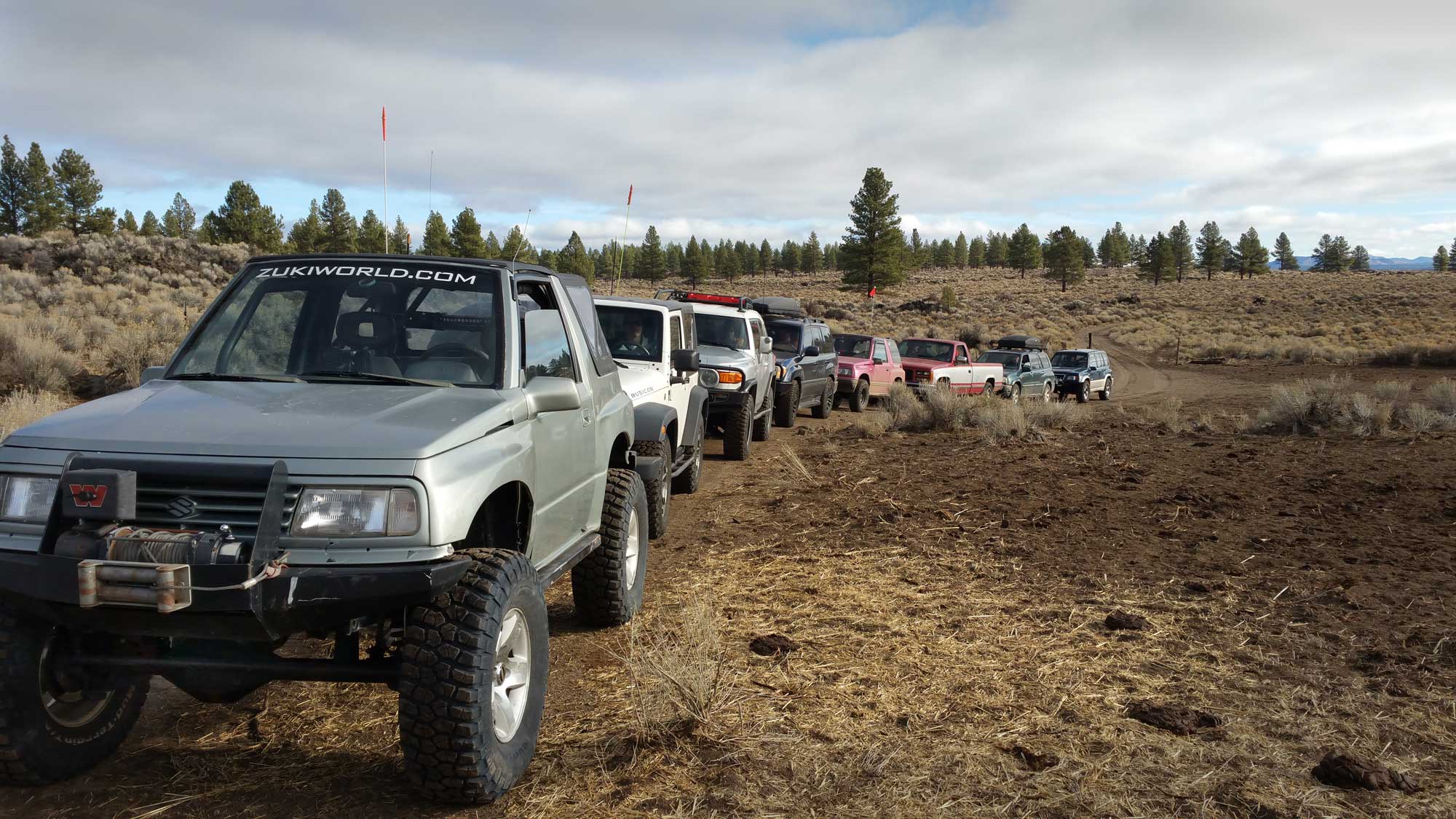 "One of the things I find interesting as I look over the past 18 years of Zukiworld is that this Sidekick served us over a long transition. Initially, we were obstacle-oriented in our approach to trails and four wheeling. The challenge of the next obstacle, the thrill of making the impossible drove me. Now, the adventure and experiences are the focus," said Eric.
He admits that it's still fun to get the heart-pumping by clearing a wicked trail, but he says it's also a lot of fun exploring and finding new things; seeing something he's never seen before, and having fun with friends, which he says gives him the greatest joy. "The Sidekick has covered all of these moments. Yes, maybe it's not the greatest at any one thing but it is extremely good at most things. Something that even our beloved Samurai, "Wedgee," is not."
You can join in the Suzuki conversations on Zukiworld.com, the Zukiworld Online – Suzuki 4×4 Adventure Group on Facebook, as well as on Instagram, and Twitter.