Meet Phil, a self-professed Mitsubishi enthusiast (to put it mildly) and owner of an Evo. Not a Lancer Evo, a Pajero Evo. Phil is also an asset to the entire Mitsubishi community. All car cliques should have a Phil. Let me explain.
Phil Hansford of Calgary, AB Canada is one of those people who's an abundance of insight. Calling Phil helpful is like calling penicillin helpful. He's a wealth of Mitsubishi knowledge, no matter how modest he is. I met him via the Mitsubishi Monteros USA Facebook group. He is also one of the few North Americans that have owned a short-wheelbase gen 2 Pajero like ours. After buying our 1992 Pajero, Phil became my go-to for questions, and we became friends. Admittedly, he had no choice. I was going to become his friend whether he liked it or not. He was my North American Pajero lifeline. Turns out he's a great guy in addition to being a walking Mitsubishi encyclopedia.
Phil has been into Mitsubishis for decades; far before the brand's official 2002 debut in Canada.
"I may have been the first person to buy [a Mitsubishi] in Canada, according to the dealer at the time; a 2003 Lancer OZ Rally," said Phil. "But my Mitsubishi career (obsession) began long before, as I lusted after Colts, Eagles, D50s, and the venerable Dodge Raider, all [Mitsubishis] 'imported for Dodge.' I finally got my first Mitsu 4WD, a 1988 Raider, in 1995."
Since that first 4×4 in '95, Phil has had a myriad of Raiders, Monteros, and JDM Pajeros, nine to be exact. Most car enthusiasts would say that's pretty impressive, or insane, depending on your persuasion. But that's just the tip of the three-diamond-shaped iceberg. In the middle were AWD Galants, four Lancers (including one Evo) an Outlander, and a Strada Pickup. Some may say he needs an intervention. I think he deserves a medal.
"To say I'm an enthusiast might be an understatement, but let's just assume I still have all my faculties, and that they really are good vehicles," he said. "Clearly I've had good luck with them, as they've taken me to every province in Canada, and much of the southwest USA as well."
THE DREAM OF EVOLUTION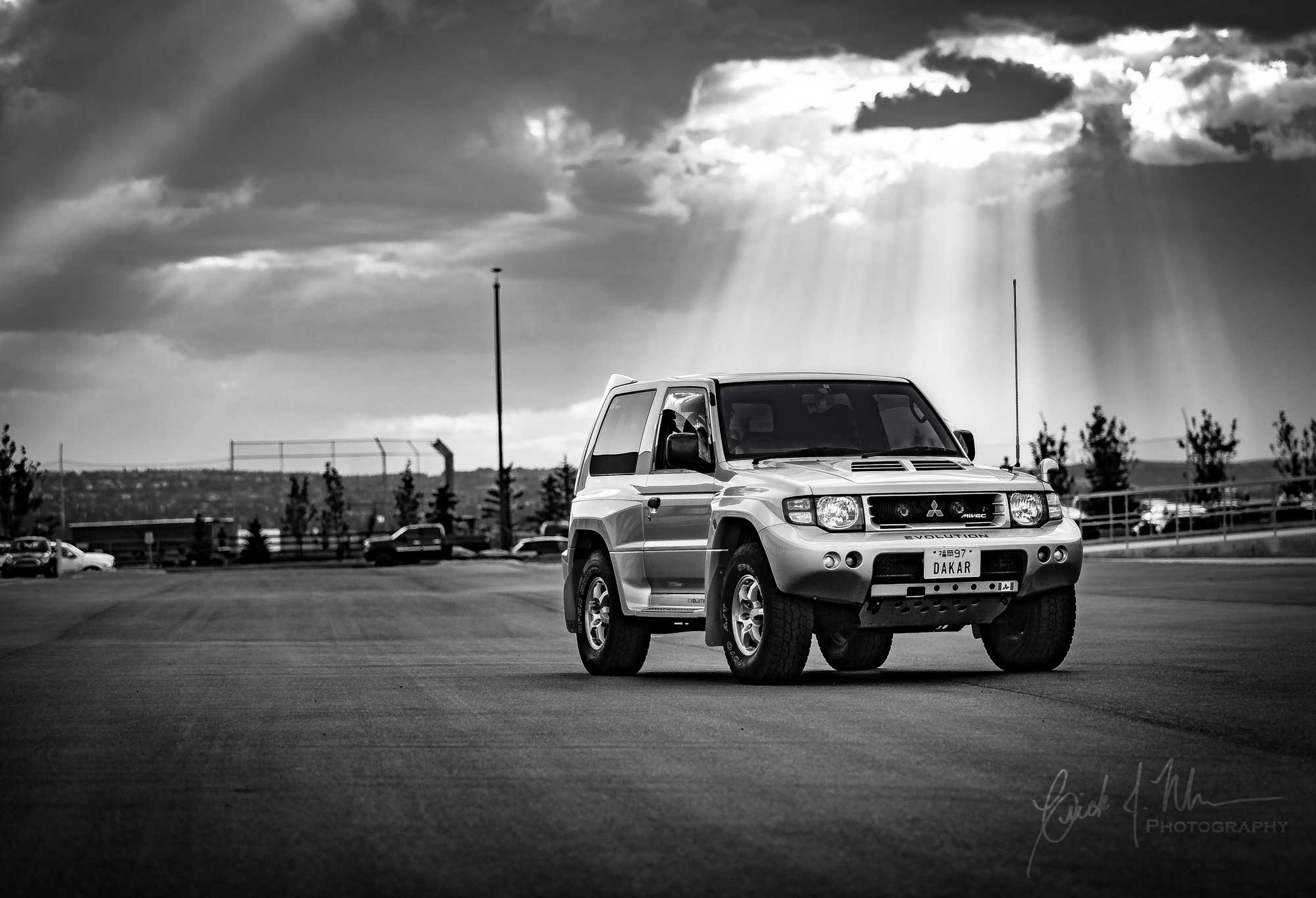 In 2006, Phil's realized he could import a diesel Pajero directly from Japan. (Remember—Canada has a 15 year import law vs. the U.S.'s 25 year rule.) As you may know, turbo-diesel 4WDs are sort of forbidden fruit in North America, unless you're talking pickups.
"The Pajero, and especially the diesel version, is a great platform … for both adventures and commutes," Phil said. But as he described, in the back of his mind, every trip down a gravel road or snow chicane was evocative of Mitsubishi's legendary rally history.  And while he notes the diesel's torque is very useful and the suspension is great for off-road use, it wasn't really a rally car. However, the little-known Pajero Evolution was. This was a vehicle made specifically for tackling the famed Dakar Rally.
"I'd seen pictures of them online since the days of the dial-up modem, but the Pajero Evolution was nothing more than a pin-up pipe dream until a few years back, when suddenly 1997 was 15 years ago, and it was eligible for import."
The Pajero Evolution is the dream rig for the Pajero enthusiast. This rare vehicle was made only to comply with race homologation rules that dictated 2,500 street legal versions of this race truck must be made available to the public—the minimum requirements of the 1998–2000 Dakar Rally. Phil says Mitsubishi supposedly lost money on ever one offered. Despite this, at the '98 Dakar Rally, Mitsubishi swept the podium with 1st, 2nd, and 3rd place finishes. Clearly the company's efforts had paid off.
Phil decided he'd start the hunt for a Pajero Evo. "I began my search with enthusiasm. My trusted importer was commissioned to help find a perfect example. It wasn't long into the process when I realized just how difficult this would be. There were very few showing at auction, and when you only have a potential pool of 2,500, how many were actually left on the road? Of that number, how many were actually worth buying?" The more he searched for one, the more discouraged he became. "After months of seeing virtually none, a trio came up in succession: one in terrible shape, another milled-out, and a third priced in the stratosphere."
Phil was about to give up entirely on his dream of owning a Pajero Evo when a cherry example showed up at a smaller Japanese auction house. "I increased my budget some more (again), had my importer do some quick translating, and after a long sleepless night, [I purchased] a Pajero Evo based on two grainy pictures and an auction sheet written entirely in Japanese. I awoke the next day as the owner of Pajero Evolution number 581."
After about 30 days, the rig landed at the port in Vancouver, BC, en route to Edmonton, Alberta, where it passed its inspection with no deficiencies.
WHAT MAKES A PAJERO AN EVO?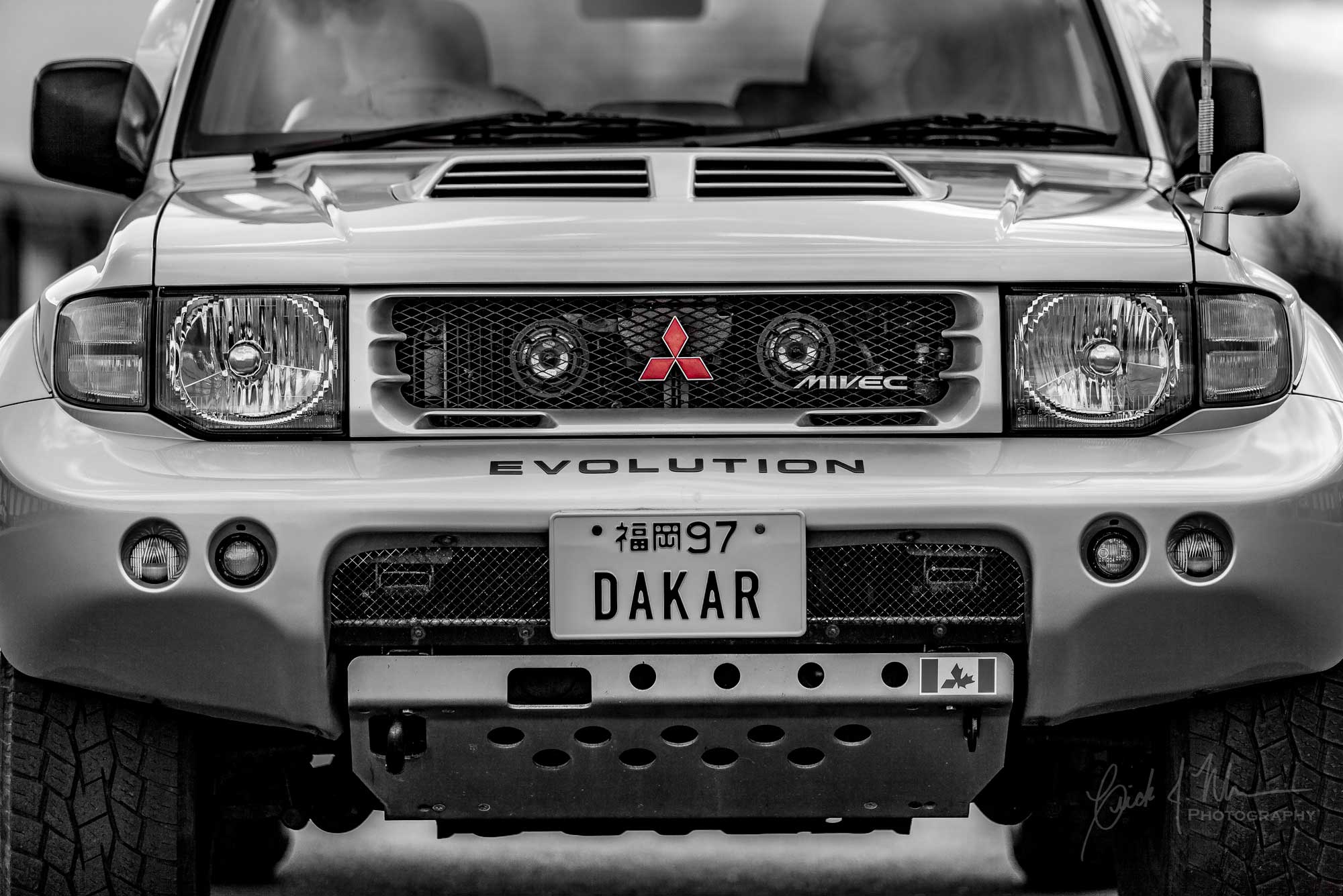 What is it exactly that makes a Pajero Evo different than any other second-generation Pajero? Well, Phil and I are glad you asked.
ENGINE/TRANSMISSION
For starters, the Paj Evo has the 6G74 3.5L V6—a displacement found in other Monteros and Pajeros— but the Evo version has valve timing (MIVEC), different heads and valve train, and higher compression. All this leads to a free-revving V-6 that made "276hp," and close to the same torque. Phil says the power is closer to the 300 hp mark, and that the 276 number was simply published to comply with Japan's former law that cars couldn't make more than that amount (but often did on the dyno).
"Behind the engine lurks a five-speed tiptronic automatic, which happily takes the engine to its 7,000 rpm redline if you even hint at being in a hurry," he says, "And it takes deceleration just as seriously, banging downshifts if you crest a hill and dump the throttle." Phil and I are both members of the "save the manuals" club, meaning we'd much rather own vehicles with manual transmissions. Despite this, he grudgingly admits the gearbox in the Pajero Evo is seriously fun, especially when you push it. Before you leave nasty notes in the comments section, yes, we know there was a manual trans available, but apparently only 1 in 5 were thus equipped, making 500 altogether. Phil notes that he only saw one in all his searching, and it went for silly money. He also points out that there's a rumor that it didn't hold up well behind the MIVEC V-6. "I think this 'fake news' propagated by jealous slushbox owners. But what do I know?"
SUSPENSION
Some big changes between a stock Pajero and a Pajero Evo.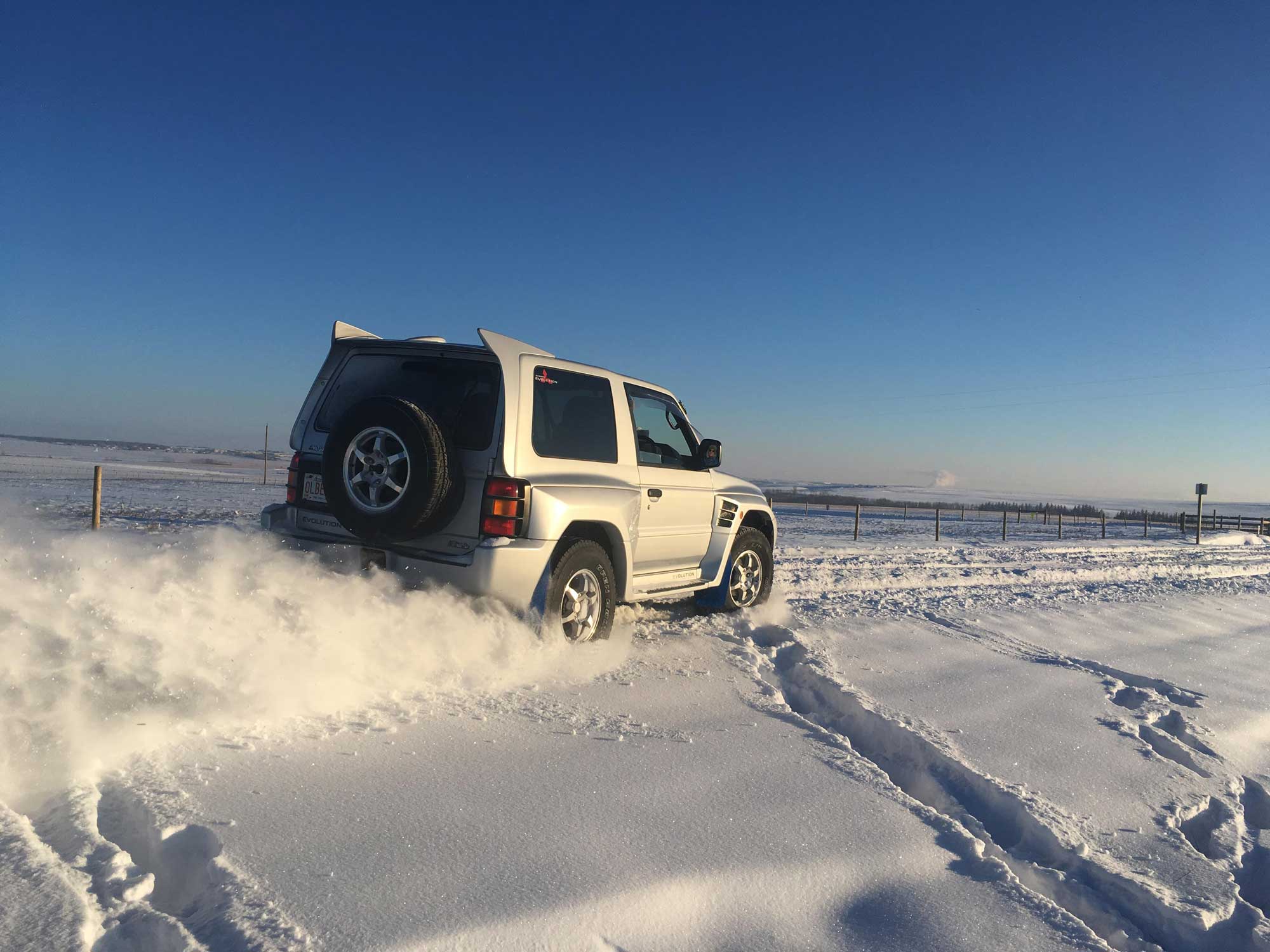 "This is what differentiates a race truck from a stocker, and the Paj Evo doesn't disappoint. Trading a live rear axle for an independent rear, and trading torsion bars for coilovers in the front, the Pajero Evo boasts increased suspension travel front and rear, as well as track width, with one-off aluminum A-arms. On and off the road, this thing soaks up bumps with expertise, and really is a case of 'the faster you go the smoother it gets.' I find my gravel road speeds need to be monitored carefully, lest I end up doubling the posted limit—it really is that good.
DRIVETRAIN
Pajero Evos employ a front and rear limited slip Torsion differential for endless traction, notes Phil. There's an aluminum hood to save weight and a large air intake in the middle of it, combined with a metal mesh grille and extractors on the sides of the body work combine to help keep things cool. There are fender extensions, rocker steps, special front and rear aero bumpers, and the not-so-subtle rear spoilers "the batwings," which provide down force at speeds in excess of 130km/h (81 mph). Recaro seats adorn the cockpit which also boasts carbon fiber accents, auto climate control, and a subtle bluish-green instrumentation theme which Phil notes doesn't include a dimmer (more weight-saving?).
"There are many other things which set this apart from its cousins, but the most notable of these is the actual driving experience," says Phil. "Body roll ends in grip at the apex of every corner, and raucous downshifts of its own volition take your breath away even when you're expecting them, as it claws its way to the next gear to repeat the cycle over again … you are guaranteed to be the fastest one over every expansion joint, railway track and speed bump, or even better, off the pavement altogether."
Remember: this rig was made not to merely compete in the Paris-Dakar Rally, but rather to dominate it. Its 1st, 2nd, 3rd place finishes at its debut prove the concept was more than a few bolt-ons in the RALLIART warehouse.
LEAVE IT BE
Like many owners, Phil had plans for bigger tires, a snorkel, rocker panel protection, and so on. But, he admits, given its rarity and pedigree, he decided to leave this one to a "testament to what Mitsubishi engineers can do when they want to compete with the best in the world."
To date, all Phil's done is the maintenance (including the timing belt), installed the rare factory wheels, fixed some clear coat peeling on the hood intake, and simply "enjoyed the hell out of it every time I drive it." After all, isn't this the point of a fun project car?
If you think Phil just keeps the Pajero Evo in some sort of glass case and never drives it, you'd be wrong. Last summer he drove it more than 1,500 miles from Alberta, Canada, to Cypress California, for the 100th anniversary of Mitsubishi Motors, and their Mitsubishi Owner's Day.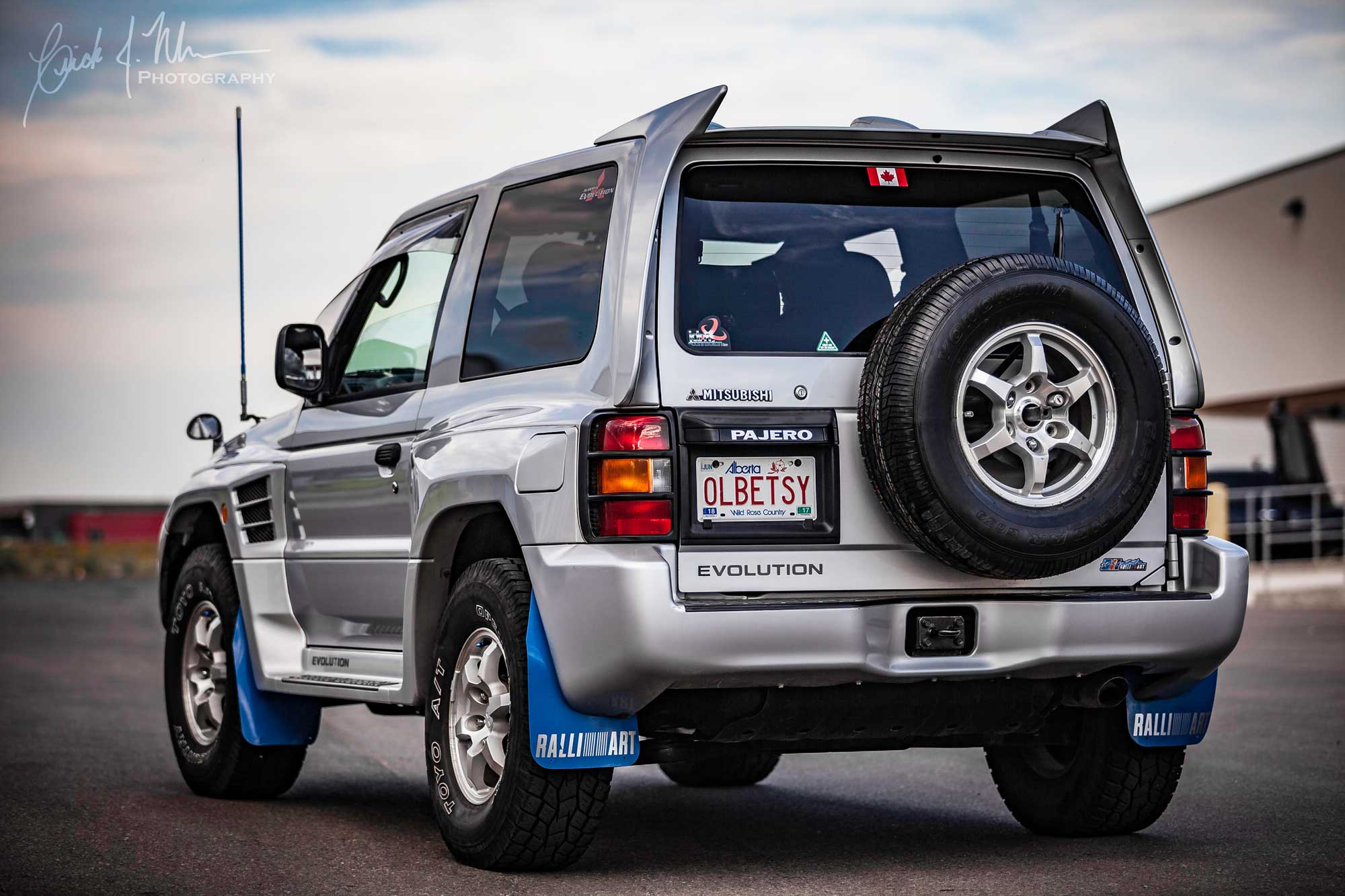 And despite the fact he obtained his holy grail, he isn't done with finding fun Mitsubishis. He recently imported a third-generation short-wheelbase diesel Pajero to satisfy those urge to modify a vehicle. We got to check this rig out at the second-annual BC Overland Rally in July, 2018. It's a very cool rig with all sorts of neat features.
Phil continues to be super helpful online to Mitsubishi fans the globe over. In addition, he's a really good dude, as we found out when Mercedes and I met in person at the BC Overland Rally. Despite the fact he lives 800 miles from here, he's become a friend, and I'm proud to know him. His passion for the brand, his expertise, and willingness to help others makes him as unique as his Pajero Evo. We need more Phil Hansfords in the automotive world.
If you'd like to keep up with Phil's pursuits, you can follow him on his blog at JDMjourneys.com or on Instagram at @jdmjourneys.