Gran Turismo was a video game that defined a generation. While many learned about and coveted Nissan Skylines, Silvias, Toyota Chasers, Mitsubishi GTOs, FTOs and Mazda Cosmos, it was the Mazda Demio, Mitsubishi Mirage Cyborg-R, Nissan Pulsar GTi-R and tiny kei cars that caught my eye. Now that 25-year old kei cars are eligible to import for street legal use, I couldn't resist getting one myself.
But where do you start? There are so many choices, like the holy trinity—the Autozam AZ-1 / Suzuki Cara, Honda Beat and Suzuki Cappuccino. I've spent hours going down the black hole of kei cars and other 25-year-old Japanese cars I could buy with Andy.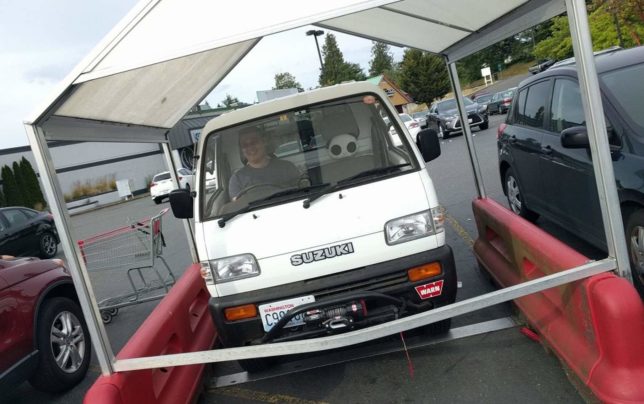 I really wanted a kei van because I'm amused by miniature versions of things and grew up riding in my parent's minivans. The problem with kei vans is they don't have rear seat belts and it's too practical as a passenger vehicle. I already have the $500 2004 Dodge Durango and a 2015 Nissan Leaf for practical passenger hauling duties.
Wife approval factor
When I discussed selling the ZJ Grand Cherokee with my wife, she mentioned we could use a truck for landscaping and home improvement projects. We started looking at second generation Dodge Dakotas because it was like our Durango but concluded that it's still a large vehicle we'd have to store. We checked out a couple kei trucks at a local importer in North Seattle—JDM Car and Motorcycle—and fell in love with the size, cuteness, and practicality. My wife completely approved of my silly plans to acquire a kei truck.
The research process
While all kei trucks followed Japanese government guidelines for dimensions and engine sizes, each manufacturer offers a completely different take on the mini truck form factor. Daihatsu and Suzuki offer traditional cab over configurations with the engine directly beneath you. Honda places the motor further back and Subaru installs a four cylinder in the rear while everyone else has 3-cylinder motors.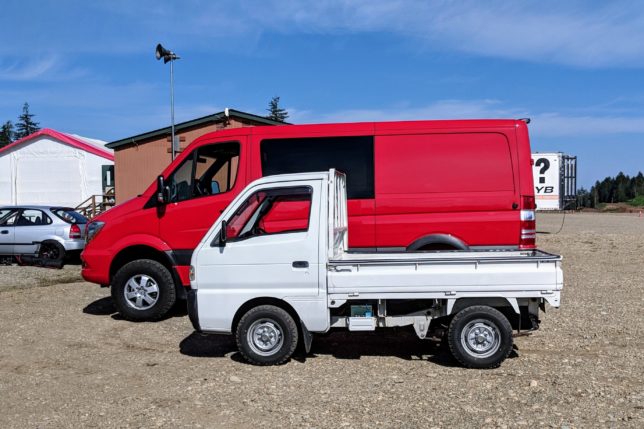 Each manufacturer offers different powertrain options—RWD, 4WD, hi-lo transfer case, four-speed manual, five-speed manual, rear differential lock, turbo, and superchargers. My research narrowed my selection down to the Suzuki Carry or Subaru Sambar. The ideal configuration would've been a supercharged Subaru Sambar with 4WD and five-speed manual, which is quite rare, so I was willing to settle on a naturally aspirated configuration.
I also considered the Suzuki Carry because its one of the more popular models, with maintenance parts stocked domestically and maintained a leaf sprung rear suspension compared to the Subaru's coil sprung, which is better for truck hauling duties.
The purchase
Despite spending many hours researching kei trucks, my purchase was quite spontaneous. There isn't a story of waiting for the perfect configuration to arrive state side. It started with a Facebook photo—my friend Bob at Drift-Office tagged me in a photo Lucas English of English Racing posted. An English Racing employee, Atif Awan, brought in a container of six kei trucks to test the waters on the west coast, because his brother has been importing mini trucks on the east coast for many years.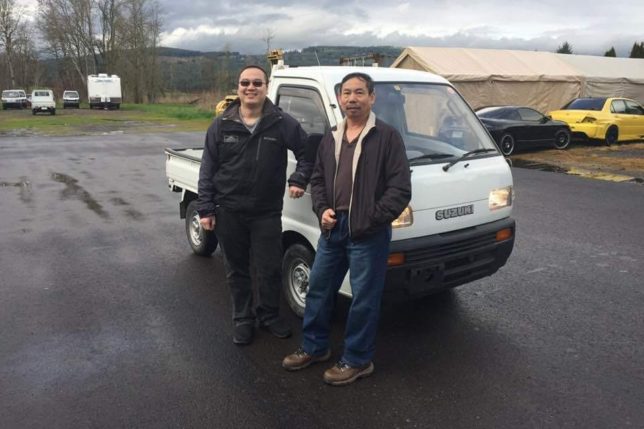 I was eying a Honda Acty and two Suzuki Carry's that were on that container. The first Carry sold immediately and there was a deposit placed on the Honda Acty. I didn't want to wait and hauled ass down to Camas, Washington with my dad, a U-Haul auto transporter, and bought the Suzuki Carry for $4,700.
The truck
Suzuki offers a lot of configuration options for the Carry, but mine is a base 4WD with five-speed transmission. It doesn't have a fancy hi-lo transfer case or rear differential lock, but that's ok. The five-speed can handle freeway speeds and has an extra low granny gear for off-roading. I don't plan on doing anything crazy, so it was perfect for my needs. There was only 19,000 kilometers on the odometer and it was rust-free, too. The truck is extremely spartan—it doesn't even have a passenger side air vent, sun visor, or keyhole. Suzuki charged for those options.
Bringing it home
Loading the Carry on the auto transport was mildly difficult. The ramps on the U-Haul auto transport was almost too wide for the truck. The tiny 145-series tires and narrow overall width was almost too small to fit the trailer. Only ¾ of each tire fit on the ramp, which required some finessing to line up correctly. It was just as difficult and annoying unloading the car at night. I recommend renting a 6' x 12' utility trailer with ramp if you plan on transporting a kei truck.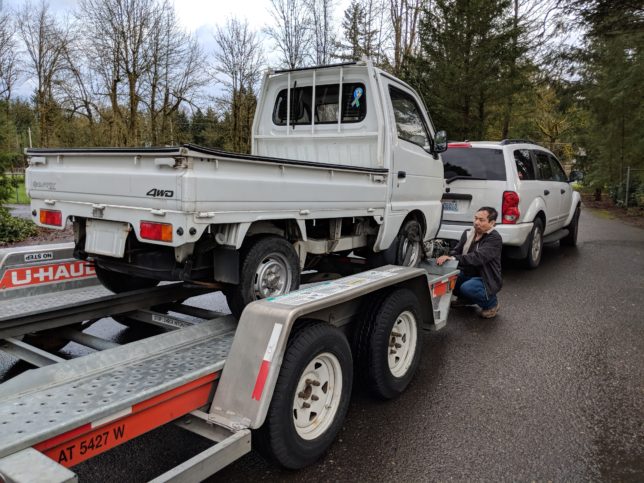 Licensing
Since this was the first shipment for Atif at NW Minitrucks, license and registration was a learning process for both of us. After multiple visits to the local licensing agency, I was able to register the car for road use. The licensing agency required a stamped copy of the US Customs declarations, original export certificate and a notarized translation of the export certificate—all documents that were provided at the time of purchase.
The US Customs declarations required a stamp from the port of entry, so I drove the Carry down to the office and let them verify the VIN matched the paper work and stamp it. I also had a notary stamp the translated export certificate, too. Some states and licensing offices aren't as friendly when it comes to registering kei cars. I've heard Oregon is difficult and won't even let owners register kei cars anymore.
Maintenance and mods
Since I purchased the truck shortly after it arrived, there was no maintenance done to the truck yet. All trucks currently stocked by NW Minitrucks have basic maintenance performed—oil change, coolant flush, topped off washer fluid, and 2.5 gallons of fuel. I brought the truck over to my dad's and we performed basic maintenance—oil change and new spark plugs. The parts were readily available at O'Reilly Auto Parts and AutoZone. I did have to do some cross referencing, but it was easy. It's also extremely easy to work on. Both seats come off and provide direct access to the engine. Transmission and access to the distributor cap and rotor are beneath a cover in the bed.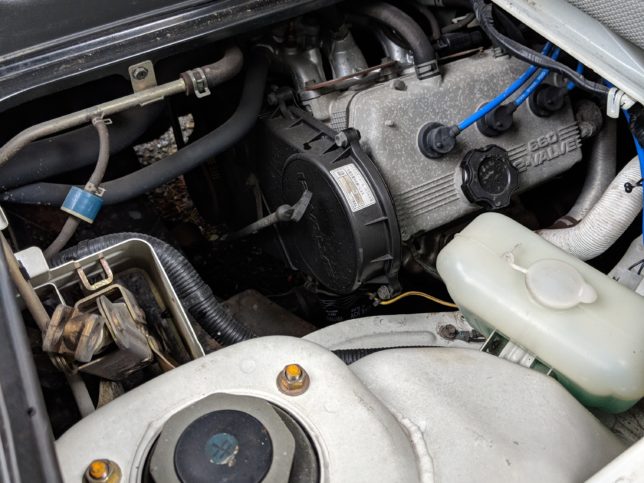 While the tires that came on the car still had decent tread life, they exhibited some dry rot. Finding replacement 12-inch tires nowadays is extremely hard. The tires available from the usual suspects—Tire Rack, Discount Tires, Les Schwab and Costco—were economy tires engineered for Geo Metros or trailers and not ideal for my off-roading desires.
Stepping up to a 13-inch or 14-inch wheels open things up to more tire options, but those options are performance or winter tires. ATV and UTV tires are also a choice, but those are wider and require new wheels. Ultimately, I gave in and ordered a set of Yokohama Super Diggers, which are tiny mud-terrain tires designed for kei trucks.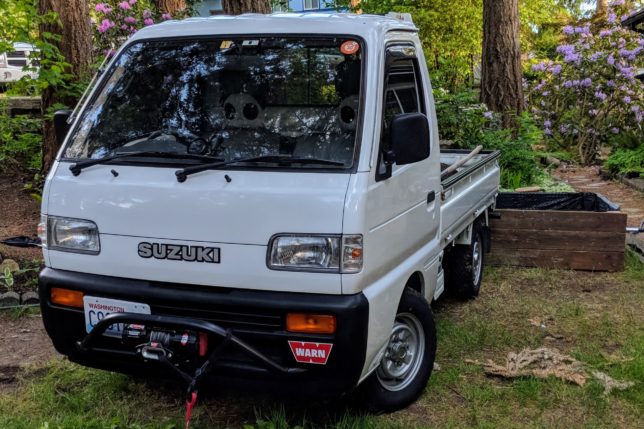 I never keep cars completely stock, so the Carry wasn't any different. I started with the little things—stereo, tachometer, tint, and LED lights. Then came the custom metal tube bumpers, made by a friend (Steve Pangelinan) I met through my RC hobby and offers custom fab services. The tube bumper let me install a WARN ProVantage 2500-S winch, too.
The biggest upgrade was the installation of Aafco 250 lb. springs. The stock springs are 150 lb. and would sag with my 210 lb. figure in the driver's seat. It also bounced like a bobble head doll and painful to drive. The spring upgrade improved comfort, road manners and doesn't sag as much when I'm in the driver's seat.
Truck things
We bought the truck to use for truck things and it's been wonderful. It's flat bed, low load height and drop sides make it extremely useful for hauling. The truck bed can fit a full-size mattress and a 4' x 8' sheet of plywood with the tailgate down. I've used it to haul dirt and trips to the dump. My largest haul is a 1,080 lb. load of railroad tires to the city dump and a yard of mulch—it's a total workhorse.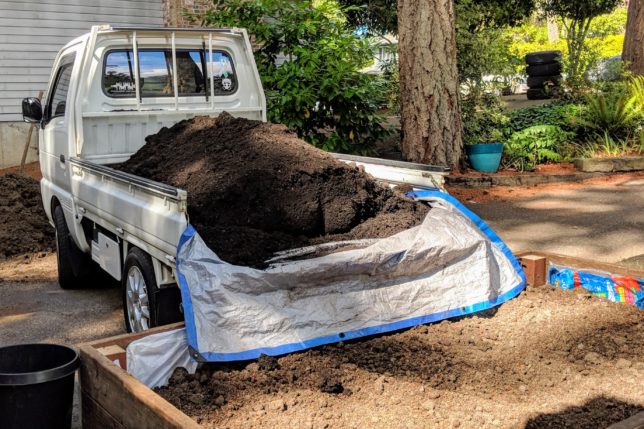 The off-road experience
There's no way that I'd buy a tiny 4WD truck and not trail it. Fortunately, Andy and Mercedes were doing their yearly June camping trip in Belfair, Washington with a day of exploring the Tahuya ORV, so I packed the Carry and met them out there with my wife.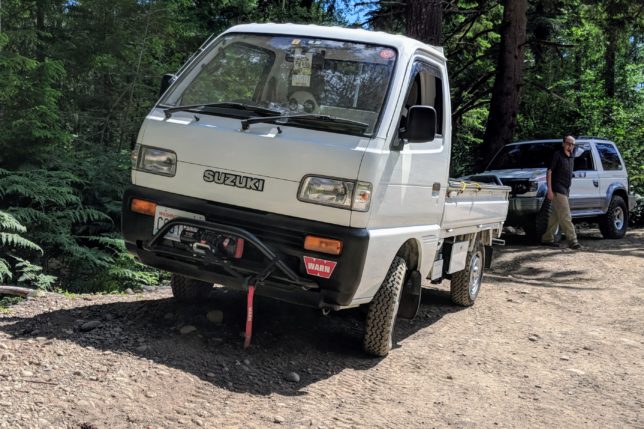 The Carry performed wonderfully through Tahuya ORV. There were sections where I needed weight in the back of the car but putting a person in the truck bed solved that problem. If I was worried about ground clearance, the Carry's narrow width fits perfectly through the ATV trails.
Five months of ownership
After owning the Suzuki Carry for five months, it's been an absolute blast. This car is extremely useful and a hoot to drive. It's everything you need in a truck and nothing more. My kids love riding in it and we've used it as an actual truck. The community of kei car owners is fantastic, too. Everyone is extremely chill and helpful. I even started up a little group— pnwkei.com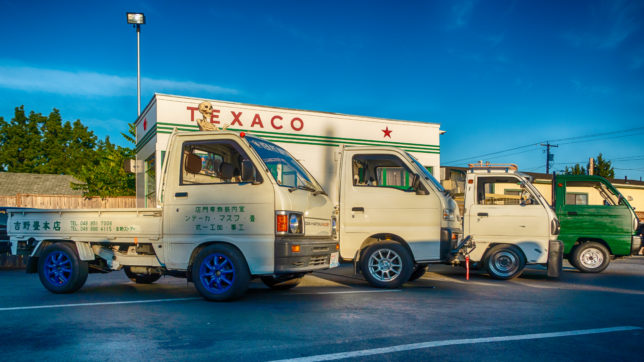 Useful resources