Like millions of other people, we're headed home for the holidays in a couple of weeks. However, unlike millions of other people, we're going to drive a 26 year-old diesel-powered JDM Mitsubishi Pajero 4,000 miles to do so. Hold my eggnog …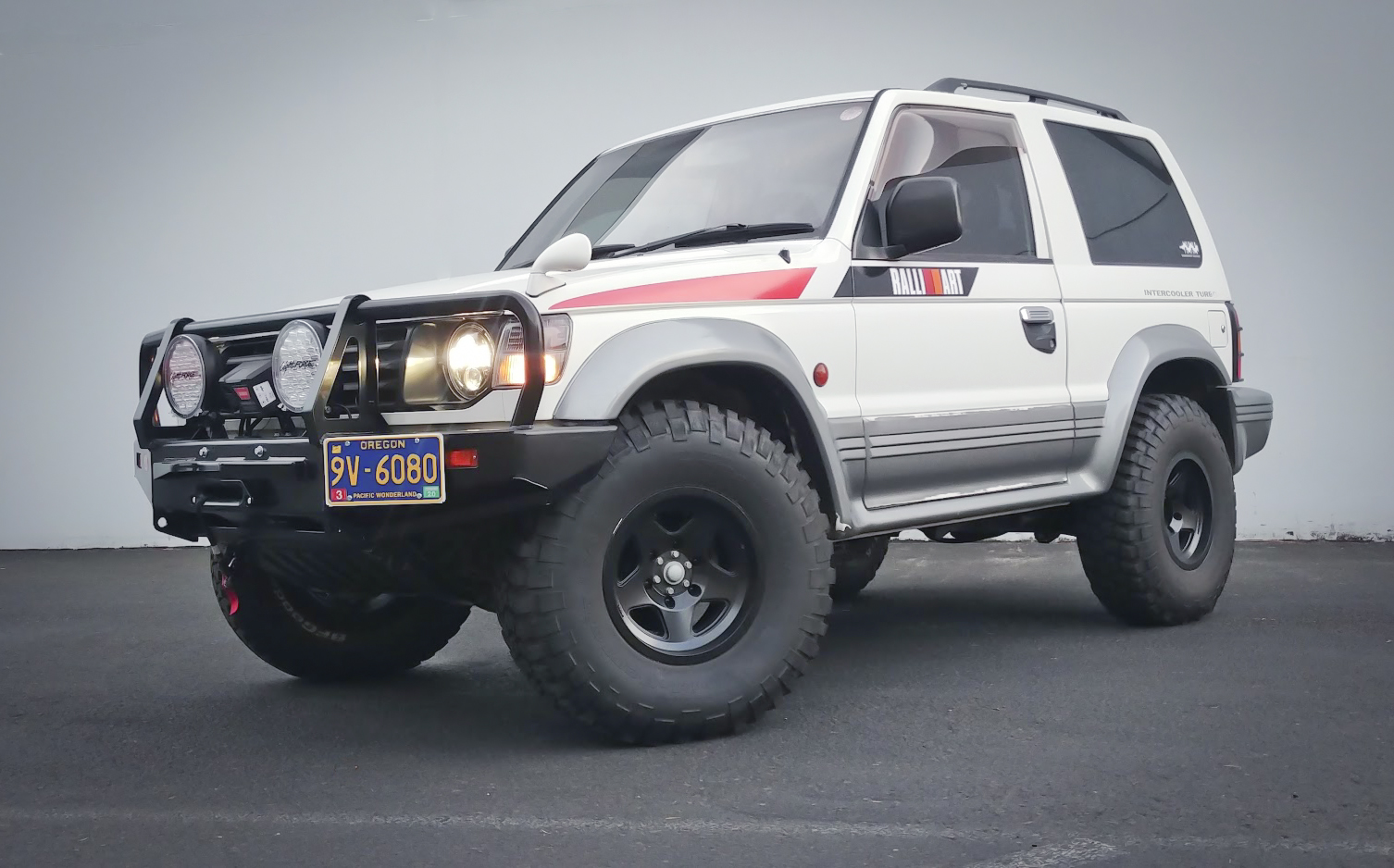 That's right, we're going to pilot our '92 Pajero, aka the Rallitractor, from Portland, OR to LaCrosse, WI during late December. We'll encounter frigid temperatures, snow, ice, rapidly moving reindeer, a jolly bearded fat man … and Santa. Are we nuts? Maybe. But you know what? We're looking forward to the adventure and, of course, seeing our family once we get there.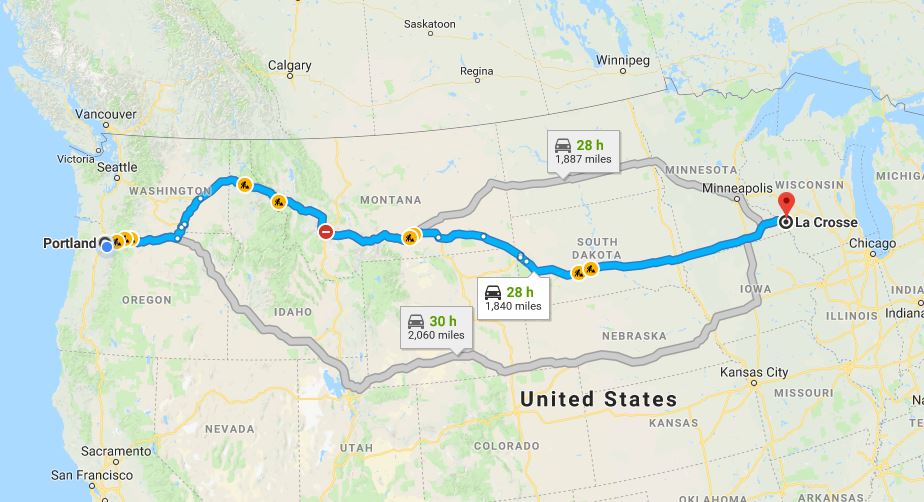 Last year, we drove nearly 3,000 miles in our Delica, aka the Space Tractor, over the Christmas and New Year holidays. The trip took us through Oregon, California (including Death Valley), and Nevada. This year's trip will likely take us through Oregon, Idaho, Montana, Wyoming, South Dakota, Minnesota, and Wisconsin. And yes, we run the risk of foul winter weather in pretty much every one of those places. (Hey, you can get stranded in an airport, too.) We'll be keeping a watchful eye on weather reports and we will have some flexibility to go around large swaths of land if a storm is isolated to one area.
As you can see in the map, the northern route takes us through North Dakota; the middle route through South Dakota; the southern route through Utah, Colorado, Nebraska, and Iowa. We'll have to play things by ear. Hopefully the weather cooperates.
GOING PREPARED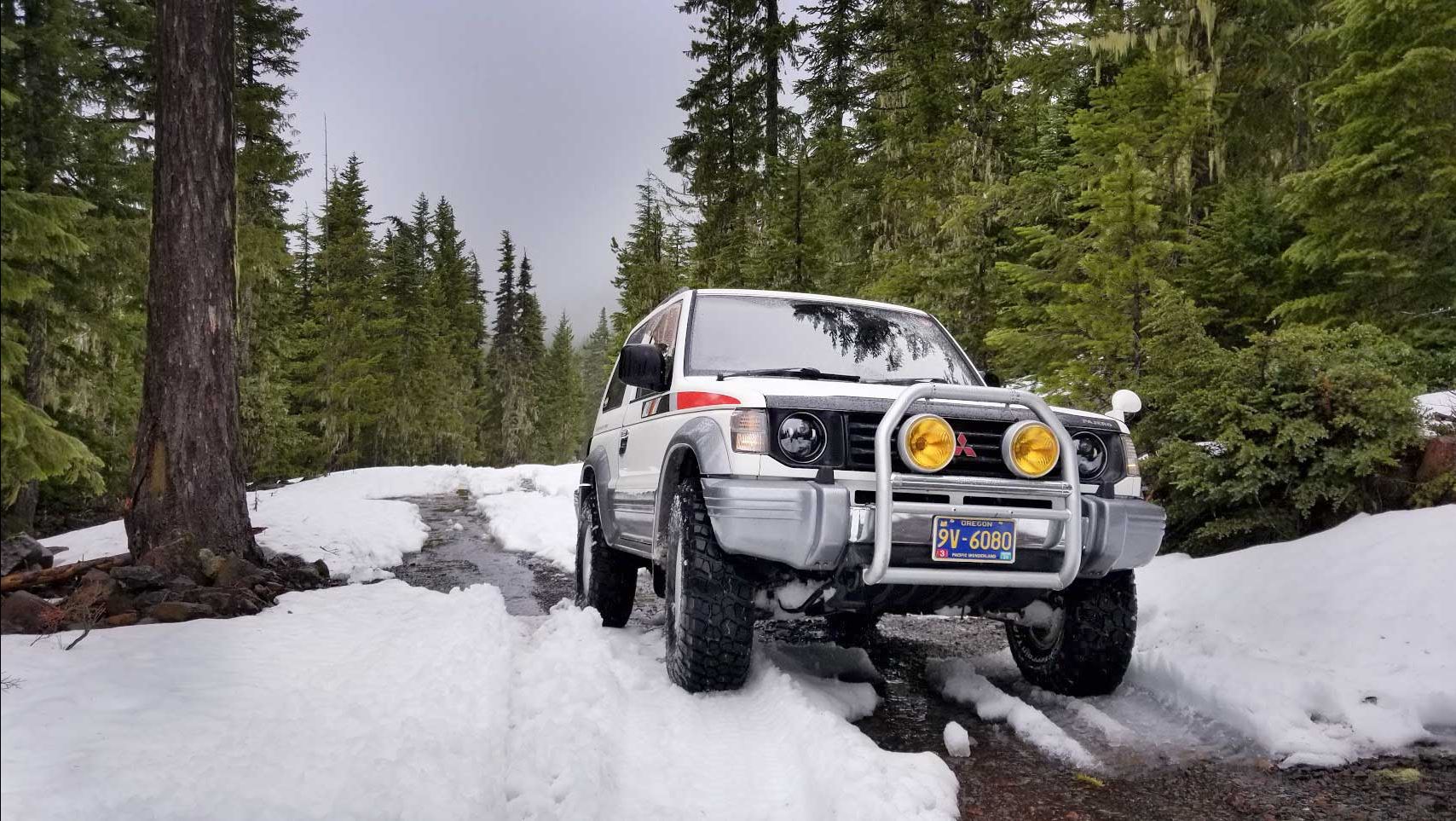 Growing up in the frigid Midwest, we know that if you plan to travel in winter, you have to pack for the worst. I've been in temperatures of -30 F; felt -75 F wind chills; been in storms that dropped three feet of snow. Sometimes, the weather is simply trying to kill you and you have to be prepared.
To combat this, we'll pack sleeping bags, a stove with fuel, plenty of food and water, and all of the winter clothing you need to survive a blizzard. This includes snow boots, winter jackets, hats and gloves, hand warmers, and emergency blankets—and then some.
Our Pajero has been a reliable companion for 10 months now, and I have faith in its abilities. It's had a bunch of maintenance done including a timing belt, all-new fluids, some new brake parts, and almost new BFGoodrich KM2 tires. It starts well in sub-freezing temperatures (at least into the low 20s). We'll be packing a host of recovery gear, too. This includes our WARN M8-S winch, Maxtrax, and all the recovery gear we'll need to pull ourselves out of a ditch should we need.
NOT OUR FIRST RODEO
We've done this drive several times before, although it's been duing the summer months. We'll be sticking to Interstate highways as they'll be the best maintained and most traveled. We'll also be going about 70 mph max because, the Pajero is old and slow. We both have experience driving in foul weather, so some snow isn't going to stop us. We just hope we don't run into one of those gates that are down and force you into a Podunk town for days until the road reopens. Fingers crossed.
Call it winter wanderlust, call it Christmas craziness. We're going to make this into an adventure, and are looking forward to seeing the northern tier of the country—even if we're driving on the wrong side of the vehicle.