Having accessible air is a necessity when off-roading. Deflating tires is a must in order to allow for a comfortable off-tarmac ride and additional traction, and quick inflation offers up the opportunity to get your rig ready for your ride home.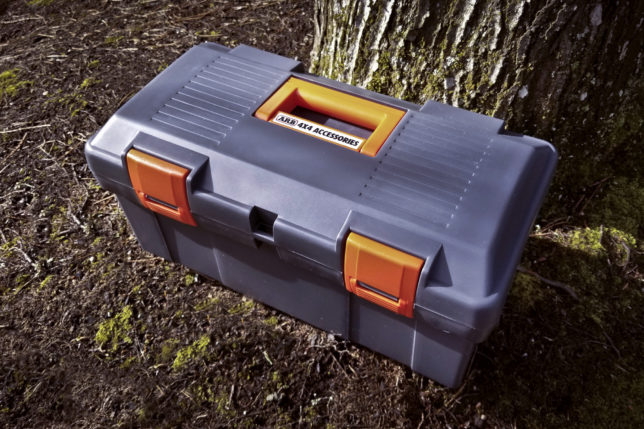 Since Andy and I have multiple 4x4s (a Mitsubishi Delica and two short wheelbase Mitsubishi Pajeros), our need for portable air is great. From running the Delica through Oregon's sand dunes to using our Pajeros over craggy rocks, dirt, mud, and snow—having the ability to air up multiple vehicles important to us.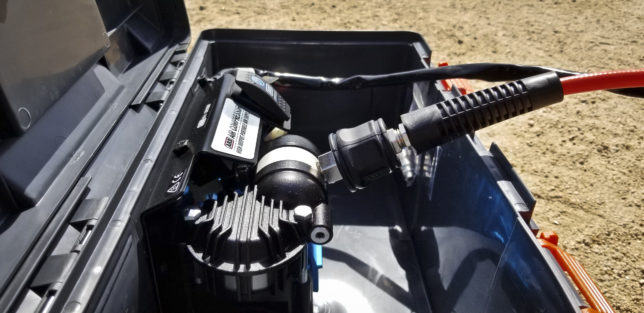 We've had both onboard and portable air compressors before. Our previous onboard air came via ARB's single air compressor that also assisted their air locker on our 2001 Jeep Cherokee, aka The PDXJ, as well as an old, small portable WARN air compressor we had for years that huffed and puffed every time we used it until it finally went to air compressor heaven after dying twice (the first time, our friend, Nick, rebuilt it, but it didn't last long afterward). After selling our Jeep and gaining three new off-road vehicles in its place, we decided to test a new-to-us product: the ARB single portable air compressor.
The ARB single portable air compressor, model CKMP12, comes in a heavy-duty storage box with over-sized orange clam-shell clamps and a carrying handle. This unit neatly packs into any of our vehicles and can easily fit into any larger storage box—its proportions are that of an average-sized tackle box. This is especially important when you're running smaller two-door off-road rigs where space is a premium.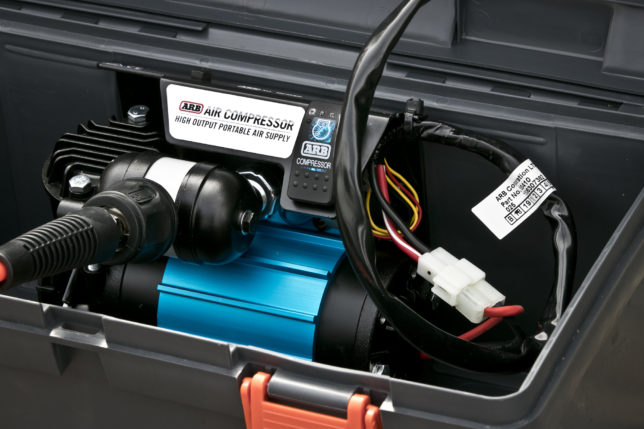 Once opened, the kit contains an air compressor with battery clamps, a 19ft orange air hose with metal nozzle, and paper instructions. Note: be aware the compressor has some oil in it; take care when first using it. We didn't realize this and got grease on a new jacket after handling the hose and nozzle. But, a bit of Dawn dish soap and water took the stain right out.
Usage is super simple:
Open your hood and fasten the battery clamps to the appropriate battery terminals (black to black and red to red)
Plug the hose into the compressor
Pop the metal nozzle onto the hose end
Flip the ARB logoed switch atop the compressor (it'll start right away)
Away you go! Time for inflation.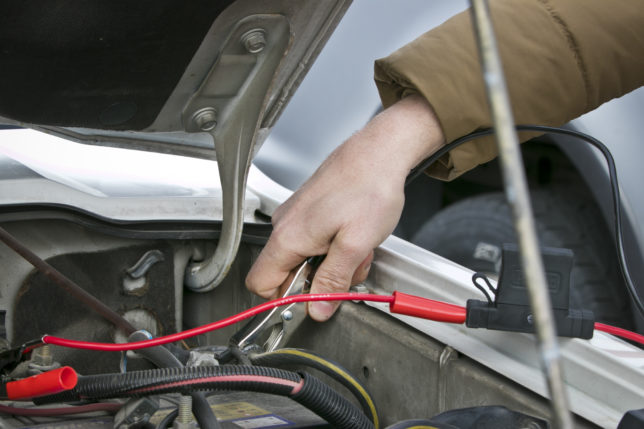 The 19 ft hose easily unravels and stretches to where you need it to go, but if you fully extend it, the compressor box may fall on its side. By propping it against a tire you'll solve this issue. Minor detail but even laying on its side, the compressor still hummed along perfectly.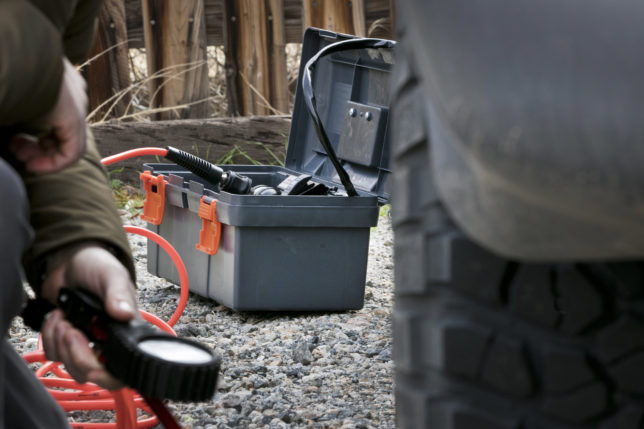 The single portable air compressor can work with either the supplied air hose nozzle or ARB's digital air inflator, part number ARB601. While the supplied nozzle works well when using it with an old-school tire pressure gauge, the digital inflator works best. The digital inflator's large, easy-to-read digital display makes inflating to whatever PSI you want a quick endeavor. Just let go of the thumb inflator button to read your current PSI. Using the nozzle supplied with the compressor kit takes a few more steps: You'll need to unplug the nozzle from the tire, employ a manual tire pressure reader to see what your current PSI is, then plug the nozzle back in again for inflation if you didn't hit your mark. Either way works, however.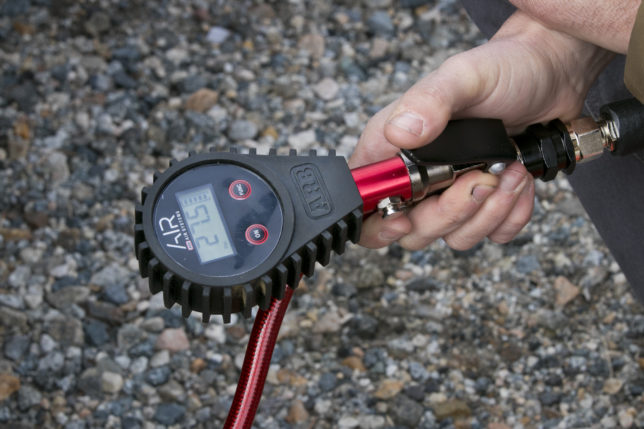 Once inflation is complete, make sure you give the compressor enough time to cool down. It may be wise to store the hose away from it until it's cool to the touch.
This compressor setup features a class-leading flow rate of 3.08 cfm @ 0 psi, 2.34 psi @ 29 psi, and a 100 maximum psi rating. Additionally, the single compressor includes moisture- and dust-resistant sealing, a pressure cutout switch, and an air filter. High-quality components allow for quiet operation and an extra-long life, and there's an internal thermal protection unit, too. FYI, this model comes with a two-year warranty from date of purchase.
Since we don't own vehicles with tire sizes larger than 33-inches, tire inflation was pretty quick and simple. If you're running much larger tire sizes, however, you may want to consider ARB's higher-powered twin compressor model, part number CKMTP24. The single unit happens to fit our vehicles and our lifestyle perfectly.
If you're looking for a high-quality air compressor that is portable, compact, and easy-to-use, then ARB's CKMP12 portable unit should be considered. We've been very happy with ours, and look forward to many years of air with it. Price is $360.00 USD.