I love it when someone says, "Look, I'm going to be honest." I always think—does that mean they're not usually honest? Well listen, I'm going to be honest: When Mitsubishi sent over the 2019 Outlander PHEV GT, I thought—well, it'll be nice to drive this around for a week, but I'll have to think of a different angle than the 2017 Outlander SEL article I previously wrote. But after a week with this AWD plug-in hybrid, I can honestly say that this vehicle is way more interesting than I expected, and is one of the more underrated crossovers on the the market with big state/federal incentive potential, too. Let me explain.
When I reviewed that '17 Outlander, I remarked about the fact it's got lots of room, is comfortable, has an available super-loud Rockford Fosgate stereo, and the company's S-AWD system. It's attractive enough, but didn't have a super futuristic interior. It was a well-priced, honest-to-goodness AWD crossover with seating for seven humans. Or maybe one human and a lot of small dogs. Or cats. Or whatever. So when we got the '19 Outlander PHEV, I figured I'd have the same experience I did with the '17 Outlander, but with some gas/electric hybrid bits. I was wrong. While the body, interior, and amazing Rockford Fosgate stereo are nearly the same as the all-gas version, the addition of a plug-in hybrid powertrain is much different and gives the car an entirely different personality.
---
CRANKSHAFT CULTURE CHECKLIST
Off-Road Ability (1-5): 1.5; stick to gravel roads and snow
Can You Easily Lift It:  No. 
Would We Drive Cross Country: Yes.
Would You Drive it to Alaska: Likely.
Aftermarket Support (1-5): 1
Spirit Animal: Camel – Can go long distances without recharging; good in a variety of terrains. Can carry cargo. Unique interior.
---
Firstly, the powertrain: Under the hood lies a 117 hp 4B11 2.0-liter four-cylinder gasoline engine; the same that's found in the smaller Outlander Sport. But there's also an electric motor. Driving the rear wheels is yet another electric motor—remember, this is AWD. Total horsepower is rated at 190. There's, of course, a battery pack and being a PHEV (Plug-in Hybrid Electric Vehicle), it can be charged using 120V, 240V, or CHAdeMO fast-charging. It can be operated solely on electricity for up to 22 miles.
A full charge on standard 120V/12A outlet is eight hours; 240V/30A is 3.5 hours; and CHAdeMO takes a mere 25 minutes to fill 80% of the battery. Total driving range is 310 miles, so no EV-only range anxiety to worry about. There are buttons on the center console that allow you to only run in EV mode, only run in gasoline mode, and a button to charge the battery pack using the engine. The engine will both power the wheels and charge the battery pack in normal circumstances. FYI, Mitsubishi offers a mobile phone app with a host of charging and EV bits. We did not play around with it, however.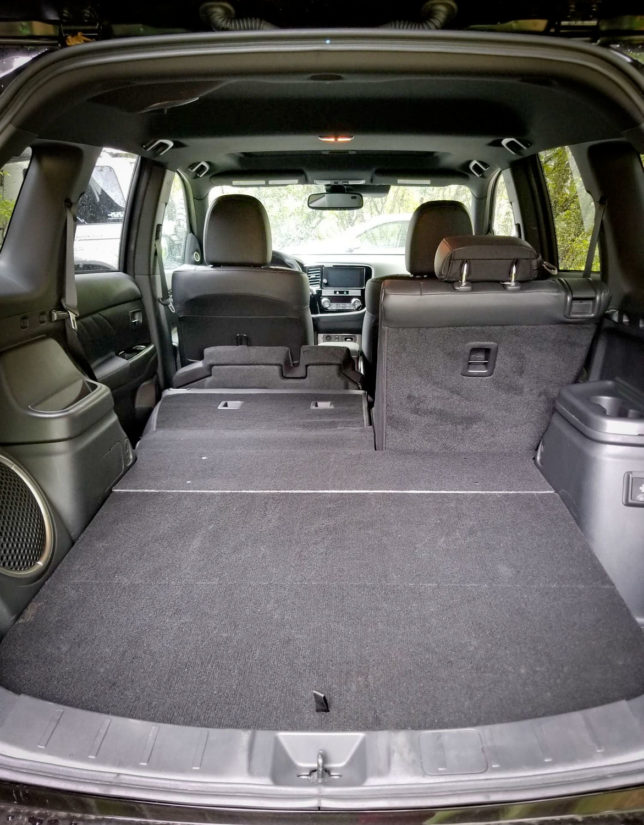 I could go about 85% of my daily round-trip commute in full-on EV mode. Once home, I'd simply plug the vehicle in. Over my week with the CUV, I used less than a quarter of a tank of gasoline. On gasoline alone, the car is rated at 25 MPG. But when combined with its electric abilities, that rating goes to 74 MPGe—pretty impressive, especially considering its size and cargo-carrying ability. With the seats up, there's what I'd call a substantial amount of space for stuff. Fold the rear seats down, and I'd call it cavernous. Mercedes and I even wondered if we could sleep back there. I'd bet we could. With the seats folded up, the leg room is generous. There is both a USB and 1,500W AC outlet back there.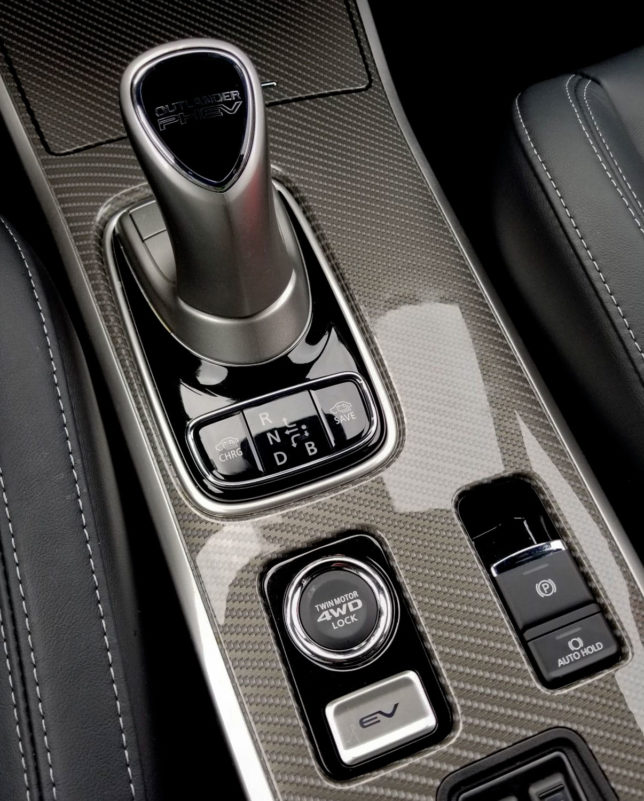 The Outlander PHEV is equipped with Mitsubishi's twin-motor S-AWC (Super All Wheel Control) and a lock feature for when you encounter terrain that requires power to be optimally distributed for maximum traction—a nice feature for deeper snow, sand, or other more challenging terrain. It basically mimics a center-locking differential. Remember, with an engine and electric motor driving the front wheels and the second electric motor driving the rear wheels, there's no need for a rear driveshaft. While we never took our Outlander PHEV off the pavement, we did have the vehicle on wet roads, and it always felt planted, especially in corners. In fact, it handled better than anticipated. I figured it'd be a super-soft cruiser in the curves, but it was actually kind of fun to fling around for what it was.
Acceleration to about 40 mph feels brisk in part to the electric motor assist. Passing power was adequate, but not more. I will say that the car cruised effortlessly and comfortably at highway speeds with only minor wind and road noise. Brake feel was good, unlike some other hybrids.
What about the competition? Well, there are a few other AWD plug-in hybrids out there, such as the Subaru Crosstrek Hybrid ($35,970), Volvo XC60 ($67,995), and Mercedes-Benz GLC 350c ($51,645). They're all either smaller or substantially more expensive than the Outlander PHEV, which starts at $37,175. The smaller AWD PHEVs, such as the Crosstrek or MINI Cooper S E Countryman, don't offer as much versatility when it comes to carrying stuff other than living beings. For example, the Outlander PHEV has 66.6 cu. ft. of maximum cargo capacity compared to 43.1 cu. ft. on the Subaru Crosstrek Hybrid. The Mitsubishi also bests the Crosstrek in towing (1,500 lbs. vs. 1,000 lbs.). Not that you're going to be moving your fifth wheel with it, however. It should be noted that while the gasoline-only Outlander seats seven, the PHEV version only seats five. This is due to the location of the car's battery pack.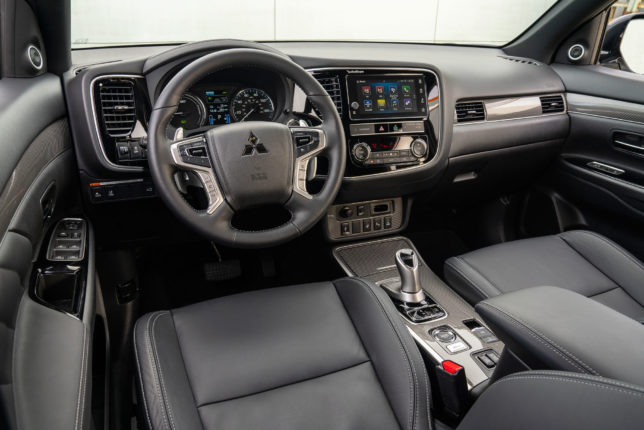 Sit down in the Outlander's understated interior, and it's very similar to the non-PHEV interior. Our GT trim level had gray carbon-fiber-style accents, heated front seats and steering wheel, as well as the aforementioned Rockford Fosgate stereo that is amazingly loud and, frankly, is one of my favorites on the market. The seats are a bit flat, but the driving position is good.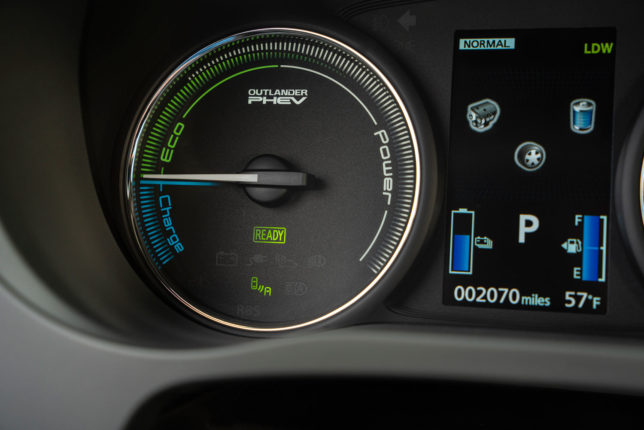 The gauge cluster features as speedometer on the right, a digital trip computer in the center, and a power gauge on the left with Power, Eco, and Charge settings. Its needle sweeps back and forth as you accelerate and brake.
I was a bit surprised at first to see paddle shifters. Sure, numerous CVT-equipped vehicles have paddle shifters to hit pre-programmed ratios, but I quickly learned these paddles weren't for shifting gears, but rather increasing and decreasing the rate of regenerative braking the vehicle produces. While driving, a pull of the left paddle drops you into a regenerative braking mode called B3. Continuing to tap left will go down to B4, and finally B5—the most aggressive regen mode. Tapping right will take you back up through B1 and eventually B0, the lightest mode. Savvy users will be able to regen going down hills, coming to stops, and while navigating stop-and-go traffic. I was able to go from 22 miles of EV range to 25 on my commute, which includes a long, steep hill. This is a smart and surprisingly fun feature. The center-console gear selector, which is unique in its own right, can also be placed into a regen mode.
Other interior accoutrements included a sunroof, leather seating throughout, eight-way power seats, and a host of safety features that include adaptive cruise control, blind spot detection, automatic high beams, rain-sensing wipers, forward collision mitigation, and lane departure warning. Another nicety was the camera system, which provides a 360-degree view of the CUV—helpful when parking. A tap of a steering wheel-mounted button will bring up the camera on the dash-mounted touchscreen monitor. Also of note: the 1,500 W power supply with two standard 120V outlets.
As I mentioned in my 2017 Outlander review, the interior does feel somewhat dated compared to some of the competition. And there are bits that feel less expensive, too. Turn signal stalks, certain buttons, and the center arm rest don't feel as premium as other vehicles in its class.
One thing—and it's a major note—that Mitsubishi does better than the competition is offer a very good 5 year/60,000 miles bumper-to-bumper warranty, 10 year/100,000 mile powertrain warranty, and a 10 year/100,000 miles warranty for PHEV and battery components. Proof the company is willing to stand behind its products.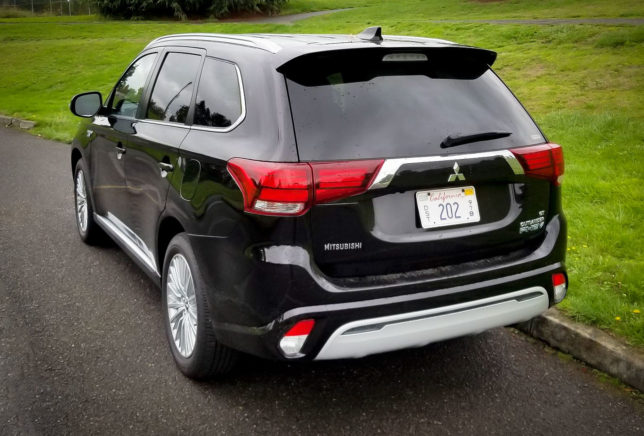 I really enjoyed the gamification of trying to squeeze every last drop of EV mode out of this car knowing that I'd still have a hybrid powertrain so I wouldn't get stranded anywhere. With the all-wheel drive, I knew that if the weather went foul, I'd have good traction. Add to this a hefty cargo-carrying ability, and I found that the Outlander PHEV was a great combination of frugality, capability, and versatility. Compared to a similarly equipped Outlander SEL with the 2.4-liter engine and AWD, the PHEV commands several thousand more dollars. But here in Oregon, the vehicle would qualify for $2,500 in the state's Clean Vehicle Rebate Program, and low-to-moderate income residents may qualify for an additional $2,500 for a total of up to $5,000 in rebates. Add to that a federal tax credit of $5,836 and suddenly, the cost difference is gone. That might be enough to sway buyers to opt for the PHEV instead of the gas version.
This vehicle was a pleasant surprise for me, and is certainly worth looking at if you're shopping for a versatile, fairly priced AWD crossover that can also save you money at the pumps.
STATS
Price as Tested: $42,920
Engine: 2.0-liter MIVEC direct-injection four cylinder, 117 hp, 137 lbs/ft torque. Twin 60kW synchronous permanent magnet motors. Total 190 hp
Suspension: Fully Independent MacPherson strut (F), multi-link (R)
Brakes: Disc (F), Disc (R); ABS
Wheels: 18-inch alloy
Tires: 225/55/18 Bridgestone Ecopia All-Season; low rolling resistance
Towing Capacity: 1,500 lbs.
Fuel Economy: 25 combined, 74 MPGe, 87 octane fuel
Curb Weight: 4,178 lbs.
Final Point of Assembly: Okazaki, Japan (94% Japanese parts content)