We're back with another scintillating Crankshaft Culture review. This time, we're again venturing into the land of all-wheel drive crossovers with the 2017 Mitsubishi Outlander. This is a seven-passenger getaway vehicle, and I'm going to guess it's the lowest-priced seven-seater on the market. 
---
CRANKSHAFT CULTURE CHECKLIST
Off-Road Ability (1-5): 1.5; stick to gravel roads and snow
Can You Easily Lift It:  No. 
Would We Drive Cross Country: Oh sure. Why not?
Would You Drive it to Alaska: Maybe.
Aftermarket Support (1-5): 1
Spirit Animal: Domestic Yak – Bulky frame, sturdy legs. Well adapted to high altitudes; can carry loads over mountain trails.
---
The Outlander's Outsides
Make no mistake, this isn't the Outlander Sport, it's the Outlander—the big one. Like I said, it's a seven-passenger rig. Our brownish test model isn't exactly the prettiest girl at the dance, but most of it is inoffensive. I say most because I don't think that grille is doing anyone any favors, and the front half seems to have some odd proportions. But overall it's an innocuous look. My co-worker said it best: If this vehicle was driving in the lane next to me, I wouldn't notice it. This makes the Outlander the perfect crossover for introverts. 
Department of Interior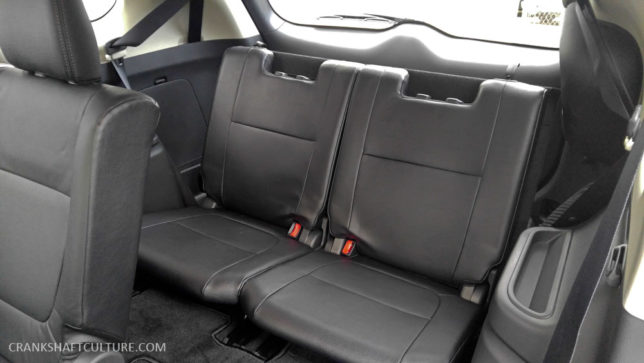 As with many seven-passenger CUVs, the third row is best left reserved for children, short trips, or people you hate. Yes, it's tiny. That being said, the rest of the seats are comfortable enough for adult-sized adults. In fact, there's a lot of space in the Outlander, both front and back.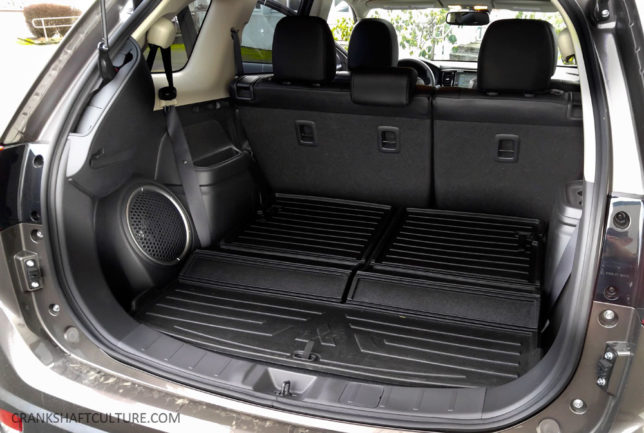 Fold that third row down, and there is plenty-o-cargo room, too. Fold down the third row and the second row, and there's gobs of space. Speaking of, the cargo area features a 12V socket and wall-mounted tie-downs. I always appreciate tie-downs, especially when on camping trips that may lead down the occasional bumpy road.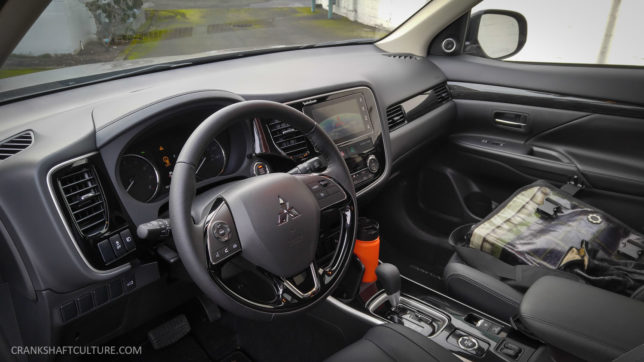 If I had to characterize the Outlander's interior, I'd call it "basic+." You're not going to find cutting-edge looks, sweeping interior lines, or futuristic style. It's basic. However, the leather heated seats and piano black bits give it a more upscale look than, well, not having leather or piano black. I like the simulated black bamboo door accents, by the way. Compared to some other CUV interiors, this one feels somewhat dated. But if you're not looking for a cockpit from a spaceship, the Outlander will do just fine. The treatment I really liked was the center console, which has a minimal, upscale feel to it. Oddly specific, I know.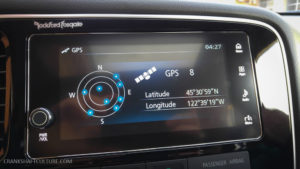 Our SEL came with one of my favorite stereo systems on the market—the 710-watt, nine-speaker Rockford Fosgate unit, complete with an earth-rumbling subwoofer. I seriously love it. It also has the seven-inch touchscreen that controls everything including climate control. It even has GPS, but no navigation. It's quite literally the most literal GPS out there. It shows satellite locations and coordinates. How is this helping? I suppose sometimes you need to know how to get to 45° 30′ 59″ N, 122° 39′ 19″ W; great beer. 
What our Outlander did have that helped was a useful blind spot warning system, a power liftgate, and a moonroof. These were all part of the optional $1,900 premium package. But while many CUVs are featuring a full glass roof, our tester had a regular-old sunroof. #FirstWorldProblems.
More Outlander, Less Sport
Despite the fact it shares part of its name with its smaller brother, the Outlander Sport, our full-size Outlander SEL tester was powered by the same 2.4-liter engine as its compact stablemate. That means the engine produces 166 hp and 162 lbs/ft of torque. This is not a recipe for rapidity, despite its fairly low weight of 3,373 lbs. Want to go faster? You'll need to step up to the V6-powered GT trim, which nets you 224 ponies.
All 2.4-liter Outlanders are equipped with the company's CVT. Good for economy, not so good for noise. Since you really have to keep your foot into it for notable forward momentum, the engine/transmission choice drones under full giddyup, which is a regular occurrence. Once up to speed, the Outlander rides well enough, but not nearly as velvety as more expensive CUVs; ditto that for handling despite its 18″ wheels and 225/55/18 Toyo tires.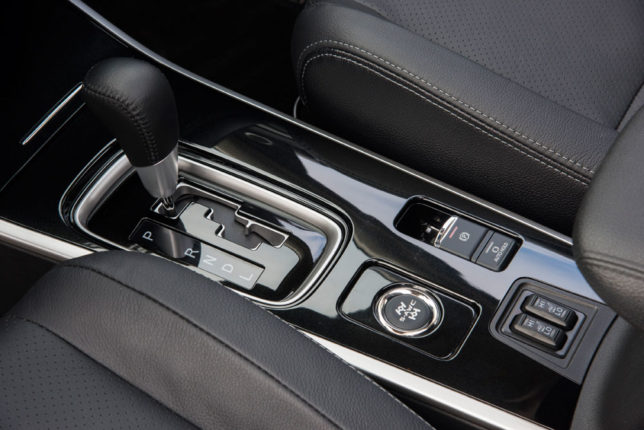 What the Outlander does have is Mitsubishi's S-AWC (Super All Wheel Control) system and active front differential (which I believe acts like a limited-slip differential). There's a handsomely placed S-AWC button on the center console allowing the driver to put the vehicle into different drive modes including normal, snow, and lock modes. Plus, there's an AWC ECO mode so you can get the best fuel economy possible. And who wouldn't want that? This system gives the Outlander good traction on a variety of surfaces, including fairly deep snow or sand. There's also hill-hold and auto hold, which means you can take your foot completely off the brake in traffic, and you won't move until you press the accelerator. Oh, and in case you were wondering, the Outlander is EPA rated at 24 city, 26 combined, and 29 highway.
Why Outlander?
So who's buying an Outlander? People looking for an all-wheel drive seven-passenger crossover with all the creature comforts, a hell of a stereo, a fantastic warranty (10 year, 100,000 powertrain/5 year, 60,000 bumper-to-bumper), and a reasonable price of $30,770. That's a great deal for a third-row, AWD crossover with this many features and amenities. That being said, the Outlander is also the smallest crossover with a third row. That could be looked at as a positive or a negative, depending on what you're looking for, I suppose.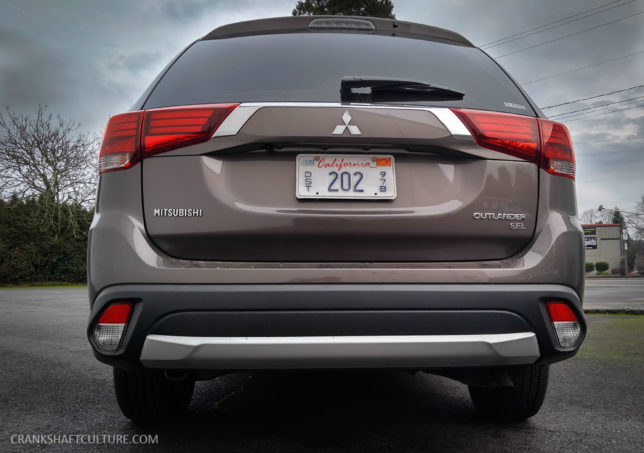 The thing about the Outlander is that, other than the stereo, smallish size, and low price of entry, it gets easily lost in the vast fray of crossovers. It meets the bar, and that's about it. Sure, it'll get the job done (and with a very loud sound system), but there aren't a whole lot of stand-out features. Plus, you get the feeling Mitsubishi was trying to keep costs down on certain things. Lack of chrome exhaust tip, slightly less upscale feeling switchgear, and interior bits that just seem a bit dated—the competition feels more upscale. But there's a reason the Outlander is more affordable than some of its rivals. 
All in all, if you're looking for something that's not too fancy that  has a good list of standard features plus a few niceties, the Outlander might be worth a look. It's not going to set any speed records, win any beauty contests, or provide many ooohs and ahhhs for its interior styling. But, we're guessing it'll get the job done. Introverts unite! (Separately, in your own garages …)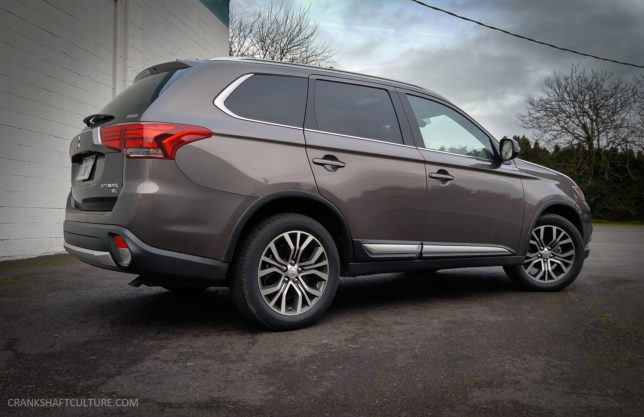 ---
STATS
Price as Tested: $30,770
Engine: 2.4-liter MIVEC direct-injection four cylinder, 166 hp/162 lbs/ft torque
Suspension: Fully Independent MacPherson strut (F), multi-link (R)
Brakes: Disc (F), Disc (R); ABS
Wheels: 18-inch alloy
Tires: Toyo 225/55/18 All-Season
Towing Capacity: 1,500 lbs.
Fuel Economy: 24 city, 26 combined, 29 highway (87 octane)
Curb Weight: 3,373 lbs.
Final Point of Assembly: Okazaki, Japan (95% Japanese parts content)