It's not a two-wheeled motorcycle, it's not a four-wheeled car. So what is this three-wheeled contraption? The short answer is a ridiculously fun motor vehicle. I got to spend some time with one at the 2019 NW Automotive Press Association's Run to the Sun drive event, and this thing was a downright hoot.
You may have already heard of the Polaris Slingshot, which made its debut in 2014 as a 2015 model. Produced by Polaris Industries, the trike has two front wheels, and one rear belt-driven wheel. Power does not come from a motorcycle engine, rather, a 2.4-liter GM-sourced Ecotec powerplant making 173 hp and 166 ft/lbs put through a five-speed manual gearbox. The whole works weighs a scant 1,743 lbs. giving the Slingshot a great power-to-weight ratio. And you know what that means …. it's a kick in the pants to drive.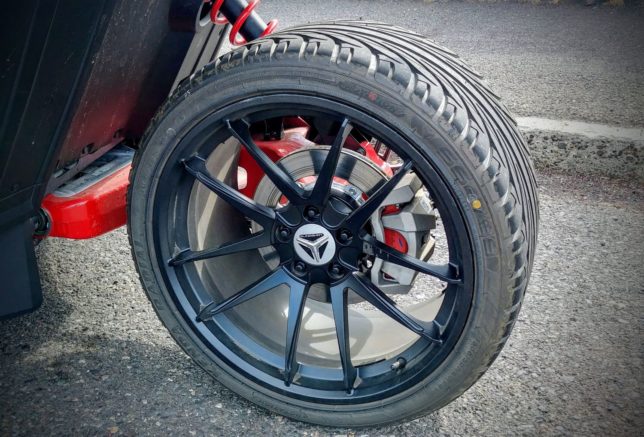 When these first came out, I thought they were really weird looking, especially from the back. But I've warmed up to the X-Wing styling. To say the car … er … uh … trike sits low to the ground would be an understatement. There's no doors and no roof. There's a scant amount of storage behind the rear seat, big enough for a couple of helmets at best. Slink into the cockpit, and it's almost more like a UTV or side x side than a car, which would make sense. Afterall, Polaris makes the popular RZR UTVs. There's a speedo and tach in front of you and stereo controls in the center, and a bunch of color-matched bits for visual appeal. Again, more UTV looking than a car. The build quality also feels more like a side x side; some parts feel unrefined compared to, say, a Miata, and it's very Spartan. The one I drove was about $32,000, but prices start at $20,999.
Fire up the engine, and the vehicle comes to life. The Slingshot is only offered with the five-speed manual, and the clutch is light. The shifter is easy to operate.
Oh, and if you're wondering, the Slingshot is considered a motorcycle in Oregon, although you don't need your motorcycle endorsement. You do, however, need to wear a helmet in the vehicle.
My first leg of my drive in the Slingshot was on I-84 in the Columbia River gorge, where the speed limit is 65 mph. The three-wheeler blasts to 60 mph in just 4.8 seconds, although the fact that it's an open-air experience and you feel like you're about an inch off the ground certainly creates a greater illusion of speed. Additionally, the exhaust dumps right below you and points straight down giving you plenty of exhaust note. Unfortunately, our loaner helmets were open-faced giving you little wind protection at higher speeds; the tiny windscreen didn't seem to do much to help. If I owned this, I'd wear my full-face helmet.
At 65 mph and up, this thing feels almost a bit spooky on the highway, perhaps like it shouldn't be road legal. Being up next to a semi trailer at speed was mildly terrifying. I did get used to it a bit, but it is not a comfortable experience at first. Another area where the Slingshot is more motorcycle-like than car-like is its safety features. There aren't any airbags, no crumple zones (hell, there are no doors), and no roof. But it does have anti-lock brakes and three-point seatbelts. Again, think of this more as a three-wheeled motorcycle in this respect.
After a few miles, we exited the Interstate for a twisty section of highway 30. This is where the Slingshot becomes a rolling fun factory.
Quick acceleration paired with equally quick power steering makes this thing a blast to drive spiritedly. With an overabundance of throttle, you can easily break that 225/45R18 rear tire wheel loose getting the vehicle slightly sideways. This can be highly entertaining, but it's also something you need to be acutely aware of. All of this simply adds to the ridiculous fun factor of this three-wheeled open-topped mechanized adrenaline deployer.
As we made our way to a parking lot for a driver change, I had to make a 90-degree turn to the left. I cranked the wheel and mashed the throttle just for a second, and slid the rear end slight right around, pointing us in the right direction. Holy crap this thing is so much fun. I totally see the appeal. I've driven some extremely fast cars and some extremely fun cars in my time, but I must say, the Slingshot had me giggling like a schoolkid after my drive.
Make no mistake, this would not be my choice for a daily driver. It's too raw, too bare-bones. There are all sorts of things you can add onto the three-wheeler to make it more civilized, such as a better stereo, even a roof. But, especially here in Oregon, it's a fair-weather fun machine. Make that a giggly fun, sideways-sliding, extra-sensory fun machine.
Lead photo by Bailey O'Bar