When I saw Nissan brought a limited-edition 2020 370Z in 50th Anniversary livery to the NWAPA Run to the Sun drive event, I was excited! It looked simply fantastic in the classic red and white colors. But there was a caveat.
The 370Z is, arguably, a modern classic. Its lineage needs not be explained here, but the front-engine, rear-drive platform is now nearly 50 years old and going strong. It is a quintessential sports car, and that is not up for argument.
When it was my turn drive this Z, I sauntered over to it, put my backpack in the trunk, and made my way to the driver's side. Suddenly horror struck. The kind of feeling that makes your heart sink into your stomach. Sweet mother of all things sports car, this thing was an automatic. I thought to myself, "It's OK, Andy. We'll get through this." I mean, who buys a sports car—a Z-car—with an automatic? I took a deep breath, and got in. It will be alright. OK, maybe that's a little bit of an exaggeration, but I was quite surprised.
I've driven 370Zs before, and they're always a blast. They're pure, raw, and connected with the road. It's a driver's car and it loves to be tossed around. Making 332 hp and 270 ft/lbs of torque, the sweet, sweet sounding 3.7-liter V-6 begs to be revved no matter which transmission it's saddled with. By the way, this specific model has an MSRP of $38,885.
Remember, this is a legit two-seater. No back seat here! This is for fun, for driving enjoyment. This, my friends, is a sports car … with an automatic. But you know what, it wasn't as bad as I expected. In fact, it was downright enjoyable. The transmission had paddle shifters and gear changes were quick. I had the car on a great section of road, and it was unequivocally a blast to pilot in a rapid fashion—automatic or not. It's everything you love about a Z-car, but it shifts itself. Cornering is flat and steering is fast; acceleration is brisk and the exhaust note is classic. The low-slung stance and recumbent seating position are unadulteratedly sporty. And the all-motor V-6 is simply a joy to both hear and feel. It's hard not to smile when you drive a Z. It's an example of a car that comes together to make a modernly classic driver's vehicle. What more is there to say?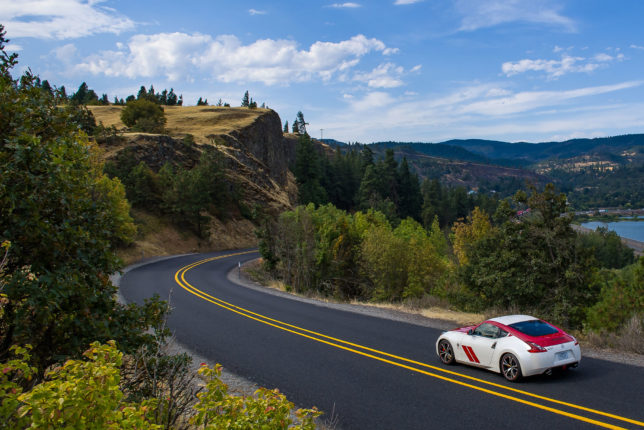 In the end, reality kicked in. People buy more automatics, and self-shifting transmissions have become light years better than they were 20+ years ago. And while I would never in a million years buy a 370Z with an automatic, the car itself—transmission and all—continues to be a purist's choice for those looking to carve canyons, take spirited drives, and enjoy all of the things sports cars have to offer. Oh, and happy anniversary, Nissan.
Lead Photo by Doug Berger