When someone thinks of "out west," they typically think of massive mountains, tall trees, grand valleys, and staggering scenery. They think of the wild, wild west. Gone are miles and miles of plains or crops as far as the eye can see. Cows and corn, soybeans and sows aren't thought of, either. Next to the Grand Canyon, Yosemite National Park is thought of as one of the most quintessentially breathtaking and vibrant natural areas west of the Mississippi River. Becoming a National Park in 1864, California's Yosemite National Park offers up huge waterfalls, steep slopes, giant sequoia trees, and tons of wildlife. Climbers, hikers, skiers alike come to enjoy its serenity.
My good friend, Tina Rahn, and I visited Yosemite National Park recently to test drive the new 2019 Honda Passport. This quick trip led to an awesome mini-adventure of sun and fun, complete with a great tarmac adventuremobile.
After we flew into Fresno, we headed down to Yosemite. Bright sun kissed our cheeks as we chatted away in the Passport. We stopped along the way to take photos of random street art and vehicles, and after a few hours, made it to our destination.
Honda hosted a select group of people at AutoCamp, Yosemite. Tina and I camped many a nights all throughout North America, but never before in a customized Airstream trailer. This lux accommodation had all the bells and whistles that a normal house would have—and more. Tons of silver bullet-like trailers lined the property, intertwined with tall trees, filtered sunlight, and several Honda Passports.
In the 1990s, Honda and Isuzu had a partnership and the Passport was one of those offerings. It was merely a re-badged Isuzu Rodeo. After several years, however, it was discontinued in favor of the Honda Pilot. Just recently, Honda brought the Passport back to life—in a way that is stylish, comfortable, and current for 2019 all-wheel-drive buyers.
The Honda Passport Elite is the top-of-the-line trim level that boasts a 280 hp 3.5-liter VTEC V-6 engine that's joined with a nine-speed automatic transmission. The Passport is smaller than the three-row, seven-passenger Pilot but larger than the CR-V. Although the new Passport offers normal, mud, sand, and snow drive settings via an i-VTM4 all-wheel drive system, we left it in normal mode during our time with it—no off-pavement adventuring this time.
"I really enjoyed driving [the Honda Passport]," Tina said. "It felt comfortable from the moment I sat in it. It had good mirrors for blind spots and it drove like a cloud!" Tina, an avid off-roader and traveler, has driven a multitude of different vehicles over the years. Driving dynamics and good visibility are important traits to her. Her adventure vehicle of choice, however, is her modified Nissan Xterra. But, she mentioned if the Passport came as a true four-wheel-drive and she needed to buy a new rig, she'd definitely consider it. Where she usually travels to, low-range is often needed.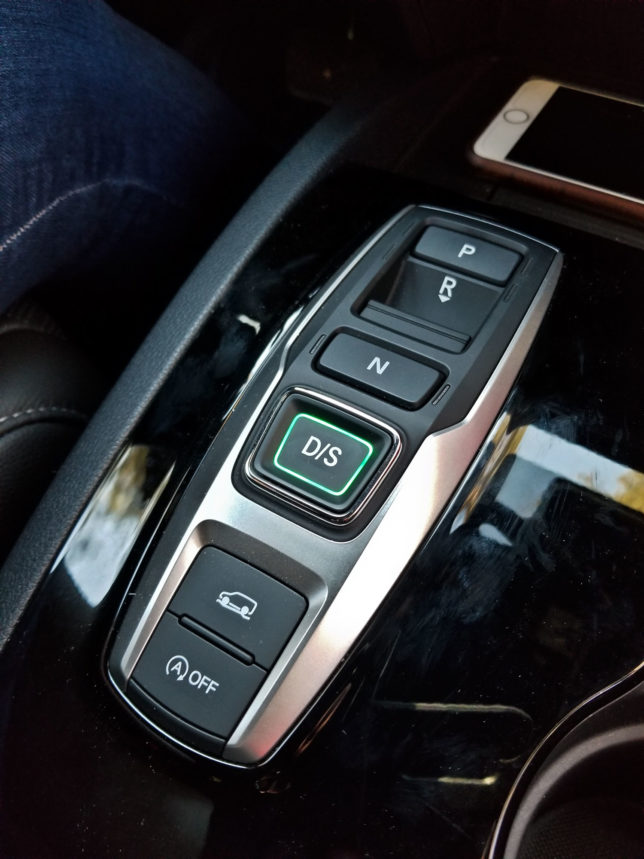 "I wish it had the option of 4WD and different selections for tires." She wants to beef up its capability to improve its off-tarmac prowess. "Oh! And the seats fold down which was awesome," she says, "because you could sleep in the back if you wanted to." Tina, always thinking about her next camping adventure, thought the 2019 Honda Passport Elite was a solid ride—especially when cruisin' down the highway. She'd take it across the country in a heartbeat.
During our stay at Yosemite, we ventured out on a day hike to Taft Point, a stunning outlook that showcases stunning views of El Capitan and Yosemite Falls. Up, up, up in elevation we went. We stopped at a few stunning lookouts, and then kept on going.
The Passport's 280 horses easily kept up as we curved our way to the top. We started our morning at AutoCamp around 3,000 feet in elevation, but after a long trek up over 4,000 more feet, we arrived at the trailhead. I'm not used to high elevation hiking! Thankfully, we stocked up on plenty of water and snacks, and had our trusty Garmin GPSMAP 66i on hand to help guide us in the correct direction.
Taft Point Trail heads west to the canyon's edge and boasts incredible views of Yosemite Valley below. This few mile hike gains another 500 feet in elevation, and winds its way through tall boulders, mossy covered pine trees, and light-colored dirt.
The trek itself was just as beautiful as the viewpoint itself. After we took a few long minutes to take it all in, we began our trek back to the Passport.
We were close to another popular lookout: Glacier Point. We decided to push further and check it out. There, we happened upon spectacular views of one of Yosemite's most prized natural wonders—Half Dome. I could have spent days there, but alas, we needed to head back to base camp.
People who are after an AWD run-about that has a bunch of features and creatures comforts to get you from point A-Z both comfortably and safely, then they should check out the 2019 Honda Passport Elite trim level. After spending a few days with this five-seater, both Tina and I can agree that this is a major contender for couples or families, or even those flying solo that want a reputable and solid ride that is built for true tarmac enjoyment for years to come. 2019 Passport Elite: $43,680.