Listen, if there's one thing I don't like to skimp on when traveling it is good coffee. Whether we're camping a few hours from home, or circumnavigating Iceland, I don't mind a quick breakfast so long as the coffee is as black as death and strong as an ox.
At home, my favorite coffee maker is my AeroPress. For those that aren't familiar, it's a very simple and extremely effective unit to brew some java. You simply add ground coffee to the cylinder, pour hot water over it, stir it, and let it sit for a couple minutes. Next, you put a filter into the screw-on filter holder, and press down on the plunger. This forces water through the grounds, through the filter, then into your cup. I've used one for about five years and love it. However, it never traveled with us until this summer.
Before this, our on-the-go coffeemakers of choice were two single-serving French press/mug setups designed for camping. Each one nested into a small, compact size and made up to 20 oz. of coffee per setup. The coffee was never that great, and they required copious amounts of grounds to get the desired strength. Plus, setup was a pain, clean up was a chore, and it took a long time for them to dry out and be put back into the nesting configuration.
One day while using my AeroPress at home it occurred to me: why don't we bring it camping with us instead of our French presses? It's a smaller overall setup, it made better coffee, and was way faster to clean and put away. This proved true on a weekend getaway to our favorite central Oregon camp spot. Why didn't we think of this earlier?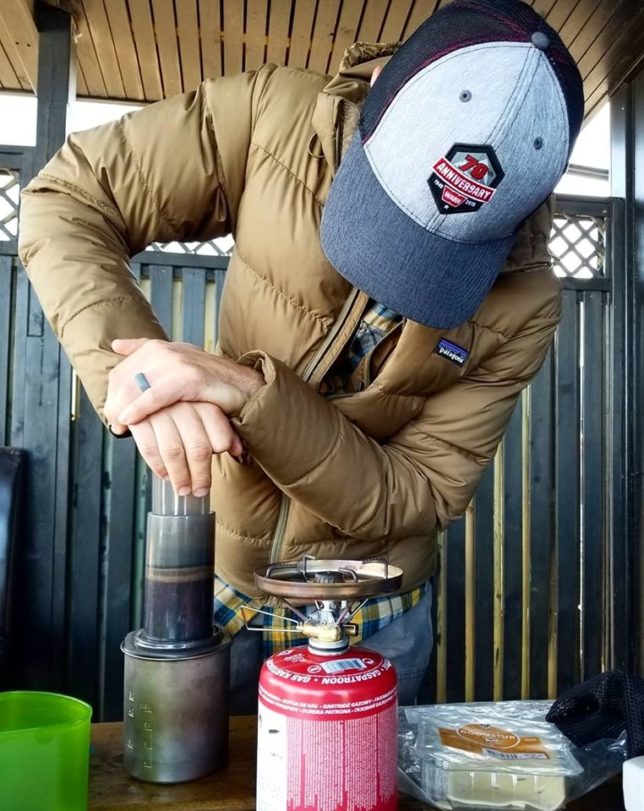 When we were prepping for our trip to Iceland in July, 2019 I thought the AeroPress would be a great coffee companion. We'd buy locally roasted coffee and make it fresh each morning. Turns out this worked smashingly well. Each morning we'd make our surprisingly delicious dehydrated Mountain House Breakfast Skillet and accompany it with a hot, fresh, strong cup of black coffee out of the AeroPress. When we were done, we threw it into a canvas bag, along with the coffee scoop and stirrer, and headed out for the day's next destination.
Shortly after our stateside return, we saw AeroPress was now offering a compact version of their coffeemaker designed for travel called the AeroPress Go. We had to try it.
The AeroPress Go includes everything you'd get with a standard AeroPress, but includes a mug to make the coffee, and all components nest together into a single compact unit. Parts include:
Two-piece AeroPress maker consisting of the plunger and chamber
Filter cap
Slim filter carrier (holds 20 filters)
350 filters
Coffee scoop
Folding stirrer
15 oz mug
Silicone cap
At first glance you can see the plunger/chamber setup is smaller than a standard AeroPress. A standard Aeropress is 5.4″ x 4.2″ x 3.8″; the Go is 4.6″ x 3.6″ x 3.6″. When nesting in travel mode, the whole works is 5.3″ x 3.9″ x 3.9″. But again, all the parts, including the stirrer, are in there. The entire setup weighs 11.5 oz.
As you might expect, the Go makes a bit less coffee. Where the standard unit is capable of making 10 oz. of coffee, the Go makes 8 oz. The company still says both units yield 1–3 shots of espresso-style coffee.
You use the AeroPress Go the same way you'd use the standard maker. There are a couple of ways to do this: the traditional way or the inverted method, which I use. (Some say this creates a richer flavor.) Here are the basic steps I use to make coffee in an AeroPress:
Pour 2 tablespoons (or 17 grams) of ground coffee into the cylinder. I generally use a grind coarser than "espresso" but finder than "drip."
Bring your water up to temperature (175° to 205° F)
Pour the water over the grounds
Use the stirrer to mix the slurry
Let stand 60–90 seconds
Wet filter then place into filter cap and secure filter cap to chamber
Flip over and place on a sturdy cup (or the included Go cup) and press down gradually on plunger
Remove filter cap, press plunger to eject grounds and filter
Drink coffee, admire your work, solve the world's problems
Everyone has their own recipes and ins and outs; but this is how I do it.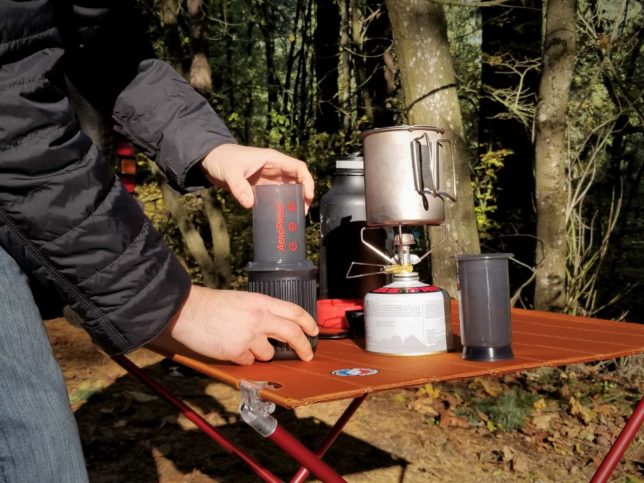 We found the AeroPress Go to be 100% the same as a full-size AeroPress in operation, but really like the fact that it comes with its own cup that's the right size for the coffeemaker's base. I also love the fact that the folding stirrer and scoop fit into the void in the plunger. No hunting for the separate stirrer or scoop like we did when we were in Iceland. That folding stirrer unit that comes with the Go does feel a bit fragile, so I'd be careful with it, but the size is wonderful.
One thing I'm not crazy about is the silicone cap, however. It seems to attract fuzz and lint, and we feel like it could be easily punctured by a stray camp utensil or knife. I would've preferred to see a solid plastic top that snapped onto the cup instead.
As AeroPress promised, the Go didn't make quite as much coffee as a full-sized AeroPress. That being said, we used the same amount of grounds as we did in the standard AeroPress, then added a bit of boiling water in the mug when we were done. We found the coffee to taste just as good as the standard version. One downside to any AeroPress is its small serving size. You can make it stronger like we did then add more water. But a second cup requires another kettle of water, more coffee, and repeating the brewing process.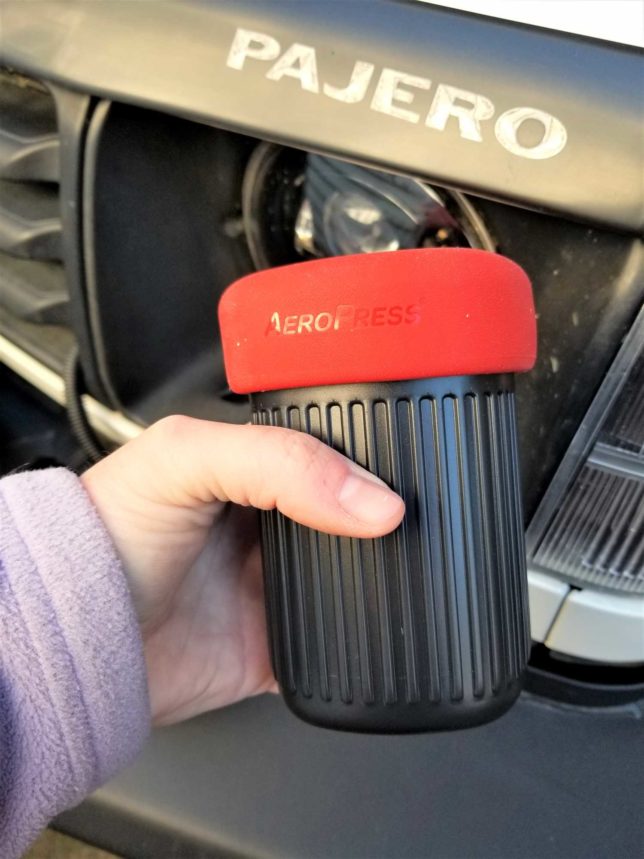 Regardless, the idea that the AeroPress Go can all be put into one travel-ready unit—including the mug—is great. It's more portable, more travel-friendly than a French press or even a standard AeroPress. Plus, it makes coffee just as wonderful as its full-size sibling. The silicone top and fragile-feeling stirrer are minor gripes. This is the AeroPress to get if you're on the go. Heck, we might even bring it on this year's Alcan 5000. Now that this model has come to fruition, hopefully they'll come out with a mega model that makes more than one cup!
Photos by Mercedes Lilienthal