A little over a year ago, our 1992 Mitsubishi Pajero XR-II, aka the Ralli Tractor, suffered a cracked block due to a fouled thermostat. Today, it has a new Hyundai heart courtesy of a D4BF engine swap. How does this compare to the original 4D56? Does all this make any sense? If not read on. (Heck, if so, read on anyway.)
After discovering our cracked block back in June of 2019, we knew we were in for a major repair of some sort. Could it be welded? If not, what do we put in the engine bay?
Before opting for the engine swap, we tried patching the crack with JB Weld, Hysol 1C, and even having the block welded/brazed. Unfortunately, none of it worked.
We explored a number of engine options from swapping in the more powerful 4M40 diesel engine to putting in a gas-powered 6G72 V-6. We thought about finding a used 4D56—the original 2.5-liter turbodiesel powerplant—and putting that in. Then we heard about this Hyundai D4BF powerplant.
Hyundai D4BF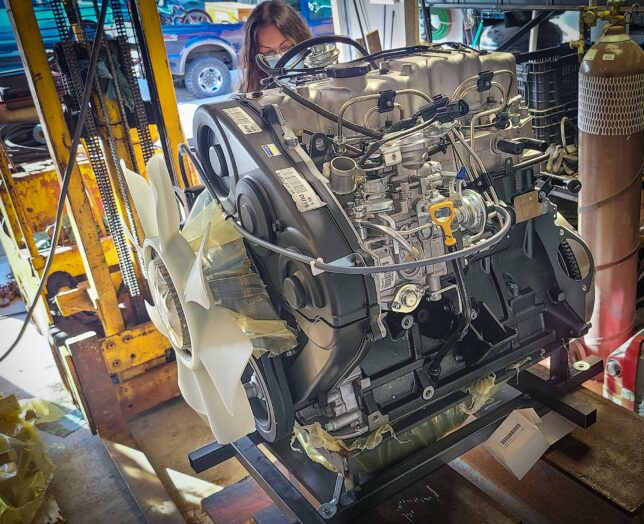 The D4BF is a non-intercooled, modernized version of Mitsubishi's 4D56 built under license by Hyundai. It is intended to replace the powerplant in a Mitsubishi Delica Star Wagon (L300) van—not an intercooled Pajero. But most of the engine is the same. We even explored the possibility of buying a D4BF short block, which wouldn't have a turbocharger, injection pump, head, and accessories. However, after we carefully weighed our options, we opted for a complete long block that included a turbo, injection pump, head, alternator, and even a brand-new clutch setup. We ordered it from Karr Automotive in Fort Myers, FL, the same place we purchased our 1994 Mitsubishi Delica Space Gear.
Then there's the question of how we're going to install this thing.
I have personally never swapped an engine, nor do I have a good place to do so. Friends generously offered up their garages and shops, but I knew it'd take me a long time to do this as it was my first attempt. Another local Pajero owner told me his brother, who lives an hour south of Portland, is a total wiz regarding these engines. He wholeheartedly recommended we call him. So we did. He said he could do the D4BF engine swap and that he should be able to do it in a weekend. He also figured it'd be a pretty straightforward swap since there were only a few things that needed attention: swapping over the intake manifold for one that'd work with our intercooler, replacing the 12V glow plugs with 6V ones, and maybe a few things here and there. Needless to say, it wasn't that simple.
The Not-So-Straightforward Swap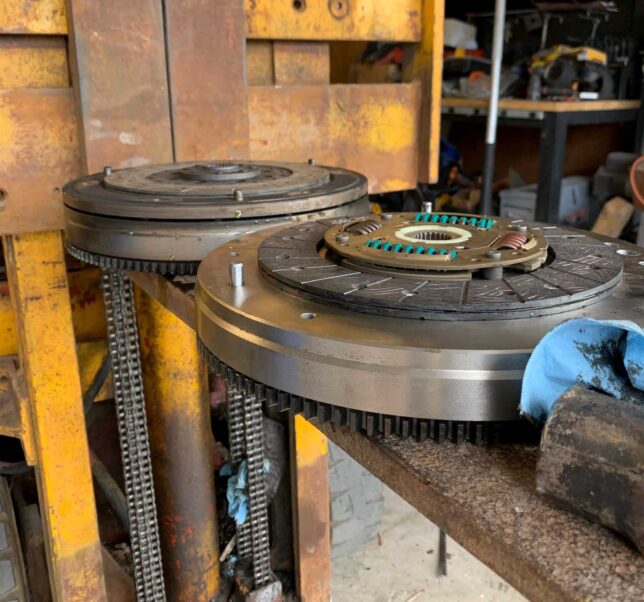 The first hiccup with this swap was discovering our Pajero had a dual-mass flywheel. If you don't know what that is, it's a flywheel with springs inside it that provide smoother clutch engagement when shifting. Oddly, our other 1991 Pajero does not have a dual-mass flywheel. Upon further research, it turns out only the upper-end trim levels came with this feature. Got to love Japanese bubble-era options! Back then, there were seemingly endless options and variants on Japanese-market cars.
Anyhow, the installer was hesitant to put in the single-mass setup in case he got it all together and it didn't work. He knew the dual-mass flywheel would work, so back in it went. For what it's worth, it's likely the single-mass unit will likely work in the future, so at least we have a replacement already.
Next he found out that, much like I suspected, the D4BF's dual-belt alternator wasn't going to work on our Pajero, which uses a single-belt setup. This is because of the air conditioning setup. Luckily, I happened to have a spare alternator which we brought with us on the Alcan 5000 Rally. But that also meant having to swap out the crankshaft pulley and damper. And, of course, the alternator bracket was different. The installer needed to fabricate some parts to get this to work as well.
The D4BF oil sump is in the wrong location for this swap. The pan from the 4D56 must be used on the D4BF, which is something we were aware of. However, the oil line fittings needed to be retapped as they were a different thread.
Next discovery? The D4BF only has 1 of the 2 sensors for the Pajero's air conditioning system. There's one sensor for the A/C compressor and one for the condenser fans. The D4BF only has a location for the compressor switch which meant the fans were on all the time. The truck's A/C was on the fritz before we brought it in for the swap. I simply pulled the fuses, belt, and seized idler pulley. (That was also a discovery.) So right now, the rig doesn't have A/C.
Lastly, the engine uses the same motor mounts as a USDM Montero. I ordered two from NAPA. However, they sold me one correct mount, and one that is for some vehicle from the 1950s. Not helpful. So we will need to replace one of the motor mounts at some point.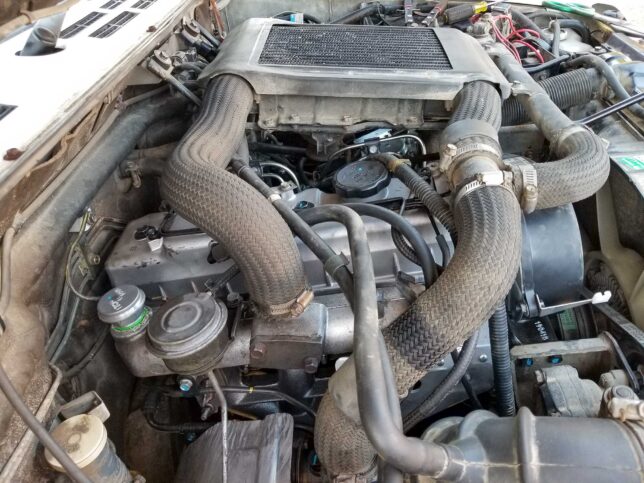 We were told the D4BF is a bit de-tuned from the factory and it did feel like it. Power was, however, linear with seemingly no turbo lag. But it felt more like our '91 Pajero XP with 4.62 gears despite the fact this one has 4.88s.
The next week I drained the original oil and replaced it with nearly seven liters of fresh 15W40 and a new filter. This is when I discovered there was one bit of the install that didn't happen, unfortunately.
When swapping the oil pan from the 4D56 to the D4BF, you also must swap the dipstick tube and locate it at the engine's rear. You must remove the D4BF's dipstick tube from its side location and plug the hole. This has to be done when the oil pan is off the vehicle and the engine is not in the bay as the plug can only be knocked out with the pan off. In other words, if we wanted to move the dipstick now, we'd have to pull the engine. It might be possible to remove the batteries, pull the starter, slink down with a drill, and tap and figure a way to pull the plug. However, after much research and consultation by others, we decided to simply mark the existing dipstick after refilling the engine oil so where we know where seven liters sits and call it good.
The Maiden Voyage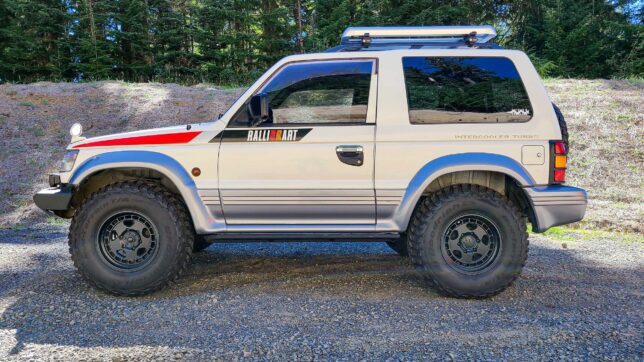 A couple of weeks ago, we decided to put some miles on the new engine. We went from Portland up to Windy Ridge Veiwpoint and back, some 300 miles. Despite the de-tuned engine, it ran smoothly, quietly, and strong. We had zero issues whatsoever. Whether cruising up Interstate 5 at 70 MPH or ascending Mt. St. Helens' curvy roads, the engine ran great. It does have a slightly different sound to it compared to the 4D56 with a bit of a harmonic at about 3,000 RPM. It's not annoying or bad, just different. The turbocharger is also noticeably louder which is fun.
Next Steps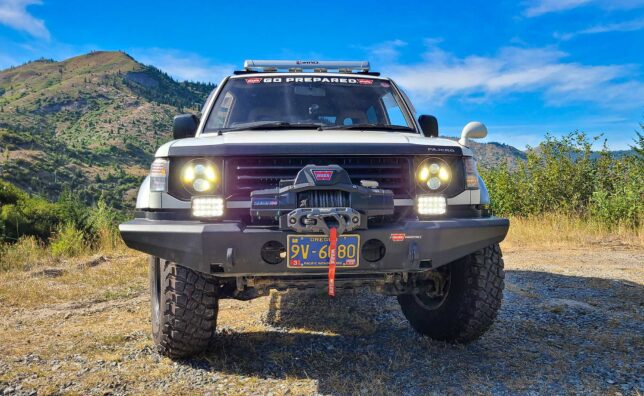 A few things will happen now that the engine is in and running well. The first will be to increase the boost. I'm told the D4BF comes with about seven pounds of boost from Hyundai. That will get increased by adjusting the wastegate and increasing fuel at the injection pump. I'll need to get both a boost and EGT (exhaust gas temperature) gauge and install them. Then we can get the Ralli Tractor back up to its performance par (if not better).
Next will be figuring out exactly what to do with the air conditioning. When I pulled the belt and idler pulley, the pulley on the compressor seemed to work well. The compressor itself may be shot or needs recharging. I'll need to get a new bearing for that idler as a start. Then I'll need to figure out where to put the plug for the condenser fans.
Finally, the rig needs a new exhaust system bent up. The booger-welded, almost-a-straight-pipe setup has always been crap and also rattles.
Overall, however, I can't tell you how good it feels to get this rig back on the road. I'm very much looking forward to putting some dirt under the BFGoodrich KM3s, putting the custom rock sliders (by Wanderlust Overland) to good use, and lighting the night up with the Lightforce Strikers. These things were installed right before the block cracked. I think we'll be very happy with the D4BF engine swap.
If there is a moral to this story, by the way, it is to make sure your engine is well taken care of and maintained. This very expensive engine swap scenario could've been avoided if I'd replaced the 4D56's $15 thermostat earlier. Lesson learned, but onward and upward.