A couple of months ago, we sold our beloved Space Tractor, our 1989 Mitsubishi Delica L300. It was a fantastic vehicle, but it was time for a change. We knew we wanted another Delica, but it had to be the right one. Somewhat amazingly, the perfect van fell into our laps rather quickly: a 1994 Mitsubishi Delica Space Gear L400.
The story goes like this: I'd recently posted on DelicaForum.com for the first time in a while. The forum's owner (and owner of Karr Automotive), Kellyn Karr, sent me a private message stating it was good to see me posting again. We exchanged a couple of messages, one of which was he'd just picked up a very clean Delica Space Gear van, which was the generation after our Delica Star Wagon L300. I happened to mention I was selling our L300 and would be in the market once ours sold. I told him what I was looking for—a rust-free, diesel-powered L300 or L400 with a manual transmission. He told me the L400 he picked up was a manual and he was going to be listing it.
Fast forward several days and our Space Tractor went to a new owner. I pinged Kellyn again and asked for some photos. This thing looked great. I asked where the van was located. The answer? Florida. That's 3,300 miles away from our home in Portland.
We continued a dialog with Kellyn, regardless of the distance. After all, if it's worth buying, we'll figure out a way to get it. Long story short: the van was indeed worth buying and we bought it. We opted to do a fly-n-buy yet again. In fact, our experience was documented in The New York Times, where Mercedes wrote an article about our travels.
1994 Mitsubishi Delica Space Gear
The Space Gear is the next generation Delica after the Star Wagon. (You can check out my Ultimate Delica Guide on AutoWise for a complete history.) Mercedes and I are a few of the rare U.S. residents who've now owned both the Delica Star Wagon (L300) and newer Delica Space Gear (L400), so we truly can compare/contrast them. Frankly, the only things the two vans have in common are: 1. they're made by Mitsubishi 2. They both have "Delica" in the name 3. They have internal combustion engines and four wheels. For all intents and purposes, the L400 might as well be called something else. They're that different.
Power: 4D56 vs. 4M40
While both vans had diesel engines, the Star Wagons had a 2.5-liter non-intercooled 4D56 turbodiesel engine making something around 86 hp and 120 lbs/ft of torque. The Space Gear employs the 2.8-liter intercooled 4M40 turbodiesel making 140 hp and 232 lbs/ft of torque—quite a bit more power.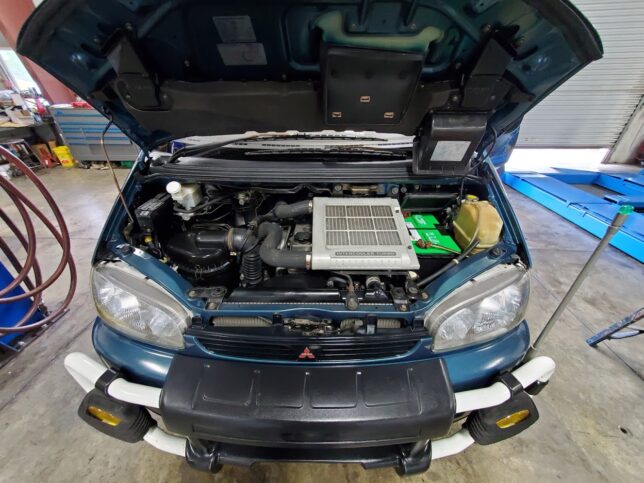 We drove over 3,500 miles home from Florida in our Space Gear, so we got a good feel how it drove. For starters, unlike our old L300, our L400 has plenty of get-up-and-go. It'll easily get up to highway speeds and will cruise effortlessly at 70–75 MPH. Our old L300 was happiest at 65 MPH and under. Additionally, because it has more power, there isn't a need to downshift going up hills, and you can actually pass people without having your life flash before your eyes. It's a nice feeling.
Interior: Totally Different
Inside, the first thing that struck me was the different seating position. The older L300 van had a very truck-like seating position. Upright, knees bent at near 90° angle. The L400, in contrast, has a much more sedan-like seating position where you lay down more. This really doesn't affect visibility or anything; it just different. Additionally, the L400 is simply more modern in every respect. From the switchgear to the gauges, everything is more modern.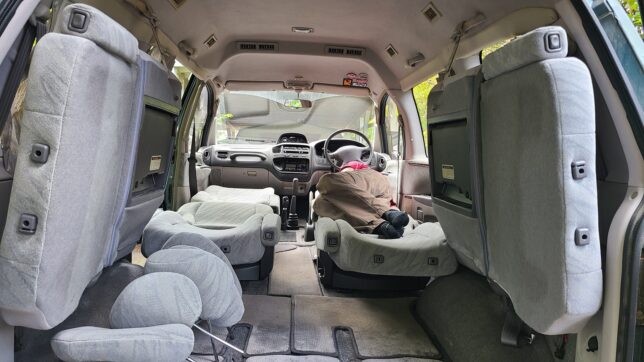 Moving to the van's rear passenger area, again, more modern. More plush materials, more modular seating. There's still a rear HVAC system, and curtains, although this model has automatic ones that close almost violently at the flip of a switch. Our L300's curtains had to be closed manually. We did a lot of measuring before we bought our Space Gear, and we found the area behind the rear front seats was several inches shorter than the Star Wagon. Width was nearly the same, but we did lose some length. It does appear the older Star Wagon's interiors were a bit more spacious in sheer volume. However, from a passenger perspective, our Space Gear is much more comfortable and configurable.
4WD System and Manual Transmissions
The L300s had a two-speed transfer case with 2WD, 4WD high, and 4WD low—straightforward and simple. The L400s come with the Super Select transfer case which has 2WD, 4WD high with an open center diff (and viscous coupler), 4WD high with a locked center diff, and 4WD low. That 4WD high with open center differential allows the van to operate like an AWD system. This means excellent performance in slippery conditions since the system is able to transfer power front and rear. (It's the same system as both our Pajeros have, too.)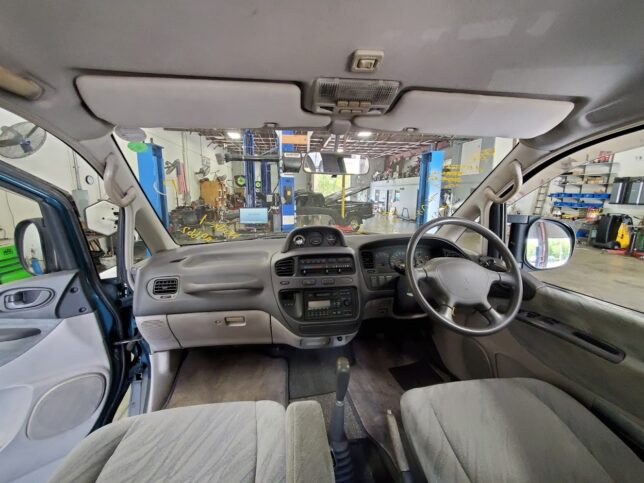 Both vans had five-speed manual transmissions and 4.88:1 gearing. The L300's KM147 transmission was anything but smooth and slick-shifting, however. It was ultra notchy and hard to shift quickly. The L400 employs the V5M31, which is the same transmission behind Pajeros with the 4M40 engine. It's much easier to shift, can be shifted quickly, and feels much more like the V5MT1 in our 4D56-powered Pajeros. I'll stop before I totally nerdjack this entire post.
We've now had a couple hundred off-pavement miles on our L400 and it does just as well as our previous L300; possibly better due to the slicker 4WD system and longer wheelbase, too.
Exterior Styling: Boxy vs Rounded
If there's one controversial thing Delica owners can't seem to agree on its L300 vs. L400 styling. The L300 looks like a shuttlecraft out of an '80s sci-fi series. The L400 looks like a jacked-up 4WD minivan or possibly a 4×4 armadillo. Truth be told, I still love the L300's styling, but I don't dislike the L400. It should be noted the L400 is likely quite a bit safer than the L300 not only because it's more modern, but because it doesn't have the forward-control seating where your knees are the crumple zones.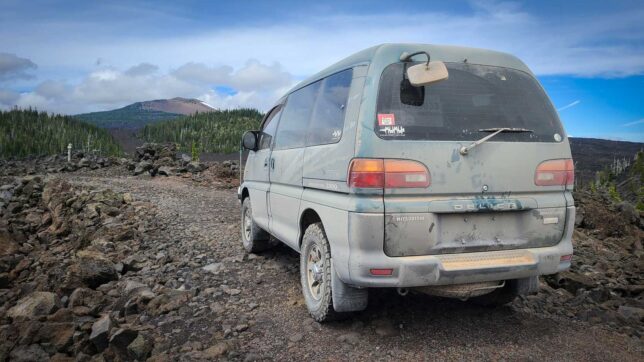 A New Chapter
Our L300 was a fantastic van, and frankly, we didn't expect to get into a new van so soon after selling the Space Tractor. But here we are! We have a whole host of plans for this blue-green beast, this jade grenade, this travel tractor. While we haven't given it an official name (we're leaning toward the Diesel Armadillo, Turbo Armadillo, or All-Terrain Armadillo), we have officially started our L400 adventure. We assure you there's a lot more to come.