We typically go to Easter Jeep Safari for the annual gathering of off-road enthusiasts, primarily Jeeps—duh. I've been to the event for work many times. We even drove our Jeep Cherokee out there one year. We barely made it, but that's another blog post. This year, we took our 1992 JDM Mitsubishi Pajero, aka the Ralli Tractor, out to the land of slickrock and Jeeps for a bit of off-road fun.
While at the event we ran a few trails; none of which were particularly difficult. That was OK by us as we drove the Pajero to Moab and had to drive it back—a total of over 2,100 miles round trip. We ran Copper Ridge, the very scenic Buttes and Towers, and my favorite trail in Moab, Fins and Things. Pro Tip: If you've never been to Moab and are looking for the quintessential Moab trail, Fins and Things is the one to shoot for. There's slick rock, sand, dirt, steep climbs, and quick descents.
Additionally, we took the JDM Mitsubishi Pajero up and over Baby Lions Back. This is a sandstone formation you can drive up and over. It has a rather steep ascent and descent, but is otherwise pretty easy. In fact, here's a video. Note: the last 1/4 of the video is where things get a bit interesting!
Since someone has already called it out on our YouTube channel, no I didn't air down doing this. I had just aired up from 12 PSI back up to about 33 PSI, and didn't bother to air back down (we were leaving right after this). I was able to go up and over a few times at this PSI, although it certainly would've been easier to climb the back at a lower pressure.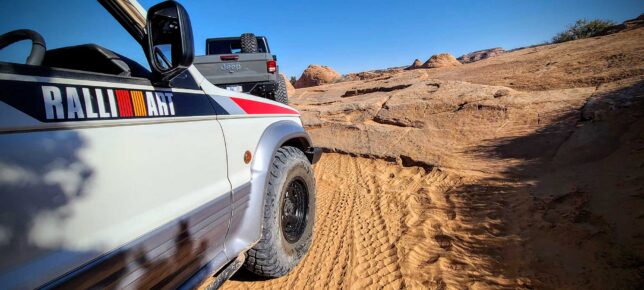 The Pajero did great on the trails and had no issues other than a sticky parking brake after using it frequently off-road. Remember, ours is a manual transmission, so there was plenty of e-brake action. The recently performed D4BF engine swap also performed admirably. The addition of a boost gauge, pyrometer, and manual boost controller were great last-minute additions for our trip.
We hope to make it back to Moab again on personal time so we can hit more trails, kick back at camp afterward, and soak up all the glorious things this spectacular area of the country has to offer.
Ralli Tractor Modifications