Detailing cars has always been a hobby of mine, even as a kid—a trait I likely learned from my father. Meguiar's car care products are well known in the auto industry; I actually have used some of their goods for years. Meguiar's recently reached out and sent a sampling of some of their products, like wash/wax. detailing products, and air freshener, for us to check out. We put them to the test.
Ultimate Wash & Wax
Ironically, I've used Meguiar's car care products, specifically their Deep Crystal car washing liquid, for decades. But I switched it up by using their Ultimate Wash & Wax. The company says it would leave a "just-waxed" shine on the vehicle. This is in part due to a combo of hybrid carnuba/polymer wax. I poured the recommended amount into my usual bucket, filled my rinse bucket, and got underway washing our van after a 5,500-mile trip.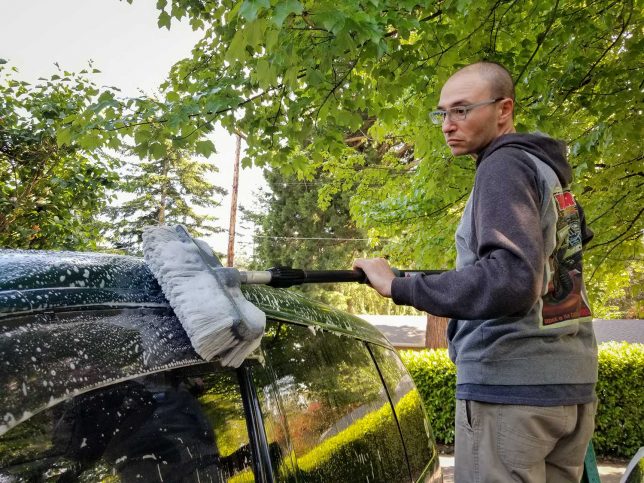 The product did suds up nicely and has a very pleasing aroma. It seemed to remove dirt just as well as my previous Deep Crystal wash I typically use. Once dry, the car looked shiny and clean, as advertised. I didn't find anything negative about the product, truth be told. And frankly, I really liked the scent.
Hybrid Ceramic Detailer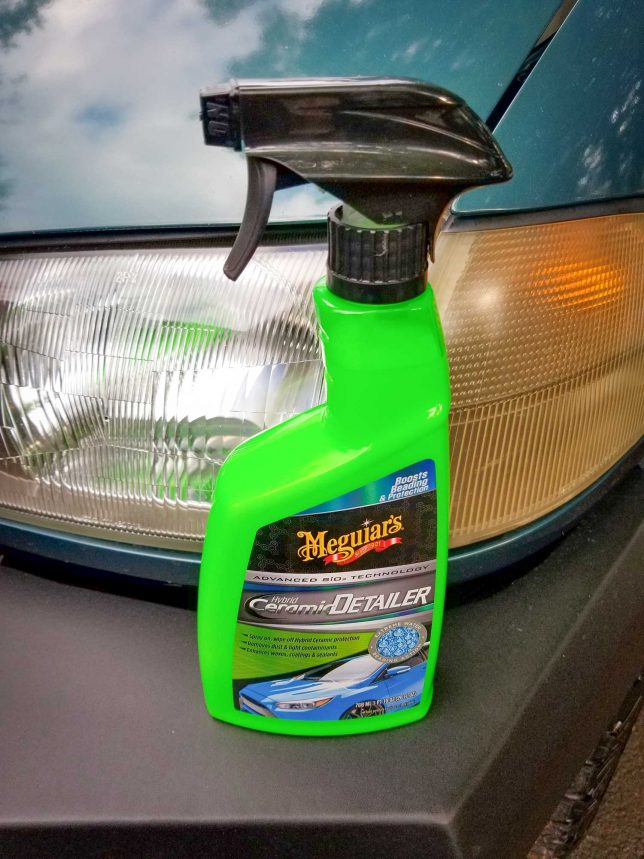 Inevitably, after washing you might find those missed bug guts, tar spots, or something else unidentifiable on the vehicle that needs to come off. All this might happen between washes, too. Many companies offer a quick detailer for these such occasions. Meguiar's Hybrid Ceramic Detailer removes everything from fingerprints to bird doo-doo. The company claims it also adds water-beading protection, too.
Meguiar's says it uses as sophisticated "SiO2 Hybrid Ceramic protection" that's easy to use. Just spray on and wipe off. They also said it enhances waxes, coatings, and sealants and helps to "achieve a just-washed look."
I used this product quite a bit after washing, as there were some serious bug splats on the hood. It did great getting the hard-to-remove bugs from the front end on both the hood and our powder-coated bumper. I simply used this along with a microfiber towel as I usually do, and again, the product worked as advertised.
Quik Interior Detailer Cleaner Wipes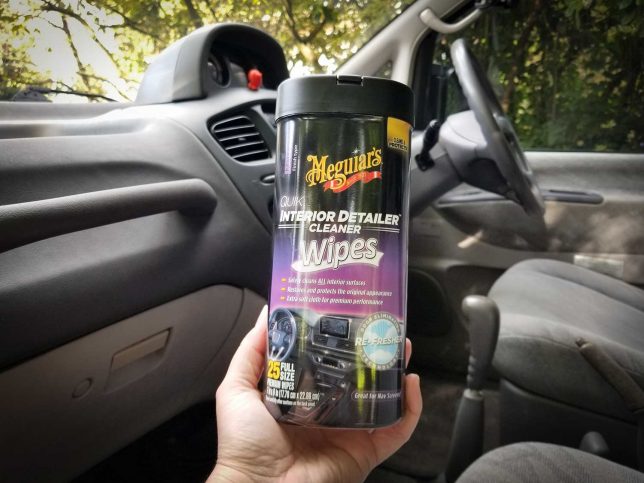 With most of the outside being shiny and clean, it was time to turn to the interior. Meguiar's supplied us with a container of its Quik Interior Detailer Cleaner Wipes. These are disposable wipes that, well, clean and detail the interior. They are not overly wet, so you won't have to go over areas again with a dry cloth. The company states they're safe for interior plastics, vinyl, leather, rubber, metal, and LCD and navigation screens. Plus, they won't leave lint or any greasy feel.
My only concern with these is their disposable nature. I generally prefer to use a microfiber towel along with an interior detailing spray. Then when I'm done, I simply wash the towel instead of throwing more paper towel into a landfill. That being said, these wipes did get the job done well.
Whole Car Air Re-Fresher Odor Eliminator – Black Chrome Scent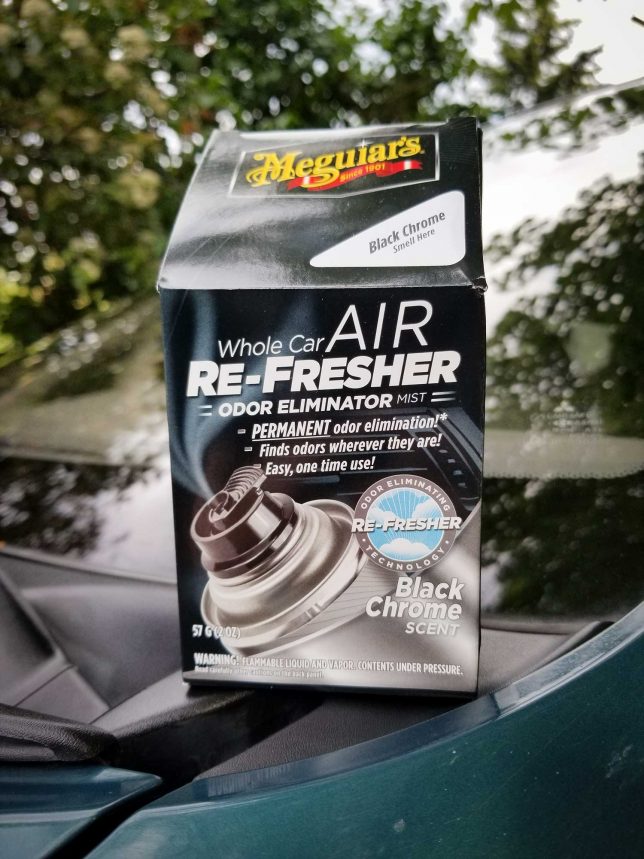 I am generally not a fan of in-car air fresheners. I typically don't like their scents. However, our 2007 Toyota Yaris hatchback has always had a bit of a funky smell to it. I'd resisted the air freshener thing for years, but then Meguiar's Whole Car Air Re-Fresher showed up in "Black Chrome" scent, no less. When we mentioned this in the Crankshaft Culture Community group on Facebook, the inevitable question came up: What does black chrome smell like. Good question.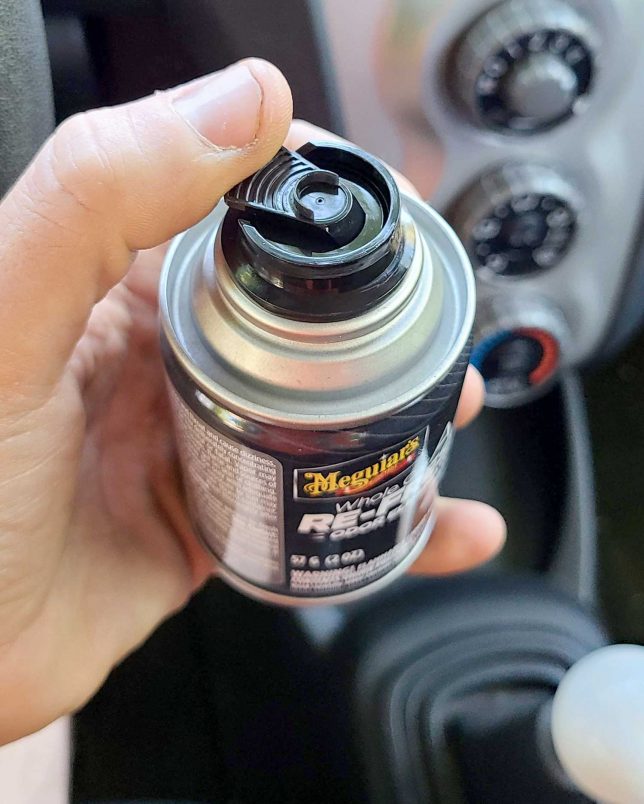 Before I could discover what that fragrance was, I had to deploy it. The Air Re-Fresher is a one-time-use aerosol can that emits a scent spray. To use it, you take it out of the box, remove the cap, press down on the locking lever, and place it in the center of your vehicle. You'll want the vehicle to be on, windows up, and the fan on high with recirculating air. You leave it for 15 minutes, then open the car back up for about 10–15 more minutes.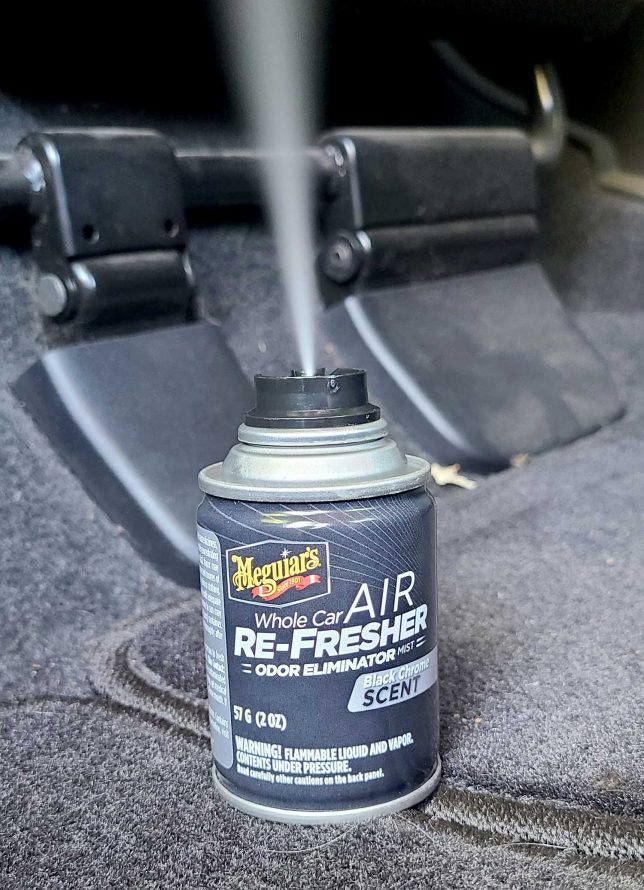 Well, I did this. It made me think of what a bug bomb would be like. The scent? Strong. Granted, I was using this in a subcompact Toyota Yaris, but—whew!—that's a lot of scent; not unlike a high school boy putting on too much cologne. We let the car air out for a few hours vs. just 15 minutes. And the aroma? Hard to pinpoint. I would say a bit like some form of Axe body spray or similar. If that's your thing, you might love it. The good news is there are 7 different scents if Black Chrome isn't for you.
A couple weeks after deploying the scent, I can still tell its there for sure. It's not nearly as overpowering anymore, either. But the hotter it gets outside, the more fragrant this seems to become. Of all the Meguiar's car care products sent, this is the one that I'm not 100% sold on—at least for me.
Ultimate Insane Shine Foam, High Gloss, Long-Lasting Tire Foam
I am not a tire shine guy. I like the look of a clean tire, but not one that looks like it's dripping with oil. Of all the Meguiar's car care products that were sent, I was hesitant to use this product, especially with a name like Ultimate Insane Shine Foam. I was doubly hesitant to put it on our van's all-terrain tires, which I rarely clean anyway. So I figured I'd put it on both the van's BFGoodrich KO2 tires as well as our Yaris' old, soon-to-be-replaced Coopers.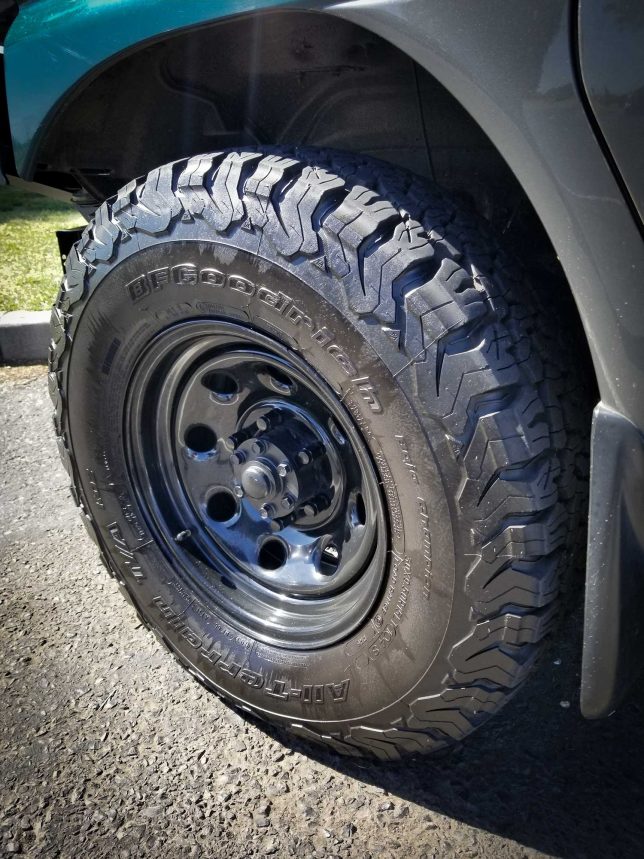 The product goes on easily, simply. It says you don't have to do anything other than spray it and walk away. So I did just that. When I came back, the tires were super shiny and a little bit uneven in their coating of gloss. I reached for another microfiber towel and decided to try to even it out. Maybe this would dull the shine, too. Well, it did spread the shine out, but it didn't dull it much. This was the case on both the van and the Yaris. I can live with the shine a bit more with our on-road car compared to our van. Also of note: after driving the first time, the centrifugal force made the tire shine spread out from the center. You may need to really wipe any excess off to prevent this. (See above)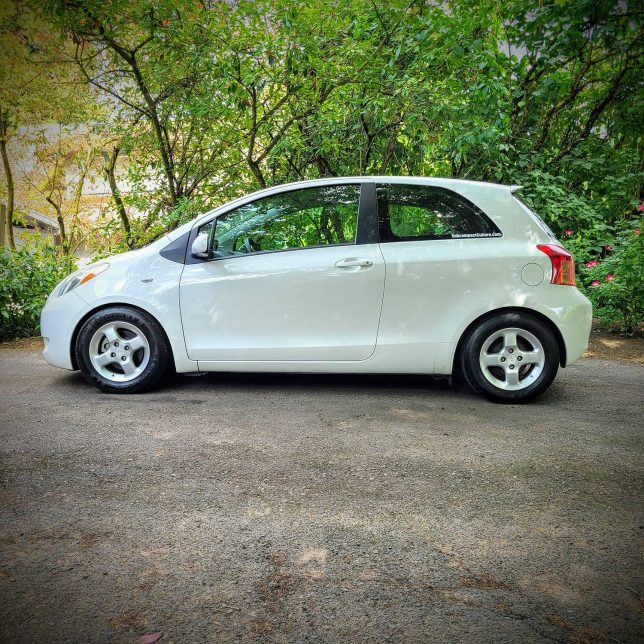 Now, if shine is your thing, you'll love this stuff. It lasts a long, long time. I even met a co-worker for coffee a few days after applying the shine. She, who isn't a raging car geek like I am, commented out of the blue, "Wow, your tires are really clean." Yes. Yes they are.
Hybrid Ceramic Quik Clay Kit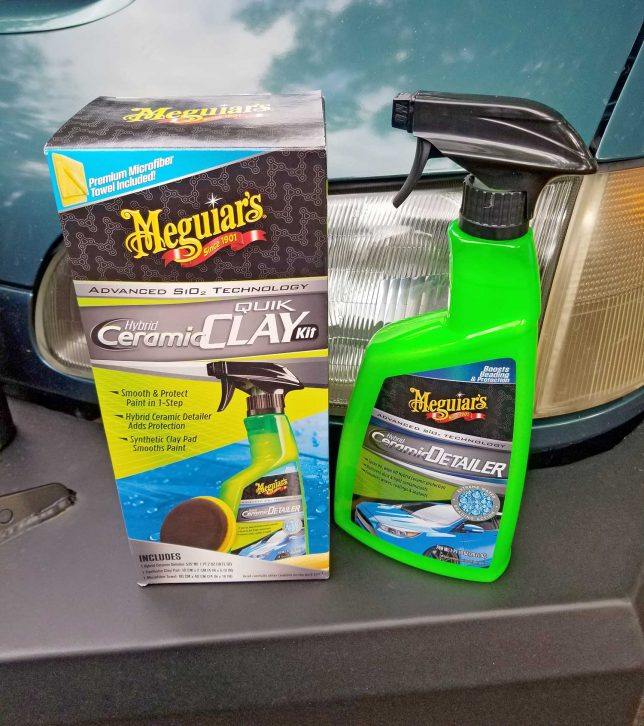 Finally, Meguiar's sent their Hybrid Ceramic Quick Clay Kit. Having used clay kits from other companies, I love the results they deliver. The Meguiar's variant is simpler than others, however. It doesn't actually include a bar of clay. Rather, you get a special pad with a unique "synthetic clay" backing on it. This is the "clay." The kit also comes with a bottle of the aforementioned Hybrid Ceramic Detailer.
Meguiar's says the kit will remove contaminants from your paint and smooths it, too. They also give you a microfiber towel to wipe away any leftover detailer.
I used this kit for a few spots on our van that needed some attention. On the plus side, there's no actual bar of clay to deal with. Just spray the area to be detailed, spray the "clay"-backed pad, and use minimal to moderate pressure. You'll get a very smooth, glassy result.
However, a few times the clay pad left residue. This was usually when it hit a dry spot. It happened a few times. You really need to keep the areas to be detailed lubricated with the spray. I had to touch up several areas that left residue. For the areas that didn't leave the clay behind, the finish was glossy and glassy. There doesn't appear to be any reason to re-wax these areas. The instructions make no mention of this. It may be because of the Hybrid Ceramic Detailer it comes with.
Meguiar's car care products were sent to us at no cost in exchange for an honest review.