Since the pandemic, I haven't flown a lot. I used to fly all the time, but thanks to the Covid-19 thing and a back injury that sidelined me in 2021 and part of 2022, most of my travel has been on four wheels. But last November, I had to fly to the '22 SEMA Show in Las Vegas—only the fourth flight since January of 2020. Frankly, it felt amazing to be back at an airport.
As I walked through the terminal, a rush of catharsis flushed through my body. It had been months since flying last, and it was the first time flying solo in years. Despite my better half being in the airport, she was in another terminal that no longer connected to mine. So close, so far. But we would be reunited upon arrival in the Vegas. Such is the life of frugal travelers.
The hum and whir of airport vendor kiosks filled the tranquil morning with possibility. At 4:30am, it's still sparsely occupied, and I find that brings a sense of calm, which I wrote about in a piece called Airports and Tranquility back in 2018. Despite the fact I'm flying to the busiest trade show of the year, the second largest in Las Vegas, my pre-show jitters are null even though I'm sipping on strong coffee. 
I'm accustomed to a sense of wanderlust, but returning to the airport for the first time since February 2022—only the fourth air travel venture since the Covid outbreak of 2020—was different. I was inundated with that travel itch. I longed to know where others' final destinations were. Who was traveling the farthest today? When can I get on a plane and actually go somewhere I want to go vs have to go? My wanderlust and travel itch were in full effect.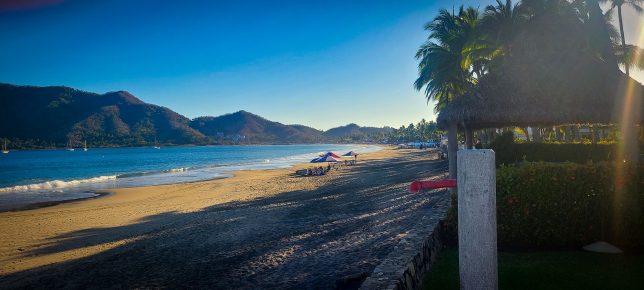 Traveling solo, especially early in the morning, always seems to trip my travel trigger. My mind swirled with the possibilities of international travel again. Mexico, Germany, Japan, Iceland, New Zealand, and Australia all come to mind. When can we go next? How do we make it happen again?
Alas, my final destination this time was Sin City on Halloween, not exactly my cup of tea. This is my 16th trip to the desert facade since 2006, and I like it less each time. But being at the Portland airport stoked my travel fantasies and invigorated me like a double shot of freshly brewed hope. I longed for the road; I pined for the skies. I couldn't help but think about being somewhere fantastical creating new memories and travel stories. 
That next big trip can't come soon enough. We'll head to Mexico again this spring to visit family, bob around in the ocean, and drink margaritas and Modelo in the sun. Can I leave now?
But there's just something about airports that give me hope, invigoration, and helps to keep me wondering where we'll go next—by plane or by car.