Our goal with our Crosstrek was to add just a bit more capability to it. We want to hop in it and go pretty much anywhere we want (within reason). So after we added the 15×7 Reika Seeker wheels and 215/75/15 BFGoodrich KO2 tires, we added a light bar, lights, and armor to our 2022 Subaru Crosstrek. You can see how we did this in our Subaru Crosstrek video above.
In this video I install a Rally Innovations light bar, Lightforce Venom LED driving lights, and a Primitive Racing front skid plate, mid, and rear skid plate on what was, at the time, the coldest day of the year (of course).
Rally Innovations is one of the best names in aftermarket light mounts for Subarus as well as a host of other brands. The California-based company offers a couple of options for the Crosstrek and we opted for its Rally Light Bar. It's cinch to install and is super stout when installed.
We knew we'd stick with Australian-made Lightforce when it came to our LED lighting choice. After all, we've got them on our 1991 Mitsubishi Pajero, our 1992 Pajero, our 1994 Delica, and used them on our Alcan 5000 2022 Subaru Outback Wilderness, too. The Venoms were the perfect size for the Rally Innovations bar and provide gobs of light when we need it most.
Finally, we installed the full array of Primitive Racing Subaru Crosstrek skid plates: front, mid, and rear. Primitive is the name when it comes to underbody protection for Subarus, plus they're about 10 minutes from our house in Oregon, and it's always great to buy local. Their armor is precision-made and installs easily.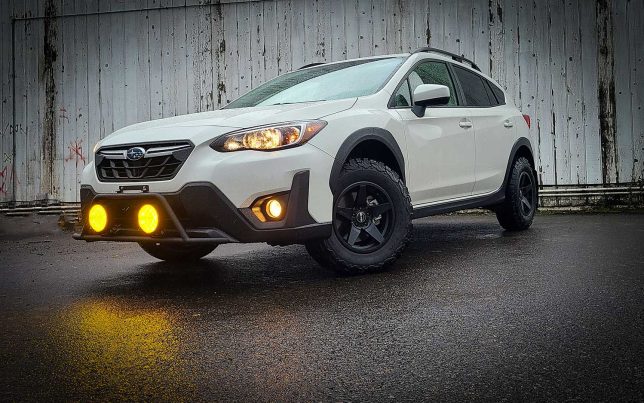 The end result is the ultimate Cross Country Crosstrek, as I wrote about at GearJunkie. Anyway, now watch the video!