I'm a hopeless wheel and tire junkie. I absolutely love what a great set of wheels and tires can do to a car's appearance. And, of course, we knew our Crosstrek would end up with a good set of rollers and shoes.
Before making our selection, I did a bunch of research on which way we'd go with our car's rolling stock. Mercedes and I were not fans of the OE-style wheels and knew we'd replace them. We also knew we'd go with a more aggressive tire. But did we want to stick with the original 17" size, or do the low-offset 15" wheel? Maybe we'd go 16" and split the difference.
Then it was time for tires. How aggressive of a tire do we want on a Crosstrek that'll see mainly snow and dirt roads? Mud terrains look amazing, but they're loud and we sure don't need the capability. There are also a host of all-weather tires out there like the kind we had on our CR-V for a while.
Reika Vehicle Solutions and Overland Expo – West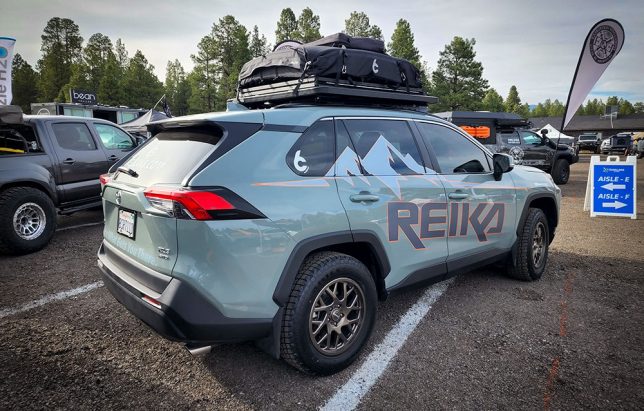 While walking the show at Overland Expo – West in Flagstaff, AZ with Mercedes, this year we happened upon a new company called Reika Vehicle Solutions. They were showcasing their lineup of wheels, which happens to include a slew of Subaru fitments. When it comes to wheels, I like minimalistic, simple designs that are easy to clean and easy to touch up. I saw their Seeker R15—a lightweight, simple five-spoke design—and thought, if we go with 15s, that's the way to go. By the way, the Reika brand may be new, but its parent company, Factory Reproductions, has been making wheels for over 20 years.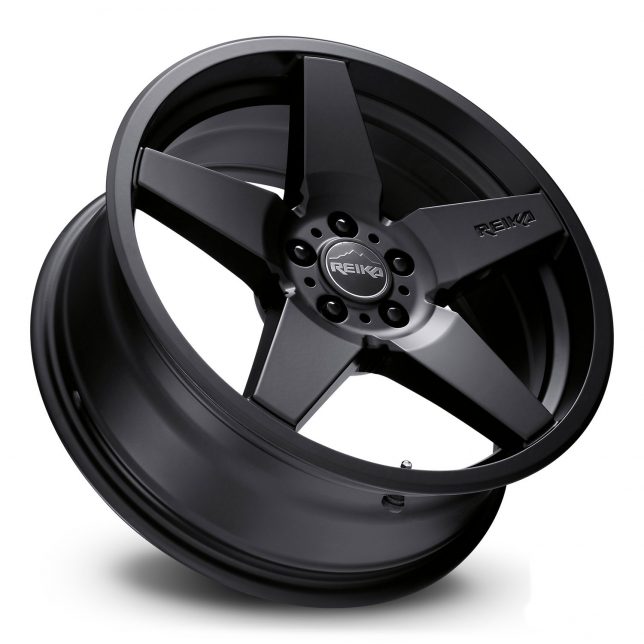 So the debate went back to wheel size. Frankly, we loved the look of the low-offset 15s, but worried they might kick up too much dirt and gravel and end up rashing the body. But we happened to check out a few Crosstreks at Overland Expo – West with the 15", +15 ET setup and decided that's the way we wanted to go. We contacted Reika and received a set.
Back to BFGoodrich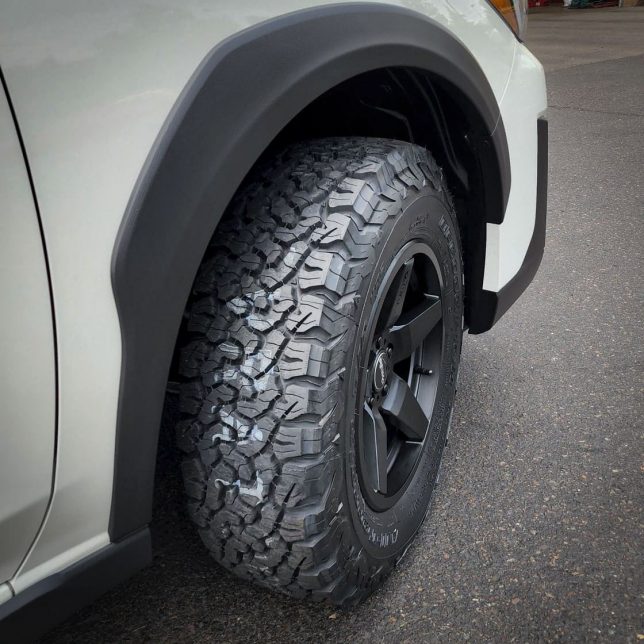 We're unabashedly BFGoodrich fans. They've always performed well for us, the KO2 and KM3 (mud terrains) work excellently, and BFG does a lot to support the off-road community, too. So when it came time to shod the Reika Seeker wheels, that's where we turned.
Our goal with our Crosstrek has always been to turn it into the ultimate go-everywhere, all-weather, cross-country-ready car. We didn't want to go up a tire size, as we wanted to preserve drivability, fuel economy, and performance. We considered BFGoodrich's new Trail-Terrain, which isn't as aggressive as the KO2, but they were not available in the size we wanted. Instead, we went back to the steadfast All-Terrain T/A KO2 tires in a 215/75/15 size.
A Weighty Decision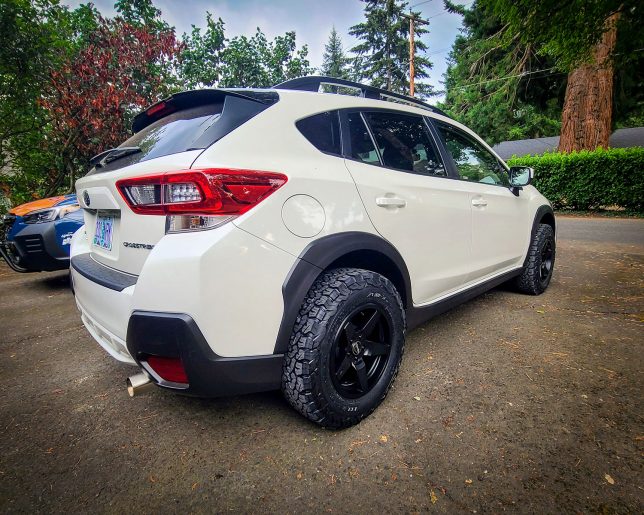 There's been a lot of talk about not throwing tons of added weight onto Subarus. And one place where weight can affect performance is in the wheels and tires. You throw heavy wheels with extra-heavy all- or mud-terrain tires on it and you'll not only gain weight, but you can change the driving and performance characteristics.
One thing I love about the Reika Seeker wheel, is they only weigh 15.4 lbs. per corner. By comparison, the stock 17" wheel weighs about 21 lbs. The BFGoodrich KO2 in a 215/75/15 weighs a hefty 34 lbs., whereas the factory 225/60/17 Yokohama Geolandar G91F weighs 25 lbs. So the Reika/BFG setup weighs in at 49.4 lbs. per wheel and tire, whereas the original setup is 46 lbs. So while the new setup is heavier, it's not much heavier—just 3.4 lbs. per wheel/tire. By comparison, we've seen some 15" aftermarket wheels weighing in over 20 lbs., which would make the wheel/tire combo quite weighty. Our Reika Seeker / BFG KO2 setup at least keeps the weight in the ballpark of factory spec. We also transferred over the factory TPMS and added some black lug nuts.
Mind Your (Road) Manners
I've long wondered what a car on all-terrains would handle like. Granted, the Crosstrek's suspension is still bone-stock, but I was curious if the fat-sidewalled KO2s would be like driving on sidewalls made of gelatin, or if it'd be amicable.
First things first, the KO2s are louder than stock. We expected this, as we have KO2s on our Mitsubishi Delica. It's likely that less aggressive tires, perhaps the Yokohama Geolandar A/T G015 would be quieter. However, they didn't provide the rugged look we wanted. So yes, we're trading style for sound, and we're OK with that. (After all, we have the Nameless exhaust on there anyway.)
Handling wasn't as compromised as I thought it'd be. While I haven't exactly had a track day with these BFGs (nor do I plan to), on- and off-ramp curves haven't yielded massive loss of grip on pavement in everyday driving. The KO2s have a pretty stiff sidewall anyhow. And I know 100% that the off-pavement and snow traction will be far superior to the OE Yokohamas. We just also installed a set of Rally Armor mudflaps we bought at Primitive Racing that'll go on to help protect the paint and wheel arch plastic, by the way.
Mean Look, Improved Traction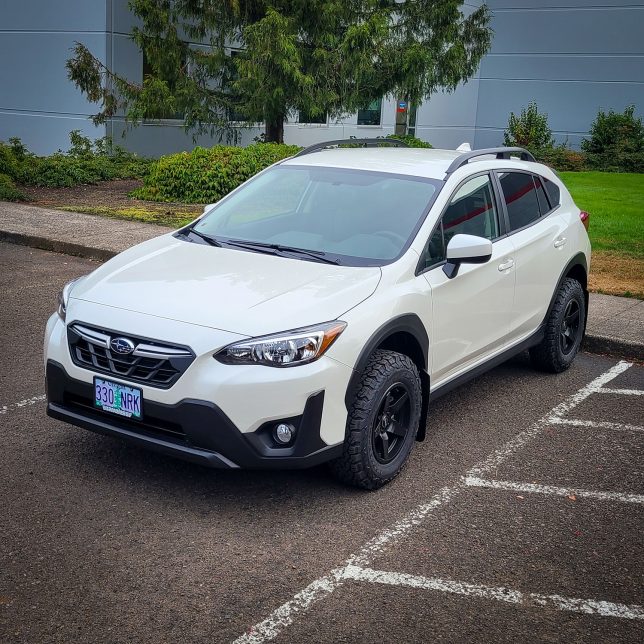 The Reika Seekers have just a bit of a concave dish to them, which looks great. They poke out the right amount for us, too. The KO2's aggressive looks make our cross-country Crosstrek look aggressive. One of the workers at the tire shop said the car was "beautiful" and was wondering if we were interested in selling it! Hey, we just crossed over 1,000 miles on it, so not a chance! But we appreciated the compliment.
The all-terrain tires will be great on dirt roads or in the snow. These tires are 3PMS (3 Peak Mountain Snowflake) rated, so they'll be an improvement over the OE tires in winter driving conditions.
We just love the look. It transformed the Crosstrek's everyday demeanor to a rugged sporty style, and with added function. And with a total weight increase of just 13.6 lbs. overall, it doesn't tip the scales.
The combination of Reika Seeker and BFGoodrich KO2s is a winner in our book.
Reika Vehicle Solutions and BFGoodrich supplied the wheels and tires, respectively, for this build.