Imagine if you will, a parallel universe where Mitsubishi vehicles, specifically the Eclipse Cross and Outlander PHEV, are some of the most popular cars on the roads. They're like every fifth vehicle! While a lot of them are rental cars catering to the masses of tourists on the Nordic island, needless to say, Mitsubishi cars are popular in Iceland.
Mitsubishi isn't the best-selling brand in Iceland at the moment, but its presence is wholly noted by anyone interested in cars. Whereas the brand has a small market share in North America these days, Eclipse Crosses and Outlanders—mostly the PHEV variants of both—are everywhere. We even saw a few Mirages buzzing around.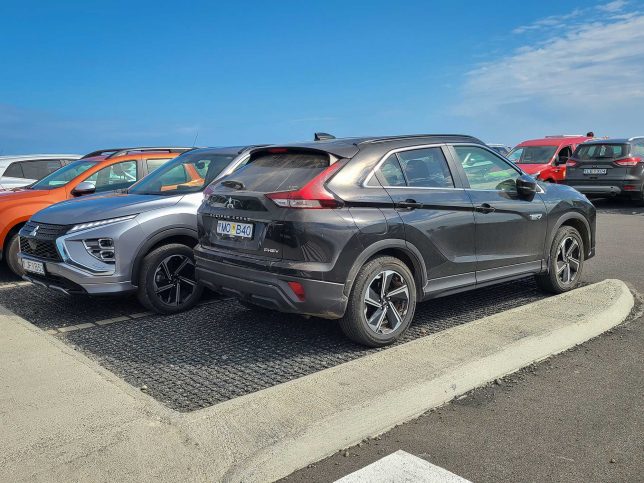 So what is the best-selling car in Iceland?
Toyota is the best-selling make in Iceland and has been for a while. In June of 2023, Tesla was in the No. 2 spot, followed by Dacia according to Best Selling Cars Blog. However, the Tesla Model Y is now the best-selling model in the country, surpassing the previous yearly figure set by the Toyota Corolla in 1988.
According to an article in Iceland Review, EVs are the most popular type of vehicle now, accounting for nearly 40% of all cars sold. Electric hybrids and plug-in hybrid cars accounted for 75% of the total of new cars sold in 2023. With that being said, the Eclipse Cross was the best-selling model in parts of 2022. Try as I might, I couldn't find Mitsubishi sales numbers broken out for Iceland specifically.
To put things in perspective, Icelanders bought just 16,682 new cars in 2022 for the entire year—an increase of 30.4% vs. 2021. Remember, this country only has about 373,000 residents. But that increase was the biggest jump in Europe in 2022 according to Best Selling Cars Blog. If you were curious, the U.S. sold 13.75 million new cars and light trucks in 2022. Granted, the U.S.'s population is nearly 900 times larger than Iceland's (338,289,857).
One thing is for sure: Newer Mitsubishi cars are popular in Iceland, at least per captia. By the way, Icelanders love their old Pajeros—we saw lots of them!