Each year, a host of attendees at the NW Overland Rally in Plain, Washington participate in the Trophy Challenge. This is a lighthearted competition that mixes semi-precision driving and Nerf gun shooting! Go too fast, get disqualified. But if you complete the course above the set time and shoot some cups with the Nerf gun, you could be crowned the winner! I put together this video from the 2023 NW Overland Rally Trophy Challenge for you, so enjoy!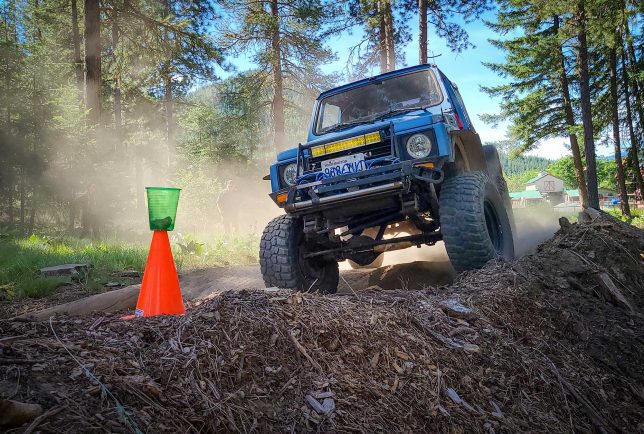 There are rules. Again, go past the master time, and get disqualified. Also, only either the driver or passenger can shoot the targets. Occupants also much be belted in at all times, so no crawling to the outside of the rig for better aim. Speaking of, the Nerf guns are notoriously inaccurate, so you probably have a 50-percent chance of hitting anything even with dead-on aim. But hey, you can't win if you don't play. There is generally a good prize for the winner, and everyone has an awesome time regardless of the final standings.
The NW Overland Rally is literally one of the best events out there. I've been to every one since 2011. The Trophy Challenge is the event's icing on the cake. (I made a video from the 2022 NW Overland Rally, too.) Heck, I'd go for a weekend of just the Trophy Challenge. FYI, they also do this at the BC Overland Rally, and we took our old 1989 Delica through that course.
While I don't suspect organizers, Ray and Marianne Hyland will do that, the Challenge is a great way to end a superbly fun, educational, and inclusive event. For the 2023 NW Overland Rally Trophy Challenge, we placed 9th out of 16 entries in our Delica Space Gear — a respectable finish — and we've won in the past. But it's not about winning. The whole thing is simply a blast.