Every now and then a car comes out that has a ton of hype built around it. Once and a while, it lives up to the hullabaloo. The Toyota Corolla GR is one such case. So when I was asked if I'd like Toyota Corolla GR Review vehicle, the answer was easy.
The hype surrounding it is understandable. In a world where small fun-to-drive hatchbacks are all but dead, Toyota flew in the face of the hot-hatch extinction-level event and hit the pavement with a boosted three-cylinder engine mated to a six-speed manual. and sent 300 horsepower to all four wheels. As if that wasn't enough, Toyota added a wide body package, limited-slip differentials, and not one, not two, but three tailpipes. And not only that, they did it really well.
Fast + Racy = Corolla GR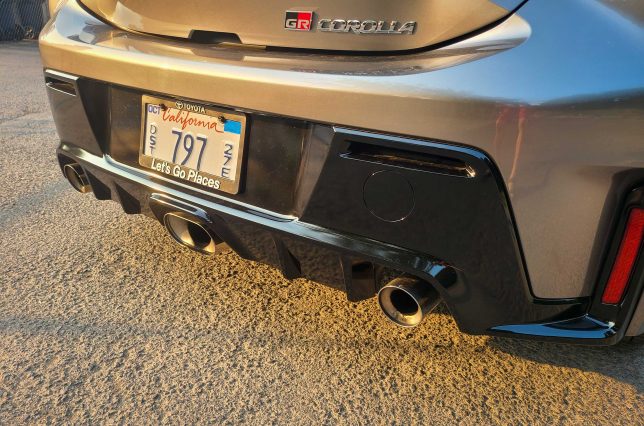 The terms "fast" and "racy" haven't been paired with the word "Corolla" in eons. In the early 2000s, you could get a hotter Corolla XRS with the VVT-Li-equipped (think Toyota VTEC) 2ZZ engine out of the Celica with a 6MT, but you had to rev it past the stratosphere to get it to perform. It also nearly buzzed the cabin apart. There were the old 4AGE-powered RWD drift sweethearts from the 1980s, but they weren't at all comparable to Toyota's fire-breathing GR. And while the current XSE is sporty, the GR is a beast.
Offered in three variants, GR, hotter GR Circuit, or scorching hot GR Morizo,, our tester was the Circuit version, complete with double-vented hood.
Rally Car Looks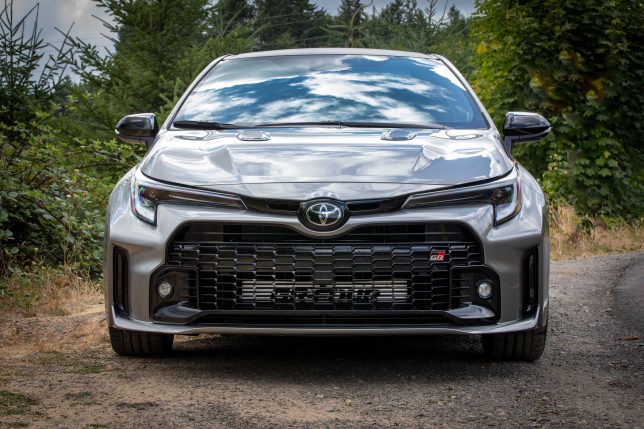 One look and it's apparent the Corolla GR is all business. Bulging fenders house black wheels with big slotted brakes and bright red calipers. A sizable roof spoiler adorns the hatch's top while a diffuser with three exhaust tips pokes from the back. A toothy grin sports a front-mounted intercooler surrounded by a unique bumper. There are sweeping side skirts and functional hood and fender vents. The muscular stance looks track-ready. And frankly, it is.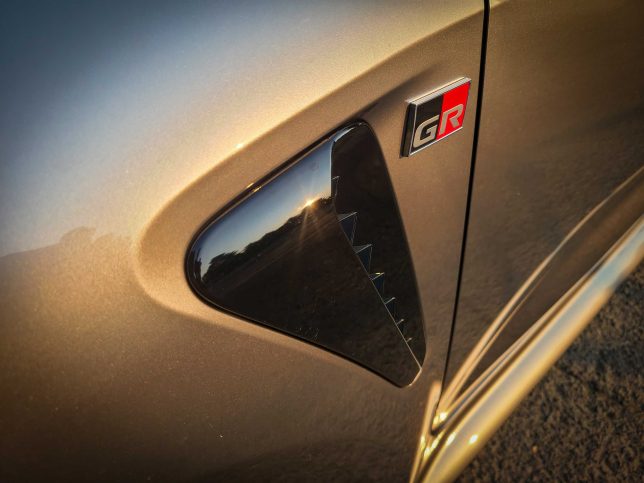 ---
CRANKSHAFT CULTURE CHECKLIST
Off-Road Ability (1-5): 2
On-Road Ability (1-5): 5
Can You Easily Lift or Lower It: Lower, maybe lift (rally?)
Would We Drive Cross Country: Likely.
Would You Drive it to Alaska: Maybe.
Aftermarket Support (1-5): Will likely be a 4
Spirit Animal: Wolverine — A muscular carnivore; solitary, ferocious, and very quick.
---
Corolla GR Interior = More Sporty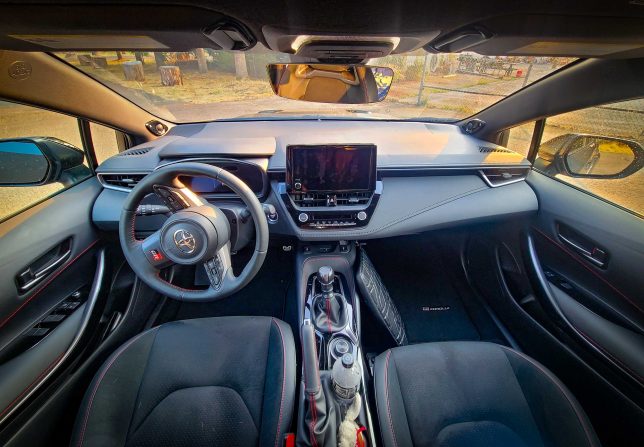 Inside the Corolla GR Circuit, you'll find highly bolstered front seats. They're not so sculpted as to hamper ingress and egress, but they're going to hold your ass in the twisties. The gauge cluster is configurable and has the ability for a bar-style tachometer and a big in-your-face gear selector indicator. That indicator will flash as you get toward redline as if it's screaming SHIFT!!! There's also a telemetry readout showing just how many g-forces you're pulling in any direction.
The rest of the interior is similar to any other Corolla, which isn't bad, but not exciting. The seating position is low but not uncomfortable, outward vision is fine. Of course, being a hatchback, you're afforded the ability to haul good amounts of stuff, especially with the back seat folded down; 36.6 ft³ to be exact—about 2 ft³ more than a VW Golf.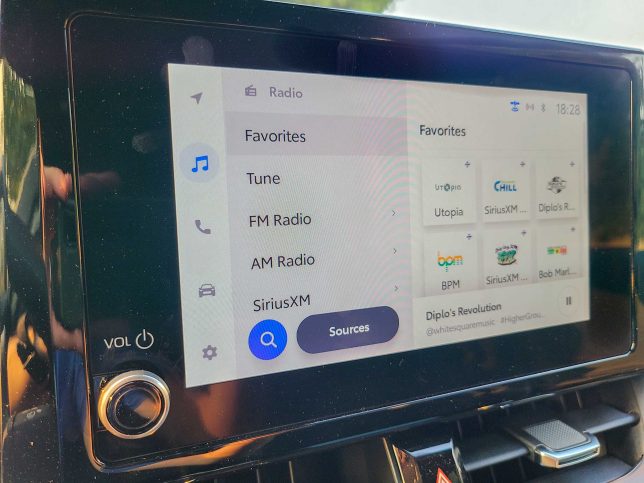 The JBL stereo is also very excellent. It's loud, has crisp highs, and great bass. It's a worthy system for the Corolla GR. Our time with the car was marked by heavy wildfire smoke, and we had the A/C on much of the way because of it. The HVAC was easy to use. I found Android Auto to be cumbersome, however. Switching from Sirius XM to the map, etc. wasn't easy to do while on the fly. A minor, but noticeable gripe. My only other gripe is the loads of piano black that show every spec of dust, smudge, and scratch. Corolla GR is one of many cars with this, and it's annoying.
A Dying Breed
The only semi-affordable hot hatchbacks left are the Honda Civic Si and Type R, Hyundai Kona N, the MINI Cooper variants, and the VW GTI models. You could argue the Mazda 3 with the 2.5 turbo counts. U.S. News & World Report also says the Chevrolet Bolt EUV counts. But every other tarted-up compact has a trunk. I'm looking at you Subaru WRX, Hyundai Elantra N … and everything else. Remember: Hyundai Veloster N and Ford Focus RS are dead.
The Corolla GR Circuit Driving Experience: Wicked Fun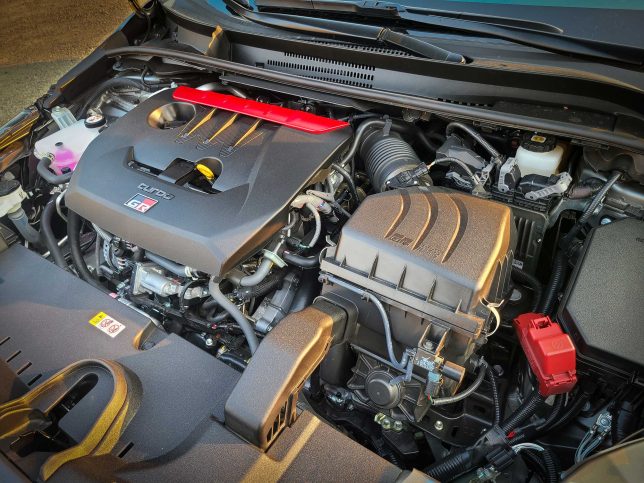 Corolla GR has a 1.6-liter G16E-GTS boosted three-banger under the hood generating a manic 100 hp per cylinder and twisting out 273 lb-ft of torque. Fire it up and it has a unique sound; a distinct growl that's different than a four-cylinder.
Give it the beans, and you're rewarded with significant thrust. The sound is good but not overly loud. Shifts are short and gates are well defined. Sixty MPH comes quickly as there is zero wheelspin from the AWD system. Toyota claims 0-60 in 4.99 seconds and I believe it. The car employs Toyota's iMT "intelligent manual transmission" system to automatically rev-match your downshifting, so going into corners is a smoother affair.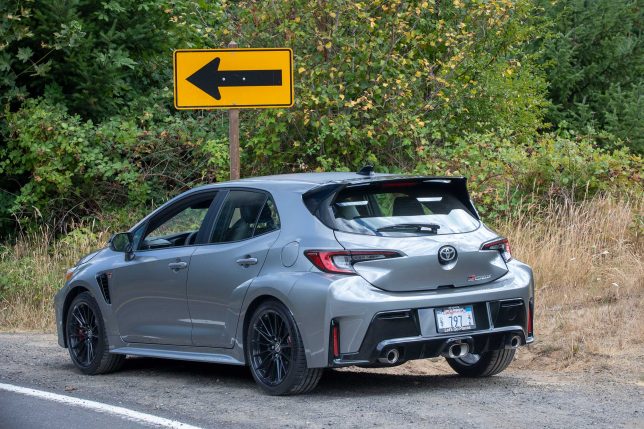 Devours Curves
Speaking of corners, this car doesn't just eat them up, it devours them. I remember driving a Dodge Viper once in the corners. With each curve, it attempted to kill you, as if death to the driver was its life's mission. The Corolla GR, on the other hand, is like that supportive friend who puts their hand on your shoulder and says, "Motherfucker, you got this" every time you enter an apex.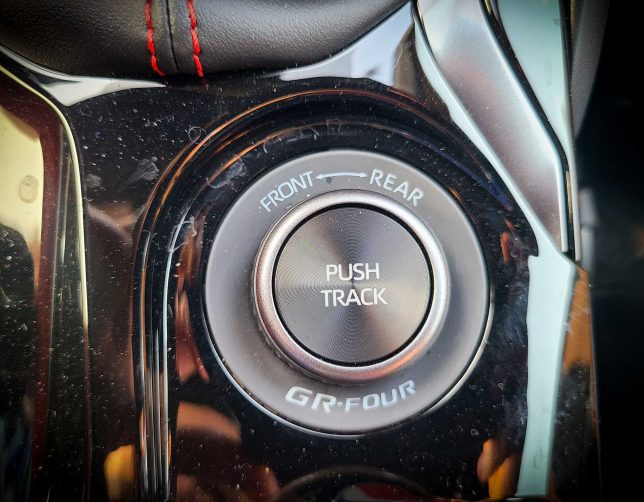 Throw the car into a corner and it simply sticks. To make the car break traction, you need to be on it. And when I mean "on it," I mean you should be on a track. Torsen limited-slip front and rear pull you through the corners as if you were on a high-g roller coaster. You also have the ability to adjust the AWD system to different front-to-back ratios using a dial on the center. Standard is 60/40 front/rear split. Sport mode goes 30/70. There's also a Track mode that goes 50/50.
The big 14″ front and 11.7″ rear brakes do a phenomenal job stopping the 3,285-lb. car. Brake feel is great and the stopping ability is very impressive. This thing stops as good as it accelerates.
On my favorite backroad route, I was hooting and hollering like a Europen rally car fan, but I was inside the car controlling it. To call this car entertaining is like saying WRC rally drivers are just OK at driving on dirt. No, this car is a non-stop joyride when driven enthusiastically.
Lots Of Road Noise, Stiff Ride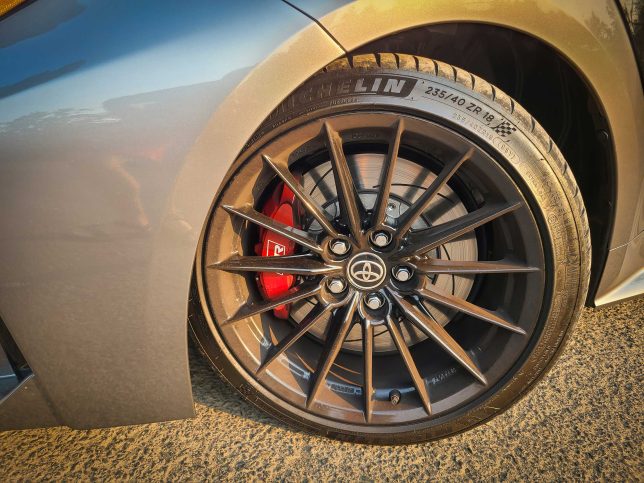 On the highway, the car has copious amounts of road noise, especially on the coarse aggregate freeways of Oregon. We drove it a couple hundred miles from Portland to Roseburg, Oregon, and back and there was significant amounts of drone from the low profile 235/40ZR18 Michelin Pilot Sport 4 tires and stiff suspension. You feel every imperfection in the pavement; every crack and bump. But this isn't designed to be a grand tourer. It's a canyon carver; a sprinter. Still, the adaptive cruise works as it should, and there is never a shortage of passing power. The biggest challenge may simply be keeping it from exceeding posted speed limits.
Overall: The Toyota Corolla GR Is A Future Icon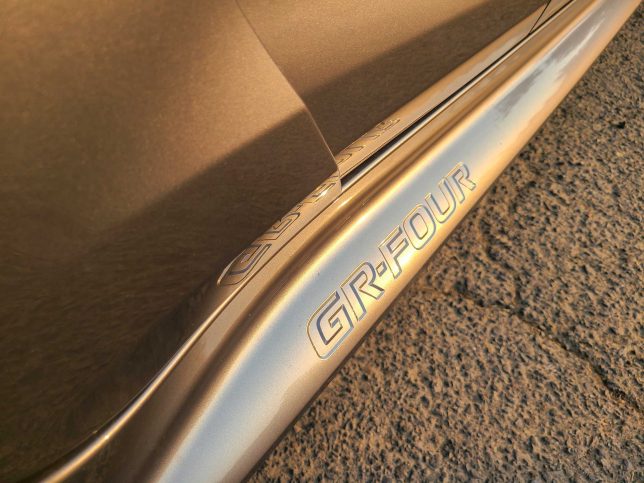 From nearly every angle the Corolla GR looks ready to pounce. It reminds me of the old Celica "looks fast" ad campaign. Of course, the Corolla GR actually is fast. Other motorists who knew what it was were eager to give a thumbs-up. I got several during the week with it. In some respects, it was like driving an exotic car. It was fast, racy, and rare as only a limited amount were produced, with many dealers asking for sizable mark-ups. Like the old Celica All-Trac, this car is likely going to be an icon for the brand.
Toyota has taken a more aggressive, enthusiast-focused approach to its cars in the last few years. From the GR86 and Supra, to the TRD trucks and even the stoic Carry (0-60 in 5.1 seconds), the brand has taken its reputation for quality and reliability and soaked it in energy drink. While the Supra is faster and higher performance, the Corolla GR hits that hot-hatch sweet spot for me. It smacks of the import-tuner days of the late 1990s and early 2000s when small sporty cars based on cheap cars were my jam. It also keeps alive one of my most heartfelt automotive genres, the hot hatchback.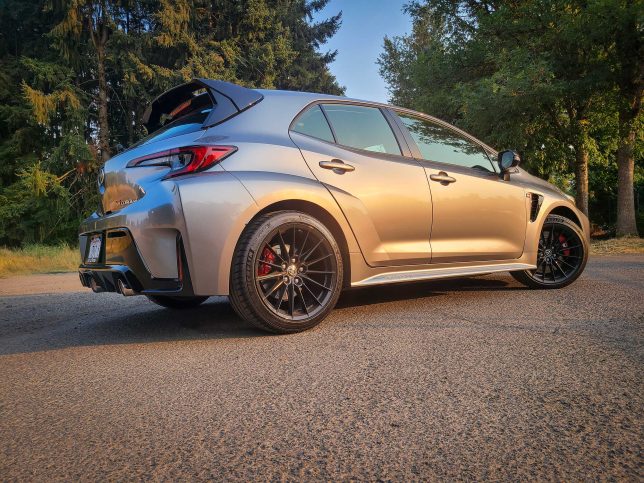 The Corolla GR Circuit starts at $42,900. (by comparison, a Volkswagen Golf R starts at $45,555.) And if you care, the car gets 21 city, 28 highway, and 21 combined MPG. Buyers probably aren't the slightest bit concerned with this, however. After all, no one buys these for the fuel economy. Rather, they buy them because they're like road-legal rally cars; track toys for the streets.
STATS
Price as Tested: $42,900
Engine: 1.6-liter turbocharged and intercooled three-cylinder, 300 hp, 273 lb-ft torque.
Suspension: Fully Independent MacPherson strut (F), double-wishbone multi-link (R)
Brakes: 14″ Disc (F), 11.7″ Disc (R); ABS
Wheels: 18-inch alloy
Tires: 235/40ZR18 Michelin Pilot Sport 4
Towing Capacity: Not rated for towing
Fuel Economy: 21 city, 28 highway, 21 combined MPG
Curb Weight: 3,285
Final Point of Assembly: Toyota, Aichi Japan