The Autopian considered the 2018 BMW 540d xDrive, the last BMW diesel sold in America, as a Holy Grail, despite the 5-series still occupying showroom space at dealerships. BMW announced pricing on the 540d in January 2018, only to kill off all diesels by September. After VW Dieselgate and the rise of electrification, economical diesel passenger vehicles fell out of favor among vehicle buyers.
Not many BMW 540ds made it to the U.S. market and according to a recall notice, only 298 cars are in the U.S. All of BMW's other diesels based on its previous diesel engine, including the 328d, 535d, 740Ld, X3, and X5, made up 50,404 units, according to a different, yet similar recall notice.
Reviews on the 540d were non-existent, except for a few reviews of the European model (530d) in respective publications. Fortunately, I bought one in early 2022 and here are my thoughts on the car.
How Did I Get a BMW 540d?
It's hard to dive into how I ended up with the 540d without a quick background of why I was car shopping at the time. My partner and I were in our 2014 BMW 435i convertible and got t-boned by a BMW X1 that ran a red light, while a Mini Cooper watched at the light in January 2022. We were in the middle of a discussion about buying a BMW Z3 when this all happened, ironically. We loved the 435i so much but managed to walk away and our kids weren't with us. The car was totaled.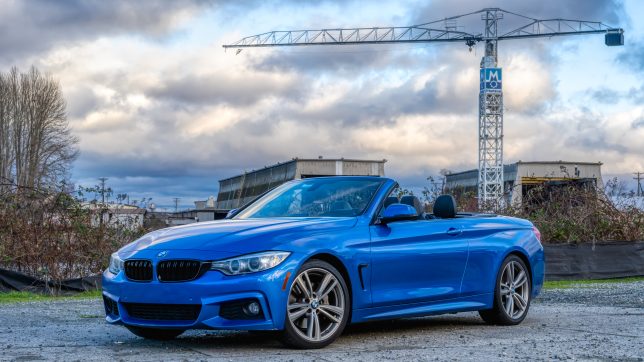 Now if you remember the car market last year, it was awful. Interest rates were low, but vehicle prices were high, so car shopping was a massive headache. We managed to putt around in our Saab 9000 Aero and Suzuki Carry while car shopping. Our original goal was to replace the 435i with another F33 convertible, but a newer 440i convertible. That led to opening our options to the Mercedes C43 AMG convertible, BMW X3M, and way too many cars to remember.
We test-drove a BMW 440i xDrive convertible and it didn't feel the same—our 435i was RWD and felt more responsive and the Drift-Office tuned N55 engine felt better than the stock B58. Neither of us were fans of the Mercedes transmission or interior.
The Search Continued
I was randomly searching local luxury dealerships for inventory of BMW convertibles and stumbled across a recently traded-in 2018 BMW 540d at Infiniti of Bellevue. Like many others, I didn't even know the G30 5-series was ever available with a diesel engine. This piqued my interest, because I love unicorns (my first new car purchase was a 2008 Chevy HHR SS 5MT, I also owned a 2014 Mazda5 6MT, and 1991 Infiniti M30 convertible previously).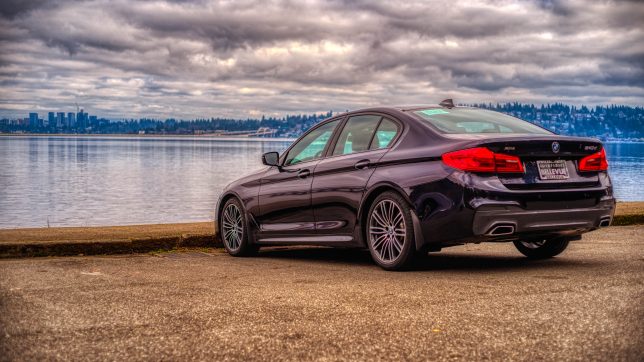 I scheduled a test drive. The dealer warned us the car hadn't even gone through detailing yet—it was a little dirty. I fell in love with the car right away—the low-end torque was hypnotizing, and the interior was excellent especially the 20-way adjustable comfort seats. My partner didn't love it but was OK with it because our kids did not enjoy riding in the backseat of the 435i convertible. We went to lunch after the test drive and I got the OK to buy it, but we'd have to buy another, cheaper convertible, too (ended up with a 2019 Fiat 124 Spider Abarth, a story for another day).
What Is My BMW 540d?
About 90 percent of the car was optioned out how I'd want it new. It's an M Sport car, so it has the nicer bumpers, shadow line trim, the M Sports suspension, M Sport steering wheel, head-up display, Harman Kardon sound system, digital gauge cluster, adaptive LED headlights, 360-degree camera, self-parking, blind-spot monitor, AWD, and most importantly the 20-way adjustable comfort seats. I wished the car was a different color, had adaptive cruise control, and heated rear seats, but Carbon Black is blue/purple-ish under light with fleck, so not exactly black, and those other options I could live without.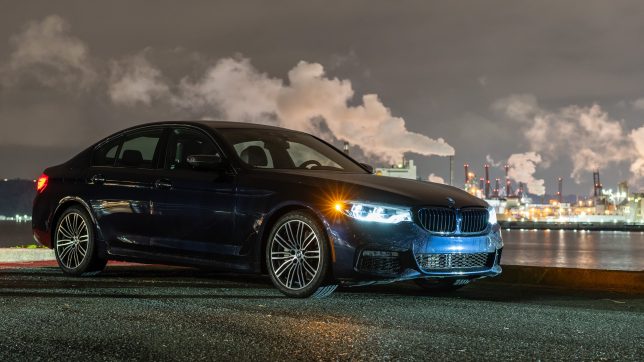 CarFax reported minor damage, which didn't deter me. Turns out, the damage and insurance claim was a broken front driver's window. That's so typical of a Seattle car and nothing to really be concerned about.
It only had around 18,000 miles on the odometer and was still covered under the factory warranty for a few months. It cost me $54,000. That's the most I've ever spent on a car. However, it's a forever car for me that I never plan on getting rid of. FYI the car had an MSRP of about $75,000 new.
My Driving Impressions
I've always loved BMW diesels when I had them as press cars. This included a 535d and 740Ld, during my time as an auto journalist. BMW diesel powertrains are excellent and the latest single-turbo B57 paired with the outstanding ZF 8HP is an enjoyable combination. There is so much low-end torque. The car picks up speed quickly, but you don't feel it, which can become dangerous on open roads. It's hard to tell that you're speeding because the car is so smooth and quiet.
The stock transmission shifting logic isn't so great though. While I love the ZF 8HP in practically every car I've driven, the 540d programming was tuned more for economy and felt laggy, even in sport mode. This was my main annoyance with the car initially. However, xHP has a transmission tune for the 540d and a quick reflash using my phone and an OBDII Ethernet cable solved my annoyances with how it shifted.
Better Handling
Stock handling was OK. Steering responsiveness was on-point for Comfort and Sport modes. Feel was better than my 435i, but not as engaging as my kei truck or the Saab 9000 Aero, expectedly. The car is heavy at 4,209 lbs and there is noticeable body roll. BMW installed Goodyear run-flat tires on 19×8 wheels, which is a horrible combination. The wheels were too narrow and I'm not a fan of run-flat tires.
This was remedied with alloy wheels off a Toyota Supra (19×9.5 front, 19×10.5 rear) with Control Contact SRS+. (Discount Tire exclusive version of the Extreme Contact DWS06+.) The upgrade improved steering feel and response immensely. There's still noticeable body roll, but that'll eventually get addressed with thicker sway bars and F90 M5 body-bracing.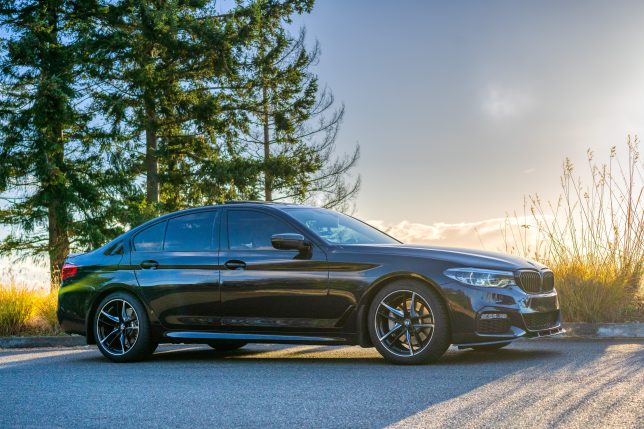 A Big BMW
The BMW 5-series is not a small car. In fact, it's about the same length as my previous 2004 Dodge Durango so there's plenty of interior space. I cannot rave about the 20-way comfort seats enough. The number of adjustments available lets you contour it to your body perfectly and the Nappa leather is supple. There's plenty of room in the back for the kids, too. We took the car on a 3,400-mile road trip through Oregon, Idaho, Utah, Colorado, New Mexico, and Arizona for Spring Break and enjoyed it. Our kids complained about their butts hurting at times, but they had tray tables and in-car Wi-Fi throughout the entire road trip.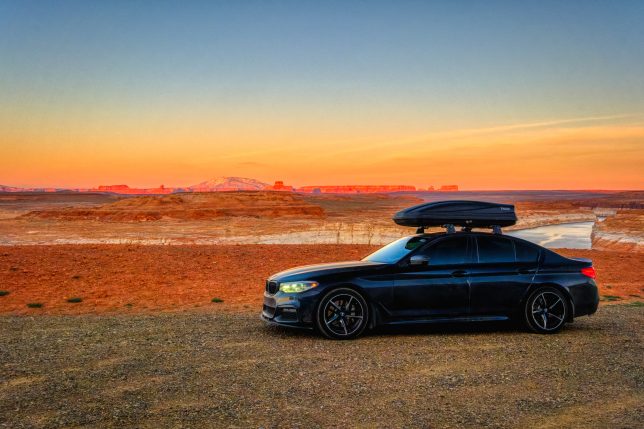 Trunk space is highly dependent on whether I want to keep the spare tire in the trunk. The factory spare tire occupies a lot of height. However, I wanted it in case of emergencies during the road trip. I don't generally keep it in the car for daily driving.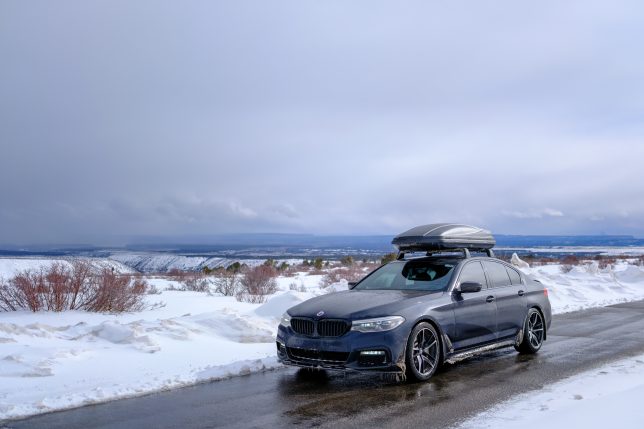 Now you're probably wondering about fuel economy. The average for that entire Spring Break Road trip was 28-29mpg. But wait, the EPA rates the car for 26/36/30 for city, highway, and combined economy, why is it so low? The answer is that we had a Thule roof box on top of the car the whole time. That plus going at speeds of 80 mph doesn't help fuel economy. The best fuel economy I've seen from the car is 40-43mpg driving out to the beach in Eco Pro mode with the cruise control set. I never exceeded 70 mph. My typical fuel economy without the roof box was 34-36 mpg on the highway. Since I keep a roof box on it permanently, I'm content with the 28-29 mpg.
MODS & UPGRADES
I'm not one to leave a car alone so the 540d did receive a couple of minor interior upgrades. This includes some 7-series buttons and switchgear, like light switches with rear foglight button, touch panel climate control, push-button start button, and electric parking brake button. I also added a ceramic iDrive controller and memory seat buttons. I went with the 7-series buttons because I like the silver buttons better than the black ones of the 5-series.
I added a "gentleman switch" when I swapped out the memory seat buttons. I can now control the passenger seat adjustments from the driver seat with the press of the button. I also added some exterior upgrades. This includes factory-molded mudflaps (a must-have in the PNW) and a fake carbon fiber front lip. (I wanted to see how much I scrape it before going real CF.) I also installed a rear diffuser, spoiler, window tint, and the 50th Anniversary BMW badges.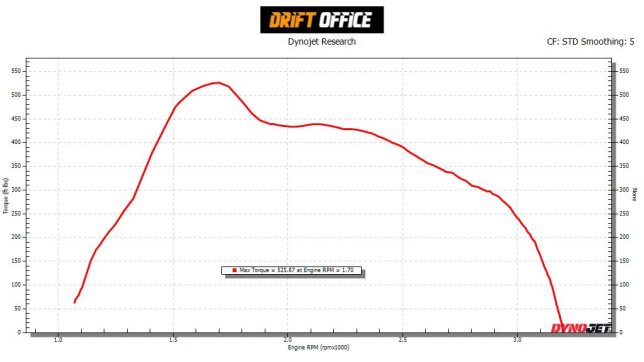 It's not all show and no go, because the most recent mod is a stage 1 reflash from DUDMD Tuning. The stock car was rated at 261hp and 457lb-ft of torque at the crank. The reflash bumps power to 277hp and 525lb-ft of torque at the wheels. This noticeably and brings the power up to levels of the real twin-turbo 540d that Europe gets.
FINAL THOUGHTS
After over 20K miles, and a year and a half of ownership, I absolutely love this car. It'll be one of my forever cars. It's not the fastest or the most engaging, but BMW managed to create something that balances performance and economy in a very comfortable car. It's perfect for a daily and long road trip. It's a vehicle that complements our other vehicles, like our 1993 Suzuki Carry and 2019 Fiat 124 Spider Abarth.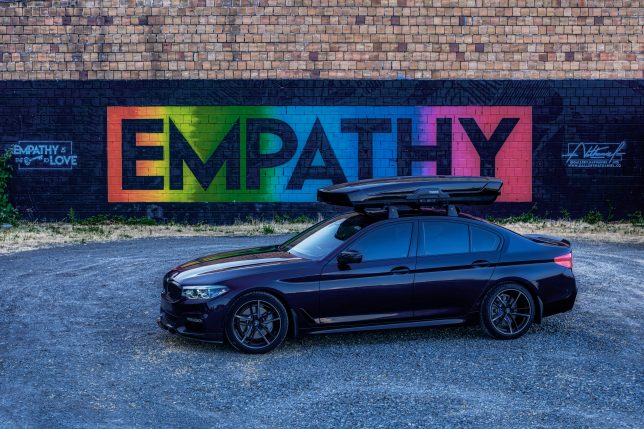 The car does exactly what I want it to do. I'm not looking for racecar driving dynamics or the steering feel and discomfort of a race car. The Kei truck with its cab over form factor. It has a mid-engine, is RWD-based, has direct steering, and its lack of power steering provides me with that raw driving sensation that I want while being able to drive it at its limits on the road. I don't want that in a daily driver. The 540d checks all the boxes for me and I highly recommend driving one.
The only thing that would make this better is if it had the quad-turbo or tri-turbo B57 from the Europe-only M550d or the left-hand drive Alpina D5s. If anyone has a lead on a front clip down the road, let me know!