Today Mitsubishi Motors teased out a new image of a concept vehicle that will debut at the Japan Mobility Show 2023, held from October 28 to November 5 in Tokyo. Frankly, this looks like it could be a prototype of a new Delica van concept. Is Mitsubishi teasing a new Delica?
The press release from Mitsubishi Motors's global site (not Mitsubishi Motors North America) shows a boxy vehicle throwing up a dust cloud. Pretty generic. You can't tell if this is a van, SUV, or what it is. They call it a "crossover MPV." Immediately people in the MDOC: Mitsubishi Delica Owners Club Facebook Page called it out as a new Star Wagon. But here's what the official press release states:
Concept Car
The electrified crossover MPV concept car combines the road handling of an SUV with the comfort and user-friendliness of an MPV, with a view toward achieving a carbon-neutral society. Based on the concept of Borderless Adventure, it features a vastly spacious cabin with a sense of openness and offers the cruising range and driving performance to handle all kinds of adventures. Driver can enjoy the exhilarating driving experience of an electrified vehicle, and with the ability to switch driving modes as the situation demands, there are no limits to the destinations it can reach

With a high ground clearance and an electric four-wheel drive system that allows the large-diameter tires to grip the ground and perform exactly as the driver intends, this electrified crossover MPV will be a reliable partner that provides a pleasant driving experience with peace of mind regardless of weather or road conditions, giving drivers the confidence to go one step further than before.
Many of these descriptors certainly sound like a Mitsubishi Delica. Plus it's an MPV, which is usually what other regions refer to as a van-like vehicle. That's all Mitsubishi said, so we'll have to wait until the Mobility Show.
Is Mitsubishi Teasing The New Delica? What we think.
Mitsubishi hasn't given us a ton of details. But we can see that it's very boxy at the rear. You can't see a front end to tell if it's a forward-control or cabover style. But this style of vehicle has been disappearing due to crash safety. Even the Toyota Hiace, a cabover holdout, now has a hood. But that bar thing at the front reminds me of the mirrors on our old Delica Star Wagon (L300), aka, the Space Tractor. See below: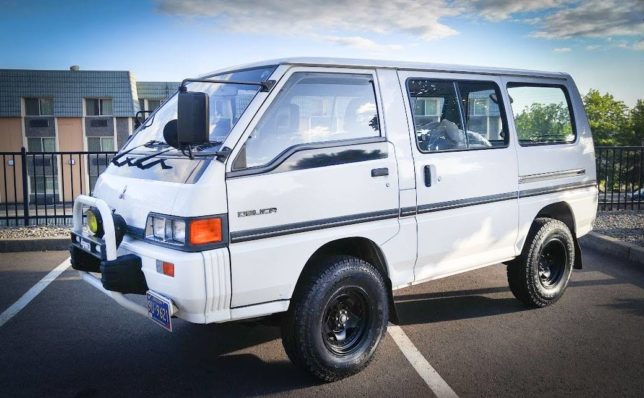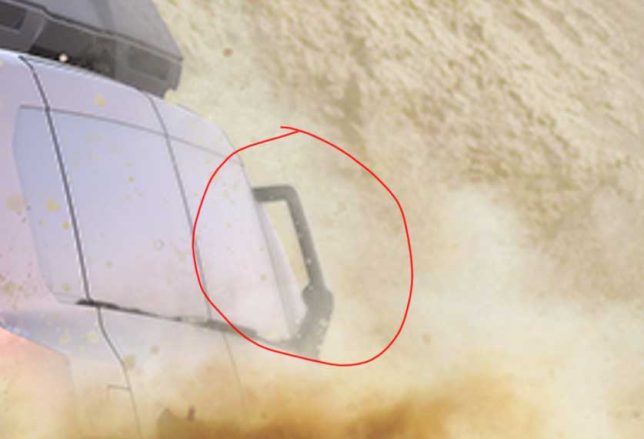 If we zoom in, we can see an area right behind the right-side door (below). Is this a fuel door, a charge port, or perhaps a track for a sliding door? Delicas have sliding doors, I'm just sayin'.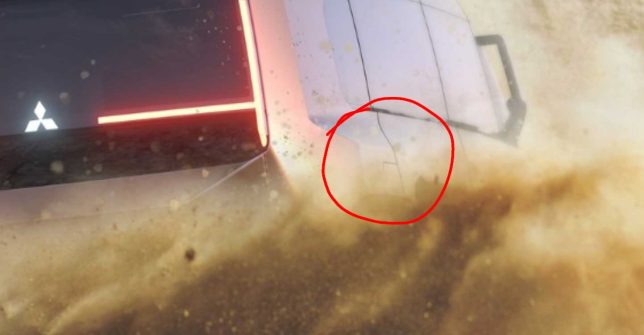 We know it'll be electrified, but does that mean a full EV or a PHEV hybrid using the powertrain from the Outlander PHEV? Also, Mitsubishi's description of the vehicle is similar to that of the current Delica D:5 which is a unibody vehicle with some clearance, AWD, and an adventurous spirit. Perhaps this is the next iteration of the Delica.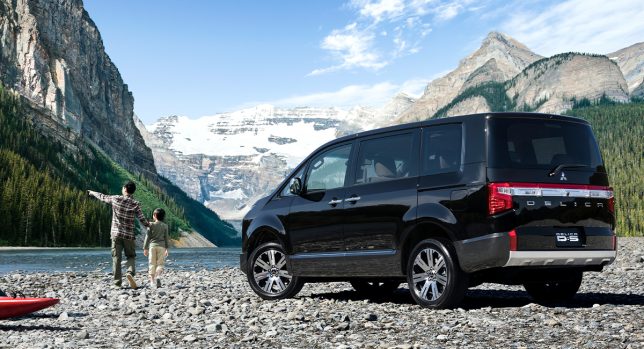 North America hasn't seen a Mitsubishi van since 1990, so it's doubtful it'll come here. However, Mitsubishi Motors North America needs something—ANYTHING—to set it self apart from the competition. Something to turn some heads in some way. The model line, sans the Eclipse Cross and Outlander is aged and stagnent.
We'll have to wait and see what Mitsubishi is teasing, but this is a cool photo and, as a Delica owner, my interest is piqued.