Honda today unveiled its trio of rugged TrailSport SUVs that will compete in the grueling 2023 Rebelle Rally. This is an eight-day off-road competition through the unforgiving desert conditions of the American Southwest. The vehicles are Piloted by Honda associates and automotive journalists—including Crankshaft Culture's own Mercedes Lilienthal who also took these photos. Vehicles include two 2024 Pilot TrailSports and the refreshed 2024 Passport TrailSport. They will compete in the all-women navigation event from October 12-21. The Honda Pilot TrailSport and updated Passport TrailsSport will challenge the difficult conditions, putting the handling, capability and durability to the test.
Unique Honda Vehicles
All three Honda TrailSport SUVs will complete wearing a special Rebelle Rally, exterior wrap with vivid colors. The motif was inspired by comic book "pop art" style. It was designed by Honda exterior designer Lili Melikian, of the Honda Design Studio in Torrance, CA. The bold exterior graphics showcase a unique terrain on each vehicle, including dust, water and rocks, flying off the wheels. This highlights TrailSport's rugged capability in the many tortuous landscapes they will be encounter during the weeklong off-road competition.
This is the fifth year Honda engineers are using America's longest off-road rally. The event is more than 1,500 miles across the deserts of California and Nevada. Teams explore the rugged performance of off-road components in extreme environments. Having three Honda TrailSport SUVs Compete in the 2023 Rebelle Rally is a first, however.
Honda America Racing Team (HART)
Ohio-based Honda associates Liz Long, a chassis reliability test engineer at the Honda Auto Development Center (ADC) in Ohio, and Hillary Tate, a project administrator of design and construction for Honda facilities across North America, will drive a race-prepared Honda Pilot TrailSport in the X-Cross™ category. The duo is part of the Honda of America Racing Team (HART), a unique racing program run entirely by Honda associates throughout the United States.
The Honda TrailSport SUVs Compete In Rebelle Rally
Pilot TrailSport is Honda's most off-road capable SUV ever with standard steel skid plates protecting the oil pan and fuel tank, raised off-road tuned suspension, trail-ready all-terrain tires and expanded all-wheel drive system capabilities. For competition, ADC has added custom-fabricated steel bumpers and Maxxis RAZR AT tires for improved traction in all conditions.
"HART is an example of the Honda Racing Spirit", said Tate. "In addition to allowing me to follow a passion and grow outside my role at Honda, competing in events like the Rebelle Rally are the best way to test and improve new Honda technologies."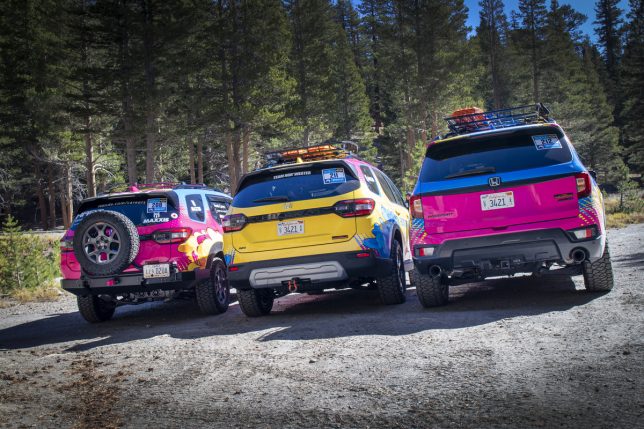 A 2024 Honda Passport TrailSport will also compete in the X-Cross™ category, showcasing the performance of the model's new off-road tuned suspension with increased articulation. It will be piloted by Honda Performance Development (HPD) IndyCar trackside engineers and Rebelle rookies Serena Halterman and Nicole Rotondo. HPD in Southern California prepared their Passport TrailSport for competition by making just three modifications from stock, adding custom-fabricated steel skid plates, front recovery points and Maxxis RAZR AT tires.
Bone Stock Versions Competing Too
Competing in the Bone Stock category, the 2024 Pilot TrailSport piloted by award-winning automotive journalist Mercedes Lilienthal (driver) and her teammate, Emily Winslow (navigator) also receives Maxxis RAZR AT tires for improved off-road traction. Based out of Portland, OR, this will be Lilienthal's fourth Rebelle, while Winslow, based near Seattle, WA, will be competing in her fifth.
"It's an honor to be a part of the Honda TrailSport triple threat this year," said Lilienthal. "I'll be relying on the Pilot TrailSport's torque-vectoring i-VTM4® all-wheel drive system, and other tech and capability features to help me get through tough terrain, but it also takes a good driver to pick the best lines to conquer tricky trail sections."
About The Rebelle Rally
The Rebelle Rally is not a race for speed. It's a unique event where teams strategically navigate the rugged terrain without the assistance of GPS or cellular navigation. Teams rely on traditional elements such as paper maps, compasses and headings to navigate to hidden checkpoints. The goal is to accrue the most points and reach the finish line each day. The 2023 Rebelle Rally will feature its largest field to date with 65 vehicles entered.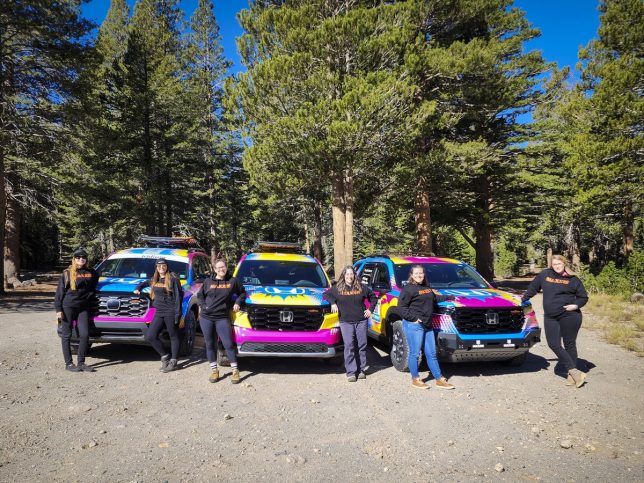 Follow along online as they travel from North Lake Tahoe to the Imperial Sand Dunes on the Mexico border from Oct. 12-21 at www.rebellerally.com/live/.