After 2.5 days of driving our trusty 2024 Honda Pilot TrailSport, I'm finally home from this year's Rebelle Rally! The gear is unloaded and mostly unpacked. Here are a few quick stats about our endeavor:
Drive total: 3,604 miles
Rally total: approximately 1,300 miles / our actual 1,404 miles
Rally competition: eight days (seven scored days)
Days I was on the road: 16
First journalist team / non-employee Honda duo invited to compete on behalf of the manufacturer
One of only two bone stock crossovers (the other was a Ford Bronco)
ZERO visits to the mechanics, ZERO mechanical issues, ZERO flat tires (thanks, Maxxis Tires!)
No GPS or technology used, only topographic maps, a compass, and your sense of direction
My teammate, seasoned navigator Emily Winslow nailed more invisible black and black X checkpoints (with ZERO wide miss penalties)
I focused on honing high-speed driving skills (including left-foot braking), giving me some of the best drive days to date.
My 4th Rebelle Rally is now complete, showcasing a highly diversified vehicle lineup: 2018 as a privateer with a 2012 Toyota Tacoma 4×4 truck (with a manual transmission), then partnering in 2021 with Volkswagen of America in the rally's first-ever all-electric crossover, the AWD ID.4, in 2022 with Jeep in a 2023 bone stock Wrangler Rubicon 4xe plug-in hybrid 4×4, and now in 2023 with Honda in our 2024 bone stock three-row, seven-passenger Pilot TrailSport SUV crossover.
The 2023 Rebelle Rally: Difficult and Rewarding
This year's course was incredibly difficult for crossovers due to flood damage and other issues Mother Nature presented. But, I'm incredibly proud of Emily and me and how we worked together to conquer various challenges head-on as a unified unit. Pointswise, we finished in the top half of the pack overall, with most of the rigs being more capable 4x4s or customized vehicles (we finished 8th in X-Cross). That's a true testament to Honda's TrailSport capability right off of the showroom floor.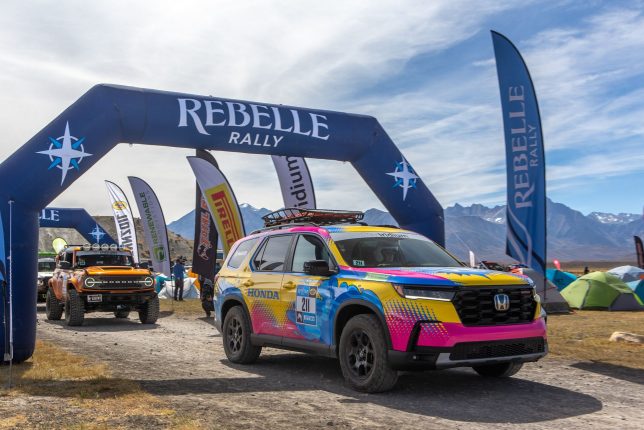 Listen To Us On San Diego Off-Road Coalition
If you want to know more about the grueling off-road competition and how the stock Honda Pilot TrailSport fared, listen in to the hour-long live show we did with the legendary Dave Stall via San Diego Off-Road Coalition. He uncovers layers of dirt and grime as we dish about our experience during the eight-day 1,300+ mile-long traditional navigational competition. Give it a listen!