I've seen lifted Subarus before, but nothing quite like this. And while jacked-up, dirt-covered Subarus thumb their Pleiades-badged noses at traditional 4WD vehicles, this lifted Subaru Outback is more like a throat punch.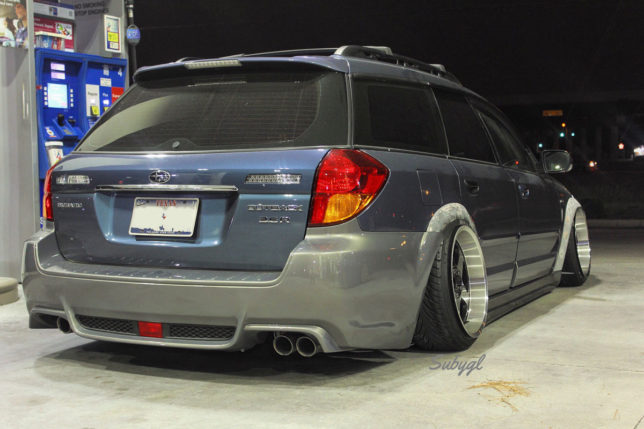 The owner is Saul Sanchez, of Houston, TX. Saul has another Subaru Outback—a 2005 that's slammed to the ground on airbags, as seen above. It's essentially the polar opposite of his lifted Outback. He made his '05 so low because he liked the look. He says it never drew any negative attention, but every time someone would share photos of it, the car would receive negative comments such as, "Subarus were made to go off road," and that he had ruined the wagon.
A while later, he started noticing lifted Subarus, and decided to do something completely opposite of his "ruined" '05 wagon.
He purchased a silver Outback and had big plans: Big tires. Big lift.
"I emailed a few companies that specialize in Subaru lift kits, but the only person that was willing to build the 6" lift was Patrick from Anderson Design and Fabrication," says Saul.  "I waited a few months for him to build the kit, since he was designing kits for other Subaru platforms as well."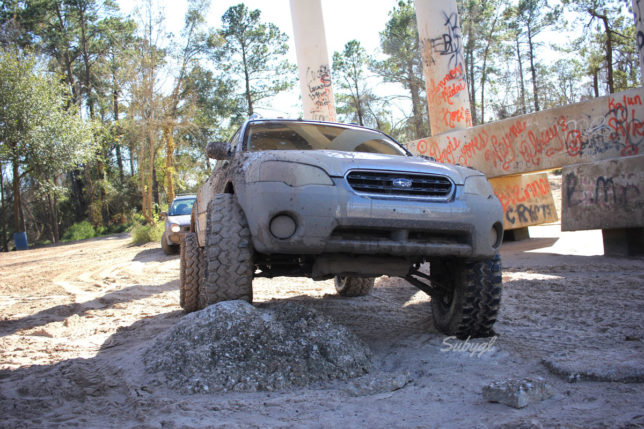 In the meantime Saul started looking for wheels and tires.
While he'd always been a fan of Super Swamper tires and their aggressive appearance, he knew they'd be pricey. But in the end, he decided it would be the only tire to complete the look he was wanted.
Three months went by and the lift came in. He began bolting everything together with the help of his brother. He had to extend many components to accommodate the lift, since no Outback was designed to go up 6″ over stock height. And like many people who add larger tires,  he quickly realized the 32″ Super Swampers were going to be bigger than expected. Time to start cutting and welding.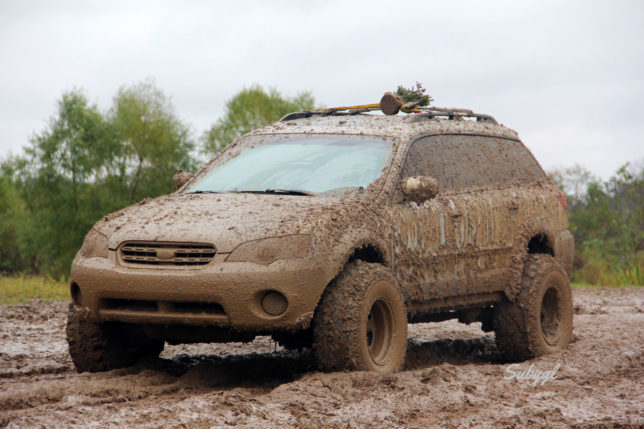 Once the car could accommodate the fairly enormous rolling stock (at least for an Outback), the the only thing left was to test it off the pavement. The closest legal place to go was an off-road park an hour away. And once he got there, he was pleasantly surprised.
"We took the car out there, and I was surprised at how well it performed. One of the times I accidentally drove into a mud hole that was quite deep, and I thought it was going to get stuck but it made it out on its own. I got to experience a completely different level of fun," said Saul.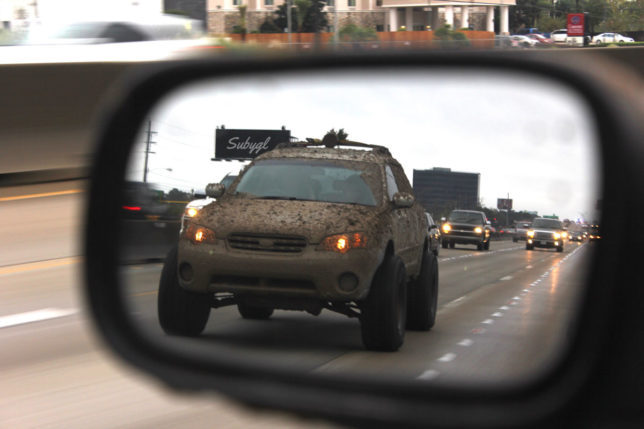 Believe it or not, Saul actually daily drives this beast of a Subaru, mostly because he's doing some work on his bagged Outback. And, naturally, he says he gets some interesting reactions from people driving other four-wheel drives, especially Jeeps.
"On the road it drives completely normal," says Saul, "I can do 65 to 70 without much effort." Admittedly, he says the wheel/tire combination, which weighs about 90 lbs., has taken a toll on fuel economy. The car used to get 20mpg and 350 miles per tank. Now it's getting about 9 mpg and 150 miles per tank. Note that his Outback is using stock gearing and the stock four-speed automatic transmission. He mentioned the fact that overseas Outbacks are available with a dual-range transfer case, and he'd love to install one of those at some point along with limited-slip differentials.
"It's great not having to worry about potholes and speed bumps," he says. Speed bumps? He probably doesn't have to worry about much of anything stopping this bruiser. While it's super fun, he notes that he still hasn't decided which wagon he enjoys driving the most.
And despite its appearance, it's mostly wheels, tires, and a lift that make this a standout Subaru. Other plans include getting is a winch, full-size spare, roof basket, maybe an awning, and eventually a drive train upgrade.
So does he have any advice for others?
"If you build something, do it for yourself—never to impress or satisfy everyone else. When you're happy with what you've built, people's negative opinions will never matter."
We couldn't agree more.
You can keep up with Saul and his Subaru adventure on Instagram at @subygl.
Saul Sanchez's 2006 Subaru Outback Limited
Stock 2.5-liter Subaru boxer engine (EJ25) and four-speed automatic transmission
32x 11.5×15 Super Swamper tires
6″ ADF lift (11″ total lift with tires)
15″ Rock Crawler steel wheels
Whiteline Adjustable Rear Control Arms
Legacy GT steering wheel