When I arrived at Overland Expo West this year, I knew I'd see a lot of cool people, vehicles, and gear. A plethora of unique personalities, rigs aplenty, and endless rows of gadgets, gee-gaws, and gear were present. This show could brake anyone's bank in an instant. While I managed to not spend my entire savings account, I did have the chance to test out and purchase some unexpected and unique items. One company that particularly caught my eye was US-based Tribe One Outdoors.
Tribe One Outdoors is a relatively new company in the outdoors market, but one that has simple, interesting, and extremely useful products. So much so that I revisited their booth many times as I kept on thinking of new ways I could use their gear! This company is based in Utah, and proudly designs and manufacturers its product on American soil. Their mission statement is simple: "First is to design and develop products that solve basic problems with simple design, and second to play a small role in promoting life in the outdoors. Nature is the great equalizer regardless of who you are. This equalizer gives people an opportunity to realize their true nature as human beings. The concept that we are all connected on some level is at the core of Tribe One. In essence, that we are all part of one tribe."
So, exactly what do they make? They make bungee cords and custom carabiner and attachment systems—intuitive products to secure your belongings while backpacking, camping, transporting, adventuring, or just plain being. I've reviewed and tested their line-up, here are my thoughts:
PackTach Set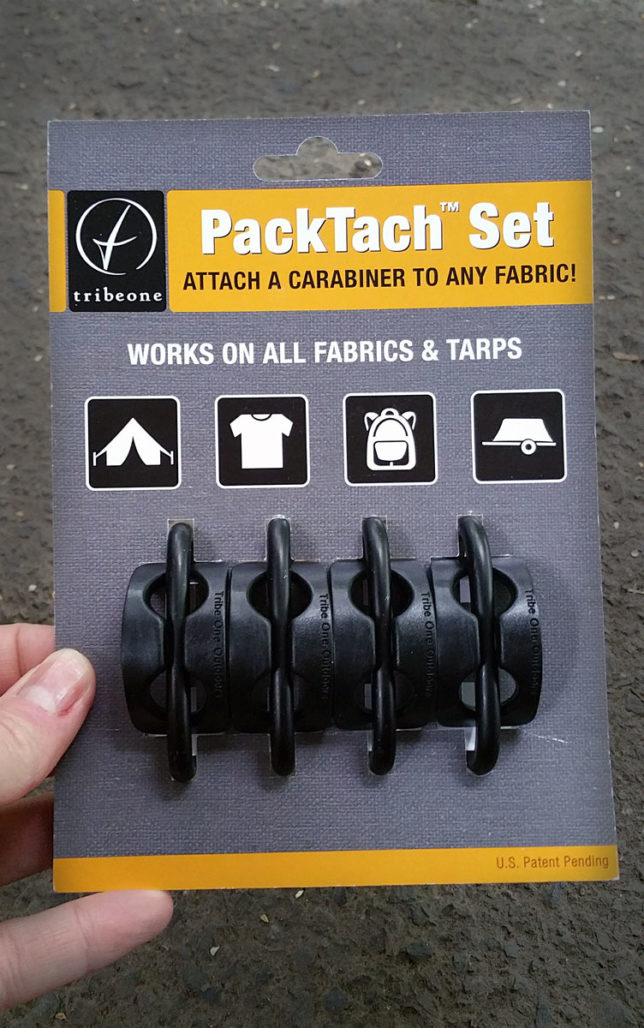 When I mention carabiners, do you think of the ones you have on your key chains or ones that climbers use? Tribe One has devised a clever carabiner and PackTach (the "Tach" is pronounced like tach in "attach") connector idea so that you can mount a carabiner on any thin pliable surface and use it as an anchor point with an average pulling force of 40 lbs. And yes, this method does not damage said material. Using a 1″–3" D-shaped carabiner along with the plastic PackTach combo creates a friction point in the material that stays static and creates an anchor point. Perfect if you need to use your bungee cords to anchor said fabric to the ground, hang LED lights from your patio umbrella, or if you want to be cool and hang your keys from your hoodie.
Two caveats: one, make sure the plastic PackTach's are secure on your carabiner if you aren't using them as they slip off easily. If they're loose, twist them 180 degrees on the flat section and they'll tighten right up. Two, be sure to test your fabric first as thicker material like rooftop tent canvas or lined fabrics will not work with these. Check out this video to see how they work:
A set of four will run you $11.95.
Gear Grabber Set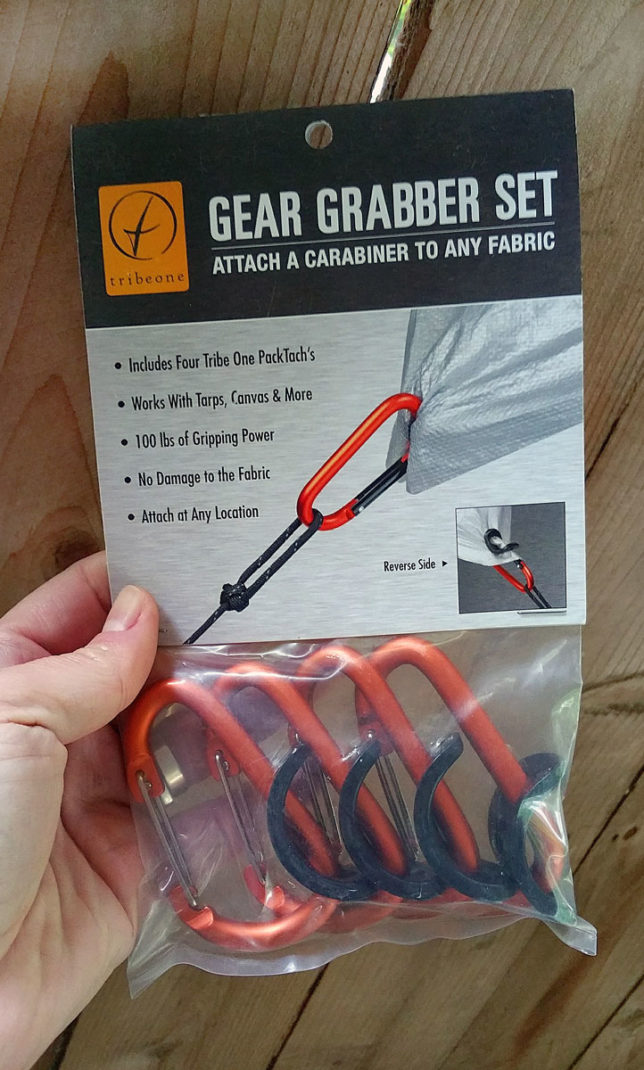 The Gear Grabber Set ($15.95; four pack) is the big brother of the PackTach system. When using the Gear Grabbers, you can create a secure connector point that can hold up to 100 lbs. (60 lbs. more than the PackTach).The installation method is the same, but this more robust set-up works well when anchoring down a tarp or canvas, replacing ripped eyelets on material, or just about any other idea your creative prowess can think of. I say pretty nifty. Again, make sure your PackTach connectors are mounted tightly on the carabiners.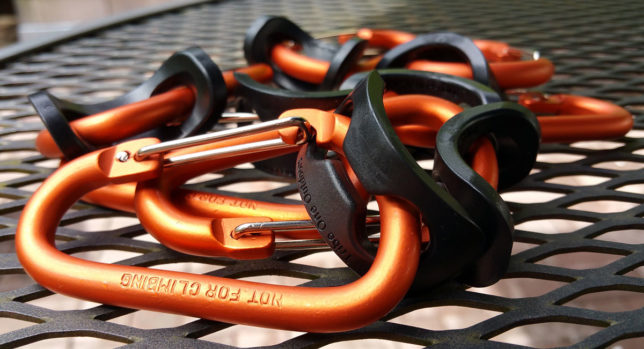 Jungle Cord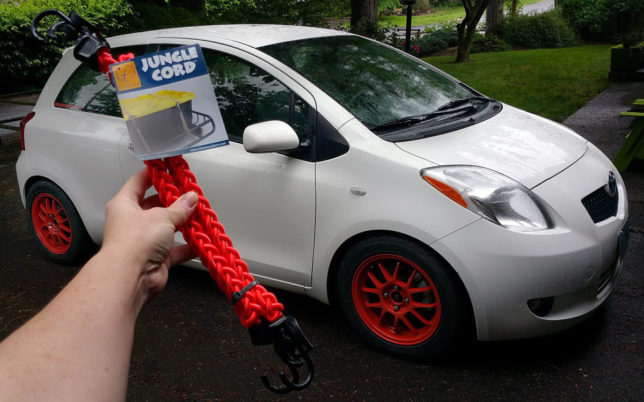 Tribe One's largest bungee, the Jungle Cord ($24.95; includes two cords and four PackTach), boasts 4' of length that stretches to over 8.5'. It has tensile strength of 500 lbs. and is created from 3/16" shock cord with simple bungee-style "J" hooks. Why are the stats so impressive for this bungee? Well, it's braided. This braided bungee differs immensely from its single-stranded cousin as it offers up three times the strength due to its braided nature.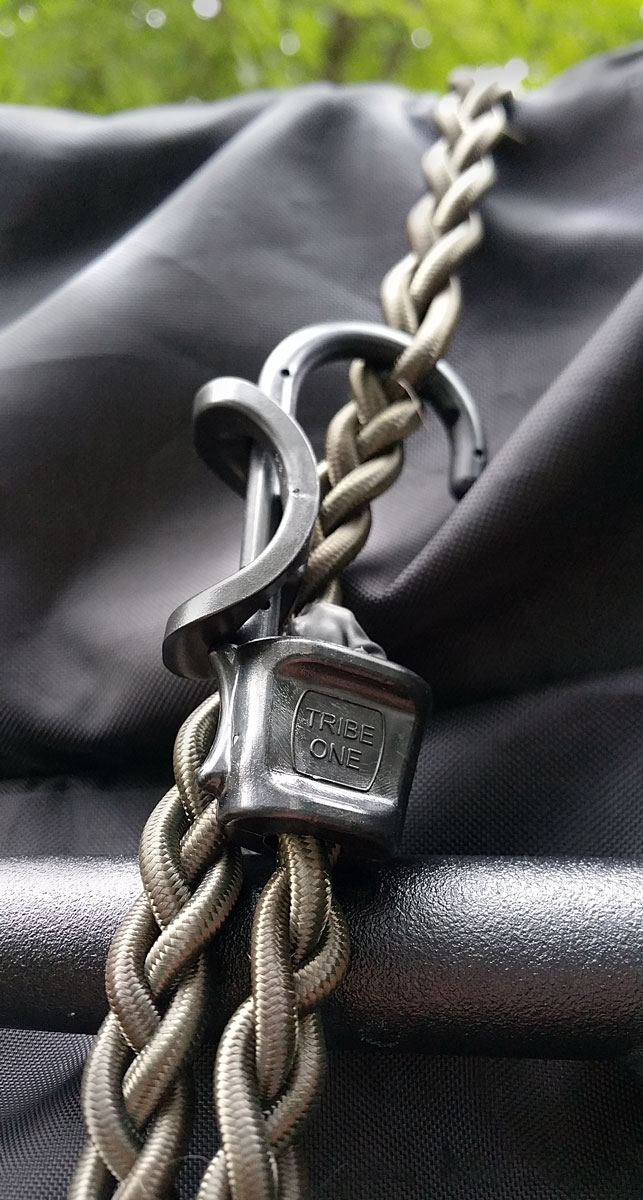 Tribe One's Jungle Cord creates a weave of strength and stability with every usage. You can make any-sized cord length (from as small as 1' to 8.5') with it. You can either hook into itself (via any braid opening) or you can pull the hook through an opening to shorten its length. Note: if you stretch this cord tightly, it is a bit of arm wrestling to poke the "J" hook into a braid opening as the braids compact down into one large assembly. No worries, though—just poke that puppy through and it is as good as gold. As soon as I got home from Expo West and packed up for our next set of events (the NW Overland Rally in Plain, WA and the BC Overland Rally in Hemlock Valley, BC Canada) I knew I loved these bungees. We strapped down a 10'x10' pop-up tent, tables, and water containers via our BajaRack roof basket with ease.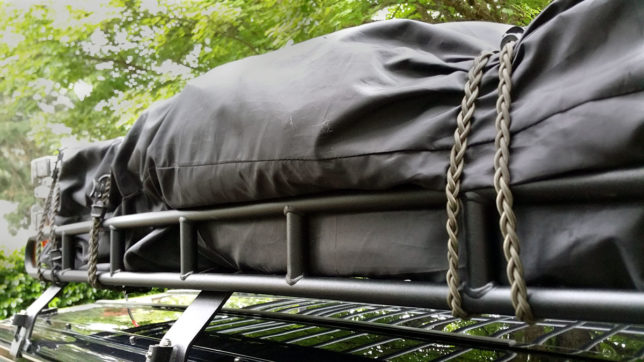 Gone are the days of pulling out every stupid strap or bungee to jerry-rig your strapping system. Gone were the moments of frustration when you finally have it all laid out just to realize you're missing the right-sided final bungee. Tribe One's Jungle Cords made short work by letting you customize the length and set-up: every cord, every time. My old bungees were quickly thrown into the shed, never to be used again.
The PackTach connectors come standard with each Jungle Cord two-pack, two connectors per cord (on each of the four "J" hooks). These connectors allow for 60 lbs of load force. They work great when the only anchor point is your tarp side or other soft material. Even better if it hooks into your roof rack, truck bed, or other connector point. Make sure the plastic boat-shaped PackTachs snap back onto the "J" hook though. They unsnap rather easily and slide off the end hook. We've already lost one. The problem is solved if you have other Tribe One products as the PackTach sizes appear to be universal. I'd like to see these connectors sold separately.
Desert Cord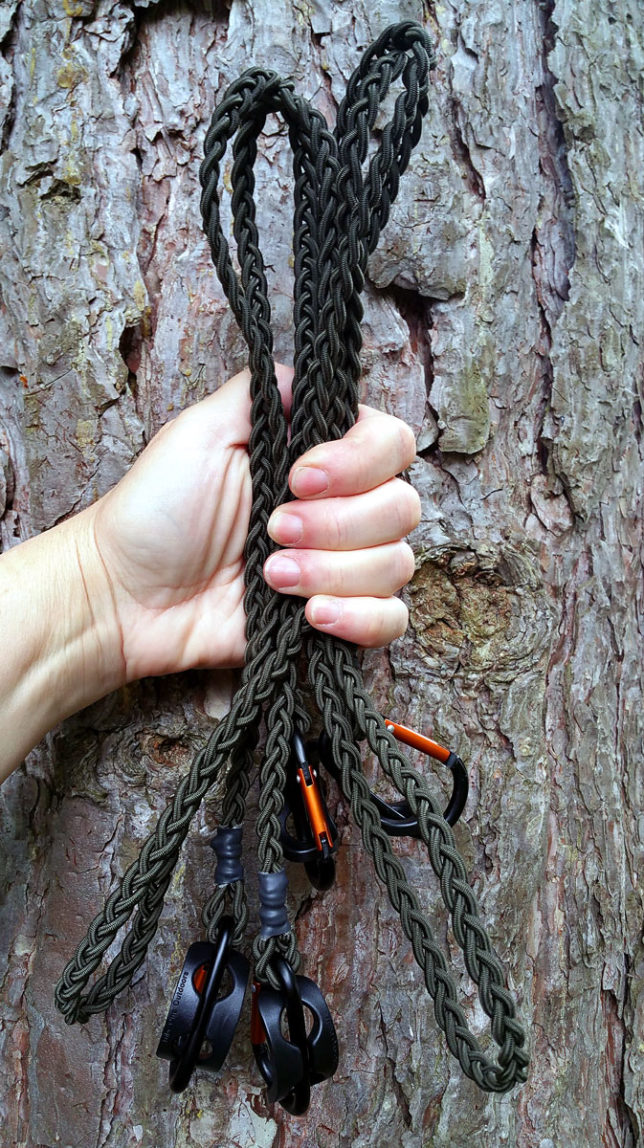 The smaller cousin to the Jungle Cord is the Desert Cord ($24.95; two pack; four carabiners and four PackTach) for This tiny bungee boasts 4' of length that stretches over 9'. It's made of 1/8" shock cord and can hook back into itself via carabiner in any configuration to secure any load.
The PackTach connectors also come standard with the Desert Cord, two per cord (on each of the four carabiners).
OP Series MiniNet
I never knew I needed an attachment system for the exterior of our tech bag or backpacks until I used Tribe One's MiniNet. I don't know how I lived without it! The MiniNet adds up to 18 liters of exterior storage space, covers 12"x12", and features the PackTach system. It's a four point attachment system that attaches to your pack in a multitude of ways. We've used it to hold hiking shoes, a camera tripod, maps, and even a wrench and a baggie full of Loctite (don't ask). This little gem is worth its weight in gold!
LP Series PackNet
The LP Series PackNet ($34.95) attachment system is the big papa of the MiniNet. This netting system can provide coverage for packs from 45 to 110 liters, covers 36"x36", and has a six point attaching system. As with the MiniNet, this system comes with the PackTach carabiner system and can be set up in many ways.
RackNet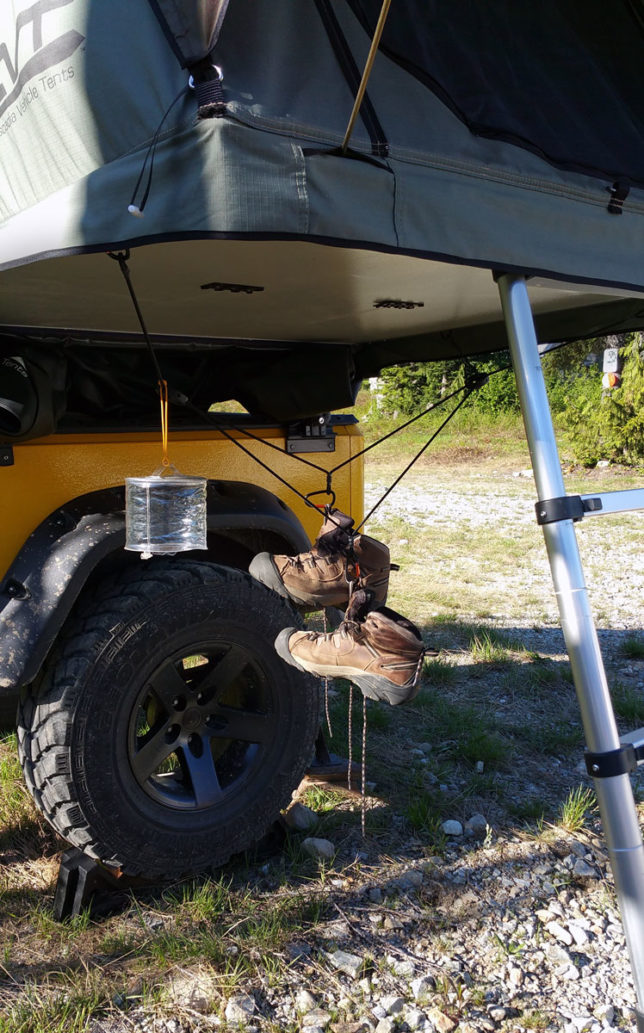 Last, but not least, Tribe One Outdoors offers a tie down system that adjusts to the gear on your rack using a unique sliding "hub" feature. This feature allows you to customize how you want your cord system to act, changing the points of pressure. This top down system allows you to convert from a six point to a four point tie down version to ensure proper sizing. Although it can be used for Jeeps (like The PDXJ), cars, various roof racks, ATVs, etc. We've made great use for it mounted under our rooftop tent. We adhered it via four points and used it as our LED light and stinky hiking boot holder! RackNet runs $24.95.
Simple, Yet Innovative—Totally Useful

After spending a month with their products, Tribe One Outdoors is a company that offers up innovative, useful, and creative US-made outdoor products. With just a twist (or a braid so to speak), they've used conventional materials in unconventional ways to create products that withstand the rigors of wind, rain, sun, grit of blowing sand, and stinky boots. I know what I'll use to pull my belongings together!